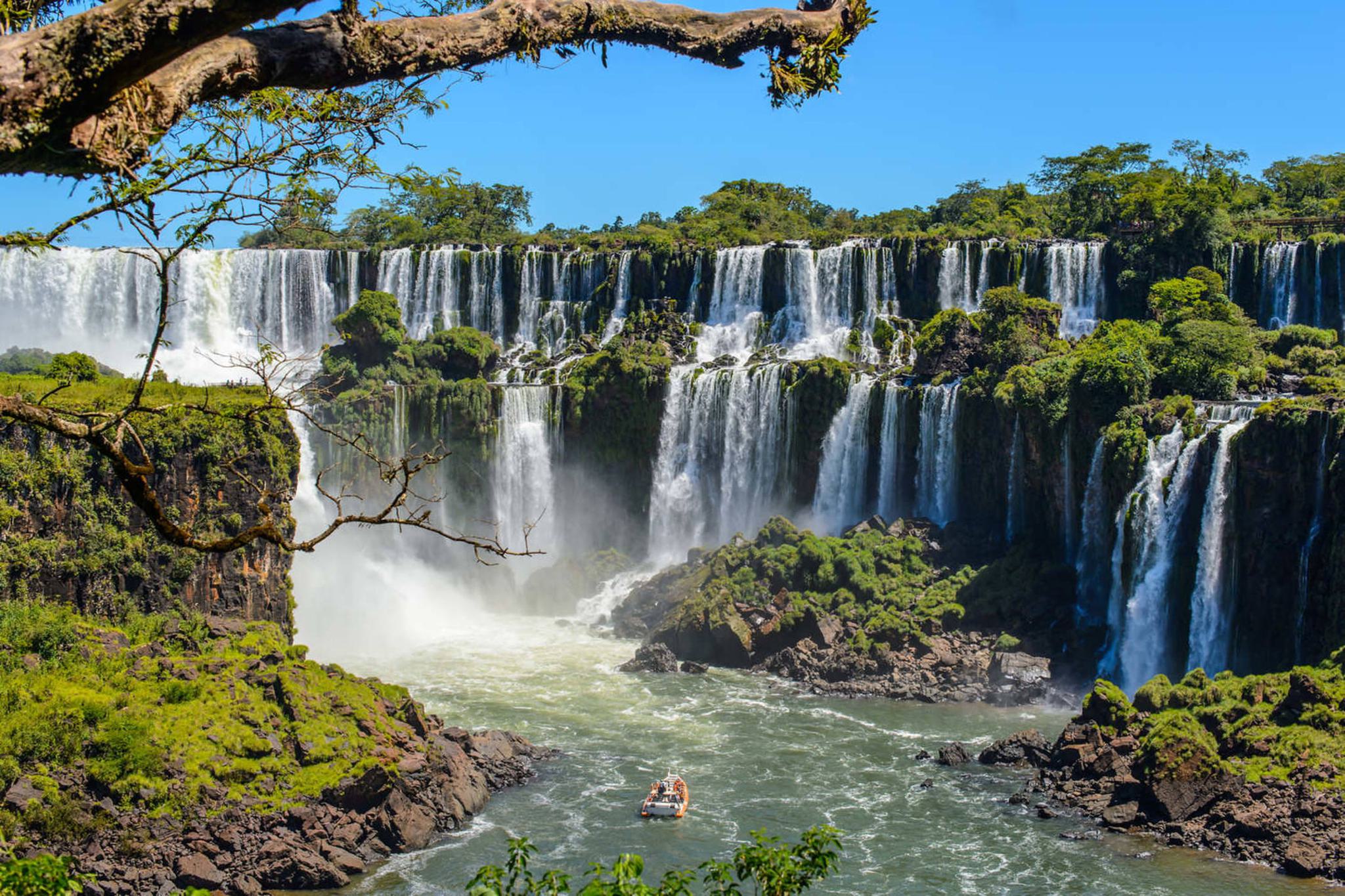 Argentina
Road Trips | Wildlife Holidays | Tailormade Tours


Perito Moreno Glacier
You've seen the photos - the Perito Moreno Glacier is a force of nature. An irresistible, irrepressible force of nature. But how do you experience it without the crowds?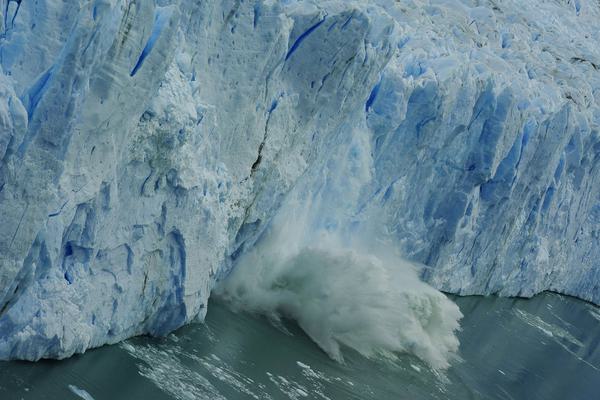 You can't take your eyes off this great wall of ice. The scale is bewildering - a wall of shimmering, glassy blue ice some 5 kilometres long. It is one of only three glaciers in Patagonia known to be advancing, and forms part of the third largest body of frozen freshwater in the world - the Southern Patagonian ice field.
Boat trips take you right up close and wooden walkways thread a panoramic course in front of the great wall, easy vantage points to watch enormous chunks of ice calving off with a rumble of thunder, crashing into the iceberg-strewn Lago Argentina.
The Perito Moreno is also Patagonia's most accessible glacier, a short two hour hop from the frontier town of El Calafate. All very well, but add that to its vast size, its worldwide fame and the ease with which you can watch it perform, and you have a reliable recipe for crowds.
A snaking line of luxury coaches floods the site with visitors during the peak summer months, drowning the sound of birdsong under a thousand footsteps. It can all get to feeling very busy, very quickly. That's fine if you're enthralled with the glacier, but compare it to what we're able to do in Chile - where your glaciers come with a private audience and overnight stay in your own private boat - and it's not an experience we're proud to put our name to.

So what's our solution?
How do we share one of South America's great natural wonders without it feeling like you're on a conveyor belt?
Like this...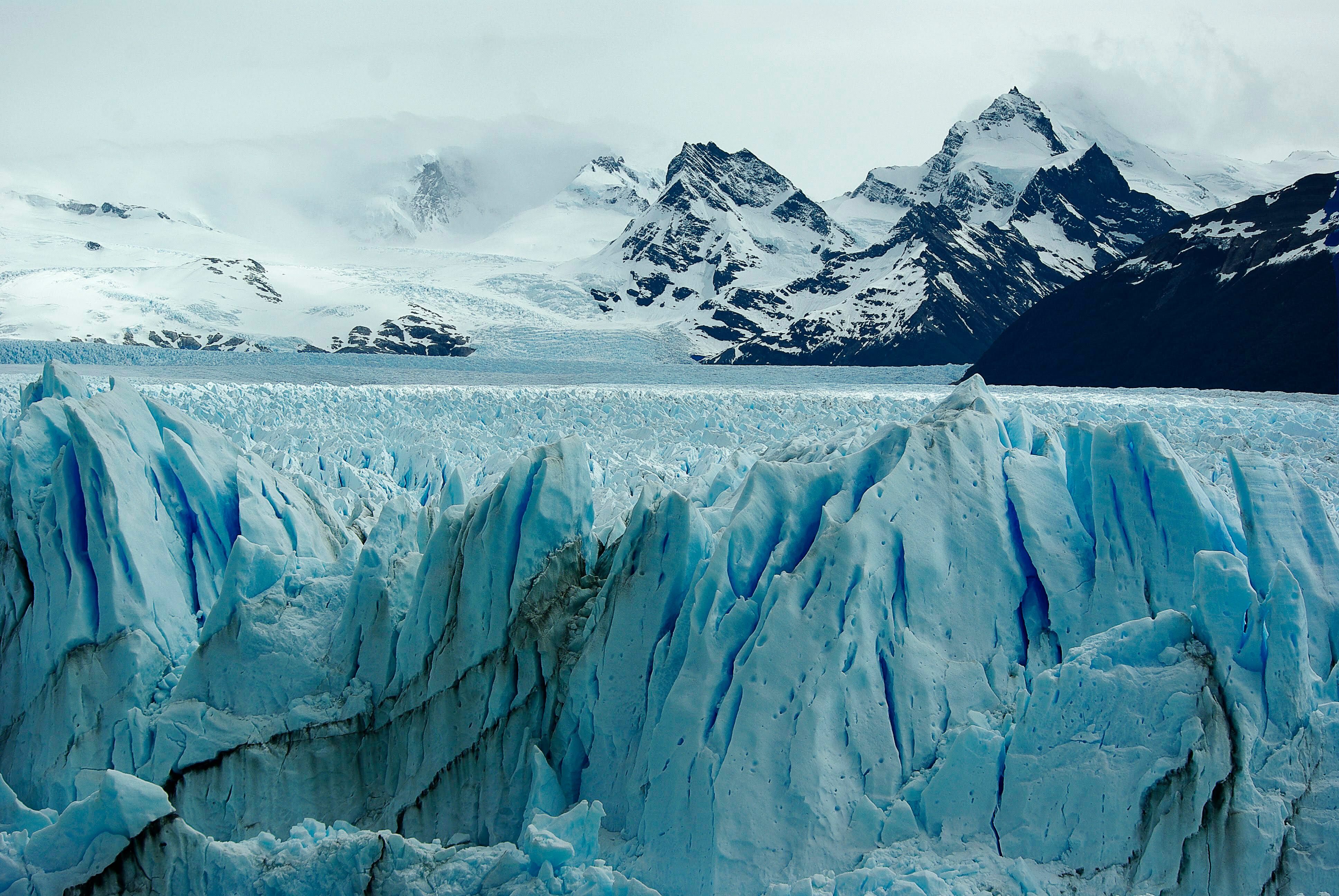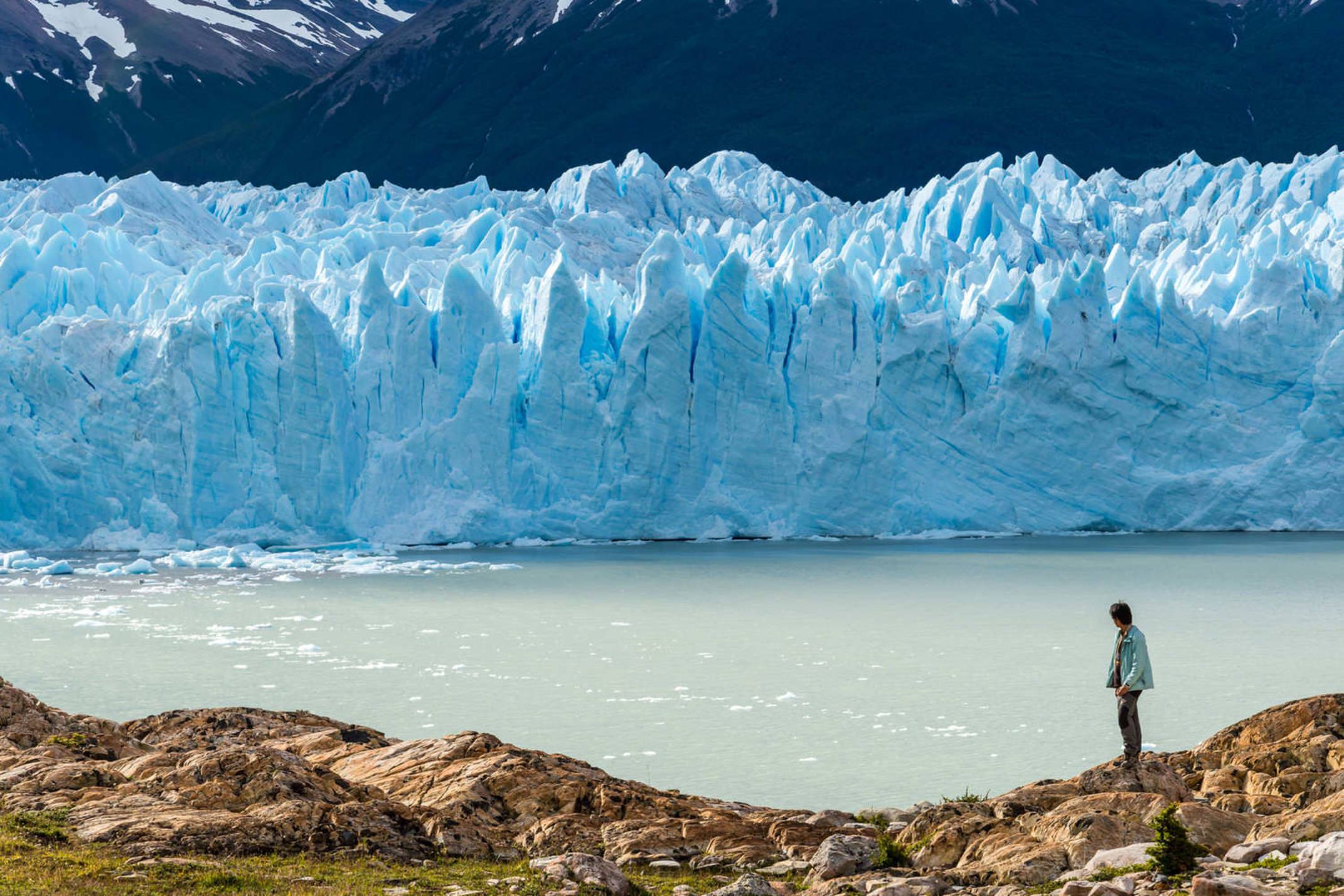 Sidestepping the crowds

As it so often is, the answer is a simple one. Go early, or go late. Get in before the park 'opens' and have it all to yourself, or leave it late and enjoy the ice in the calm of the late Patagonian afternoon. We've been at both ends of the day, and we've been there at peak hours. The difference is extraordinary. Having one of the continent's great natural wonders to yourself feels like a true privilege.
Instead of joining the queues and convoys of the luxury coaches, you have a couple of different options to arrive at the glacier out of peak hours.
One option is to have your own hire vehicle and get behind the wheel yourself. More on that option in a moment. But whether you choose to do that or not, a great way to experience the true grandeur of the icefields and southern Andes is on an exclusive small-group boat trip. You'll set sail after lunch and disembark to walk through the lenga forest to reach a stunning viewpoint, for your and your fellow guests' eyes only. From here you sail in front of the south face of the Perito Moreno Glacier, for a close up look and to toast it in the tradional way - with a glass of whisky with ice fresh from the lagoon. Not too much though, because you still need to get out and stretch your legs on the walkways, with plenty of time to soak in all this rare beauty and raw, wild power with barely another visitor around.
Behind the wheel
Another option to give you complete independence, and help you visit the glacier when others simply can't, is to have your own vehicle as part of a longer drive down Argentina's Ruta 40 from the Lake District, or across from Chile's Torres del Paine.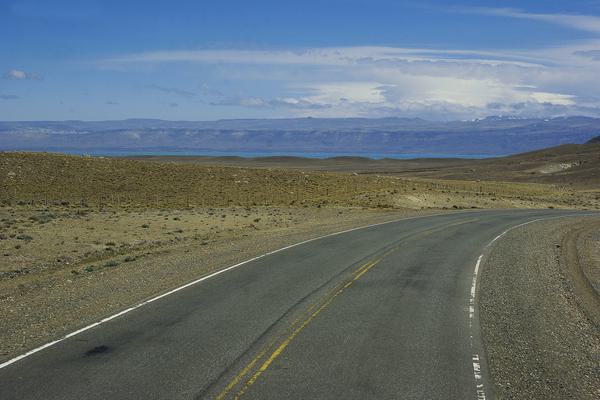 Though driving in Patagonia might not be for everyone, rest assured that it is perfectly safe, with quiet roads and easy navigatation. Throughout, you have the full weight of our guidance and local support to make it an enjoyable experience. And if you still want to do the boat ride option, that's fine - it's not an either/or.
If you prefer not to drive at all, that's also ok - we offer a private-guided tour which shares broadly the same experience. Either way, becuase you are visiting out of hours, you can spend the balance of the day absorbing the beautiful scenery and gaining a true first-hand insight into the rural lifestyles which have dictated the ebbs and flows of life down here for centuries...

Stay on a working cattle farm
As mentioned before, most people who visit the glacier are based at El Calafate, a small town on the shores of Lago Argentino. Along the main street it's a town designed to serve the tourists who frequent its cosy restaurants, buy souvenirs in the artisan shops and book excursions in the travel agencies. It brings to mind a Patagonian version of Aviemore, if you're familiar with that part of the world. Come off the main street and it all starts to feel a little more rustic and ramshackle. Walk far enough and you might see flamingos feeding in the shallow waters of the lake in the distance, or black-faced ibises pecking at the grass by your feet.
There is another option though, for something distinctly Patagonian.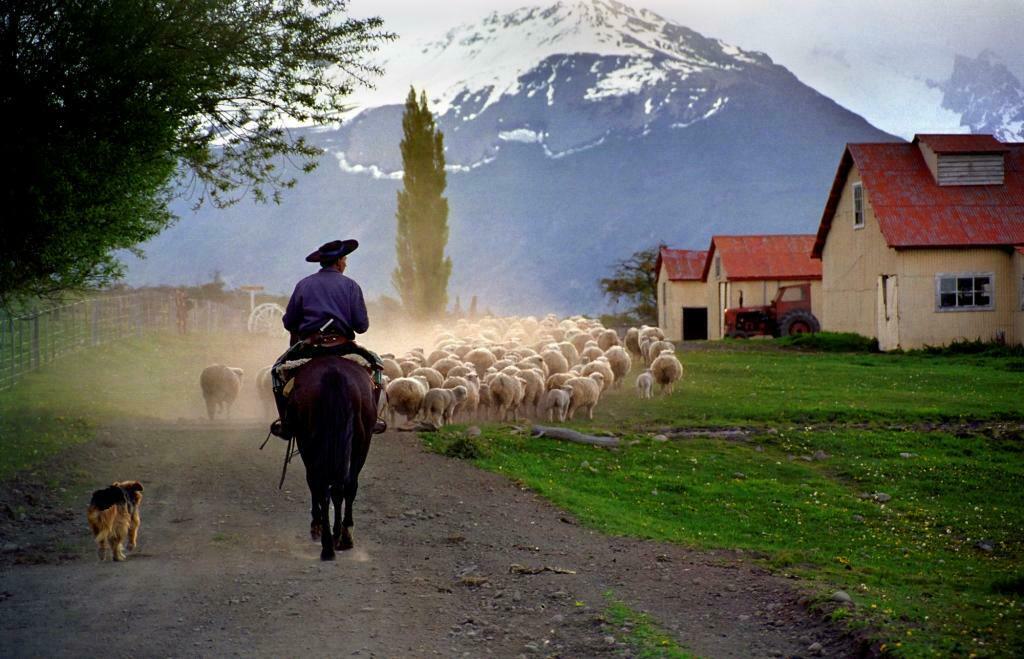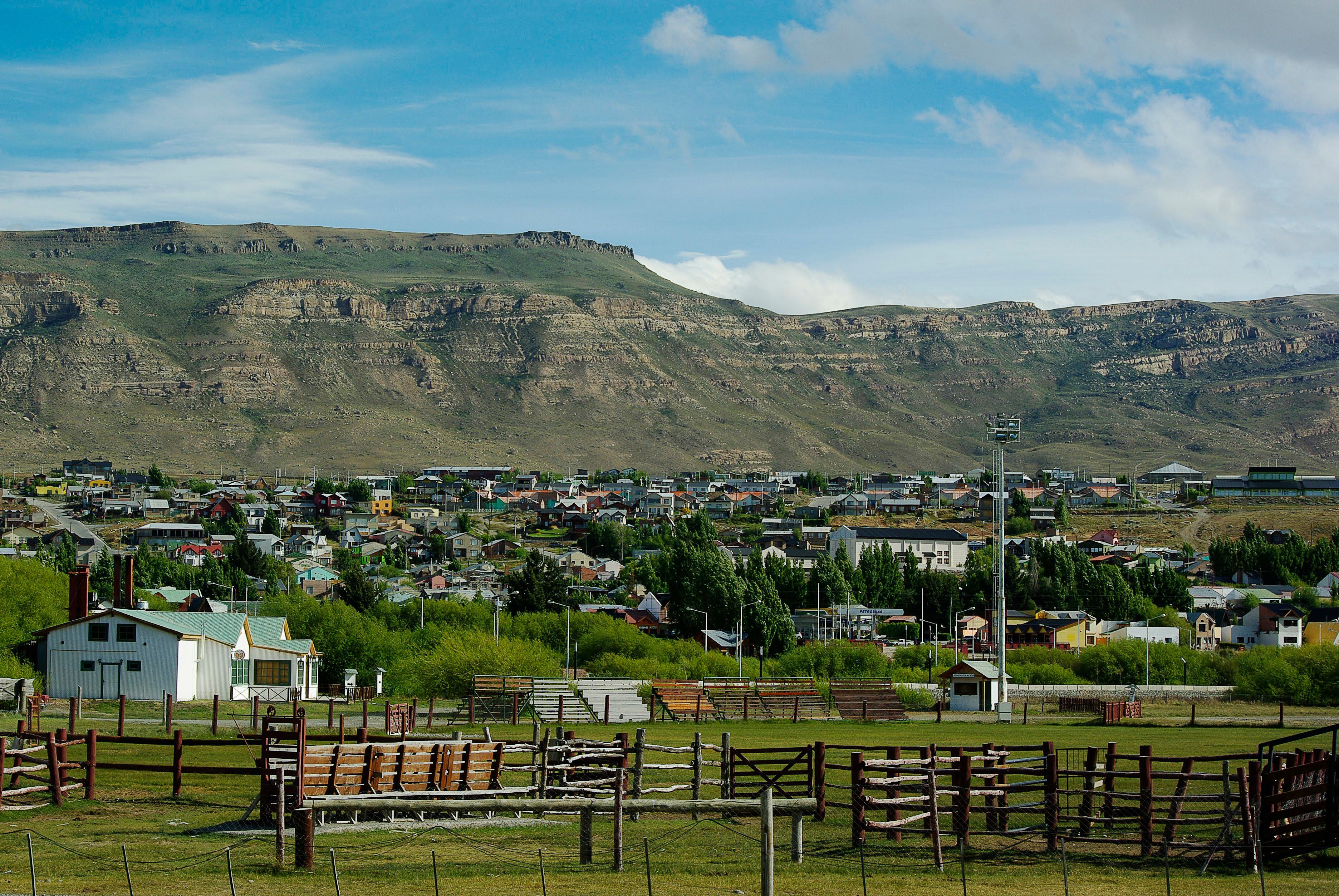 We could set you up on a 100-year-old estancia - 12,000 hectares of mountains and nature further around the lake. It's a working sheep and cattle farm that has been owned by the same family for four generations. It's pretty much down to you to decide how much you want to participate in the rural life activities here, such as sheep shearing, cattle branding, herding and milking. Or just sharing a yerba maté at break time.

None of the activity is done for effect or for your benefit, it really is a working farm. They just let us visitors in for an insight and somewhere a bit special to stay. As well as, or instead of, your 'chores', you can simply absorb the wonderful natural beauty that surrounds you from the walking trails, from the back of a horse or from the comfort of the estancia.

How to visit the Perito Moreno Glacier with Pura Aventura

No matter how special the glacier is, no matter how special we try to make your visit here, it doesn't really make sense to have you take a long flight down to Patagonia to see just this. As you may know, El Chaltén and its walking trails are a three-hour drive away, so that's a logical combination and one we join together with the freedom and flexibility of your 4x4, rather than the scheduled tourist bus departures.
But even so, five nights is still quite a short time to spend in Patagonia. If you have the time, we'd love to get you out to the Atlantic coast, to the wild and wildlife-rich Valdes Peninsula or across the border in your 4x4 to Torres del Paine. With all our flexibility and first-hand experience and informed opinions about Patagonia, Argentina and Chile, it's really a case of talking through your options to find the right route for you.
Here are a few ideas to get you started...
Travel with Pura Aventura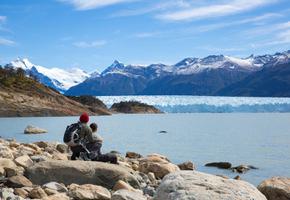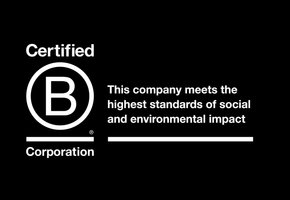 We are one of the first UK travel companies to be certified B Corp – regarded by The Independent as the premier sustainability certification, and described by Which? as "meeting the highest standards of social and environmental performance".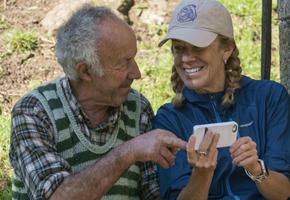 Award-winning Travel Positive