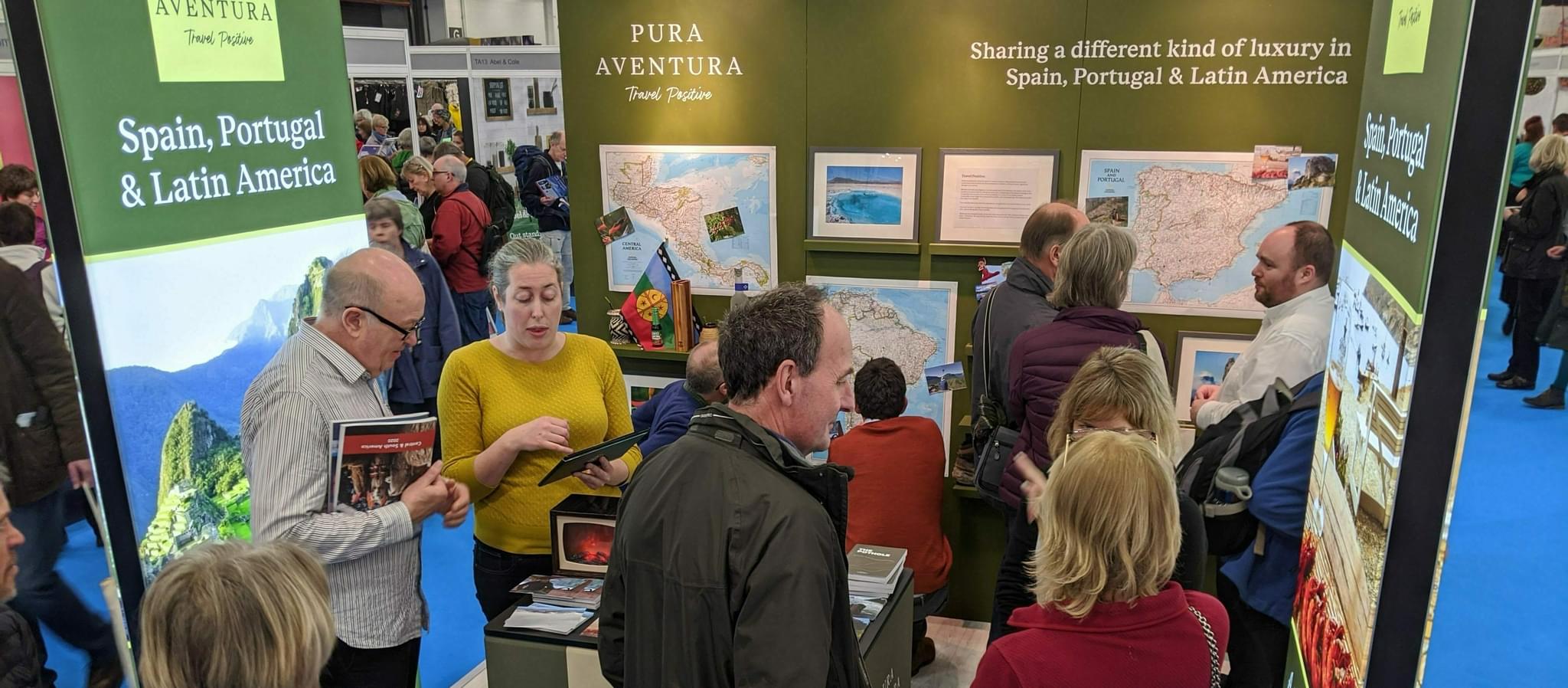 Join the Pura Aventura team

What do squawking Brighton seagulls, clanging Spanish cowbells, Pacific Chilean shores and the high peaks of the Andes have in common? They all host Pura Aventura's offices, in locations as diverse, dispersed and delightful as the Pura team itself.
Like-minded souls though we are, ours is a team where individual personalities and talents flourish, joined in a shared mission to make travel more personal for our clients, more rewarding for our partners, and more sustainable for our planet. We call this "Travel Positive" and if you'd like to join, we'd love to hear from you.
To apply to work at Pura Aventura, please send a CV and cover letter to [email protected]
Vacancies
Reservations Executive

Job Summary

To efficiently manage all arrangements necessary for the fulfilment of holidays: booking flights, guides, hotels, vehicles, activities, etc and maintaining Pura Aventura's excellent relationships with local partners.

37.5 hours per week, full time
We will consider flexi-time arrangements
Salary up to £27,500
Pura Aventura offices in Brighton but we will consider a hybrid approach with a mixture of home-working and office-working

Why Pura Aventura?


Pura Aventura has always been more than a travel company. We are award-winning sustainable travel pioneers where travel, people, planet and profit co-exist harmoniously.

We are one of the first travel companies in the UK to be certified B Corp, are trusted by leading publications from the FT to Vanity Fair, and have been frequently praised by Which? Our customers rate us 5* Platinum on Feefo.


Just as our holidays take you away from the crowds, our actions (aka Travel Positive™) take us beyond mere words, to create award-winning, sustainable holidays and a personal connection to the places we love.


As part of our 1% For the Planet commitment, we balance the total carbon produced on every holiday by 160% - a mile for every kilometre you travel from your front door and back again. By investing in an award-winning, fully accredited and independently verified reforestation project, our action helps creates sustainable income opportunities for rural communities, assuring the long-term success of our environmental legacy.


The Role


You need to be very closely aligned to our values. We live by them so there's no point pretending this role can work unless you also buy into them. Pura Aventura works directly with the vast majority of its local partners which makes the role very detailed and involved. You are the point of contact for our local partners pre-departure and during the trip, as well as a key link internally for the sales, finance and customer service teams.

As a Reservations Executive you will be responsible for booking all services on an itinerary and all operational tasks involved with ensuring a smooth and trouble-free journey for our clients whilst always keeping eyes peeled for ways to wow. This role is key to ensuring that we can deliver a seamless experience for our clients and act as an operational point of contact to our local partners.


Your responsibilities


Book all services on an itinerary in a timely manner. This involves everything from an initial availability check through to confirmation of the services and includes flights, hotels, guides, activities, transfers, vehicles and restaurants.
Check all arrangements and invoices against the itinerary and ensure invoices are uploaded in time to ensure our local partners receive prompt payment.
Maintain our excellent relationship with local partners.
Check all services on an itinerary are cleared for H&S and flag any concerns.
Work closely with the product, customer service, sales and finance teams to ensure that we can deliver a seamless experience for our clients and act as an operational point of contact to our local partners. This may involve answering emergency calls or messages out of office hours.

About you


A born organiser and multi-tasker. The role is fast-paced and involves managing high volumes of very detailed work. You possess a strong desire to get things right.
Keen attention to detail whilst ensuring speed of response and accuracy KPIs are met or exceeded
A natural problem solver and ability to stay calm under pressure
You demonstrate openness and curiosity. You experiment and learn from mistakes and past experiences, always showing courage and stepping out of your comfort zone. You support the development of a learning culture.
Ability to work independently often to tight deadlines
Excellent spoken & written English. Spanish language skills would be a benefit

Rewards and benefits


Life at Pura Aventura is dynamic, engaging, and always evolving. As well as working with some of the most innovative people in travel, you will partner with local contacts with opportunities to help make a positive difference through our network of communities, both within and outside Pura Aventura. Here are just a few of our rewards and benefits that help make our team experience that bit more extraordinary.

1. Flexible working options to benefit you, your family and your wellbeing that can include flexi-time, or working remotely


2. Competitive salary relating to your experience.

3. At least 20 days paid holiday plus 8 bank holidays.

4. Opportunities to travel

5. A company pension. Our pension scheme is compliant with auto-enrolment obligations. Our pension contributions meet the statutory rate of 8% which is made up of a 3% employer contribution and a 5% employee contribution.

6. Company EMI share scheme which kicks in following the first year of employment.

7. Training and development opportunities - just ask.

8. Our company cash health plan with BUPA, which offers financial support on a number of everyday healthcare treatments via reimbursing you either the full amount of part of the cost.

9. Optional interest-free company loans for seasonal train tickets for commuting to work. The full amount of the season's loan is paid upfront by us as the employer. This cost is then deducted from the employee's pay over the months which follow. If this is a yearly loan for example, the cost is deducted over the 12 months which follow.

10. Our 'Cycle to Work' scheme. Access bikes and other cycling equipment directly from our scheme provider and pay monthly out of your salary. Ditch cars and buses and enjoy a nice and breezy commute instead!

11. Annual company holiday party. We offer a friendly and supportive work environment and recognise that celebrating each other's success is an important part of this culture. We host an annual party in order to do exactly that!

12. Plenty of coffee, tea, fruit and filtered water.

13. A diverse environment in team, thoughts, ideas and actions.
Senior Paid Media Executive

3-4 days per week
We will consider flexi-time arrangements
We are willing to consider remote working.
It will be necessary to spend some time at Pura Aventura's offices in Brighton on a regular basis through the year.

Job Summary

Shape and deliver Pura Aventura's digital paid media strategy to drive customer acquisition across the UK and US markets.

Why Pura Aventura?


Pura Aventura has always been more than a travel company. We are award-winning sustainable travel pioneers where travel, people, planet and profit co-exist harmoniously.

We are one of the first travel companies in the UK to be certified B Corp, are trusted by leading publications from the FT to Vanity Fair, and have been frequently praised by Which? Our customers rate us 5* Platinum on Feefo.


Just as our holidays take you away from the crowds, our actions (aka Travel Positive™) take us beyond mere words, to create award-winning, sustainable holidays and a personal connection to the places we love.


As part of our 1% For the Planet commitment, we balance the total carbon produced on every holiday by 160% - a mile for every kilometre you travel from your front door and back again. By investing in an award-winning, fully accredited and independently verified reforestation project, our action helps creates sustainable income opportunities for rural communities, assuring the long-term success of our environmental legacy.


The role


You need to be very closely aligned to our values. We live by them so there's no point pretending this role can work unless you also buy into them.

The Digital team's focus is to deliver sales growth, and to grow brand awareness of one of the most unique brands in travel. We're here to help make travel a force for good. Ultimately, your role is to help make this happen.


You will be responsible for planning, implementing and analysing digital advertising campaigns across all paid channels.


The successful candidate will bring strong knowledge and experience in paid search including display and paid social advertising. You should come with the ability to own the setup, health & optimisation checks and be able to identify new opportunities across multiple platforms. With a sixth sense for delivering consistent improvements to commercial performance.


Your responsibilities


Accountable for day-to-day campaign management and ad creation on paid platforms, including Facebook Ads Manager, Google Ads & Microsoft Ads.
Manage forecasts and budgets to hit brand CPL, COS and acquisition targets.
Analyse, test and optimise site conversion rates and bounce rates, including landing page optimisation.
Manage regular copy and image audits to ensure campaigns are running efficiently, and in line with brand values.
Collaborate with marketing and product teams to integrate paid media campaigns across all media channels.
Deliver scheduled KPI reporting including results on and recommendations to improve campaign strategies, target groups and creative efficiency.
Maintain cutting-edge knowledge of all new products, ideas, techniques and technology relating to Paid channels, related activities, and champion relevant opportunities within the company.
Work alongside the marketing team as required to support the broader marketing strategy.

About you


3+ years' experience managing paid media channels in either a client-side role or similar agency role.
Can bring fresh ideas, industry best practices and innovation to our Paid Search activity.
Track record of forecasting and managing budgets efficiently to hit channel and company KPIs.
Proficient Google Analytics user with strong Excel skills. Use of Supermetrics queries would be beneficial as well as its use in Google Data Studio.
Have a deep understanding and appreciation of the importance of tracking and attribution.
Excellent numeracy and analytical skills with the ability to identify opportunities and understand the reasons behind performance changes in accounts.
Ability to write compelling ad copy, and be able to test and optimise accordingly.
Demonstrate knowledge of recent Google updates and product releases and have an adaptable approach to paid search management.
Good understanding of broader online and offline marketing mix and marketing attribution.
Thrive on ownership and accountability, with a proven track record of acting on your own initiative to deliver change
Committed to training and development with an eagerness to learn and improve.
Excellent time management, organisation and communication skills (in writing and in person).
Detail-oriented, extremely organised, with excellent proofing skills.
Experience with marketing within the US would be advantageous.

Rewards and benefits


Life at Pura Aventura is dynamic, engaging, and always evolving. As well as working with some of the most innovative people in travel, you will partner with local contacts with opportunities to help make a positive difference through our network of communities, both within and outside Pura Aventura. Here are just a few of our rewards and benefits that help make our team experience that bit more extraordinary.

1. Flexible working options to benefit you, your family and your wellbeing that can include flexi-time, job or working remotely


2. Competitive salary relating to your experience.

3. At least 20 days paid holiday plus 8 bank holidays.

4. A company pension. Our pension scheme is compliant with auto-enrolment obligations. Our pension contributions meet the statutory rate of 8% which is made up of a 3% employer contribution and a 5% employee contribution.

6. Training and development opportunities - just ask.

6. Our company cash health plan with BUPA, which offers financial support on a number of everyday healthcare treatments via reimbursing you either the full amount of part of the cost.

7. Optional interest-free company loans for seasonal train tickets for commuting to work. The full amount of the season's loan is paid upfront by us as the employer. This cost is then deducted from the employee's pay over the months which follow. If this is a yearly loan for example, the cost is deducted over the 12 months which follow.

8. Our 'Cycle to Work' scheme. Access bikes and other cycling equipment directly from our scheme provider and pay monthly out of your salary.  Ditch cars and buses and enjoy a nice and breezy commute instead!

9. Annual company holiday party. We offer a friendly and supportive work environment and recognise that celebrating each other's success is an important part of this culture. We host an annual party in order to do exactly that!

11. Paid time off during work hours for volunteering with a set of charities.

12. Plenty of coffee, tea, fruit and filtered water.

13. A diverse environment in team, thoughts, ideas and actions
Sales Executive

Job Summary:

Sell Pura Aventura's exceptional holidays and be part of growing our leadership in sustainable travel.

Why Pura Aventura?

Pura Aventura has always been more than a travel company. We are award-winning sustainable travel pioneers where travel, people, planet and profit co-exist harmoniously.

We are one of the first travel companies in the UK to be certified B Corp, are trusted by leading publications from the FT to Vanity Fair, and have been frequently praised by Which? Our customers rate us 5* Platinum on Feefo.

Just as our holidays take you away from the crowds, our actions (aka Travel Positive™) take us beyond mere words, to create award-winning, sustainable holidays and a personal connection to the places we love.

As part of our 1% For the Planet commitment, we balance the total carbon produced on every holiday by 160% - a mile for every kilometre you travel from your front door and back again. By investing in a fully accredited and independently verified reforestation project, our action helps creates sustainable income opportunities for rural communities, assuring the long-term success of our environmental legacy.

The role

You need to be very closely aligned to our values. We live by them so there's no point pretending this role can work unless you also buy into them.

The Sales team's focus is to sell exceptional holidays for one of the most unique brands in travel. We're here to make travel a force for good. Ultimately, your role is to enjoy making this happen.

The successful candidate will have a passion for travel and will be commercially driven, bringing expertise in developing and closing sales, including how to efficiently build rapport, communicate as part of a brand, and work effectively across teams. You should come with the ability manage your own leads, with a sixth sense for what it takes to deliver trip proposals your customers can't refuse.

Share your passion for travel, empathise with customers, and craft their path to our holidays.
Transform enquiries into customers and repeat customers who love what we do.
Drive commercial growth by evaluating, organising and prioritising opportunities well, taking care with the content and timing of your approach.

Your responsibilities

Respond to customer enquiries in a professional, knowledgeable, timely manner.
Create accurately priced sales proposals which excite the client, reflect their preferences and our expertise, and fulfil our mission to deliver exceptional, sustainable travel.
Be agile, open and creative in collaborating with our Delivery team as they check availability of services and troubleshoot availability challenges.
Negotiate and close sales efficiently and effectively to maintain a high conversion rate.
Demonstrate attention to detail in the administration and documentation of your sales.
Build rapport with customers throughout this process in order to establish strong long-term relationships between Pura Aventura and its customers.

About you

A belief in travel as a force for good.
A passion for active travel.
Ability to quickly build rapport and earn trust.
Experience of the travel industry and arranging complex travel itineraries.
Proven track record in managing leads, developing personalised proposals, closing sales.
Destination knowledge and travel experience in at least one of the destinations we offer.
Excellent communication skills (in writing, over phone, and in person) with a confident, knowledgeable, friendly, enthusiastic style.
Strong time management and organisation skills with a quality orientation to get the details right.
Flexible, positive and responsive to client and business needs.
Computer literacy: at least basic proficiency in the use of PCs, email, the web and MS Office applications.
Ability and desire to develop and grow with the business.
Experience dealing with US enquiries would be advantageous.

Rewards and benefits

Life at Pura Aventura is dynamic, engaging, and always evolving. As well as working with some of the most innovative people in travel, you will partner with local contacts with opportunities to help make a positive difference through our network of communities, both within and outside Pura Aventura. Here are just a few of our rewards and benefits that help make our team experience that bit more extraordinary.

Flexible working options to benefit you, your family and your wellbeing that can include flexi-time, job or working remotely
Competitive salary relating to your experience.
At least 20 days paid holiday plus 8 bank holidays.
A company pension. Our pension scheme is compliant with auto-enrolment obligations. Our pension contributions meet the statutory rate of 8% which is made up of a 3% employer contribution and a 5% employee contribution.  
Training and development opportunities - just ask.
Our company cash health plan with BUPA, which offers financial support on a number of everyday healthcare treatments via reimbursing you either the full amount of part of the cost. 
Optional interest-free company loans for seasonal train tickets for commuting to work. The full amount of the season's loan is paid upfront by us as the employer. This cost is then deducted from the employee's pay over the months which follow. If this is a yearly loan for example, the cost is deducted over the 12 months which follow. 
Our 'Cycle to Work' scheme. Access bikes and other cycling equipment directly from our scheme provider and pay monthly out of your salary. Ditch cars and buses and enjoy a nice and breezy commute instead! 
Annual company holiday party. We offer a friendly and supportive work environment and recognise that celebrating each other's success is an important part of this culture. We host an annual party in order to do exactly that! 
Paid time off during work hours for volunteering with a set of charities.  
Plenty of coffee, tea, fruit and filtered water.  
A diverse environment in team, thoughts, ideas and actions.

Benefits:

Casual dress
Company events
Company pension
Cycle to work scheme
Flexitime
Private medical insurance
Sick pay