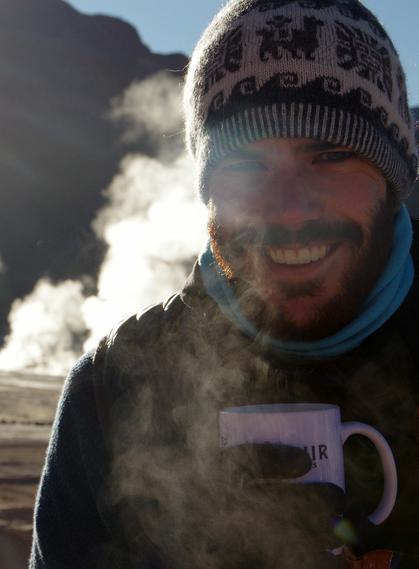 Tales from the road
A-Z of Andalucia: part two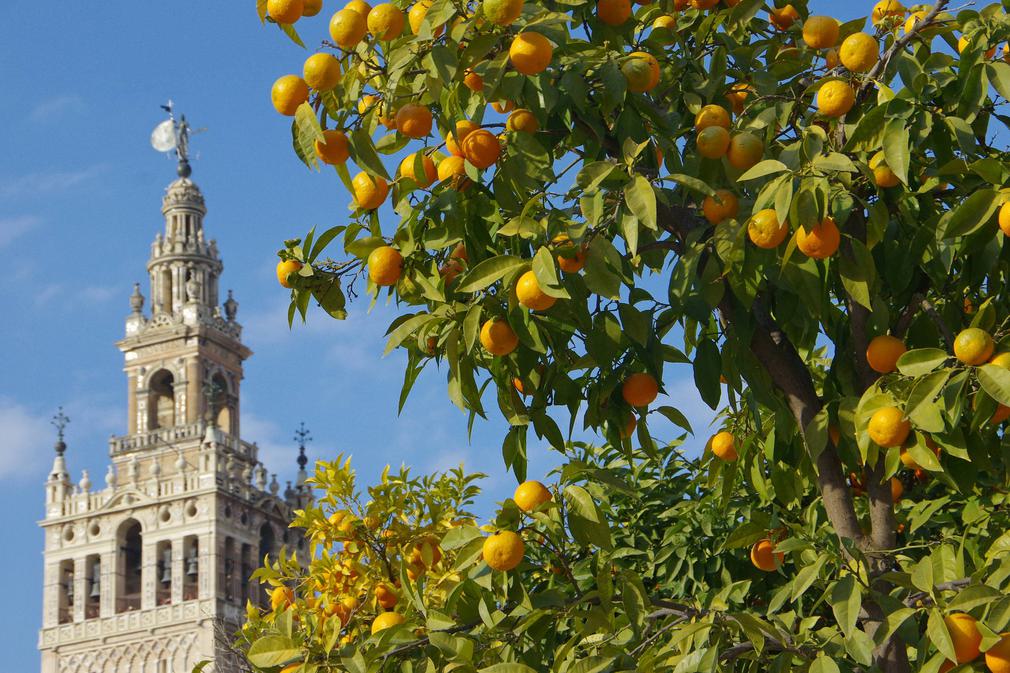 A-Z of Andalucia: part one (A-M)
N is for naranjas, but not just from Seville
Thanks to some clever marketing (which isn't always the case, see O) oranges are as synonymous with Seville as are flamenco and tapas. Even if Valencia leads the way in actual production of naranjas across Spain. The orange tree is deeply rooted in the Andalucían identity, dating back to Roman and Moorish times and celebrated by the latter day poets. But you don't have to flock to Seville to have a good gander at their texture and colour. Most white villages have at least a few clustered around their main square, thriving into the middle of winter.
Wherever you are, lining up a photo with the sun shining on a clutch of plump oranges in the foreground, a church bell tower rising dramatically in the background, never gets old.
O is for Olives trees, everywhere you look
Which country is the world's biggest producer of olive oil? It's Italy right? Wrong. Greece? Nope. Actually it's Spain, and by some distance. Spain is thought to produce half of the world's olive oil, and Andalucía alone produces half of that. So 25% of the world's olive oil originates here. And it's not just volume either, the oils from the Priego de Córdoba DOC are regularly crowned as the best in the world.
Next time you buy a bottle of branded Italian olive oil from your supermarket, take a look at the label. Chances are it'll be referred to as a product of the European Union, bottled in Italy. So, instead of marketing Andalucía as the world's premier olive oil producer, the crop is instead sold to Italy in bulk for peanuts. It is then often diluted with lower grade native olives and given a fancy wrapping to evoke images of sun-kissed Tuscan groves. For something more Spanish, may I direct you towards the entry for Y?
P is for Pueblos Blancos, the white villages
There are literally hundreds of white villages or pueblo blancos scattered around Andalucía. Most of them are perched high up on hilltops as they were built as fortresses to defend the ever-changing frontier between the Moorish and Christian lands.
Today, the villages are mostly still as they were back in the 12th century - narrow winding cobbled streets of white-washed houses with traditional tiled porches lead to the main village square where you usually have a Moorish castle and a Christian church - an insight into the history of the region. Between the afternoon siesta hours of 2-5 these villages are like ghost towns but in the morning and evenings they are bustling with locals shopping , chatting, eating and drinking. These villages have an incredible number of local fiestas - there are over 3,000 each year in Andalucia alone - so it shouldn't be too difficult to time your visit to tie in with one of them.
Q is for quiet, a speciality of the house
Some of my most vivid Andalucían memories involve noise. Lots of. The exuberance of flamenco, the power of the crowd in Seville's Three Kings parade, the hubbub of a busy tapas bar.
But there are many more that provide the yin to the yang of those moments. Perching at the foot of a Moorish watchtower, a sea of olive groves spread out below my feet, nothing but the gentle breeze in my ear. Wandering the streets of an out-of-the-way white village in the late afternoon sun, a pair of elderly gentlemen, straight out of the Spanish version of Last of the Summer Wine, passing the time of day up ahead. Scanning the tops of high limestone cliffs to trace the source of the far-off clang of a goat or sheep bell. Finding an empty bend in the Setas walkway suspended above Seville and watching as the sun slips beyond the horizon. Being lulled by the gentle tones of Arabian zen music as candle light dances on the water at a traditional Moroccan hammam. The quietest moments are just as rich in texture.
R is for Ronda, away from the crowds
The view of Ronda perched atop the precipitous Tajo Gorge, straddled by the New Bridge, is one of the most familiar images of Andalucía. It's somewhere we encourage our travellers to visit as they drive from the coast up to the Sierra Subbetica, but there are far better places to stay. The new part is unceasingly nondescript. Somewhere to park your car and then walk past (or tour) one of Spain's most important bullrings. The area around the bridge offers those wonderful iconic views, but is crowded with tour bus groups taking photos of each other.
Drift down to the old town and you'll soon get a sense of the real Ronda. The Mondragón Palace takes you through the human history of the region, as far back as the early settlers. You can also have spectacular views over the river valley, with hundreds of choughs nesting in the canyon walls below your feet. The same views can be enjoyed with some great tapas and a glass of wine from the garden of a wonderful little restaurant a few paces further along.
S is for Stargazing, under a cloudless sky
If you're outside after dark in Central Andalucía, don't forget to look up. One of our favourite rural farmhouses has the very good fortune of being on the edge of one of Spain's official Starlight Reserves. With some 300 clear nights a year and next to no noise pollution around, it is ripe for stargazing. Distant stars, millions of light years away, are brought into view thanks to a supremely powerful astronomical telescope and the trained hand of a professional guide. Satelites whizz past at dizzying speeds. Planets that I studied at school can be peered at. Constellations I knew only vaguely are right there, brought to life. The lost art of stargazing, of navigating by the night sky, is resurrected for a few hours.
T is for tapas, of course
Talking of tapas... With dinner usually served some time after 9 p.m, Spaniards tend to go bar-hopping to open up the appetite before settling into a restaurant with friends. To go 'de tapeo' is not only an excellent and delicious way to savour the local cuisine, but also a fun and expedient manner in which to meet with locals who are eager to chat. Tapas can be practically anything from a chunk of tuna, olives or a piece of Spanish omelette, to hot meat with sauce served in a miniature clay dish. Strictly speaking, it can be any kind of food as long as it comes out of the kitchen of a bar on a small plate (so paella or cheese on toast can be tapas too).
Tapas bars in Seville touch both ends of the scale. At a traditional bar such as El Rinconcillo you'll need to be prepared to get your elbows out, wedge yourself in at the bar, make yourself as big as you can and shout out an order for a caña (a small beer) and take a stab at whatever takes your fancy on the menu. It'll appear sooner rather than later, with your bill written up on chalk right beside you on the bar. Or for something more relaxed, try somewhere like La Bartola, which is light, modern and even has a big selection of vegan-friendly tapas.
U is for Úbeda, Renaissance city and tapas king
Tapas brings us neatly onto our 21st entry on the list (loving your stamina). The compact city of Úbeda is best known for its magnificent Renaissance architecture and art. But it added another string to its considerable (and no doubt beautifully decorated) bow when it beat off competition from cities across Spain to win the 2018 Ruta de las Tapas award. So that's a UNESCO heritage centre replete with glorious plazas, grand palaces and original city walls and, now officially, the best tapas in Spain. Good job it's only an hour or so from one of your likely bases on an Andalucía holiday with us.
V is for Vejer and treasured village squares
Vejer has a plaza that is representative of the outdoor, community living room that is the town square. It is the space where most of the villagers come at the end of a hot day in southern Andalucía.
The children roam free, a pack of all ages chasing and laughing as dusk drifts into night. The village bars cast bright lights out onto the cobbled streets. Inside, the old boys prop up the bar, cigars smouldering. Outside on the tables sit a younger crowd, the constant murmur of conversation punctuated with laughter, wine, olives, and more smoking. It's a picture repeated all over the country, so in the context of Spain it is unremarkable, but for us visitors, the village or town square is one of the most treasured spaces in Spain.
W is for whales, and dolphins too
During your time on the Costa de la Luz you might be tempted off terra firma and into the Strait of Gibraltar on a two-hour whale-watching tour from the port of Tarifa. Among regular sightings are pilot whales, fin whales, common dolphins and bottlenose dolphins. In spring and autumn, it's possible to see sperm whales and orcas are occasional visitors in July and August.
W is also for walking, and Andalucía is absolutely one of the best places it Spain to stretch your legs. I need only point you in the direction of our Córdoba to Granada Inn to Inn Walking Holiday to explain why.
X is for Xerez, or sherry to you and me
From the plummy richness of Pedro Ximenez, via the smoky warmth of an amontillado to the crisp dryness of a fino or manzanilla, sherry (or Xerez in Spanish) is a brilliantly versatile drink. Its popularity in the UK can be traced back to the 16th century, when Sir Francis Drake raided the port of Cádiz in 1587 and made off with several thousand barrels of sherry, destined for Queen Elizabeth I. Predictably, the bounty found its way into the mouths, and hearts of Londoners and sherry developed a devoted following, bringing English merchants to Jerez to set up shop.
Since 1993 sherry has been protected by a Denominación de Origen within the triangle between Jerez, Puerto de Santa Maria and Sanlucar de Barrameda. You are spoilt for choice when it comes to which bodega to visit, but our Holiday Guide will point you in the direction of our favourites.
Y is for Yegen, the rural Andalucía ideal
2019 marks exactly 100 years since Englishman Gerald Brenan hitched up his mule and made a home for himself in the little Andalucían village of Yegen in Las Alpujarras. In 1957 he published his now acclaimed book South from Granada and a vision of a new rural ideal was born. It's the sort of ideal that has tempted generations of travellers and expats to sun-kissed regions such Provence, to Tuscany and Andalucía, seeking a slower pace of life, lazy evenings and to surround themselves with beauty.
For us, there's no better place to enjoy this way of life for a few days than at our local partners Tim and Claire's rustic farmhouse near Priego de Córdoba. Even if it is north from Granada. The British pair, perhaps inspired by Brenan, have been living here for years now, surrounded by endless olive groves on a quiet backroad, somewhere between Córdoba and Granada. Both great cities are within a short drive, but closer to home you can do one of my favourite walks at Zuheros (see Z) or head out for a walk with their dog Ruby. The 'path' winds its way up to a ruined Moorish watchtower, passing through silent, stately olive groves that were probably there when the Moors manned the tower. They have 100 trees of their own. Bottled down the road, their oil is top notch. Down the road in Priego you can sample the world's best olive oil at source.
Z is for Zuheros, one of my favourite walks
And finally, we get to Z. A 25-minute drive from Tim and Claire's is the tiny white village of Zuheros, from where you can strike out on a spectacularly varied 12km circular walk. Limestone crags and caves rise high above crumbling farmhouses and open valleys, with old drover's paths threading their way across open pastures, along rocky rivers and through stately stands of lichen-covered Mediterranean holm oaks. Finding a good spot for lunch is easy, somewhere with a view and the gentle clangs of cowbells within earshot. So moved was I by this walk, I even took a stab at writing a poem for the first time since my GCSE English days.
If you enjoyed jumping around Andalucía, from A-Z, chances are you'll enjoy it a lot more in real life, from Seville to the Mediterranean, on our Andalucía self-drive itinerary.
And if you want a chat or have a question to ask, we're always happy to chat or email. Just let us know which letters most interest you and we'll go from there.
The Pothole is Pura Aventura's popular monthly email. We share what we love, what interests us and what we find challenging. And we don't Photoshop out the bits everyone else does. We like to think our considered opinions provide food for thought, and will sometimes put a smile on your face. They've even been known to make people cry. You can click here to subscribe and, naturally, unsubscribe at any time.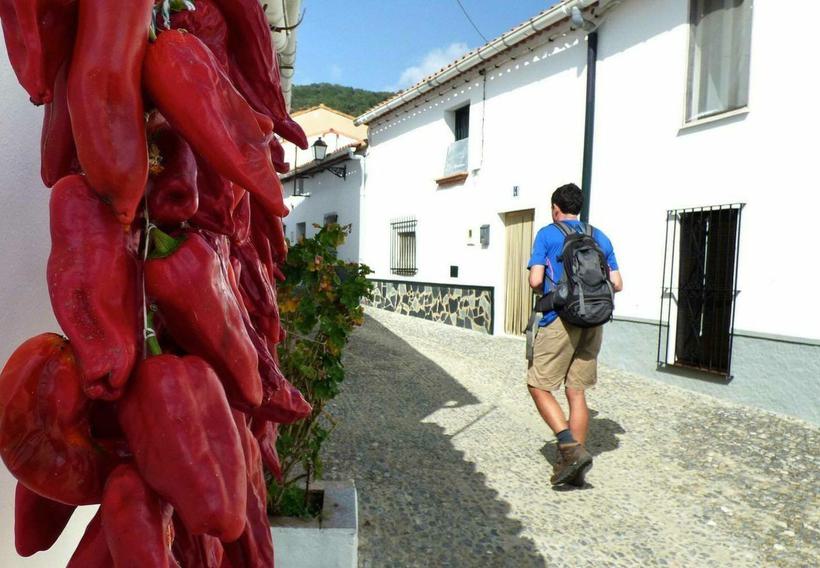 Villages of Andalucia Inn to Inn Walking Holiday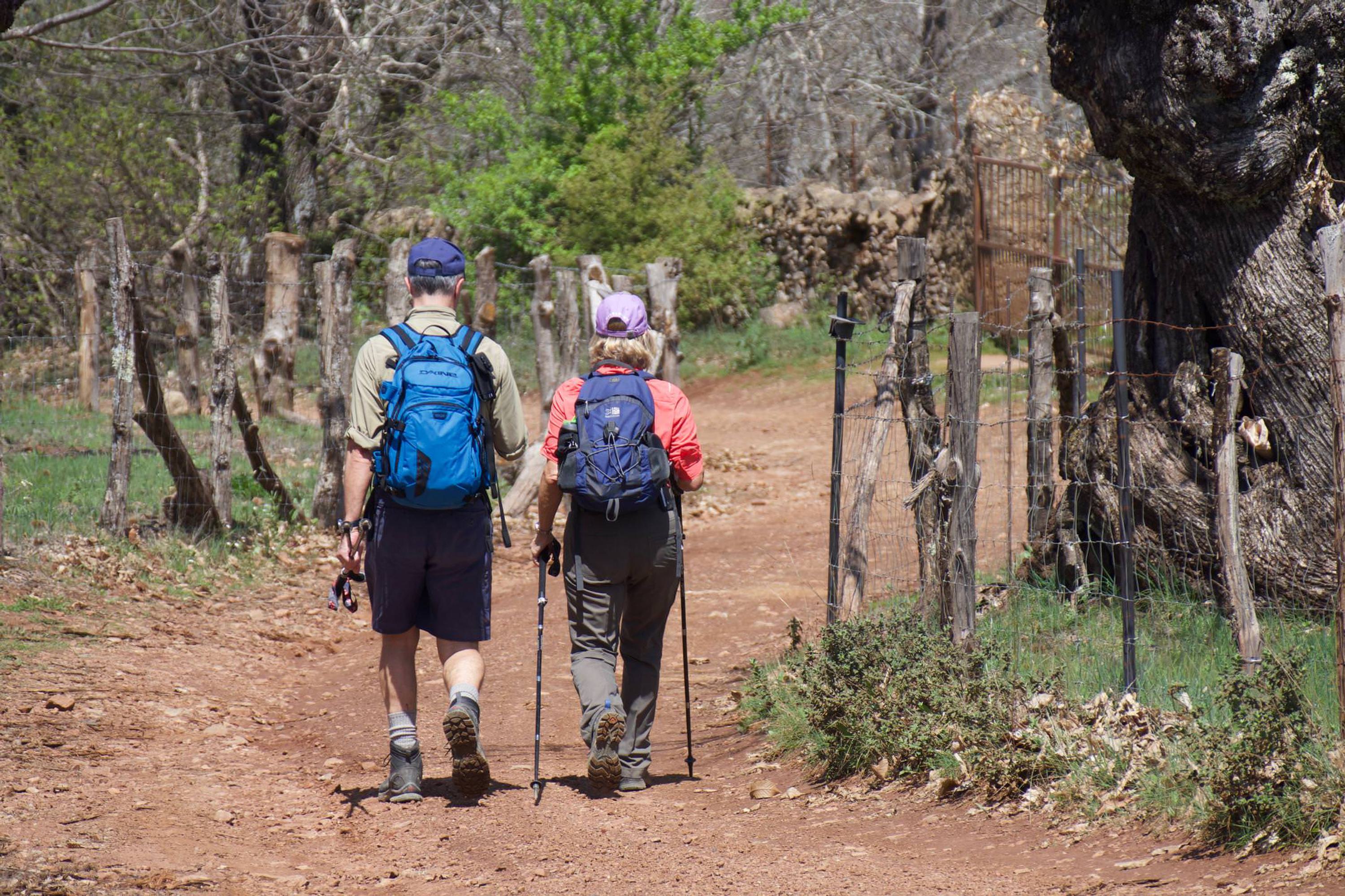 When: Mar-Jun; Sep-Nov
Price: £1,140 per person
Duration: 8 days
Enjoy a slower pace of life along the cobbled paths, open forests and white villages of the Sierra de Aracena, swapping trails for tapas as you end in Seville.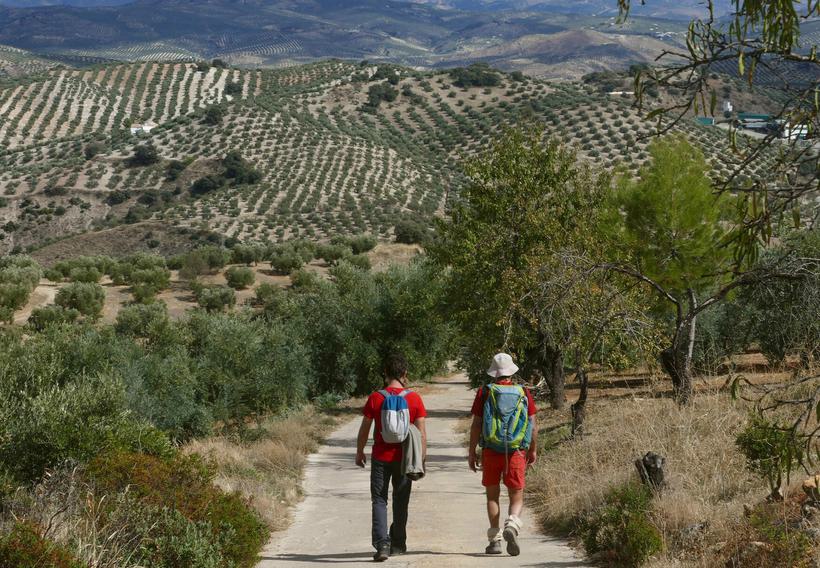 Córdoba to Granada Inn to Inn Walking Holiday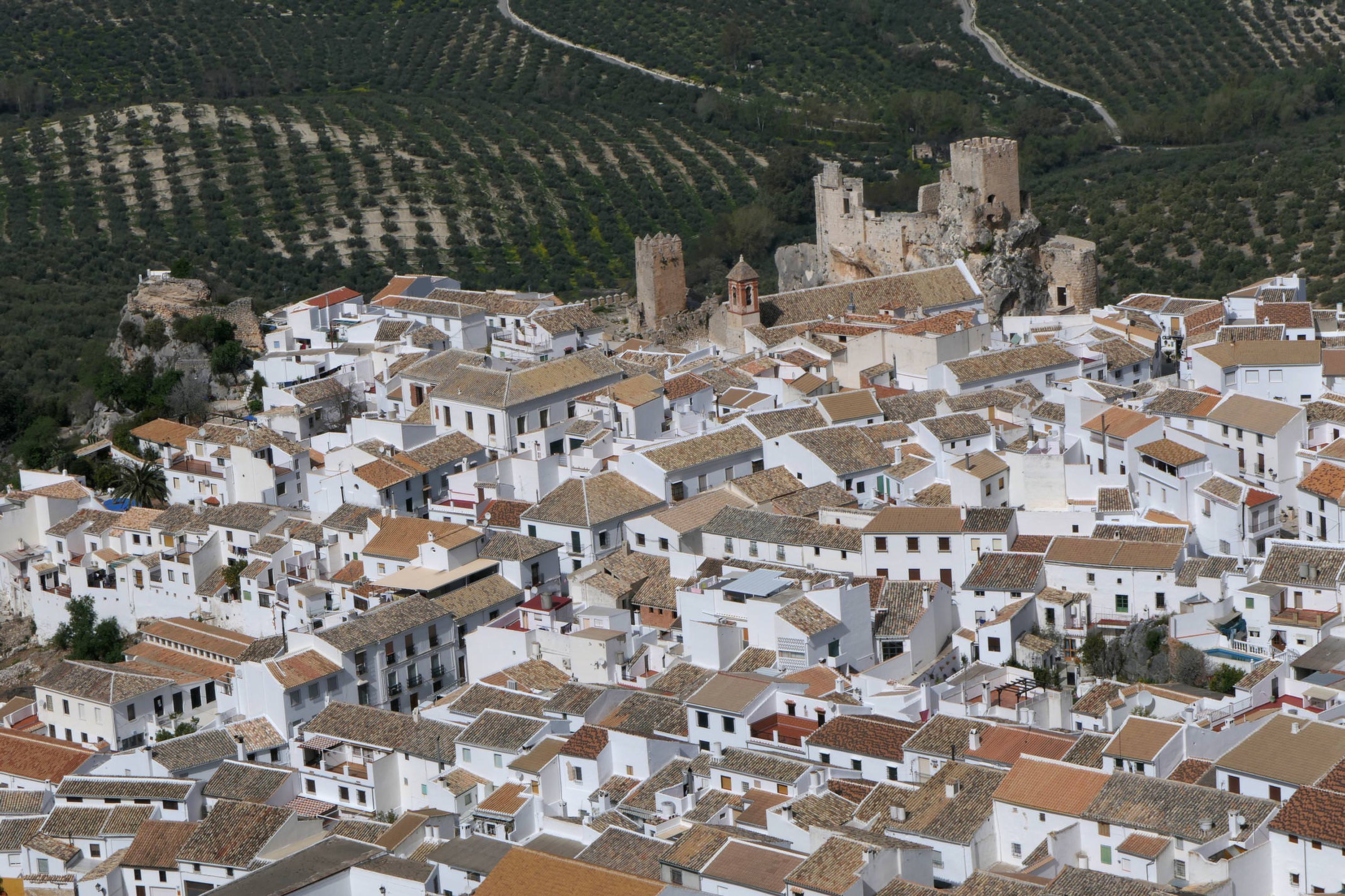 When: Mar-Jun; Sep-Jan
Guide Price: £1,880 per person
Guide Duration: 10 days (can be shorter or longer, contact us to discuss)
Shepherd tracks, olive groves and whitewashed villages, bookended by great Moorish capitals. This is classic Andalucía, experienced in your walking boots.