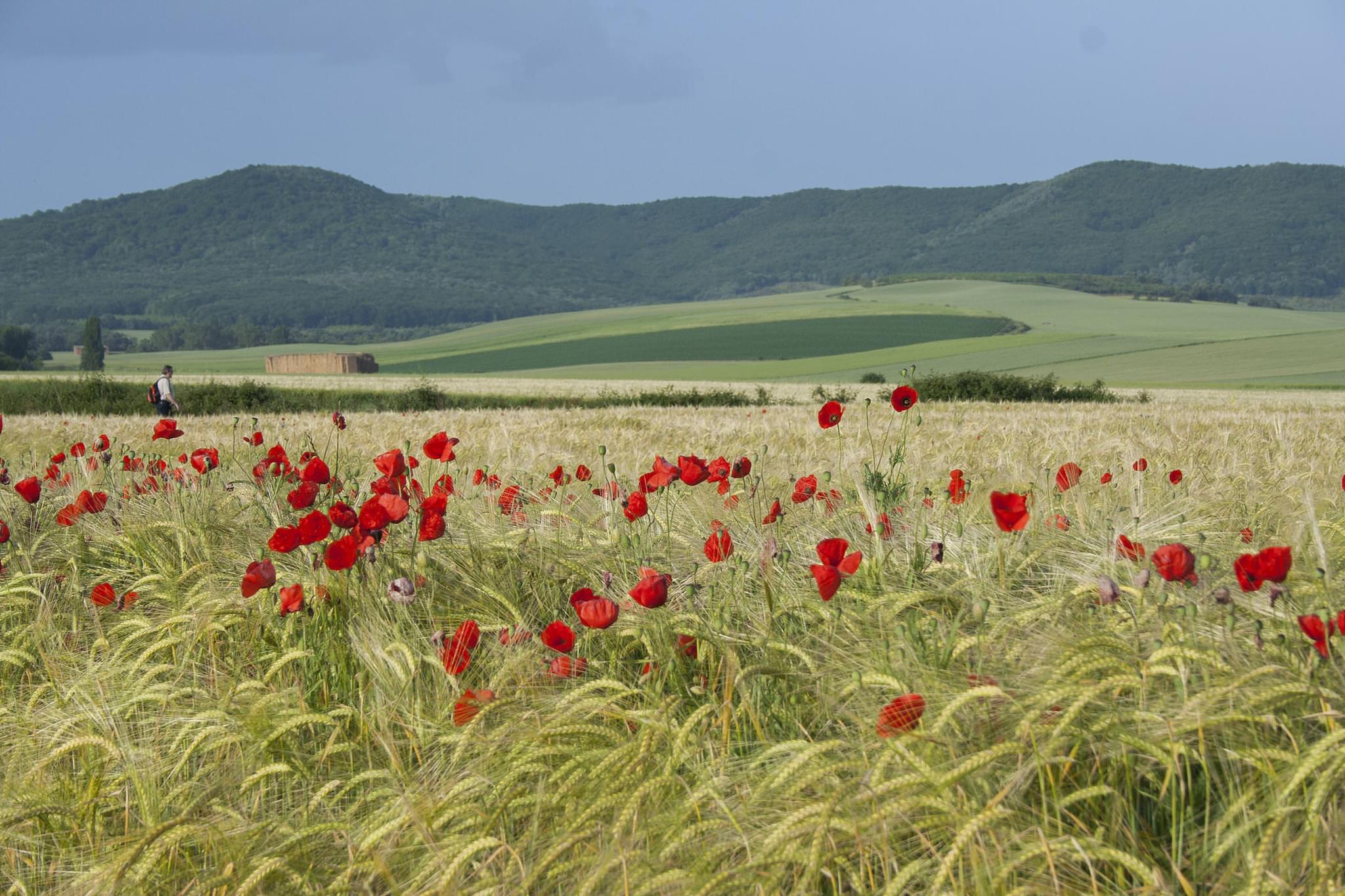 Camino de Santiago
The most emblematic, beautiful and storied sections of Spain's Caminos
Camino de Santiago
Cookies must be enabled in order to view maps
| | |
| --- | --- |
| | Camino routes |
Camino Francés; Camino del Norte; Camino Vadiniense

| | |
| --- | --- |
| | Main departure points |
Roncesvalles; Donostia

| | |
| --- | --- |
| | Major airports |
Bilbao (start); Santiago de Compostela (end)
Street sardines
Rock of Ages
Birdsong
Sunflower signs
Ancient Atapuerca
Talk to each other
Temptation
Random acts of kindness
Guitarist of Astorga
We'll get you to the top
Galician shepherd
Journey's end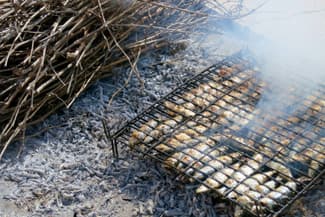 1 of 12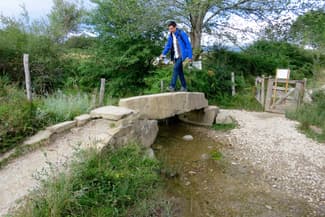 2 of 12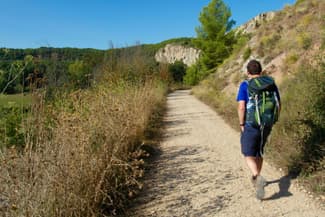 3 of 12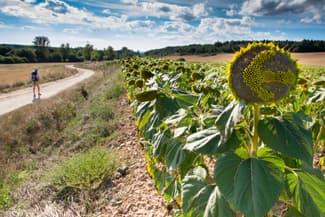 4 of 12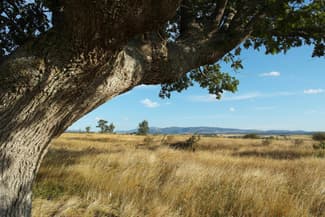 5 of 12
6 of 12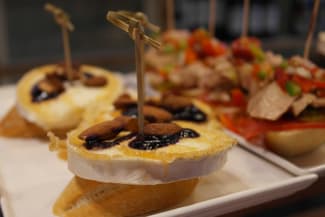 7 of 12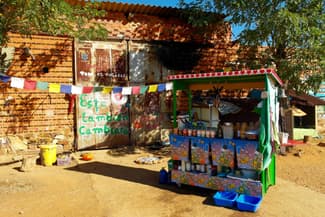 8 of 12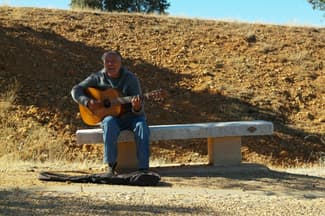 9 of 12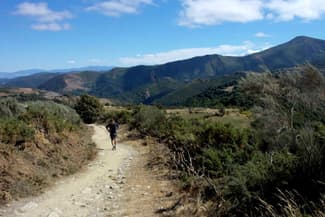 10 of 12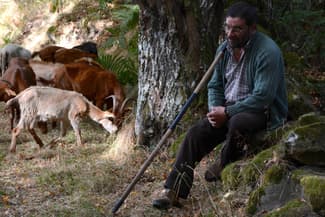 11 of 12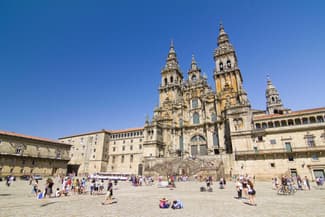 12 of 12












From Cirauqui, Navarre
The women of Cirauqui were dressed in traditional white clothes with red kerchiefs for Lady's Mass. After the service, the men had set up tables in the shady village square, with wine flowing and bundles of dried vines squirted with extra virgin olive oil and set alight to grill piles and piles of sardines.
And that was it, a lump of bread, fresh sardines and a cup of wine. Not a tourist in site, Spain at its most unguarded and engaging.
From Burguete, Navarre
It felt as if that great slab of a stone bridge had been there forever. I got a palpable sense of the history which had passed over this stone, all the footsteps which smooth it, each one leaving the most tiny imprint.
That's the thing about the Camino - it's ancient, it's very low impact. Nobody's racing, nobody's walking along talking on their phones, it's resolutely un-modern and very, very human.
From Estella, Navarre
When you come out of the Pyrenees and cross the hills, you emerge to a landscape more recognisably 'Spanish'. Rolling hills, vineyards, sandstone villages, olive trees.
But what I loved about this part of the walk were the smells and the sounds. Wild fennel, sage, wild flowers and blossom surround the path. Birds cheep, church bells ring, people talk. Normally I'm a very fast walker but the Camino made me want to slow down and take it all in.
From Burgos, Castile y León
Emerging from the Montes de Oca forests, you see yellow arrows everywhere; tiled into walls, bolted to signposts and painted onto surfaces. In a field of sunflowers, someone had even taken the time to pluck out the seeds to make a perfect arrow.
You really can't get lost here, so I think it was done to make people smile. That someone would create something so fleeting to benefit strangers says something reassuring about the world.
From Atapuerca, Castile y León
Right here is where our earliest ancestors roamed. The remains found at the Atapuerca archaeological dig date back as much as 1.3 million years, making this the most important archaeological landscape in Europe, arguably the world.
But what I was also looking at is quite simply a beautiful, open landscape of grassland punctuated with enormous, ancient oak trees. It's a place you can walk in silence and absorb the space.
From Burgos, Castile y León
The Camino is not all about the walking. It's a story of humanity. In a bar amid the bustle of Burgos they served me a G&T which sits among the all time greats. But then that's by-the-by. It's the sign I love most. It translates as: 'We don't have wi-fi, talk to each other.'
Absolute genius and a sentiment perfectly inkeeping with the Camino.
From Burgos, Castile y León
The art of food. Everywhere, and I mean everywhere. Along the way, we encountered beautiful food at every stage of the Camino. Made with such care and flair and presented so beautifully that it is near impossible to resist working your way through everything on display, like these tapas in Burgos.
I can resist everything except temptation.
From Astorga, Castile y León
A barn-cum-mud-hut sits on the high plain as you approach Astorga. It's an unforgiving place - brutally hot in summer, bitingly cold in winter. And yet, here lived a young man called David, who looks like our received images of Jesus - beautiful, beatific and bearded. His little stall is filled with drinks and snacks.
But it's not a shop, it's not for sale. It's for the pilgrims to take. I love the spirit which underlies this simple, ongoing act.
From Astorga, Castile y León
Sitting just outside Astorga at the point where two branches of the Camino meet - the Francés and the Via de la Plata from Andalucia - is the guitarist of Astorga. It's at this point that the Camino starts to get busier, you feel the atmosphere rising as you see more and more pilgrims around you.
To come across this chap singing away as you come off the plains creates an excitement all of its own.
Brilliant.
From Lugo, Galicia
O Cebreiro is the section of the Camino which brings you into Galicia. Bear in mind that the day before, we'd been walking across the plains of Castile so the change in landscape is dramatic.
It's an eight or nine kilometre uphill slog to get to this point but the views are fantastic. Down at the bottom of the hill is a truly inspired piece of marketing for horses for hire 'Te subimos!' We'll get you to the top!
From Lugo, Galicia
Sorry, I don't know his name. But we sat on a wall and talked about goats, the Camino, life. Rural life in Galicia is hard - over the generations the farms have been split between children and then split again until nobody has a plot big enough to sustain their families. Then there's the harsh weather...
But on a day like this, the sun streaming down through the trees, the clanking of the goats' bells, this was a man at peace.
From Santiago de Compostela, Galicia
Here's a small provincial city in all of its glorious Spanishness - lovely food, buildings, culture, people. But it's a city which, for over a thousand years, has welcomed people from all over the world. It's open, welcoming and diverse.
And in the Plaza do Obradeiro, where most pilgrims finish their journey, there is singing, there is dancing, a lot of crying and lots of noise. It's incredibly energetic and spectacularly moving.
With tailored handpicked hikes, welcoming guesthouses and no heavy bags to carry, enjoy only the very best sections of Spain's ancient Caminos on a relaxing walking vacation.

People of the Camino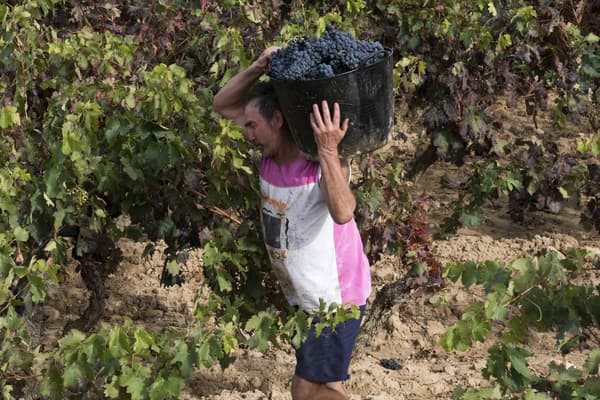 Finding a creative way to stitch together the most beautiful parts of The Way is one thing, but the Camino experience is as much about engaging with the people you encounter, as it is about what unfolds over the next horizon.
Our job here isn't to contrive ways to force these interactions for you. If anything, it's to get out of the way so that they can happen naturally.
That means giving you enough time to stop and talk to the locals or pilgrims or to notice the little touches of humanity as you walk.
It means taking away the worry about navigating or where you're staying that night so that you can just focus on what's going on around you. And it means taking your baggage on ahead of you so you have a bit more energy and hopefully a few less aches and pains to distract you.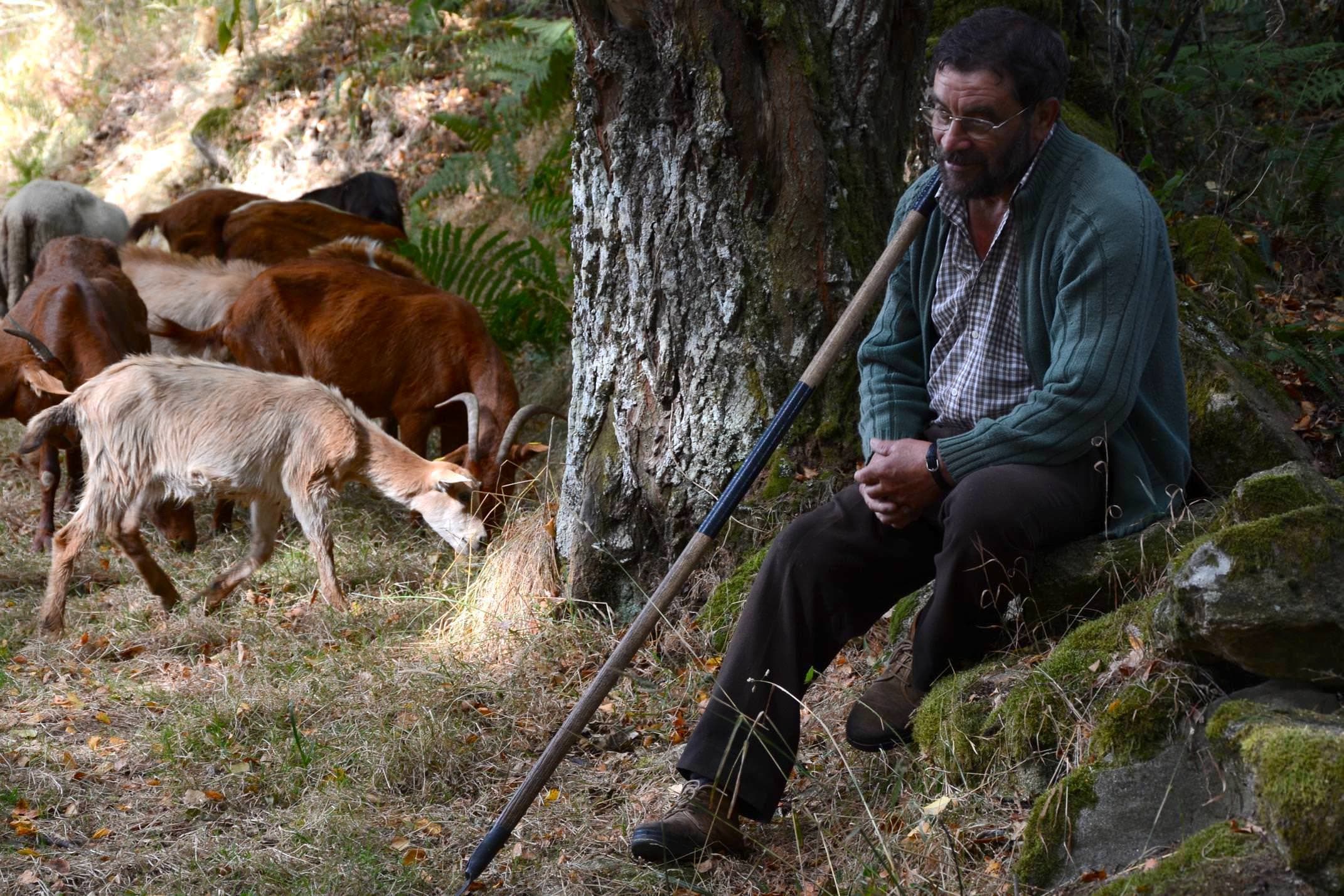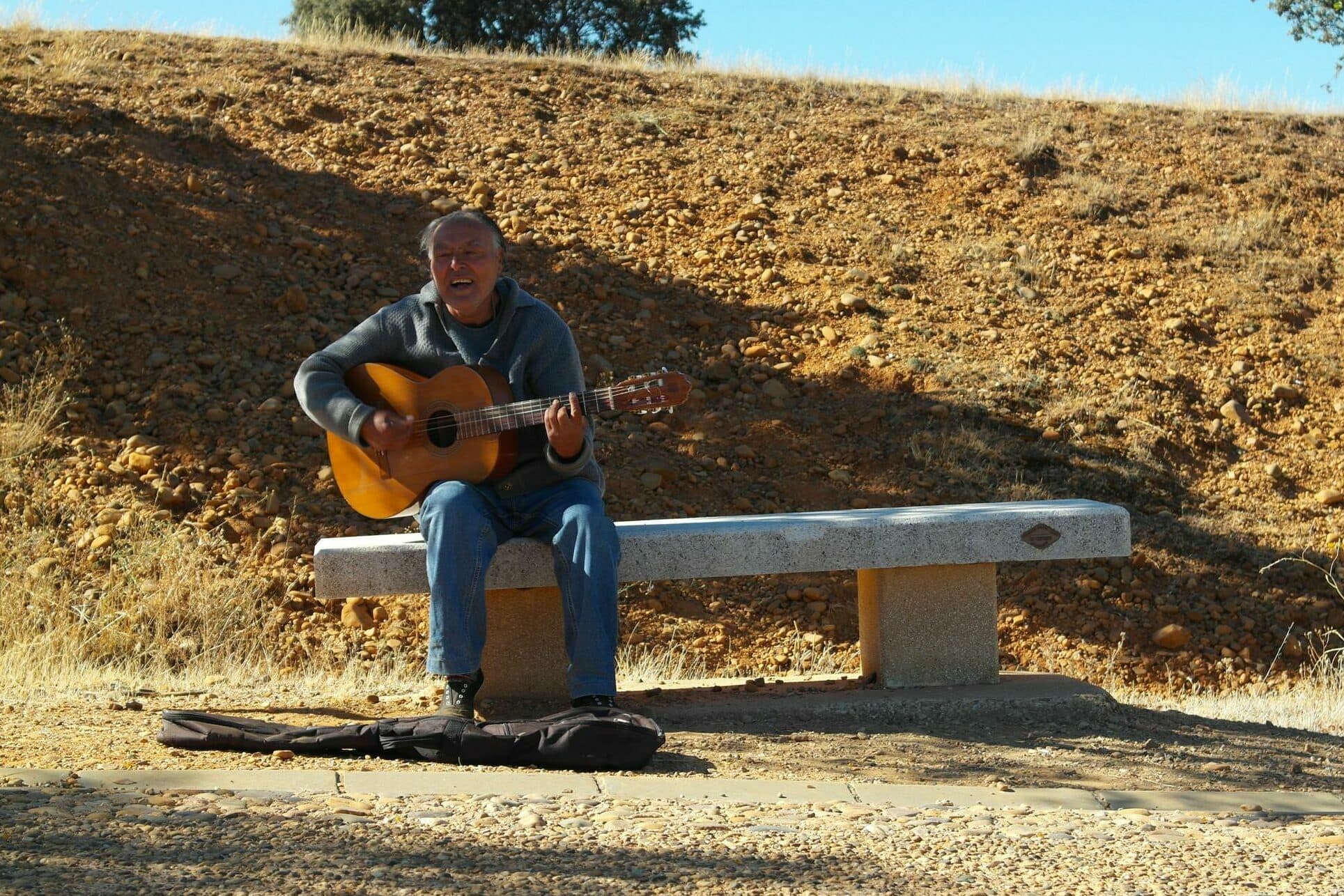 It also means we can't really guarantee who you'll meet or what stories you'll come away with. But that's kind of the point.
The above photo is a shepherd one of us sat on the wall next to and talked about the goats, the Camino, life in the country. He was a man at peace, despite rural life in Galicia being terribly hard. Over the generations the farms have been split between children and then split again until nobody has a plot big enough to sustain their families. And then there's the notoriously harsh weather. But with the sun streaming down through the trees, the clanking of the goats' bells, you see a more fortunate side to his lot.
Stopping for impromptu chats, or swapping stories with other walkers, is one of the many simple pleasures of the Camino.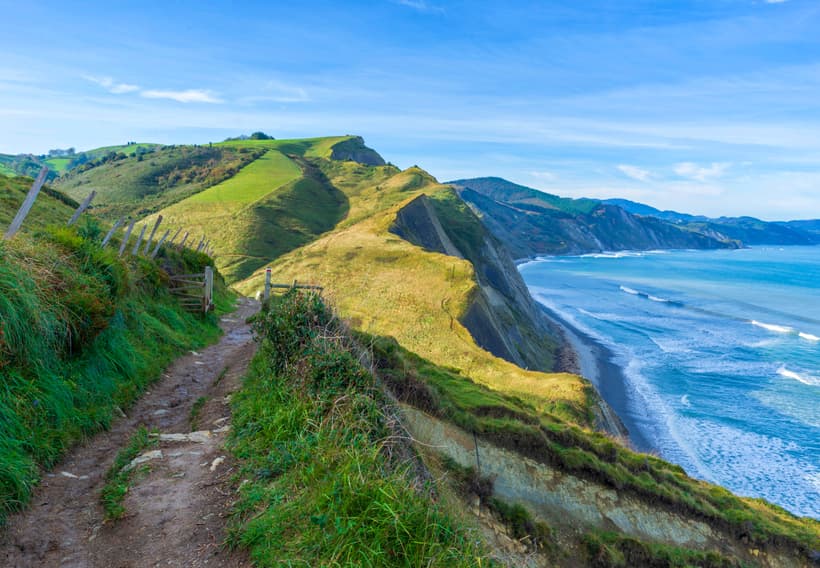 Three Caminos Inn to Inn Walking Vacation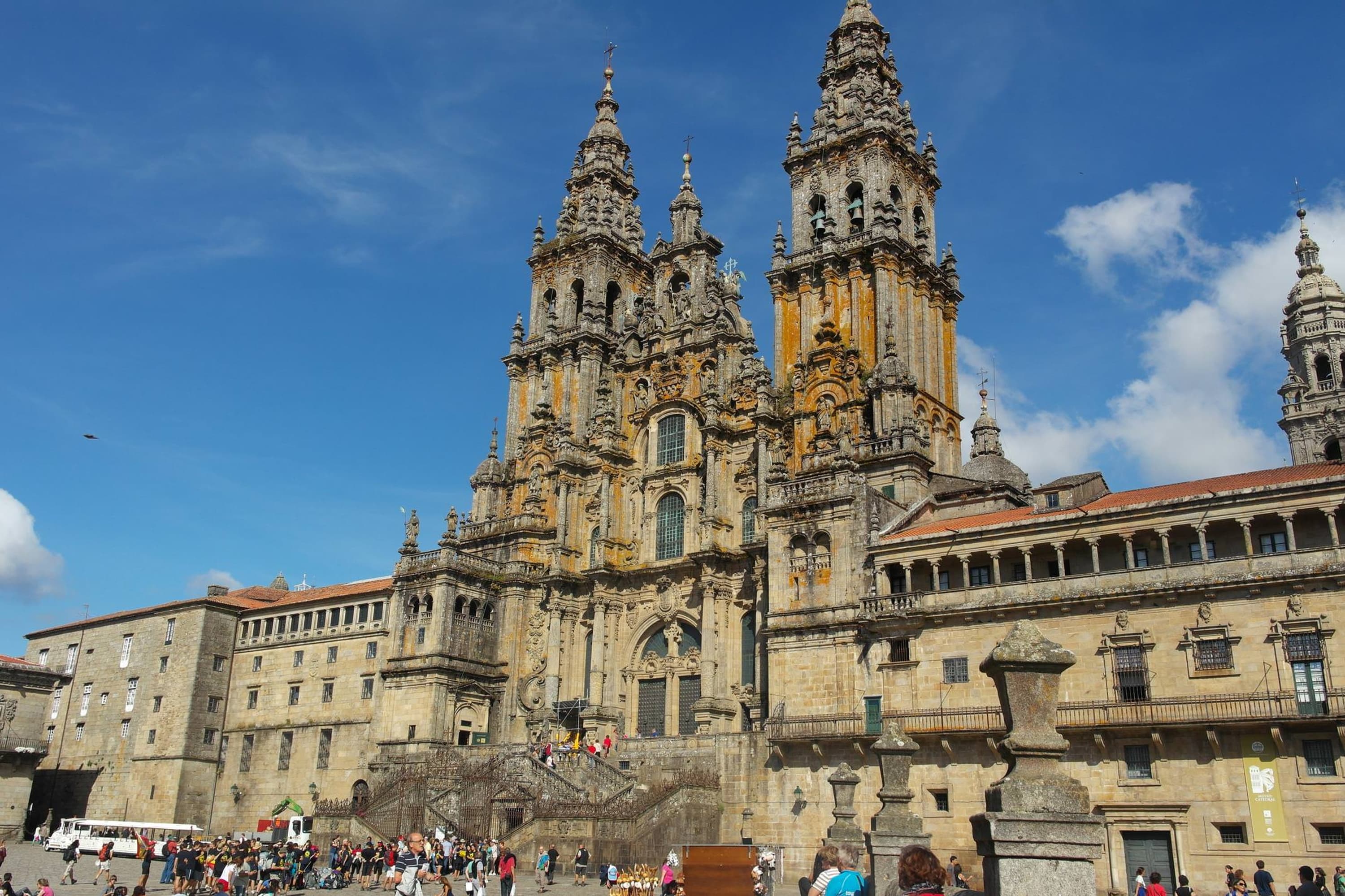 When: Apr-Jul; Sep-Nov

Price: $4,984 per person
Duration: 12 days
Walk our handpicked highlights, along the coast, in the mountains and across the plains, following three ancient pilgrim routes to Santiago de Compostela.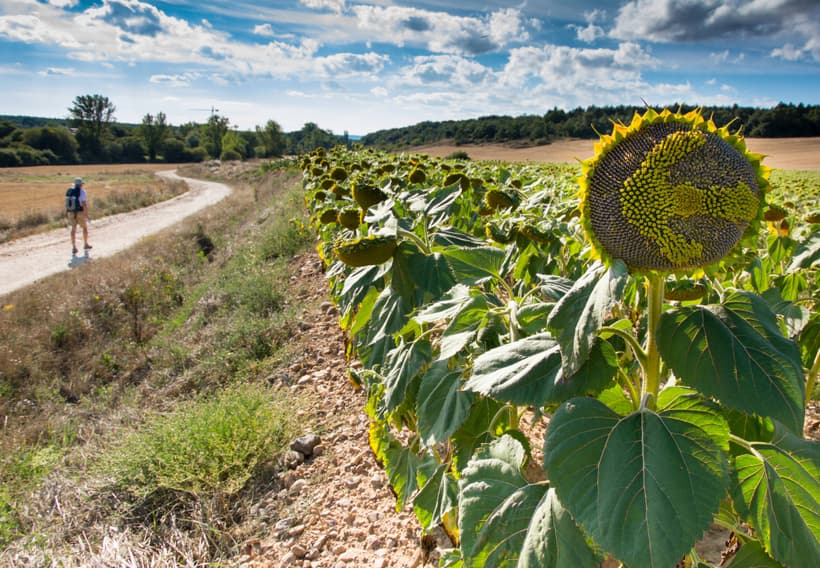 Highlights of the Camino Inn to Inn Walking Vacation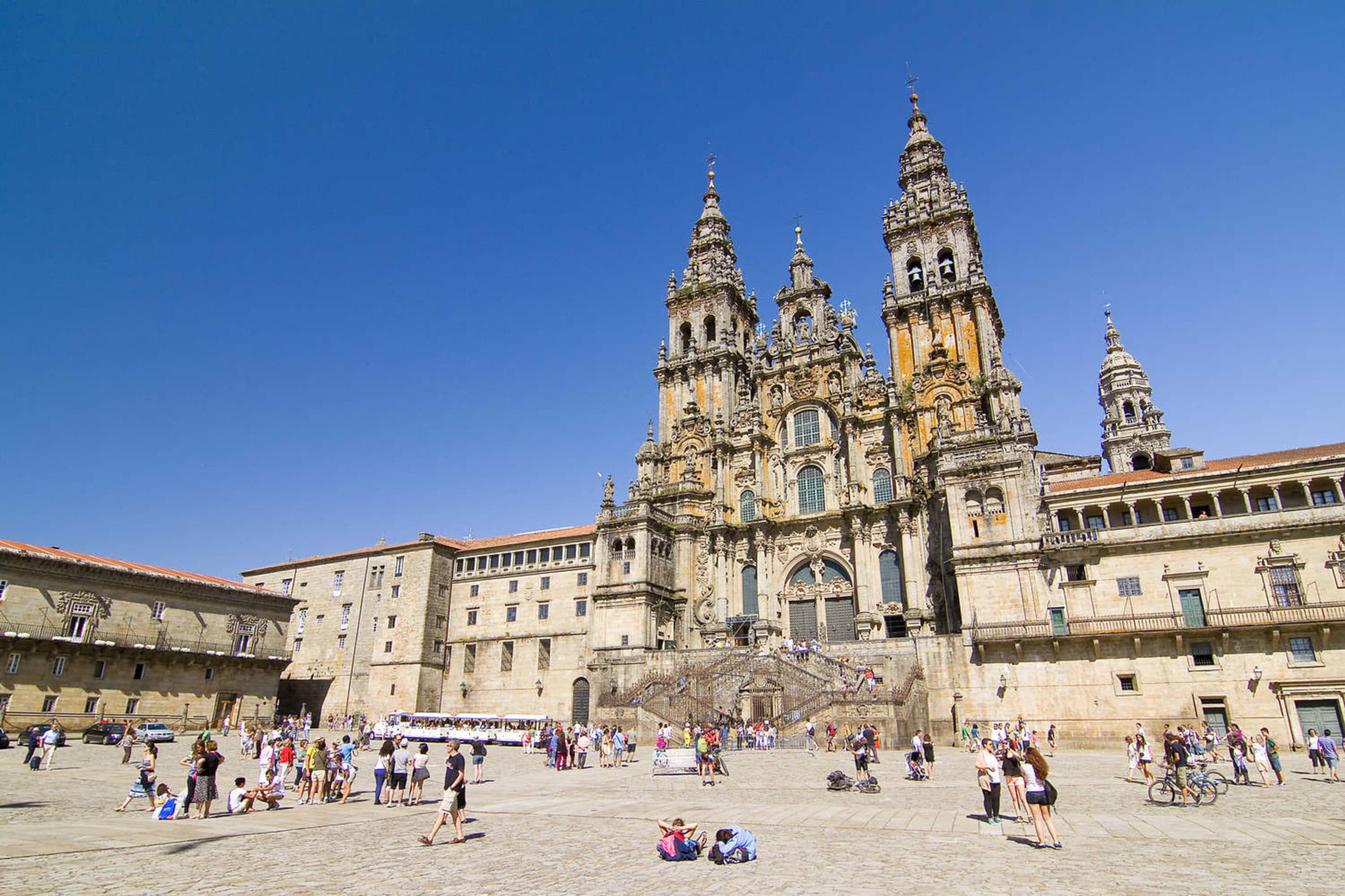 When: Apr-Jul; Sep-Nov

Price: $4,249 per person
Duration: 11 days
The French Way, your way. Walk six iconic sections, with your load lightened, distances tailored and charming hotels to relax and refuel at the day's end.