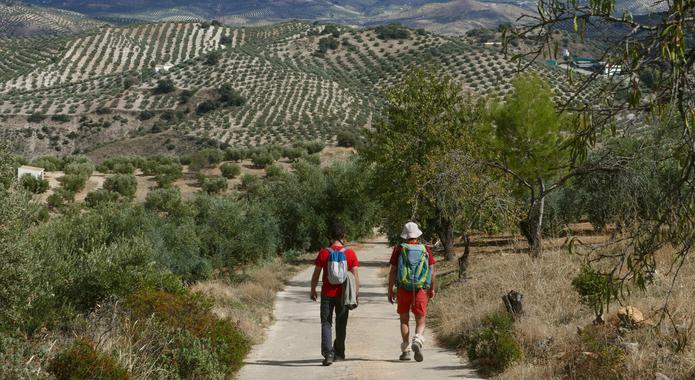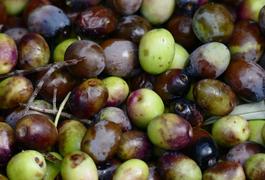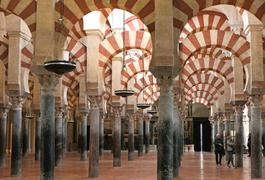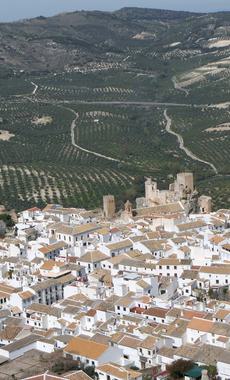 Córdoba to Granada Inn to Inn Walking Holiday
10 days
Duration
All of our trips can be lengthened or shortened to suit you - what we show here is an example itinerary to give you a starting point. Please get in touch to discuss a personalised proposal.
FAQs
When is the best time to go?


This trip can start any day of the week, from early March through June, and September through into the first half of December.

In spring and autumn you can expect it to be warm and sunny with average daytime temperatures of around 20-25°C.

March brings the spectacular sight of the almond blossom. October through November is olive harvest season - the harvest is still done by hand across the region! With reliable weather, the cities at their quietest and snow often on the peaks of the Sierra Nevada, it's a wonderful time to visit.

July and August are simply too hot to be enjoyable if you ask us.
Which airports are best for this holiday?


The trip includes rail travel from either Seville, Málaga or Madrid - we think these are the most convenient starting points. On your return, Granada is of course the closest option, though Málaga is also close by. If you wanted to return via Madrid or even Barcelona, again those are options with the high-speed AVE trains.
How much carbon is produced on this trip and how is it mitigated?


Total carbon generated on this trip: 527kg per person
Carbon mitigated by us: 843kg per person

As Yvon Chouinard, of Patagonia, Inc. rightly declared: "To do good, you actually have to do something."

Therefore, for every kilometre travelled by road, air and sea on your Pura Aventura holiday, we carbon balance it by a mile - i.e. by 160% of your trip's carbon, from your front door and back again, irrespective of whether we book your international travel or not.

This is one of the travel industry's most ambitious and innovative schemes and has recently been praised by Wanderlust, Condé Nast Traveller and The Independent.
Can I do this trip without flying?


Taking the ferry from Portsmouth or Plymouth to Bilbao or Santander and driving down through Spain dramatically reduces the carbon footprint of this trip, compared to flying.

Because of the extra time and expense needed to get this far south without flying, it's best to see this walk as part of a longer trip, stopping en route a couple of times. The places to do so are plentiful and beautiful; La Rioja, the Ebro Valley, Ribera del Duero and Extremadura spring to mind, for example. There's also Burgos, Madrid and Toledo if you want time in a city too.

Let us know that you're interested and we'll throw some ideas around before putting together a proposal for you to consider.
Is this trip suitable for solo travellers?


In common with all of our Inn to Inn walking holidays, most of the costs of this holiday are fixed so going solo will usually mean you pay nearly the same for one person as you would for two.

How long will I be walking each day?


For most of the walking days you can expect to be walking around 4-6 hours at a comfortable pace, with plenty of time for a picnic and to enjoy the landscapes.


The longest day's walk is 22km, but there are options to shorten it if you prefer. The final walk at Moclín and the circular to the olive mill on day five are shortest at around 11km.

Underfoot is a mixture of stone tracks, olive fields, dried-up river beds and the odd short section of tarmacked road or cycle track.

Are there any steep ascents or descents?


The highest height gain is around 500 m on a few of the days but it is over the course of the day, not one steep section. The walk to Priego on day four is mainly all downhill but again it is a gradual descent not a steep downhill.

How do I navigate?


We provide detailed OS maps, walking notes and a smart phone with a GPS-enabled navigation device - your route is pre-loaded. Most of our guests like to navigate using maps and written notes but appreciate having the reassurance of the GPS just to check if they feel unsure at any point.

What if I get lost?


With all of the navigational tools at your disposal, and the friendly locals, you are unlikely to get lost but if you do get into any difficulties, simply call the local support number - we are always on hand 24/7.

What happens to my bags?


Your main luggage is transferred ahead for you each day you move on. This is the case with all our Inn to Inn trips. You just carry a day pack with what you need for the day. The hotels are very familiar with this system.

Can I opt out of a walk if I feel tired?


Yes, it's usually possible to skip a walk on any given day if you are tired, the weather is being unkind or you want to give your knees a rest. You can hop in with the luggage transfer and travel to your next hotel by vehicle. It's best to let us know the night before if you can so we can let everyone know.


You can of course use the circular routes as rest days and opt out of the walk that day and explore the local area instead. Your guide will be able to talk you through the different options during the briefing.

How comfortable will I be?


One of the absolute joys of this trip is the welcome you are extended throughout by our local friends and partners, most of whom directly inputted into the design of the itinerary.


Carlos and Antonio are your hosts in Zuheros, right in the heart of the village, with many rooms enjoying views across the olive groves.

Tim and Claire are up next, a British couple who turned a ruined farmhouse into one of our favourite B&Bs. There are few better places to rest up post-walk.

Having said that, La Era in Almedinilla comes close. Owners Raul and Davinia are an enterprising young couple dedicated to the Slow Food movement. What they are able to do with the array of organic local ingredients is something truly special. The guesthouse is a grand old inn with agricultural artifacts from days gone by.

In Córdoba and Granada we use small boutique hotels with local character, great hosting and excellent location.

Will I meet the locals?


Yes. One advantage of the slow pace of an Inn to Inn walk is that it allows you to enjoy not only nature but the rich rural culture of the area. Although the way of life has been changing quickly in the last 50 years, a lot of people still live from the land and traditions are alive and well.

What might I not have thought of?

Olive oil - this itinerary drops you right into the heart of the world's most prolific and prestigious olive oil producing region, with two prized Denominations of Origin at hand - Priego de Córdoba and Baena - around which factories cluster, producing their award-winning 'vintages'. Olive oil tasting is a big deal here.

Can I make changes to this trip?


This holiday can be tailored to suit you in certain ways though as an Inn to Inn walk, we can't easily deviate from the route without compromising the trip.


Extending the trip is perfectly possible. It's easy to take in more of Andalucía with time down on the coast or in the quiet and largely unknown Aracena hills. Trains from Seville can take you to Catalonia in a few hours - another Inn to Inn walk from the hills to the Mediterranean coast is quite a contrast to this trip. In short, we have lots of options and ideas, just call to start the conversation!

What is the payment process and is my money completely safe?


We take a 15% deposit to secure your holiday, with the remainder due eight weeks before your departure.

Your money is 100% protected through our ATOL licence if your trip includes a flight booked through us, or through our ABTOT bond if it does not. Either way, this protection provides a cast iron financial guarantee and helps you book with complete peace of mind. Because the contract between us exists here in the UK, you get this protection regardless of where you live
Can't find what you're looking for?
Travel with Pura Aventura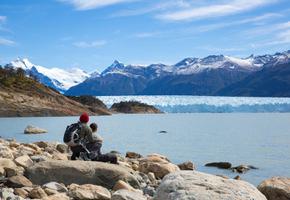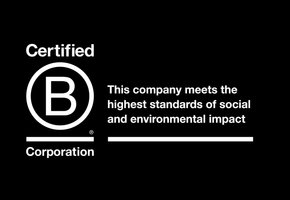 We are one of the first UK travel companies to be certified B Corp – regarded by The Independent as the premier sustainability certification, and described by Which? as "meeting the highest standards of social and environmental performance".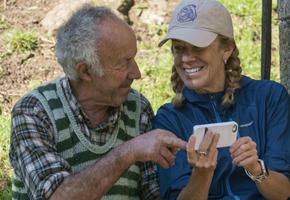 Award-winning Travel Positive