Tales from the road
Beautiful Spain: 7 wonders from the Pyrenees to Andalucia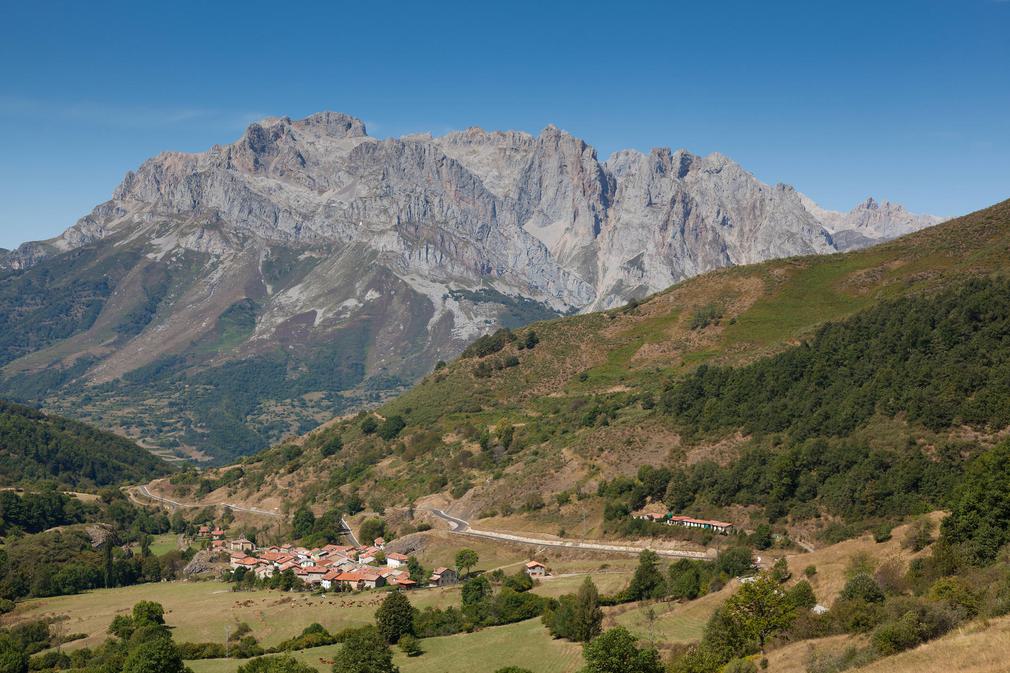 As a new book called 'Ugly Spain' lands, we tip the scales back in beauty's favour with our own Seven Wonders of Spain, from the glacial heights of the Pyrenees to a sunlit village of the Andalucían coast...
1. Cap de Creus, Catalonia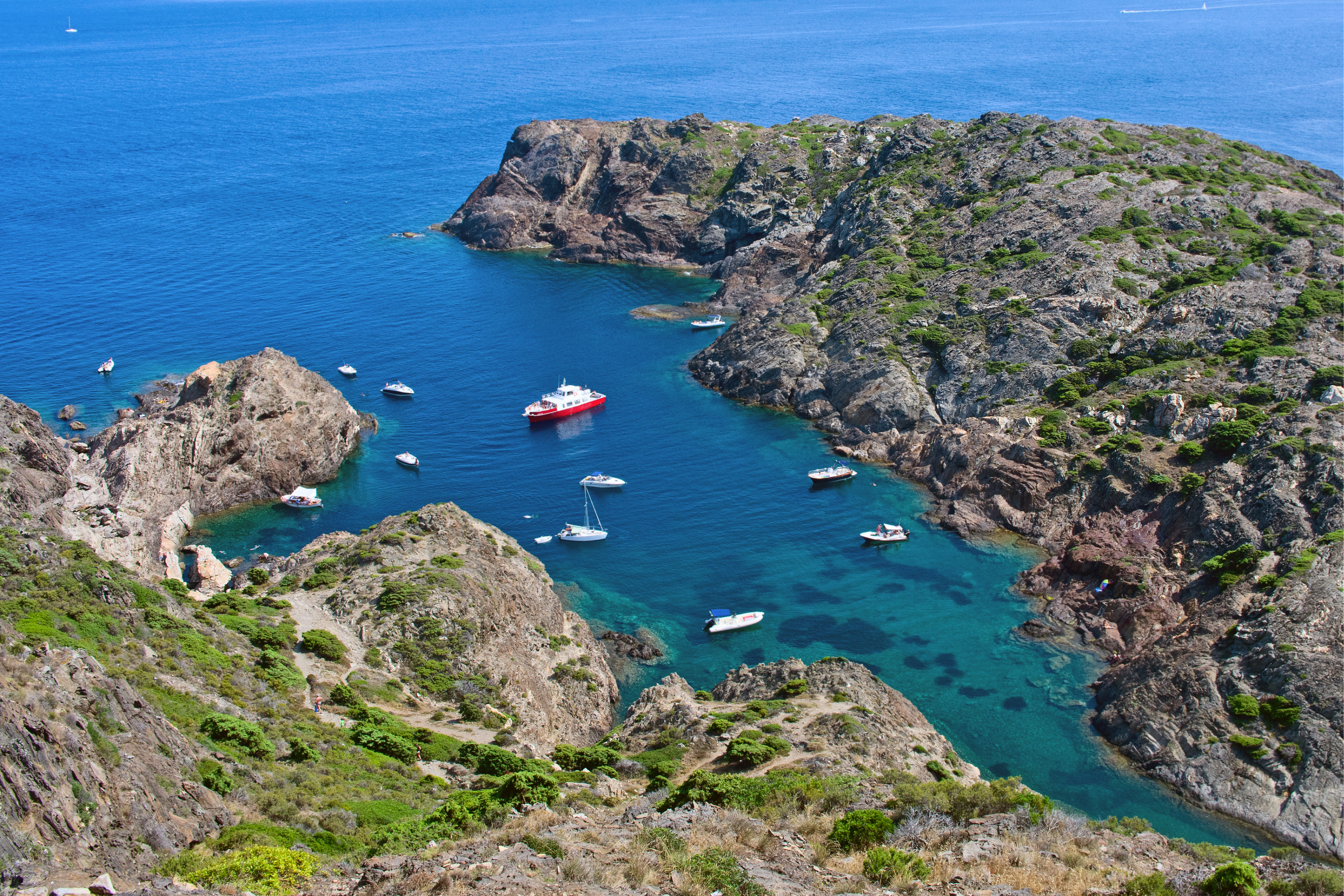 There's a reason Salvador Dalí chose to live on Catalonia's Costa Brava - the Mediterranean color palette and quality of light is enough to bring out the artist in all of us.

The coastline is a nearly unbroken series of sheer rock cliffs dropping down to clear blue-green waters, interrupted with occasional fishing villages, innumerable coves and tiny beaches on narrow inlets.
At its most northern point, the Pyrenees mountains sink into the Mediterranean, creating a landscape of unique beauty, protected by the Cap de Creus Natural Park. This dry headland is punctuated with wonderful wind-eroded rock formations, many of which are strangely familiar from Dalí's paintings.

However, it's the coastal part of the cape which is most striking. A little-used path leads steeply away from the bustle of people at the lighthouse, taking you back towards Cadaqués, following a historic track from bay to bay. Ancient-feeling olive terraces line the hillsides above, fragrant Mediterranean plants fill the lower slopes. Everywhere you'll see beautifully smooth, shapely rocks - the wind blows hard in these parts. To look out to sea from the Cap de Creus is to enjoy the ultimate Mediterranean view.
Suggested trip: Around Catalonia: Drive & Explore Vacation
2. La Garrotxa, Catalonia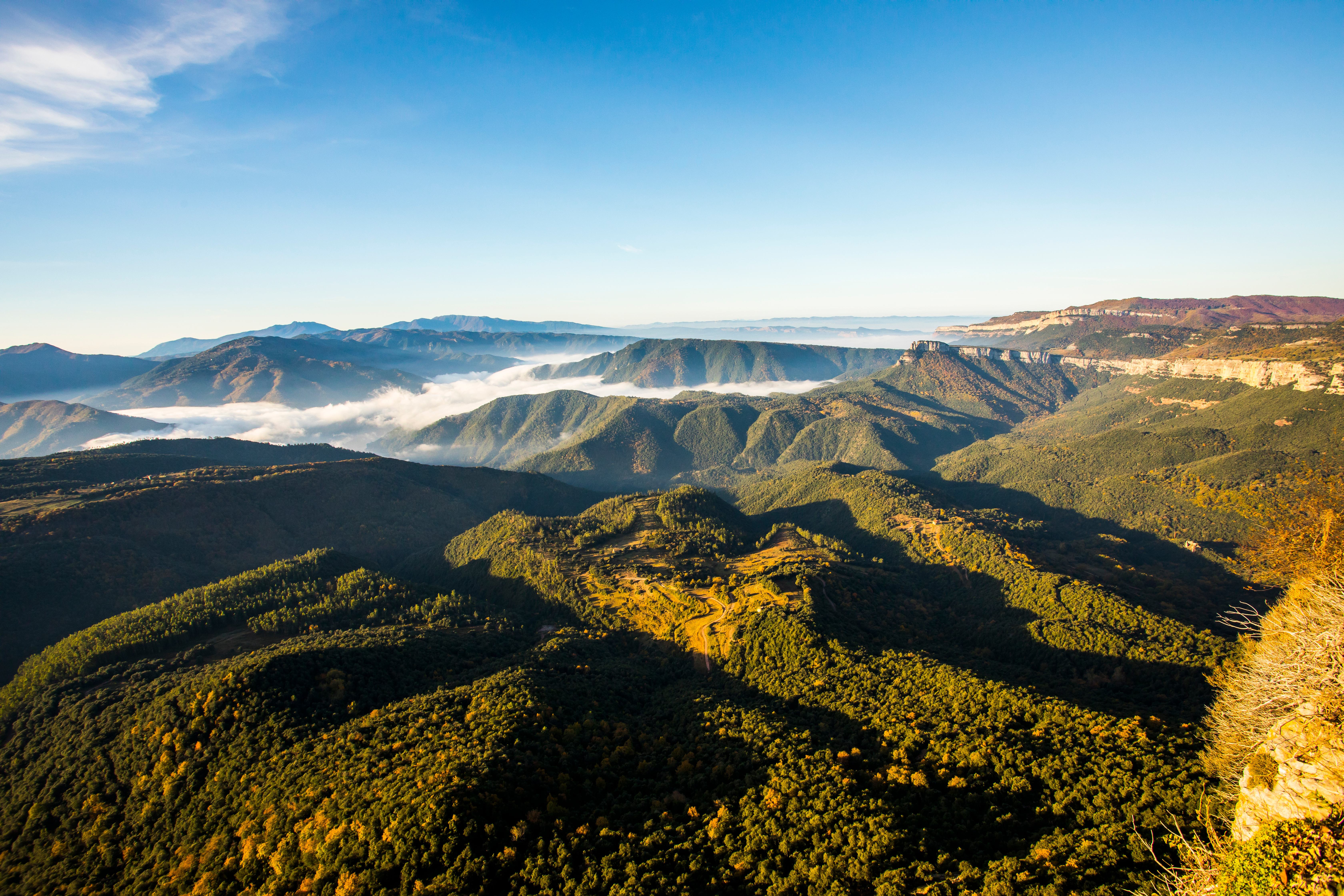 Moving inland, the Garrotxa hills in Catalonia are famous for their beech forests, and for the dozens of dormant volcanoes which dot the valley.
Within the 15,000 hectares that comprise the park, there are 38 volcanic cones and over 20 lava outflows. The area last had a volcanic eruption only 11,000 years ago and, while dormant, the volcanoes are not completely extinct.
This underlying geology has resulted in soils of ochre and black lava, contrasting with beech forest and verdant meadows. The topography and climate have resulted in a rich and diverse vegetation with more than a thousand plant species within the forests predominantly of leafy holm oak and beech woodland.
There is a significant human presence in the park, with towns and villages, country houses and numerous cultivated fields that occupy a quarter of its surface area. A large variety of animals also inhabit the area: wild boar, foxes, squirrels, rabbits, weasels, moles, hedgehogs, newt, water snakes, toads and more.
It is a quite wonderful place to spend a day or two walking through.
Suggested trip: Hills of Girona to Costa Brava Inn to Inn Walk
3. Ordesa National Park, Aragón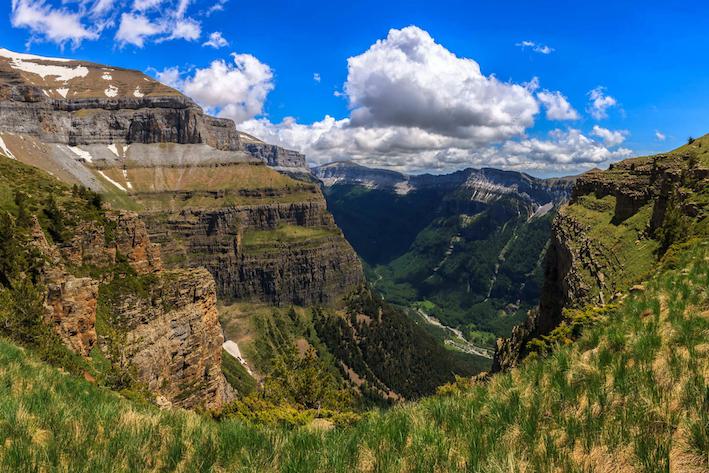 Ordesa is simply the most stunning National Park in the Pyrenees and Spain's oldest protected area, and a UNESCO World Heritage Site since 1997.
65,000 years ago, a great icefall spilled down from the summit of Monte Perdido, an unstoppable force that drove and twisted its way between sheer limestone cliffs, creating the U-shaped Ordesa Valley through which we walk today.
The ice is long gone. In its stead, great fir and pine forests spill down the valley walls. Open wildflower meadows and hushed beech forests - particularly striking in autumn - spread along the valley floor. The hurried waters of the Arazas River bump and tumble down noisy cascades.
Look closely and you can make out compacted marine fossils, a legacy from the tropical sea which once submerged the entire region.
At the head of the valley, the Soaso Cirque forms a vast mountain amphitheater, crowned by the high glaciated summit of Monte Perdido - one of Europe's highest limestone peaks. In this cirque is the park's most photographed feature; the Cola de Caballo (Horsetail Waterfall), which rushes from a karstic groundwater spring on Monte Perdido and fans its way out down the stepped rockface.
A day spent walking here is a day well spent.

Suggested trip: High Pyrenees: Hike & Drive Vacation
4. Picos de Europa National Park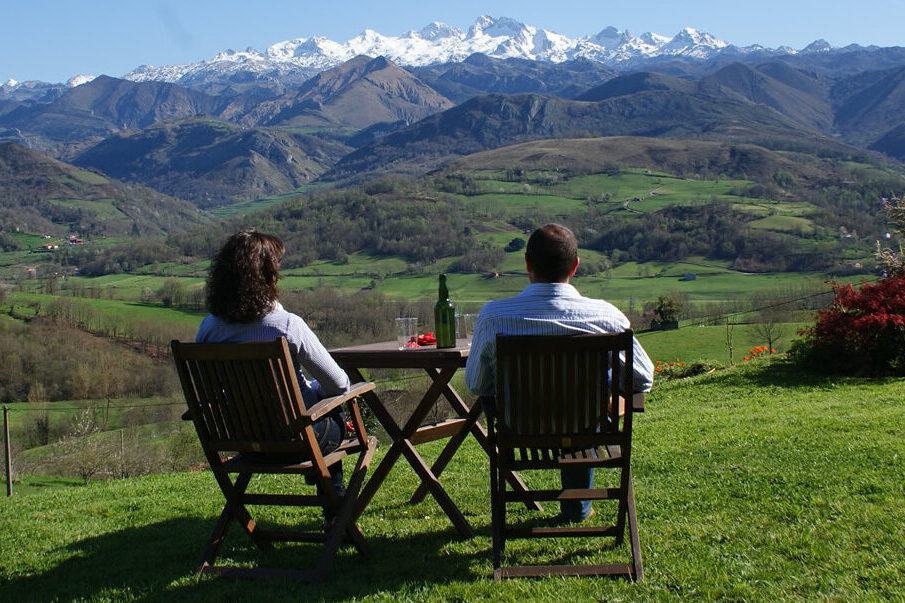 The Picos de Europa is a place which almost immediately takes you out of the day to day; the echoing cowbells, the constant flow of water, the prospect of a lunch of wood-baked bread, cheese and chorizo made in the nearby village and eaten high in the hills.
For such a small area, there is a stunning variety of landscapes.
The central mountains area is the most dramatic, with high peaks towering overhead, the Cares River and woodland in the valley below. The Liébana Valley is broad and green, fringed by the dramatic wall of the high Picos to the west and forested side valleys with meadows, pastures and small, red-roofed villages to the east. The Costa Verde around the town of Llanes is marked by coastal meadows and steep cliffs leading to sandy coves.
The Picos are so dramatic and spectacular that it's wonderfully easy to disconnect from daily life and soak up nature.
Suggested trip: Picos de Europa Inn to Inn Walk
5. Vineyards of La Rioja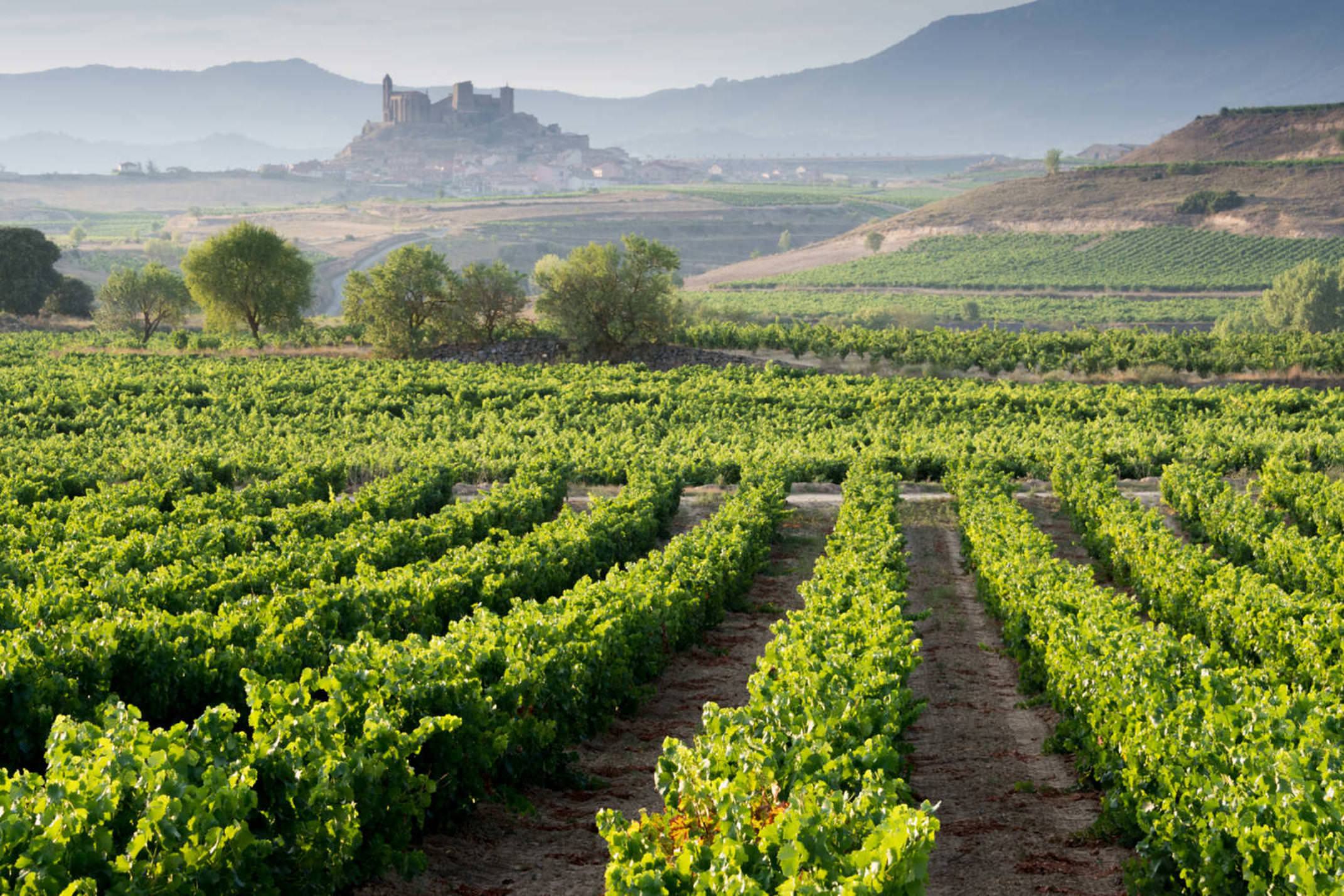 Between the Pyrenees mountains to the north and the high plateau to the south, Mediterranean and Atlantic climates blend to create optimum conditions for producing some of the best medium body wines in the world in La Rioja.
The rolling hills and sunny vineyards also combine to produce some wonderfully 'vintage' landscapes.
It's not clear where the idea first germinated, but we often see La Rioja described as the Spanish Tuscany. As full of good intention and complimentary spirit as they no doubt are, we can't help feeling it does La Rioja a bit of a disservice.
After all, the convergence of mountain ridges, poppy fields, thick forests, open valleys, hilltop villages, ruined castles, Roman bridges, the meandering path of one of the Iberian Peninsula's great rivers and all of those pristine centuries-old vineyards hardly warrants the need to hitch Rioja's wagon to its Italian contemporary in an awkward attempt to bask in its reflected glory.
Better instead to just let Rioja be Rioja, in all its wine-soaked glory.

Suggested trip: Basque Rioja Inn to Inn Walk
6. Alhambra, Andalucía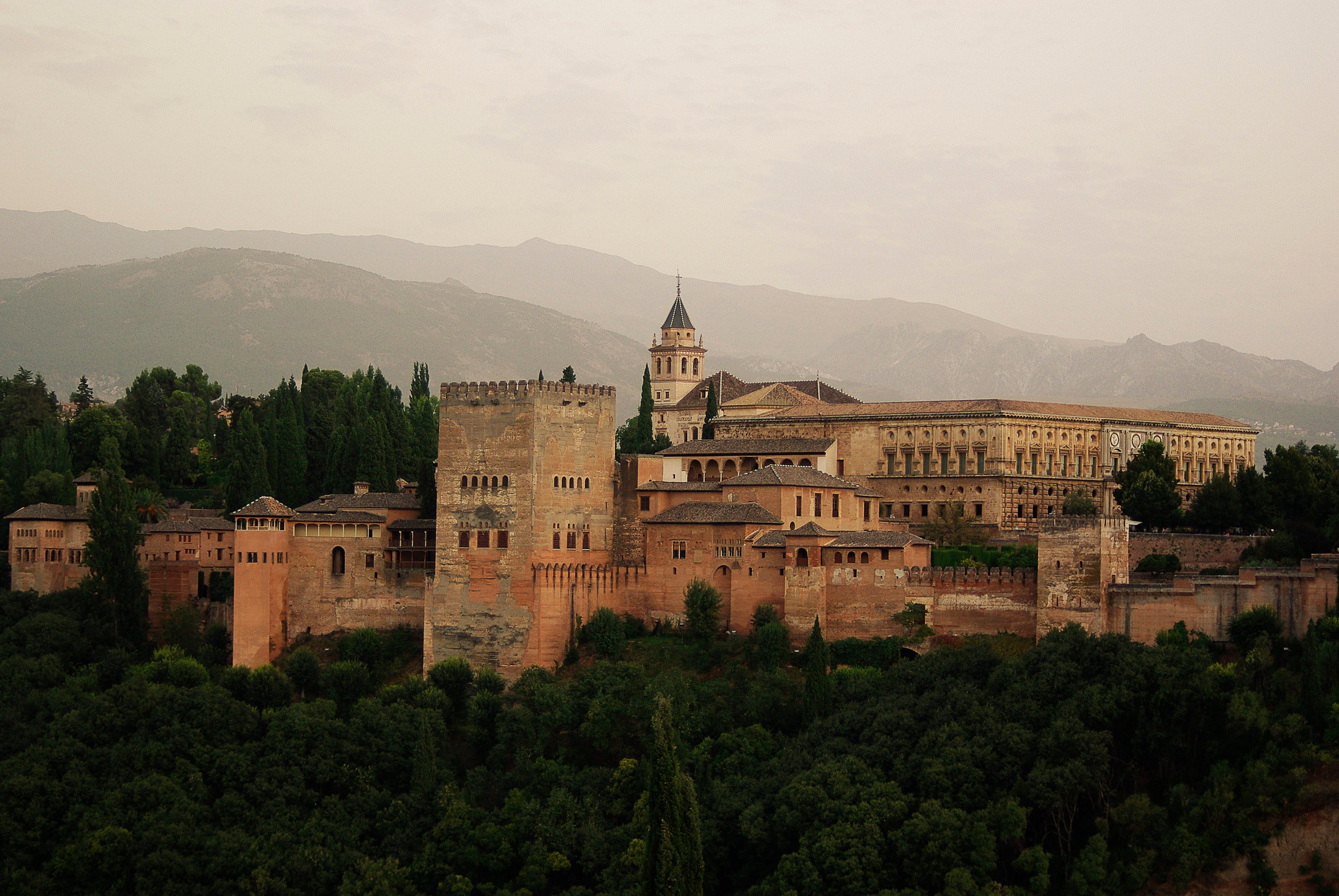 As Spain's most visited monument, the Alhambra is familiar to most, but that doesn't diminish its importance, nor its beauty. Translating approximately as 'the red one', the Alhambra isn't a palace, or a fortress or a village: it's all three.
For some 250 years previously, Moorish Spain had been pinned back to Granada. But it was during this period that the final flourish of the Nasrid dynasty happened - the medieval masterpiece that is the Alhambra.
The complex is a celebration of Islamic architectural beauty, from its delicate ornamental stucco work and Byzantine-inspired geometric tiling to its symmetrical patios and tinkling fountains. Equally grand is the story of its rise, fall and rebirth as the citadel passed between the hands of Moors, Christians, Napoleonic troops and the marginalized edges of Granada's society, before Washington Irving brought it back into public consciousness.
Although the Alhambra has naturally come to symbolize Granada, below the imposing walls of this medieval masterpiece sits a city winning its battle to retain a sense of place and identity. In the labyrinthine streets of the Albaycín and the caves of Sacromonte, the Moors and gypsies respectively left a cultural and physical heritage which continues to unfold down the hillsides.
Suggested trip: Córdoba to Granada Inn to Inn Walk
7. Vejer de la Frontera, Andalucía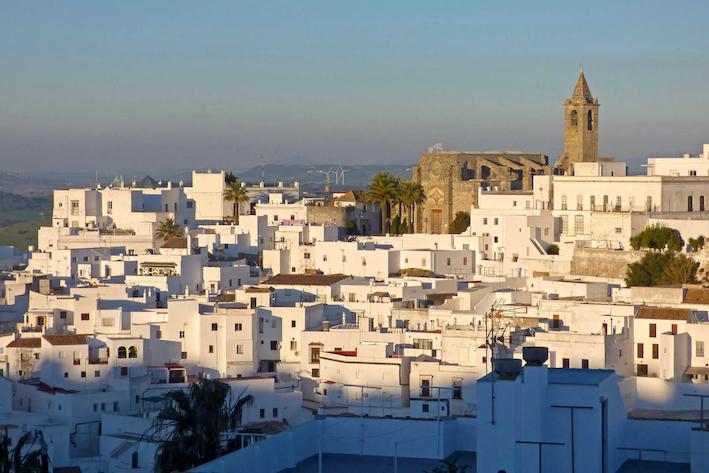 Seven centuries of Moorish rule imbued Andalucía with so much of the romantic color, exotic flavors and architectural masterpieces that stir the imagination. Oranges, lemons, almonds, dates and rice, plus spices like saffron, cumin and cinnamon all crossed the Strait of Gibraltar with the settlers. Irrigation systems, developed by the Romans, reached their peaks and exploded the scale of olive harvesting.
And then there are the hilltop villages.
Typically built as early Middle Age fortresses, under the watch of the Moors they assumed their now familiar aspect; pretty whitewashed houses and internal patios rising and falling along undulating streets, encircled by stout walls.

Vejer de la Frontera on the Costa de la Luz is perhaps the finest example of a picture-perfect hilltop Pueblo Blanco. It's a place to wander, soak up the atmosphere, eat, people watch and sleep. The village square is a treasured space, where locals young and old come together amid a constant murmur of conversation punctuated with laughter, wine, olives, and smoke. The whole village is extremely photogenic, none more so than in the early evening light.
Suggested trip: Around Andalucía: Drive & Explore Vacation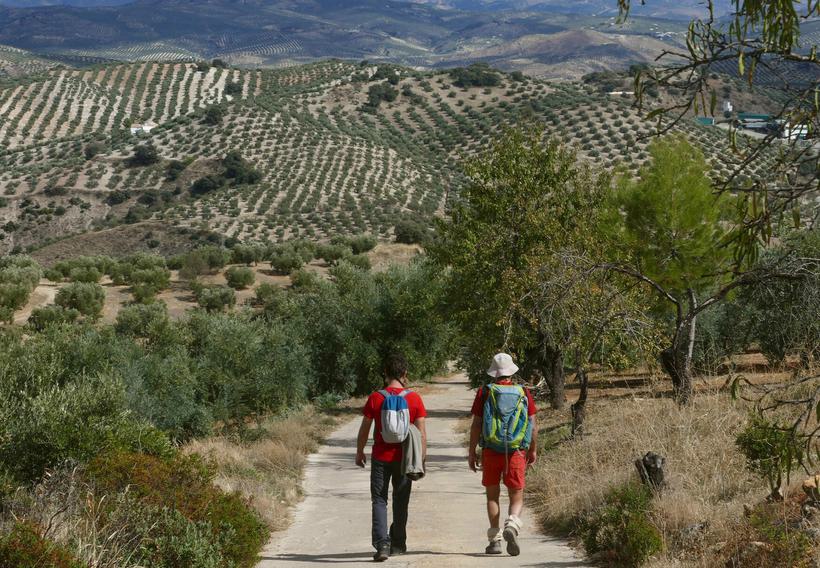 Córdoba to Granada Inn to Inn Walking Vacation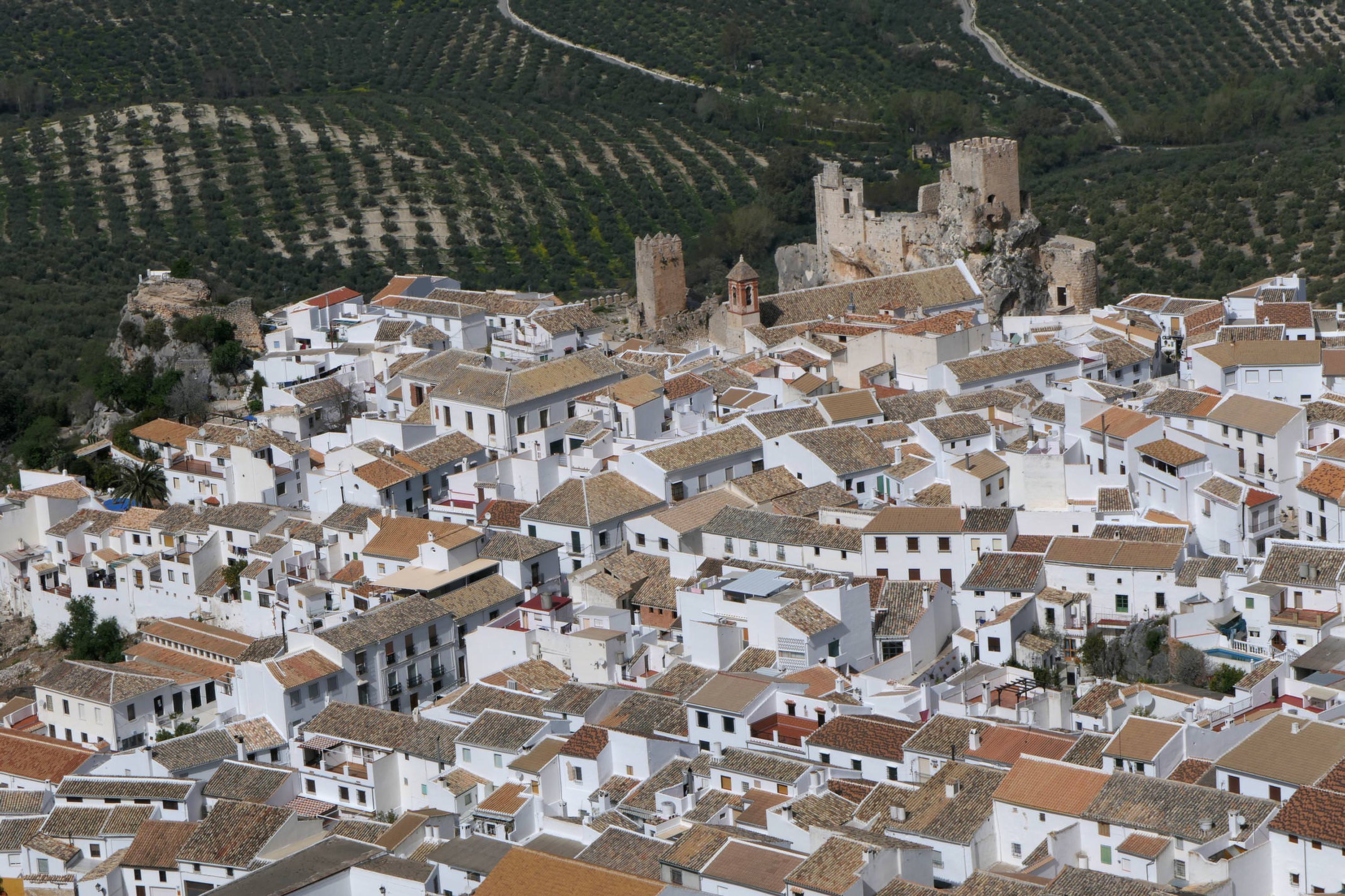 When: Mar-Jun; Sep-Jan
Guide Price: $2,600 per person
Guide Duration: 10 days (can be shorter or longer, contact us to discuss)
Shepherd tracks, olive groves and whitewashed villages, bookended by great Moorish capitals. This is classic Andalucía, experienced in your walking boots.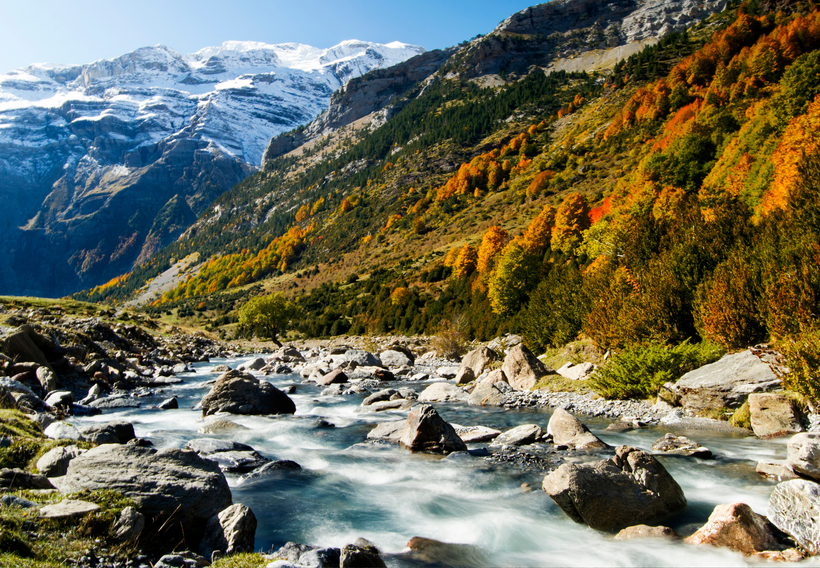 Self Drive
Walking Highlights of the High Pyrenees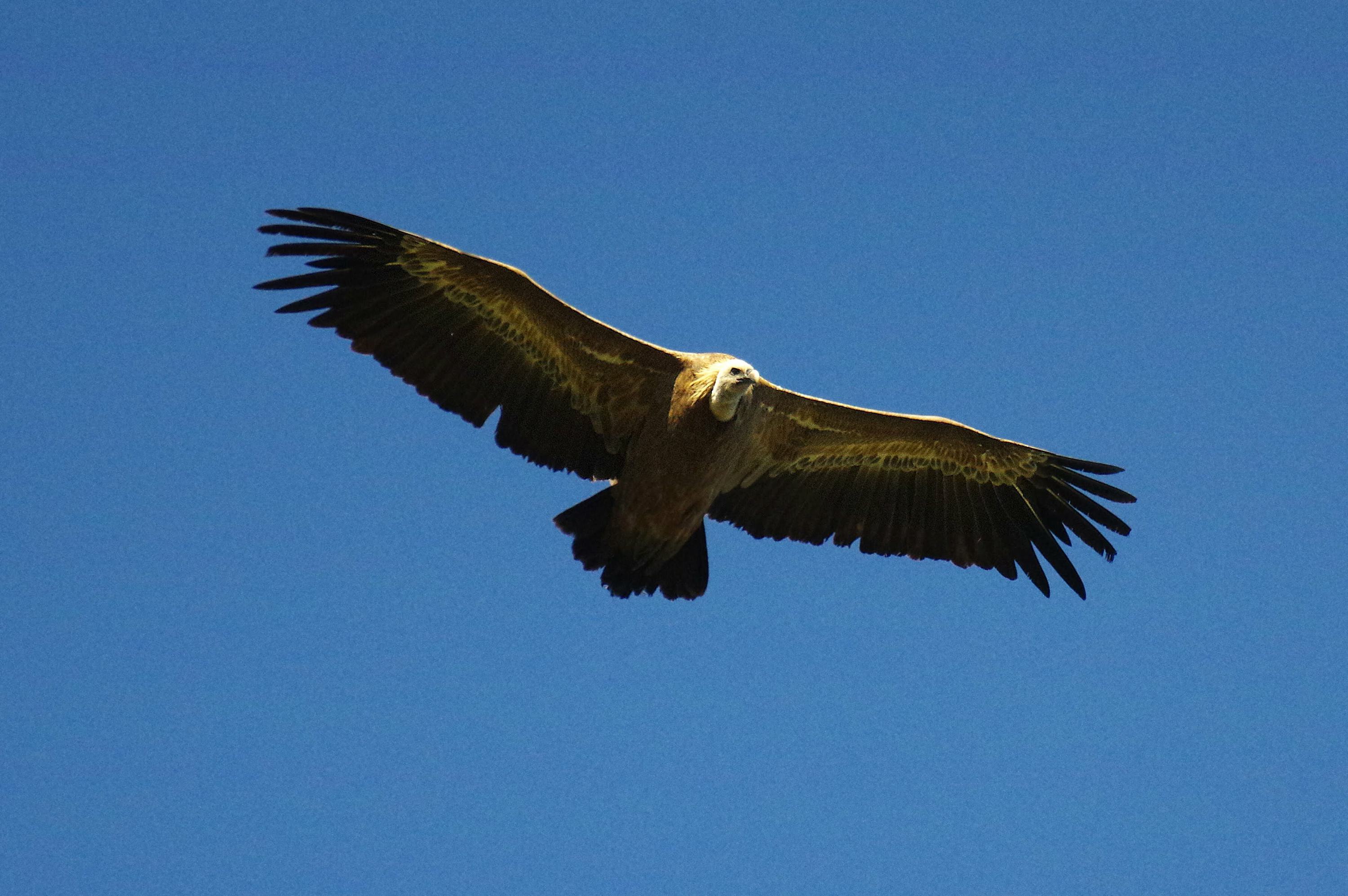 When: Apr-Jun; Sep-Oct
Guide Price: $2,300 per person
Guide Duration: 8 days (can be longer)
Blend guided hikes with a choice of self-guided trails in two grand national parks, where the scenery is stunning, the hospitality warm and the food truly delicious.
Picos de Europa Inn to Inn Walking Vacation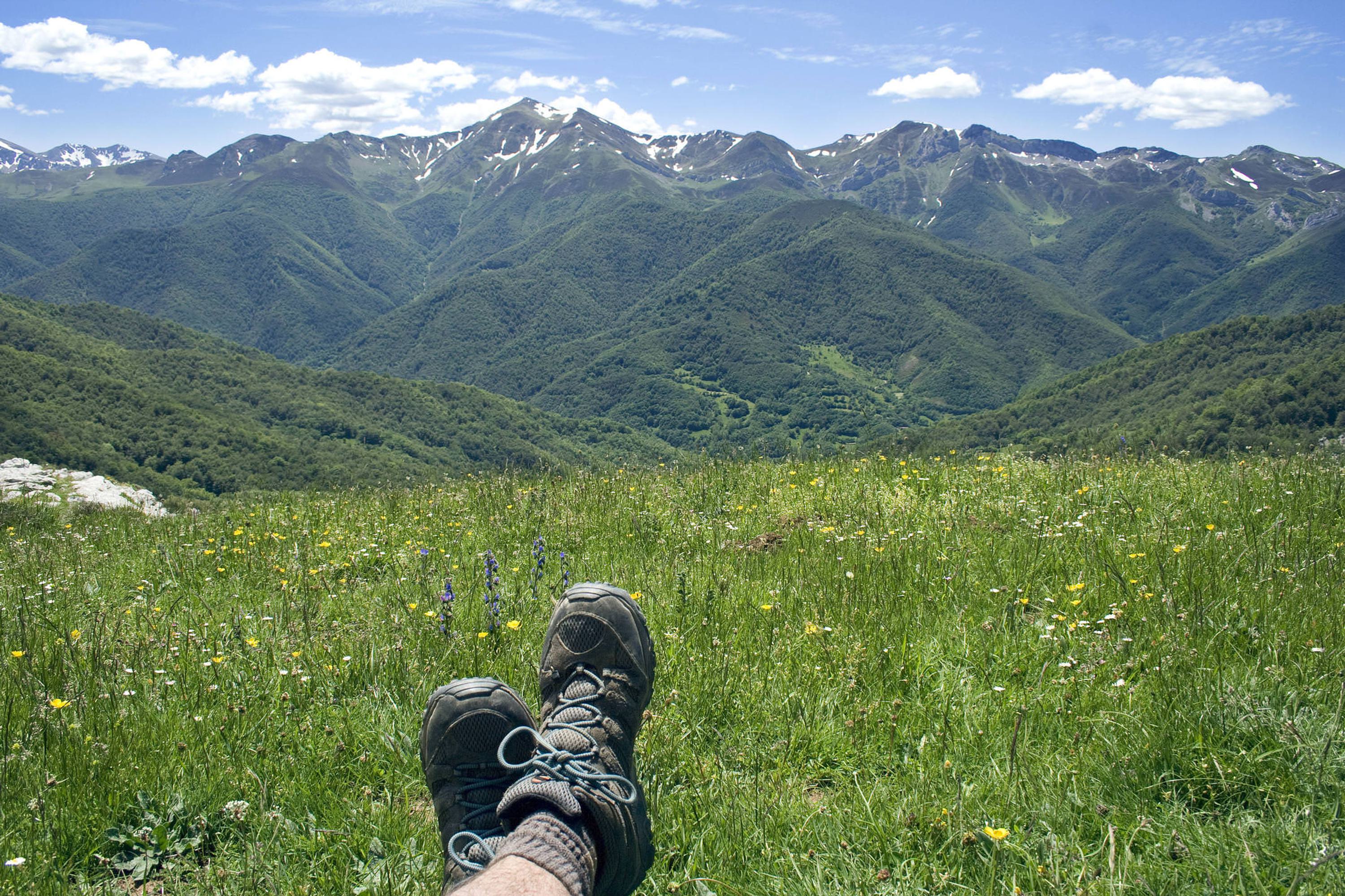 When: Apr-Jun; Sep-Nov

Guide Price: £1,500 per person
Guide Duration: 9 days
Walk between rural inns, and from mountain to meadow to medieval village, on the richest and most varied Picos experience you can have on two feet.