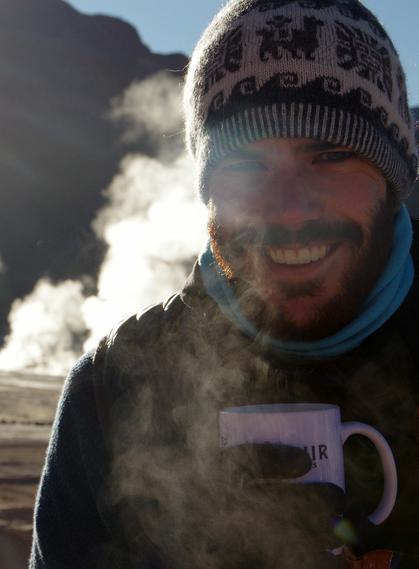 What does luxury travel mean to you?
A couple of weeks ago I took the chance to pop into the Luxury Travel Fair at Olympia in West London and have a nose around. The organisers must have been delighted; the image of an idyllic white sandy beach on a far-away island will never have more impact than on a drizzly grey British morning, the day after Halloween. Nothing like damp pavement and murky puddles to make the turquoise sea really pop. It makes the idea of having a bit of luxury to look forward to next year even more appealing.
On the Overground train ride through the sights of north London (the luxury did not extend to the transport) I happened to be glancing through a copy of the Pura Aventura Trip Planner, written towards the end of 2016. You might still have one yourself at home, and you might be getting a new one very sooon. There was one section which particularly caught me eye, given the context; what does luxury mean to us?
How apt.
Five paragraphs, eloquently composed by Pura co-founder Thomas Power, considered the question thoughtfully. As you might have come to expect, his words stood in marked contrast to what awaited me in W14. And given that our raison d'etre is to share what moves us, I'd like to do just that, so that his words are not lost to eternity.
And it's just a wonderfully interesting subject for us to ponder.
There are five broad and quitessentially Pura definitions of luxury that Thomas illustrates. These are what I want to share. But first, a clarification. We are not, by any means, anti-luxury. That's not what this is intended to be. We can enjoy and appreciate a Michelin-starred meal in Barcelona, San Sebastian or Lima. We understand the charms of a five star hotel or a lodge where a few thoughtful luxurious touches can take the edge off a hard day's exploring. A dose of luxury can reward intrepid efforts or finish a trip off in style.
We just don't agree that a trip should be primarily defined by luxury. Not in it's traditional sense anyway.
The Luxury Travel Fair rather misses one fundamental point - that travel in itself is a luxury. A privilege which we shouldn't ever take for granted, because it's not an option for everyone. Is it not a luxury to have the pick of exotic destinations? To be able to pause the everyday, discover somewhere new, meet new people, broaden our horizons and make special memories? If we consider it from this point of view, worrying about what feathers are in our pillows, the value of the art on the wall or the fancy name on the hand soap in the ensuite seems suddenly rather trivial. It's all too easy to focus more on the stars next to a hotel's name than those decorating the skies of Patagonia or Andalucia.
With that in mind, let's see what Thomas had to say about the subject...
On places to stay
"Although our chosen inns and lodges aren't traditionally luxurious, they are always comfortable and charming, often with an exceptional setting or precious view."
If you've travelled with Pura before then I suspect you'll be nodding and smiling by now. Perhaps you'll be happily recalling that eco-lodge nestled amid the moss-covered trees of the Ecuadorian cloudforest. Or the beach house in the jungle of Costa Rica's Osa Peninsula? No doubt you'll have your own examples.
We value somewhere's heart and soul over its glitz and glamour. We prefer a warm handshake and sharing a great meal over the anonimity invited by luxurious surrounds. We'd rather gaze out across mountains and meadows rather than have the pick of hundreds of satellite channels or the convenience of superfast Wi-Fi.
We love places where the hosts go out of their way to surprise their guest with a cake and learn the words to Happy Birthday to You in Lithuanian, as recently happened to the parents of my colleague Greta in Lisbon.
That's luxury of the rarest kind; money can't buy.
Sleeping in the cloudforest is a rare privilege. Some might even say, a luxury.
On getting away from the crowds
"How about the privilige of having a place to yourself?"
There is a place we love, down near the bottom of the Carretera Austral, that neatly ties these two first ideas together. On the first night you get a warm welcome in a friendly family-run lodge on the edge of the great Chilean Icefields. Night two can be spent on their boat, anchored in front of a glacier, with just you and your hosts to keep it company. You have breakfast in front of the ice, with not another soul in sight.
It puts me in mind of a recent remark by another of my colleagues, Linda, who was struck by the contrast between her experience in Chilean Patagonia and that offered by the larger expedition cruises which plot a whisky-laden course through the icefields: "the only people in our little boat were my guide, my husband and my kids. A little more peaceful..."
It's not every day we get a glacier to ourselves.
Is that not luxury?
Linda and her children enjoying a picnic in front of a glacier in Patagonia. With no one else in sight.
On having the right guide
"Luxury to us is having a guide whose knowledge is first-hand and whose anecdotes are personal."
It's easy think of guides as mere actors in the production of your holiday. They are there to inform, to join dots, to give you unexpected insights and put things in a wider context. They look after you, keep you safe, answer your questions and introduce you to locals.
But sometimes they can be more than that. For us, they really should be more than that.
There are places I have been where the guide and the place are inextricably linked. Sometimes they even have the power to move you on a more emotional level. If you haven't read about Rocio, the trailblazing female Kichwa guide whose company I had the luxury of sharing in the Ecuadorian Amazon last month, then I'd love you to hear her story.
During my stay in the Amazon, I wanted for nothing; great food, a private cabin, a comfortable bed, an ensuite with a hot shower. They even have a laundry service. It is not intended to be a traditionally luxury experience, but rather a more intimate and authentic one, without sacrificing any creature comforts. What transformed into a luxury was the company of Rocio and her fellow guides. They will always be as big a part of my Amazon story as the hoatzins, parrots, kingfishers, caiman, monkeys, capybara, wandering palm trees and those amazing sunsets.
I suspect you've got your own memories to reflect upon at this point... The names might not still come as easily, but the faces surely will. This is why we work directly with our guides and lodges. We only share places that have moved us, personally. So we are therefore fussy about who we ask to show you around them.
Rocio Marlene, my quietly formidable Amazon guide.
On disconnecting
"The undeniable luxury of not having a phone signal."
Phones are wonderful things. We can shop, play music, check the news, watch videos, read emails, take photos, keep in touch with long-lost friends, follow driving directions, plan our commutes, order dinner, book taxis and even put the heating on before we get home.
We can even talk to people through them.
They are an intrinsic part of most people's lives, but my god wouldn't it be nice to set them aside for a few days? So why on earth isn't it a luxury to sideline your screens and just enjoy the great outdoors? I had the pleasure of losing my signal for a few days in the Ecuadorian Amazon. I felt so moved by the experience that I felt compelled to share it with you: No service in the Amazon
Even if you're not as attached to your phone as I might be, an enforced digital detox can be a surprisingly powerful thing. Even more so if you're travelling with teenagers.
Silencing the beeps in the jungle - a disaster for some, a luxury for others
On unexpectedly great meals
"The best meal sometimes has Michelin stars, other times it has a picnic and a blanket... What better way to understand a country than by sitting down to enjoy a traditional dish?"
If there's one thing that doesn't necessarily gain in value when imbued with an sense of luxury or sophistication, it's food. Food can be memorable (for both good and bad reasons) or just plain adequete, irrespective of how many digits are in the prices, whether the ambience is refined or otherwise.
A great meal doesn't always require waiting staff in pristine white shirts or a set menu. Often they don't even require four walls and a kitchen area. Take Thomas' food related experiences in Chile; fresh ceviche in a harbour-side market, dinner by the fire with Rosario and Pato at their tiny inn in Patagonia, hot chocolate under the stars in Atacama, a picnic in front of a glacier, an asado perched on an upturned wheelbarrow.
These are not, by any stretch of the imagination, in the realm of luxurious travel. I doubt anyone at the Luxury Travel Fair has eaten meat cooked on a wheelbarrow for example. But it's what breaks down cultural and language barriers, what brings you and the people of your destination that much closer. It creates a connection and a momentary bond. Its value goes far beyond anything with a price tag.
That's the world of Pura Aventura. If you'd like to share it, give us a call.
Get in touch Subscribe to The Pothole
The Pothole is Pura Aventura's popular monthly email. We share what we love, what interests us and what we find challenging. And we don't Photoshop out the bits everyone else does. We like to think our considered opinions provide food for thought, and will sometimes put a smile on your face. They've even been known to make people cry. You can click here to subscribe and, naturally, unsubscribe at any time.
The Pothole is Pura Aventura's popular monthly email. We share what we love, what interests us and what we find challenging. And we don't Photoshop out the bits everyone else does. We like to think our considered opinions provide food for thought, and will sometimes put a smile on your face. They've even been known to make people cry. You can click here to subscribe and, naturally, unsubscribe at any time.