Tales from the road
Postcards from the road: stories worth writing home about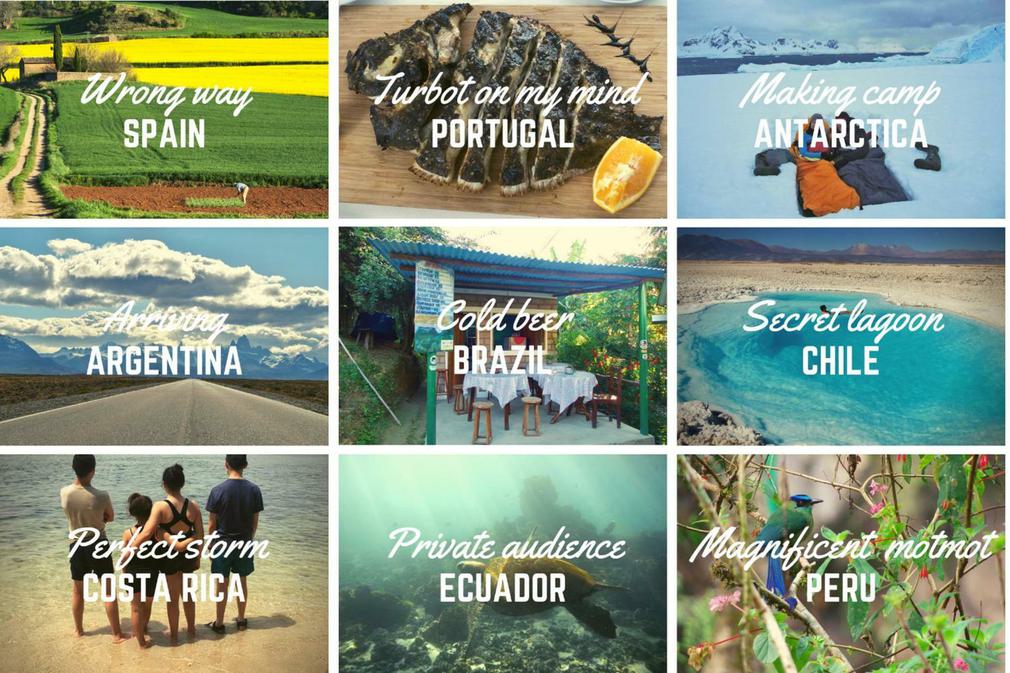 It's favour time, please.
Although we haven't been able to take anyone on holiday for the past six months, we have not been idle. One of the most exciting projects is our brand new website. I would love your help please to showcase the true local flavour and variety of our trips.
Looking through photos always brings little snippets of memory to life. Nothing beats the mental picture I have of the Harrisons navigating a Patagonian landslide with a hitchhiking gaucho, policeman and pregnant woman in the back of their 4x4. Machu Picchu without a soul in sight as shared by Theresa Garlock back in January. Me holding a cold glass of Albarino wine over a plate of Pulpo a feira at the end of a wonderful week on the Camino de Santiago with my brother. The list goes on...
I can only begin to imagine how many memories are wrapped up in all the photos out there from Pura trips taken over the years. One of the biggest aspects of our new site is going to be how personal our holidays are and that's where you can help. Please.
Full details on how to share your memories are at the bottom, but it's basically just sending an email with a few words and a photo or two. Nothing complicated or time consuming but it can help us enormously so thank you, in advance.
For now, to help unpack the memory bank, here's a dozen more of our favourites, lovingly penned by our team and travellers from travels around the Pura world.
Enjoy their words, I hope they inspire.
Thank you.
Thomas
Postcards from the road
It's not that I recognize one turbot from another, but when I see this picture of a grilled turbot my mind wanders off to a lunch with friends in Zambujeira do Mar. From a walk along the beautiful cliffs of the Costa Vicentina, to a spread of fresh fish and Alentejan white wine within earshot of the waves, it is my image of a perfect day. Or at least the kind of day when you say to yourself, "this is the life... Make sure you live it."

Diego Martín, Pura Aventura
"You're going the wrong way!" Another local had emerged to point me back to the Camino. "Turn around!" And another. "It's over there!". Evidently, not many people turned off the Camino to walk through the quiet rolling fields and villages of the Yerri Valley. When I reassured them I knew what I was doing, they simply shook their heads and left me to it. It's these unguarded, spontaneous interactions that I love about our walking holidays.

Sarah Wightman, Pura Aventura
Should you find yourself down on the most inhospitable continent on the planet, and someone suggests you might like to go and sleep outside, you may well question their sanity. If you agree, you'll almost certainly question your own. But I was rewarded with the greatest dawn I'll probably ever see. Crisp Antarctic air filled my lungs, the sun inched over the snowy mountains, and I felt like the first human to ever set foot here.

David Orrock, Pura Aventura
It's a long drive from Punta Arenas in Chile, over the border and along long tracts of unsurfaced remoteness in the wilds of Argentine Patagonia. But the final hour was utterly delightful - smooth, straight, empty roads, sometimes pointing right at our target. Mount Fitz Roy is the tallest, most obvious peak, Cerro Torre the more slender tower to the left of the road. And you can't tell from the photo, but it's blowing an absolute gale out there.

John Main, Pura Aventura client
This is perfection. Mountains all around, a river to swim in, tired legs, warm sunshine and a cold beer in hand. Nothing tastes better than a surprise. And this very cold beer, in a very remote shack, in a very beautiful valley, is as surprising as things get. I knew that anything Mr & Mrs Wilson don't grow, they bring in by mule. I didn't know that would include bottles of beer. Nor did I know there was such a thing as a solar powered fridge.

Greta Leipute, Pura Aventura
When exploring the high Andes region of Copiapò in the Atacama Desert, one of my guides, Gabriel, told me that he'd discovered a series of lagoons while studying the region on Google Earth a few months previously. He came, made a winding trail and started to share the experience with visitors. "You must be about the 80th person to come here" he said to me before I stepped into the ice-cold water to float along at 4,500m.

Thomas Power, Pura Aventura
This was the big one. Our youngest was 9, the eldest 16 - the perfect opportunity for a family trip of a lifetime. There's one moment I most vividly remember. After watching a huge electrical storm rage outside our window, we walked down to the beach. When we got to the bay, a full rainbow spread from one side to the other. Then a double rainbow underneath. A whale fluke surfaced above the water. Then another. Such a perfect moment.

Rozanne Chapman, Pura Aventura client
You can swim anywhere within Gardener Bay, so I floated off to go snorkel on my own. Minutes later I came across this turtle, grazing on seaweed. For 20 minutes or more we drifted together, at times just inches apart. There was nobody else out in the bay, no big group to rejoin, just time alone to swim with a sea turtle. That was the moment it struck me how privileged I was to be in the Galápagos, how lucky we are that this place even exists.

Thomas Power, Pura Aventura
Hummingbirds all around. Orchids of all kinds. Torrent ducks in the Urubamba River. And I'd probably seen every tanager under the Andean sun. It was already a lively morning in the Inkaterra's cloudforest gardens. But, a young lady saw my camera and waved me over. I followed her gaze and finger to an Andean motmot, perched on a branch, tail swinging slowly in the breeze like a pendulum. It's possibly the most beautiful bird I've ever seen.

Chris Bladon, Pura Aventura
Share your stories
Now it's over to you. You've read ours, and a few from our lovely travellers. So now we want to read your best stories and memories from the Pura Aventura road - those you still tell anyone who'll listen, whenever you get a half a chance.
You can send us just one, or half a dozen if you're in a talkative mood. We'll be most grateful either way. All we need is around 100-150 words and one or two photos per story, sent to [email protected].
We'll feature the best and bumpiest on our brand new website when it launches this autumn, adding your voice to the community of Pura travellers who have experienced the special places that we share with respect, curiosity and gratitude.
The Pothole is Pura Aventura's popular monthly email. We share what we love, what interests us and what we find challenging. And we don't Photoshop out the bits everyone else does. We like to think our considered opinions provide food for thought, and will sometimes put a smile on your face. They've even been known to make people cry. You can click here to subscribe and, naturally, unsubscribe at any time.