The best things to do in Peru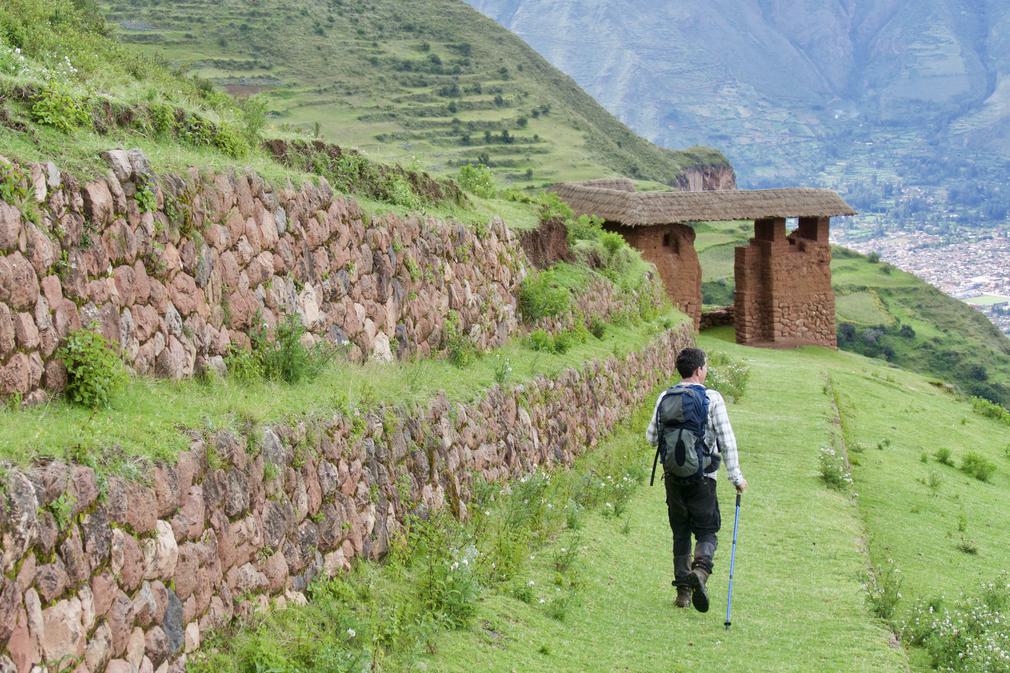 Given our long-standing ties with Peru, consolidated into our new Pura Peru office, we're always going to explore deeper and get away from the growing crowds to seek a more authentic and intimate experience.
While we hate the idea of 'ticking off' places or activities from an arbitrary list, here we deliver the best things to do in Peru in our personal view, in the hope to give you some inspiration for your future travels.
Celebrating the Incas in Cusco
Cusco forms the start point of any holiday to Machu Picchu and it is here that you will generally spend a couple of days acclimatising before attempting to walk the Inca Trail to Machu Picchu.
Located at high altitude (3,600m), 'the navel of the Andes' is probably Peru's most picturesque city. Everywhere you turn, you will see evidence of the fact that Cusco was, and still is, the home of the Inca people.
Spanish colonial buildings are set atop the distinctive hand worked stones of the Inca, still solid after more than 500 years. As well as historically and culturally significant sites, both Incan and colonial, Cusco has a lively modern feel to it.
The center of Cusco is quite small and possible to explore on foot. The Plaza de Armas is the main square with Avenida El Sol the main street, Triunfo to the right of the Cathedral is the most interesting street leading up towards the San Blas Plaza. The Cathedral in the Plaza de Armas also has an impressive silver altar. Finally, Sacsayhuaman are impressive Inca ruins on the hill high above the town.
For raising your Inca experience further up, you might like to consider attending the Inca Festival of the Sun. Also known as Inti Raymi, the festival is held during the winter solstice to mark the Inca New Year - this is actually a nine-day celebration that culminates in an epic daylong event on the 24th of June where hundreds of actors reenact the rituals of Inti Raymi at Cusco's Qorikancha Square.
Learn more about the Inti Raymi festival »
Exploring little visited archaeological sites
Archaeological sites being plentiful in this country, it often surprises us how the same usual suspects are lazily packaged up to produce standard Peru trips, crowding sites such as Pisac, Ollantaytambo, Moray, and Maras.
Fortunately enough, we know Peru well and can give you a better picture of what's available here.
The Inca ruins of Huchuyqosqo, for instance, is a little-known site on a plateau high above the Sacred Valley. To get here, you'll have to walk across open hills with herds of grazing llama, then follow an Inca road around cliffs and gorges. Safe to say that you'll have a very few, if any, other people in sight here, moreover you can spend the night camping right next to the ruins if you like.
Another of our favourite ruins is the ancient mountaintop fortress of Kuelpap. Thanks to its remote location in the northern cloud forest of Peru, it still receives dozens, rather than thousands, of visitors a day. Though more than a century older than Machu Picchu, the mysterious Chachapoya city is a relative secret, and that is how many people like it…
"If only every Pre-Colombian ruin could be like this. The visitors exploring the site were outnumbered both by the llamas roaming around it, and the students excavating it. Wandering over for a casual chat with the lead archaeologist about his latest find marked out Kuelap as extraordinary in comparison to its famous Inca relations to the south." - David Orrock
Visit little-known Inca ruins on our Peru Uncovered itinerary »
Crossing the altiplano by train
Whilst the Andean Explorer is not as luxurious as the famous Hiram Bigham train to Machu Picchu, this is still a great chance to sit back, relax and watch the scenery slip by as you board the very comfortable Orient Express-owned train from Cusco to Lake Titicaca.
Undoubtedly the best way to travel between Cusco and Lake Titicaca, the train leaves at 8 a.m. and arrives at 5:30 p.m. in either direction. Lunch and afternoon tea are included. The bar and open observation car to the rear provides good entertainment as the train follows an amazing route past Inca ruins, remote landscapes populated with tiny settlements and herds of llama and snow-capped peaks across rolling grasslands to the vast expanses of Lake Titicaca.
As you travel you will notice that the people change, from the Quechua of the Cusco region to the Aymara of southern Peru. Traditional dress becomes incredibly colourful at the same time as the skies become bluer and more expansive.
You can board this train on our Essential Peru trip »
Delving into the Amazon
The Amazon is a wonderful place, an opportunity to get really quite close to nature and reset your body clock to a more natural pace.
However, there are a few things worth bearing in mind. Remember that the Amazon is primarily a nature rather than wildlife destination - wildlife can be very well hidden and quite hard to spot. So be prepared to enjoy watching colourful frogs, possibly wild pigs, incredible butterflies and caterpillars rather than spending all of your time looking at monkeys and parrots.
One of our favourite lodges to do so in Peruvian Amazon is located in the Tambopata Nature Reserve. What we love about the Tambopata Research Centre is that it does just that, with the emphasis on exploration, wildlife observation and habitat conservation, in an eminently comfortable and welcoming lodge.
On my last visit there, I was very lucky to shot the two blue and yellow macaws you see above, as they were on their way for breakfast at what is thought to be the largest parrot/macaw clay lick in the world.
Another great alternative would be to visit Manu instead. This national park that ranges from snowy peaks to tropical lowlands, harbours an incredible biodiversity with more than 1,000 species of bird, 221 mammals and 287 amphibians and reptiles. Here you also stay at a research and education centre, from where you can follow rainforest trails, watch birds from the lagoon, visit a clay lick and bathe in natural pools fed by small waterfalls.
Manu is also a place which is also being associated with myths and legends, as Kristina Rudge recalls…
"During my stay at the Manu Learning Centre on the remote borders of Manu, Peru's oldest national park, I sat down with some of the staff one evening for a rather atmospheric story-telling session by candlelight, hearing stories that mostly has a moral element or help people relate to their environment, the wildlife, and the dangers of the forest."
You can visit Manu on our Natural Peru itinerary »
Eating food in Lima
While you might already be aware that Peru's cuisine is considered to be the Next Big Thing in world dining, you might be surprise that Lima is actually its nerve centre. Yes your read it right, the infamous capital of Peru is also the gastronomic capital of South America.
Inheriting superb pre-Hispanic and colonial cooking traditions that were nurtured by the best Western and Oriental cooking, the food here goes beyond fusion: it's an extraordinary combination of tastes and textures.
From 'tiradito', a soft marinaded fish served in a 'rocoto' chili cream, to 'Parihuela', scallops and octopus, fish and the fruits of the sea are basic ingredients in the coastal city.
You'll also find African-Peruvian food which includes grilled beef kebabs, 'cau-cau' tripe and potato stew in coriander, yellow peppers and herbs, and 'tacu-tacu', a hot-fried beans and rice dough stuffed with beef or shellfish.
Besides, Creole food - the mix of Spanish and local cuisines - includes highly-recommended 'causa', a cold chicken or shellfish potato pie with tomatoes and avocado; 'tamal', a hot dry corn mash filled with hot peppers and chicken or pork and wrapped in banana tree leaves for slow cooking; a chicken and cheese stew known as 'aji­ de gallina'; potato dough stuffed with spiced ground beef, grilled chicken, charcoal-cooked chicken with fries and a spicy sauce; 'escabeche' or soused fried fish or chicken in a spice and herbs sauce; 'carapulcra' dry potato and pork; and renowned 'sancochado', a beef, chicken, pork, potato, corn, cabbage and vegetables chowder, served with various sauces.
Finally, Peruvian versions of Chinese dishes include 'chaufa' Cantonese rice, and beef-saute with onions and tomatoes in a red peppers, tomatoes and soy sauce, which are local favorites. An endless list of desserts is topped by 'suspiros' meringues in a sweet milk custard, and purple corn custard or 'mazamorra morada'.
Other favourite desserts include rice milk pudding made with pisco grape brandy, Doña Pepa nougat that brings together the flavors of sweet baked wheat flour sticks, lard, eggs and anis seed layered with fruit and sugar syrup and finally fried doughnuts or 'picarones' made from yam flour bathed in molasses syrup.
Learn why you should spend more time in Lima »
Watching the Condors in Colca
Known for being one of the best places in the world to watch Andean condors, the Colca Canyon often becomes an unexpected highlight on a trip to Peru.
The lush green valley dotted with ancient villages before it narrows to become one of the world's deepest canyons and the locals in traditional dress farming the pre-Inca terraces has indeed ensured the pace of life to remain nicely slow.
There are lots of hiking opportunities in and around the canyon. You can choose from gentle half-day walks along the ancient terraces or full day hikes in more remote parts of the canyon. One of the most popular shorter walks is to the Uyo Uyo ruins – an ancient pre-Inca settlement. It is an easy walk along the terraces with great views of the canyon.
That said, one of the most iconic activities to have here is watching the condors. Each morning, as the air warms up the condors leave their nest. First they swoop down low in the canyon below. They then get higher and will eventually circle above you – sometimes incredibly close. It is an amazing sight to see these wonderful creatures so close.
Although, as being very much on the tourist trail, you can easily find yourself in a convoy of buses and vans. However, as most of these people come either as day trip from Arequipa or as a stopping off point on the journey from Arequipa to Puno, they are actually on a tight schedule. So do consider to spend more time here and stay at least one night in the area to enjoy it fully.
Read our 10 minute guide to the Colca Canyon »
Hiking the Inca Trail far from the crowds
In most people's mind, hiking in the Peruvian Andes means only one thing: the classic Inca Trail to Machu Picchu. Justifiably famous for its fantastic scenery and the once in a lifetime draw of arriving to the citadel through the Sun Gate, its popularity means there are some difficulties that put a lot of people off: permits are required, you have no choice but to camp, and it can get crowded.
Nonetheless, the Inca Trail is just one small piece of the road network that spanned the Inca Empire at its height. In the Peruvian Andes, countless other ancient routes connect small villages and archeological sites through seemingly impassable hills. Whilst still in use by locals, they remain virtually unknown to most visitors and are a wonderful opportunity to get off the well-trodden paths and discover more of the region's spectacular natural and cultural wealth.
So with a firm belief that the joy of hiking in the mountains means getting as far away from the crowds as possible, we have designed an alternative Inca Trail that is made up of four guided individual day hikes, reaching little-visited Inca ruins, glorious mountain peaks, glassy bird-filled lagoons and a small weaving community.
Machu Picchu is still reached on foot, via the one day Royal Inca Trail, but you will arrive at mid-afternoon when the light is at its best and the citadel at its quietest. We mix the same ingredients of a more conventional Sacred Valley and Inca Trail itinerary, but with no camping, more variety and more time at Machu Picchu, yet the same sense of achievement.
Find out more about our Alternative Inca Trail »
Heading up for more adventures
Besides great hiking, there are many other adventures to be had in Peru.
With activities suitable for all the family - not just for children - the Sacred Valley, is probably one of the best natural playground the country boasts.
Here you can mountain bike past salt pans in the Chinchero plains one day, then get the heart pumping the next day with some fun grade III rafting in the Urubamba - the sacred river of the Incas.
If you'd like to know more about what activities are available in Peru, please get in touch with our travel specialists now or go to our Peru page.
The Pothole is Pura Aventura's popular monthly email. We share what we love, what interests us and what we find challenging. And we don't Photoshop out the bits everyone else does. We like to think our considered opinions provide food for thought, and will sometimes put a smile on your face. They've even been known to make people cry. You can click here to subscribe and, naturally, unsubscribe at any time.
The Pothole is Pura Aventura's popular monthly email. We share what we love, what interests us and what we find challenging. And we don't Photoshop out the bits everyone else does. We like to think our considered opinions provide food for thought, and will sometimes put a smile on your face. They've even been known to make people cry. You can click here to subscribe and, naturally, unsubscribe at any time.