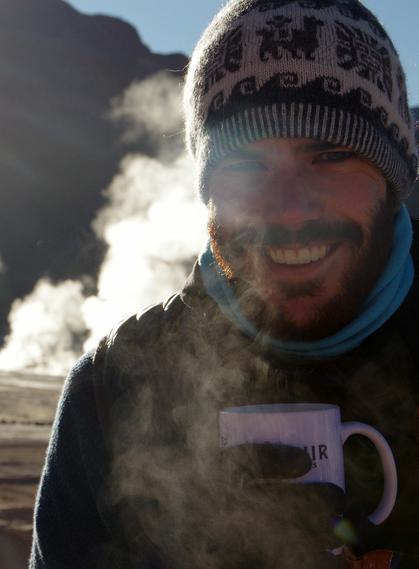 Tales from the road
A-Z of Andalucia: part one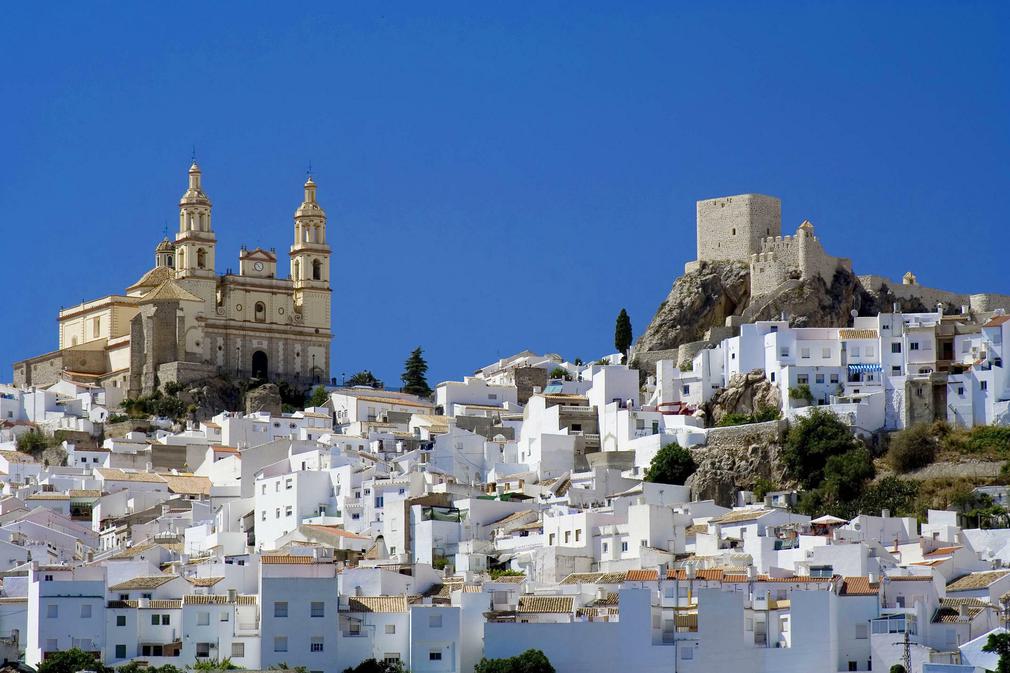 We tried to come up with a list of 10 of our favourite things to do in Andalucía for you. But it quickly became 12, then 15, then 20. There's an awful lot to do. Eventually, the only thing to do was to pick a few more, put them in alphabetical order and give it a catchy title. So here it is. ¡Que aproveche!
A...for Al-Andalus, the conquerors of Spain
The erstwhile Moorish kingdom seems like a good place to start. Afterall, it was this period of occupation, as much as anything else, that gave Andalucía much of its romantic colour, varied flavours and architectural splendour. The 10th century Arabs brought with them oranges, lemons, almonds, dates and rice, plus spices like saffron, cumin and cinnamon. Irrigation systems, developed by the Romans, reached their peaks and allowed the scale of olive harvesting to explode. Ambition, imagination and artistic vision were given licence to soar, resulting in some of the great monuments of the medieval age. Hilltop villages, built as fortresses, began to assume their now familiar aspect.
A is also for Aracena of course, a little-known pocket of Andalucía which makes for some wonderful walking territory. More of which later.
B is for Beaches, but not the Costa del Sol
Not in our definition of Andalucía. For sand, sea and stress-free strolls you need to look elsewhere. Turn the corner past Gibraltar and you'll be on the Costa de la Luz running up towards Cádiz. Beaches are wild, the villages are resolutely Spanish, the blue-fin tuna is fresh out the sea and some wonderful views can be had from sandy coastal paths. Or go east to the Mediterranean beaches of the Cabo de Gata near Almería. This is the only stretch of coastline which is protected by a marine reserve and also the only desert in mainland Europe.
C is for corrida, bulls beyond the bullfights
Whether we like it or not, bullfighting remains very much part of Spanish culture. In Andalucía this is expressed in the grand theatres of Seville and Ronda. Even the hilltop Moorish Mosque of Almonaster la Real wound up with a Plaza de Toros bolted on. But these days, only around 8% of Spaniards will either attend one of the 400 or so corridas (bullfights) that happen each year, or watch one on TV. And these tend to be from the older generations.
However, there is more to bulls than the corrida. The breeding process at places like the Domecq family farm is the craft of hundreds of years. They remain a symbol of Spain and a prominent feature of both the physical and cultural landscape. In truth, your business with bulls is likely to be restricted to the sight of the iconic roadside Osborne Bulls, erected by a renowned sherry producer across the country. Originally emblazoned with sherry advertising, they were taken down when roadside alcohol advertising was banned, but brought back by campaigners in their current form.
D is for Driving, as good as it gets?
I love driving in Andalucía. The going is easy, the roads quiet, the distances short and the scenery so often is utterly spectacular. There are times when all you want to do is pull over, switch off the engine and gawp at the view that has just unveiled itself through your windscreen. You're not just getting from A to B, because driving is often a sightseeing act in itself. But rather than go on, I'll trust the below photos, taken from the roadside, and our self-drive Andalucía itinerary to do the talking.
E is for Easter and Semana Santa
Holy Week in Spain is usually the most vibrant and widely observed celebration of the year. It all centres around commemoration of The Passion of Christ as celebrated by Catholic religious brotherhoods and fraternities who lead penitential processions through the streets throughout the week, leading up to Good Friday.
In southern Spain, Seville is really the most important traditional place for Semana Santa. Here the Cofradías (brotherhoods or fraternities) process in penitence through the narrow streets of the city, from their church to the Cathedral for a sacred ritual and back, taking the shortest possible route and carrying 'pasos' (floats) with the representations of Christ and Mary to the sound of drums, brass and human voice. The sung adorations are very reminiscent of gypsy/flamenco vocals or even Arabic singing.
F is for flamingos, and flamenco, of course
The obvious thing to do here is to delve into one of Spain's most iconic cultural icons, but we'll keep our powder dry on that one until the next letter. Instead, we'll take the chance to shine a light on a part of Andalucía easily overlooked.
Doñana National Park wetlands, spread out along the west side of the Guadalquivir estuary, used to be 88,000 hectares of royal hunting grounds. More recently they realised that, being a stopping off point for vast numbers of migratory birds, as well as being home to red deer, wild boar and even Iberian Lynx, they should probably protect them. The most spectacular sight to be had here though is that of a flock of greater flamingos feeding in the lagoon and taking flight in a giant feathery pink convoy. Numbers are estimated to reach 10,000 at their peak.
G is for gypsies, and the dance they created
The gypsy people have always been an underclass within southern Spain, ever since they migrated up from Asia, along through North Africa and into Spain. For a group so marginalised, the popularity of the music which it gave birth to in the 18th century has reached astonishingly dizzying heights. Seville, Granada and Jerez are the cradles of flamenco, so chances are you'll have at least one opportunity to sample it up close and personal.
If time (and stamina) allows, we'd suggest you try to experience both sides of flamenco. The more restrained, formal, professional expressions of a 'tablao' as well as the raucous fun of the spontaneous spit and sawdust gig, which tend to occur later. Our Holiday Guide will point you down the right backstreet and towards the best shows. One of my personal favourites is Casa de la Memoria in Seville. For raw, heart-thumping power and music dripping with uncontrived emotion in the most intimate of settings, it's hard to beat.
H is for Horses, of the dancing variety
Horses, more specifically dancing horses, might not be your thing. But watching them perform, under the masterful horsemanship of their riders, at The Royal Andalusian School of Equestrian Arts in Jerez is strangely mesmerising. It is the ultimate expression of a culture that runs deep, in which an extraordinary amount of local pride is invested. Walking through the stables, you can't help but be awed. Plaques commemorate the Olympic Golds, the World Championship triumphs. Full-time leatherworkers make the saddles on site. Everything is spotless and organised down to a tee. The horses are treated like royalty.
You can visit the school daily and take a look around. But if you can, come at midday on a Tuesday or Thursday to watch the riding exhibition. Go for a VIP ticket to get as close to the action as you can, and as far away from the big tour groups as possible.
I is Itálica and other Roman remains
Long before the Moors hopped over the Med and planted their flag on the Iberian Peninsula, the Romans had already swept their way through Spain. Whilst the new landlords struggled to maintain their grip on the more northerly parts of the country, Andalucía made an easier transition to the new order of things. Itálica, Cádiz, Málaga, Córdoba, Ronda and Seville grew into towns of distinctly Roman flavour. Today vestiges of the empire remain, including the former town of Baelo Claudio, watching over the Strait of Gibraltar from the sandy dunes of Bolonia.
The most extensive ruins can be found at the archaeological site of Itálica, a short dash north of Seville. The centrepiece is the vast colosseum, the sandy floors and crumbling stands of which easily transport you back to an age of Gladiators and Emperors if you use a little imagination. The mosaics, which once adorned the floors of a grand villa, demonstrate a more artistic flair to counterbalance the cathedral of blood lust from whence you walked. The House of the Birds particularly held my attention for some time. As I walked on a few paces more, a small team were painstakingly restoring another floor, returning it to its former glory. I wanted to thank them, thank whoever decided to maintain this link to times long gone.
J is for jamón ibérico, the best of the best
Ham comes in all manners of grades, but for the best of the best, look no further than jamón ibérico. The pata negra (black-hoof pig) is endemic to Spain and Portugal, smaller and faster than your average pink pig. They can often be seen rummaging for acorns from holm oaks along in the forested hills of the Sierra de Aracena, so you'll likely encounter them at some point on our Inn to Inn walk there.
As a bonus, and for something completely different, try Googling Juzcar - a small village south of Ronda. If I tell you that its nickname is 'the Smurf village' it should give you an idea of what to expect.
K is for karstic rocks, and eyeballing ibex
Here's one you didn't see coming. On the road between Malaga and the Sierra Subbetica is El Torcal - a hilltop natural reserve dominated by otherworldly karstic limestone rocks. As hard as it is to conceive it from this lofty perch, the area was once under water. 200 million years ago. The compacting of shells and skeletons has been eroded and smoothed into weird and wonderful shapes by wind and rain over the ensuing centuries. Great boulders rise up and up, suddenly enclosing you in a prehistoric maze as you round one corner. Keep your eyes peeled and you'll likely encounter a family of Spanish ibex scampering and hopping across the precipitous rocks.
L is for Landscapes, of all kinds
Such is the impressive breadth of Andalucía that a two-week trip here can carry you between an astonishing variety of other scenery. In the west you'll be walking along ancient paths, lined with stone walls, passing through the traditional dehesa landscapes of chestnut trees, cork oaks and holm oaks. Move south to the coast and you have the wild and empty beaches of the Atlantic coast and the marsh wetland and sand dunes of Doñana National Park. In the east, mainland Europe's only desert stretches inland from the Cabo de Gata. Much of Central Andalucia is given over to olive groves, clustered in their thousands and, in some cases, dating back to Roman times. Huge limsetone ridges overlook open valleys, roamed by cattle, sheep, goats and ageing shepherds. The snowy peaks of the Sierra Nevada rise sharply below Granada.
M is for medieval Moorish masterpieces
For me, the Alhambra is peak perfection, perhaps the height of human architectural achievement. It'll forever remain bundled up in the romance of Washington Irving's Tales of the Alhambra. Seville's Alcàzar represents a turning point in history, when the Christians took back control and Pedro the Cruel directed Moorish craftsmen to build him a palace. It is one of the great Mudéjar-style buildings of Spain. Córdoba's Mezquita delivers the sort of 'wow' moment that never leaves you, as you get your first glimpse of the endless forest of red and white arches. There's a bit of everything going on here: a huge Baroque Christian cathedral dropped into the middle of it, a very Islamic minaret rising high above the courtyard, converted into a bell tower and a Roman bridge (heavily restored) spanning the Guadalquivir River outside.
Beyond the big three there are Moorish monuments that develop Andalucía's historical narrative away from the crowds. I shared a morning at the hilltop citadel of Alcalá la Real with perhaps a dozen or so people. There were times when it felt like my wife and I had the place to ourselves. In the distance rise the snowy peaks of the Sierra Nevada, with a carpet of olive trees below. Quieter still was the 9th century rural mosque atop the village of Almonaster la Real. It evokes the Mezquita in form, if not scale, and provides a more manageable window on life here a millenia ago.
Continue reading: A-Z of Andalucía: part two (N-Z)
We'll see you on the other side!
The Pothole is Pura Aventura's popular monthly email. We share what we love, what interests us and what we find challenging. And we don't Photoshop out the bits everyone else does. We like to think our considered opinions provide food for thought, and will sometimes put a smile on your face. They've even been known to make people cry. You can click here to subscribe and, naturally, unsubscribe at any time.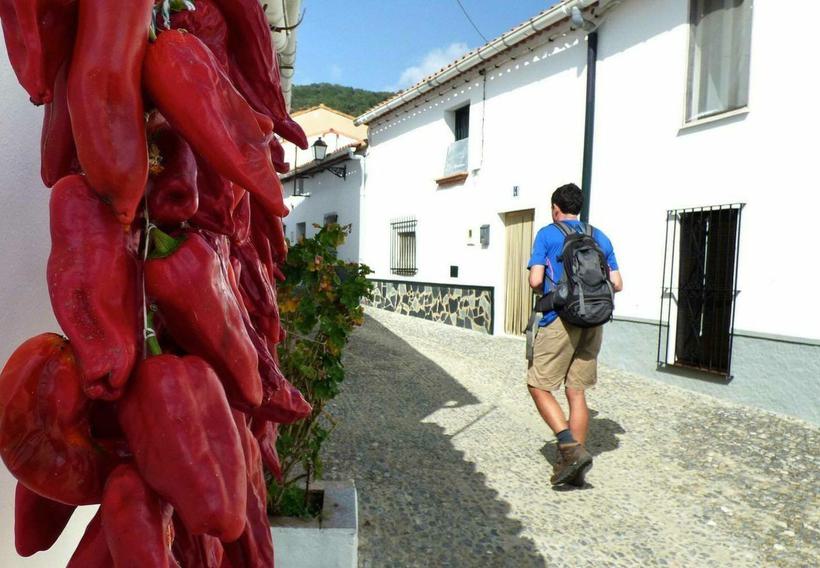 Villages of Andalucia Inn to Inn Walking Holiday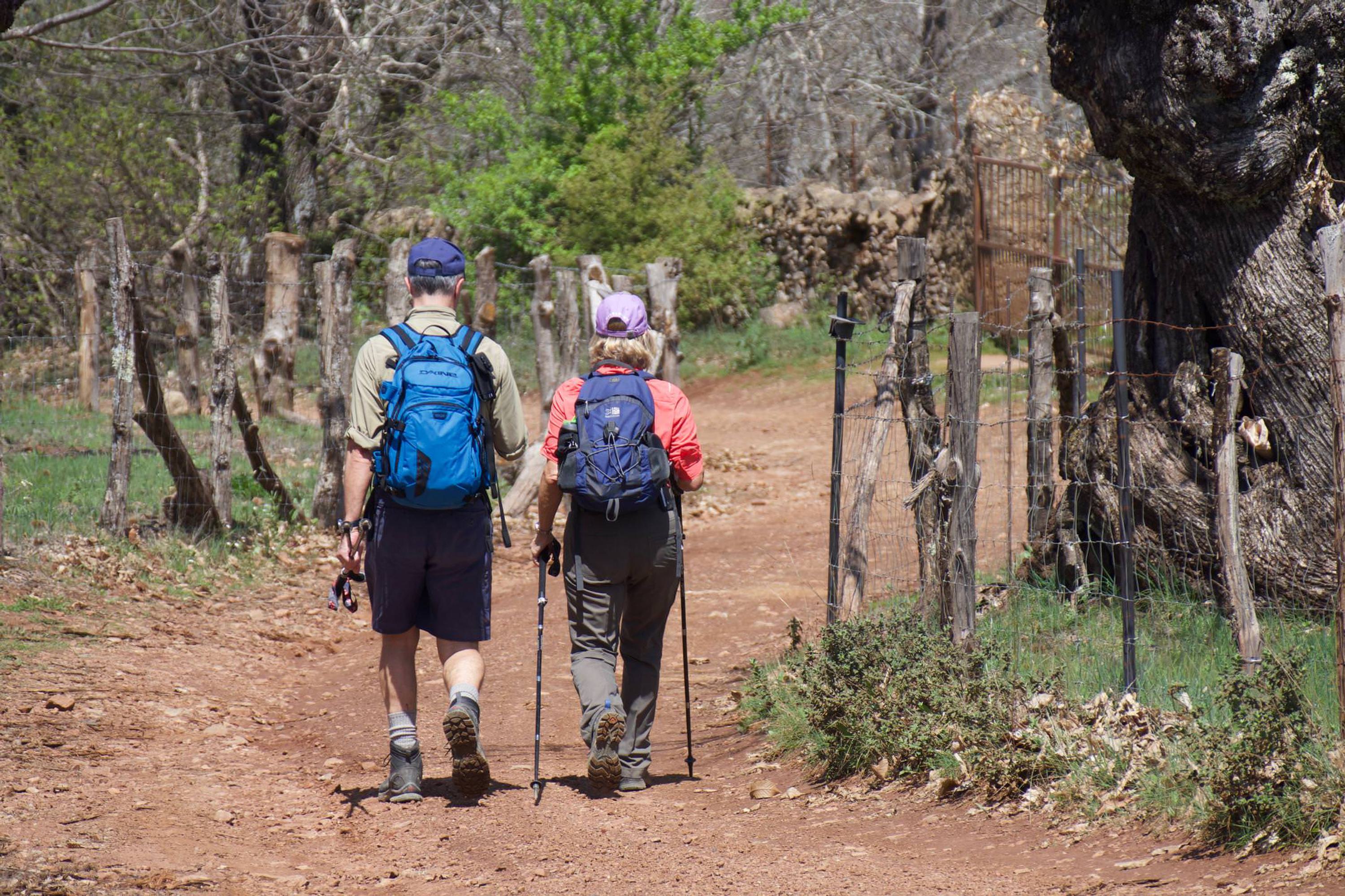 When: Mar-Jun; Sep-Nov
Price: £1,140 per person
Duration: 8 days
Enjoy a slower pace of life along the cobbled paths, open forests and white villages of the Sierra de Aracena, swapping trails for tapas as you end in Seville.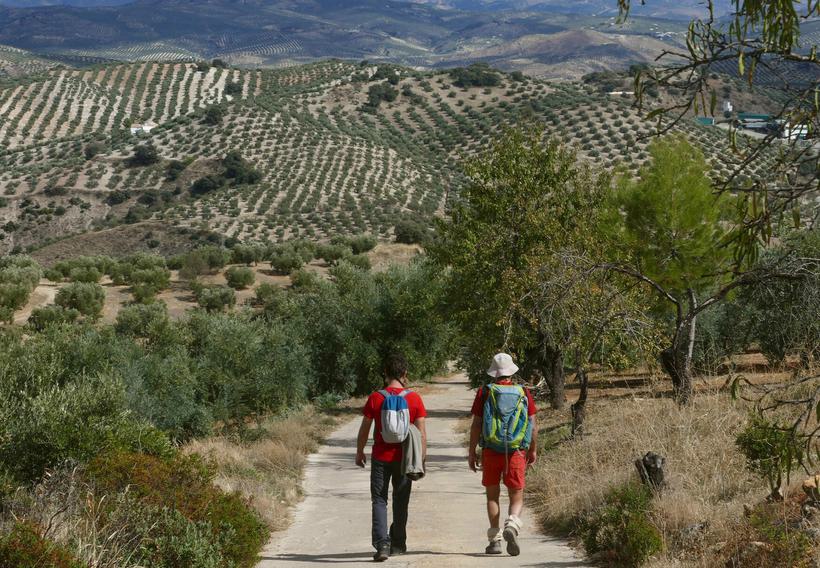 Córdoba to Granada Inn to Inn Walking Holiday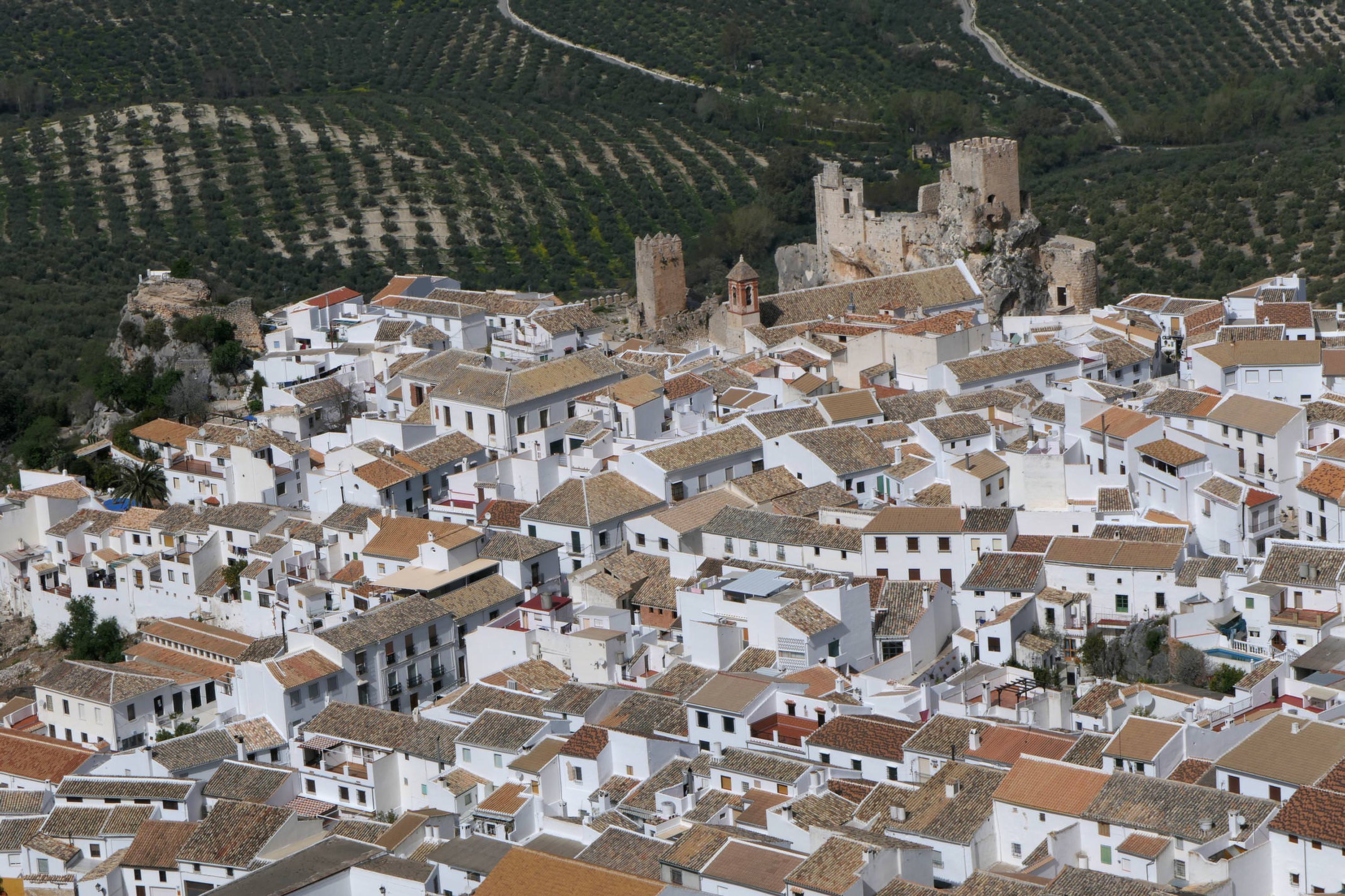 When: Mar-Jun; Sep-Jan
Guide Price: £1,880 per person
Guide Duration: 10 days (can be shorter or longer, contact us to discuss)
Shepherd tracks, olive groves and whitewashed villages, bookended by great Moorish capitals. This is classic Andalucía, experienced in your walking boots.