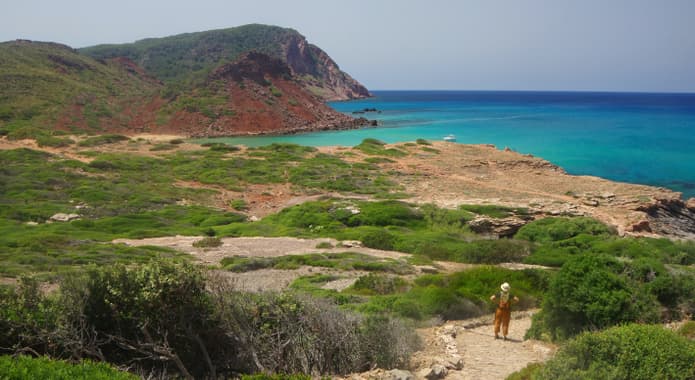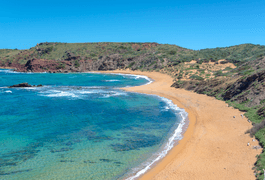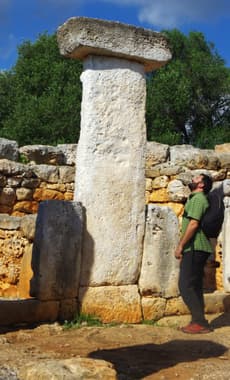 Menorca Coastal Trails Inn to Inn Walking Holiday
Explore a quiet landscape of golden beaches, fragrant forests and clifftop plateaus on a self-guided walking vacation, enriched with cultural visits and luxury inns.
This walking vacation connects the very best stages of Menorca's Camí de Cavalls coastal trail, sharing the peaceful paths of Menorca's beautiful, varied and lesser-visited northern coast.
On this journey, you will experience our signature Inn to Inn service, rooted in our 20 years' experience of delivering outstanding walking vacations to Spain. Enjoy complete local support, private transport with luggage transfers, navigation made easy and a Vacation Guide packed with ideas and information to enrich your travels.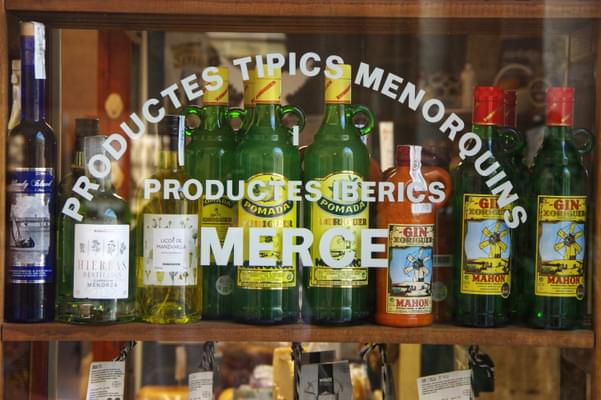 1 of 9
Day 1 - Explore Menorca's compact capital
You begin in Mahón, home to Europe's second-largest natural harbour. Enjoy wandering the relaxed streets, with our personal recommendations on what to do and where to eat.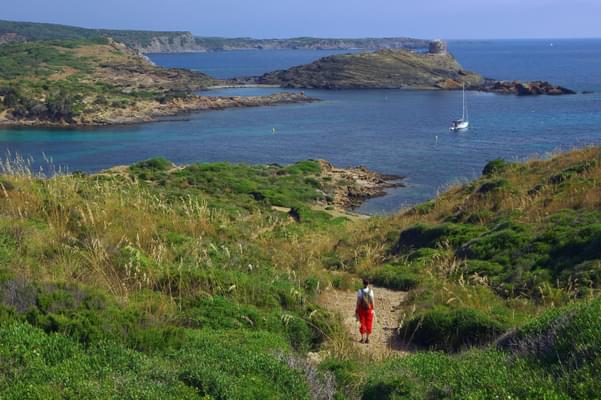 2 of 9
Day 2 - Walk from wetlands to hidden coves
The cooing of turtle doves and the fragrance of pine fill the air on your first walk. Pass seasonal lagoons, quiet beaches and a historic lighthouse to end in Menorca's only true fishing village.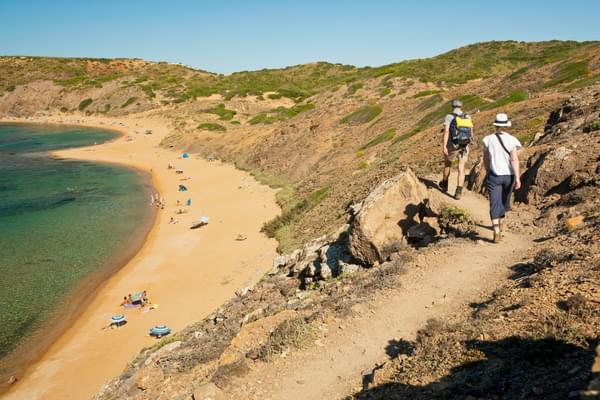 3 of 9
Day 3 - Hike from beach to beach
Beautiful beaches abound today, with plenty of time for a dip as you walk the peaceful paths. Settle into a gorgeous country inn with a perfect pool, tasty local food and views across the island.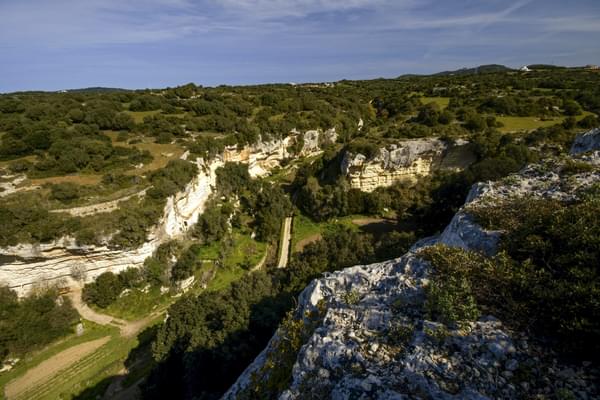 4 of 9
Day 4 - Hike in a gorge, swim in the pool
This morning you'll enjoy a guided 10km walk in the most dramatic of Menorca's 'barranc' gorges, thickly-wooded with wild olive trees. The afternoon is yours to rest and swim at your lovely inn.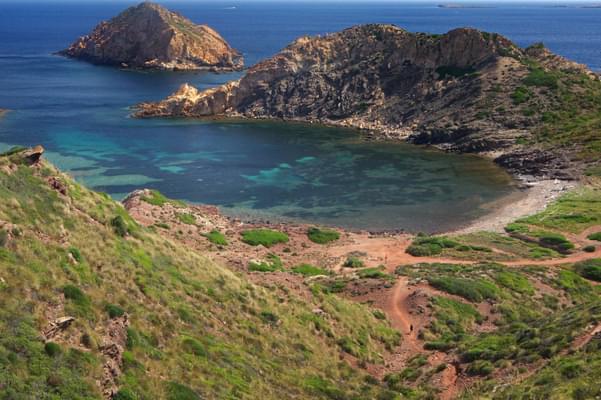 5 of 9
Day 5 - Return to the coast for another day in paradise
Some of the best coastal views unfold today as the red sand and turquoise water positively shine against the rich green of the woodlands. Finish in Ciutadella, the photogenic former capital.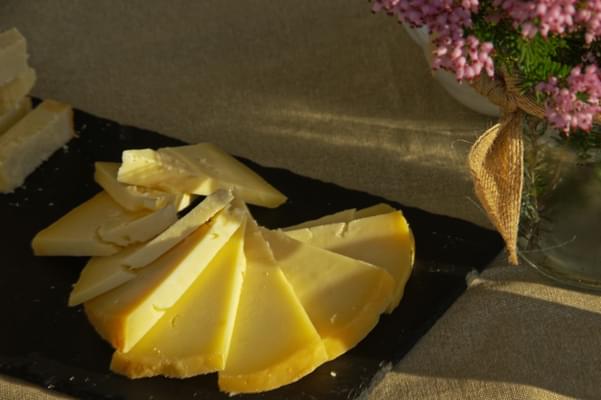 6 of 9
Day 6 - Enjoy a day of culture and cuisine with your guide
Today you kick off your boots and explore with your guide. Stroll Ciutadella's pretty streets, linger over a local produce lunch at an artisan cheese farm and visit a unique Talayotic settlement.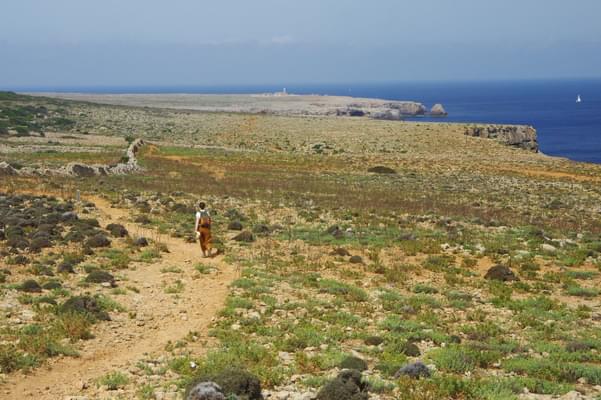 7 of 9
Day 7 - Experience the clifftop drama of the northeast
Your final walk crosses an arid lunar-like plateau of steppe, stone and big blue skies, passing a historic lighthouse, livestock shelters and miles of dry stone walling in a rich cultural landscape.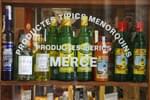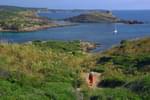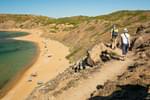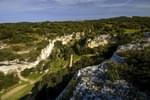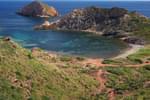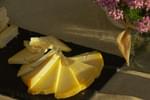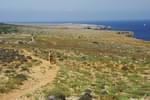 Travel Positive in Menorca
Your trip will have a positive impact on the places you visit and the people you meet: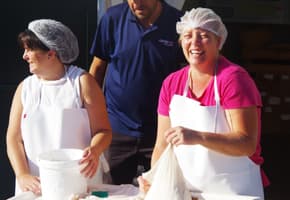 We love thriving communities. Because every hotel on this vacation, guide you meet, and place you eat helps support a strong local economy, your travels help to protect Menorca's rich culture and heritage.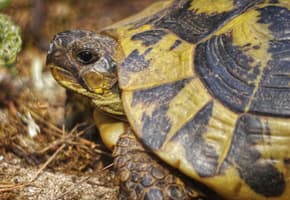 We love walking in beautiful nature. Menorca has been a UNESCO Biosphere Reserve since 1993. Your low-impact visit helps protect wildlife-rich habitats such as the s'Albufera wetlands and north coast.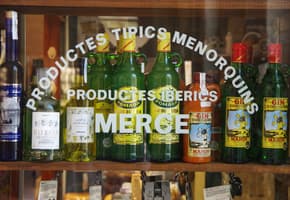 We love our planet and want to explore responsibly. We measure the carbon footprint of your trip from your front door and back, then invest in growing trees in the tropics sufficient to absorb twice the carbon.