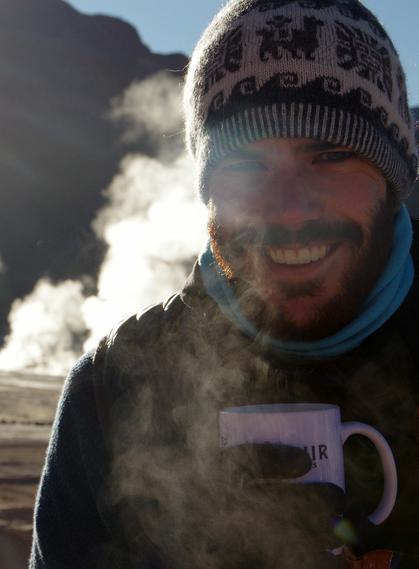 Why you don't have to be a sheep to visit Machu Picchu
The average traveller
"Beyond the barrage of identical images, list tickers and luxury train journeys, Machu Picchu is truly special. So we approach it accordingly and ask... what if we did things differently?"
Machu Picchu is breathtaking. It is inspiring, improbable and irreplaceable. Search high and low, you won't find anything comparable in the whole of the Sacred Valley, nay in the entirety of the erstwhile Inca empire. Not in its size, complexity, remoteness nor its cinematic cloud forest location. Not that we don't encourage you to look for yourself though. Not necessarily in the obvious places, but out in the parts of the valley where llamas outnumber tourists – having an Inca ruin to yourself is a special thing indeed.
Sadly you're unlikely to have Machu Picchu to yourself, no matter the best intentions of the new rules. That's just a little out of our reach. The average visitor will have to contend with queues upon arrival, bottlenecks, tour groups, selfies and other minor inconveniences that can threaten to erode your experience. The lost citadel has been well and truly found, by some 5,000 people a day. So what can we do? For a start we can be honest. More importantly, we can care. We care enough to not make you the average traveller in so much as our powers allow. We care enough to give it some prior thought and some creative consideration. We care enough to ask ourselves what if....
Beyond the thousands of identical images you've seen of it, beyond the Checklist-Charlie approach to travel planning and beyond the luxury train journeys which deflate your spirit of adventure and discovery, there is something truly special here. So we (and you) need to approach it accordingly. We need to doubt conventional wisdom, look at things from another angle and ask ourselves what if we did it differently?
Machu Picchu is a special place indeed, worthy of thoughtful consideration
All aboard the tourist train
There are various tried and tested ways of getting you to Machu Picchu that provide predictability and certainty for travellers, tour operators, local agents and the site itself. It makes the whole process manageable to the greatest degree that leading 5,000 people a day through an ancient wonder can be.
The scheduled trains whisk you, in varying degrees of luxury, alongside the Urubumba River to the bus station at Machu Picchu Pueblo. The buses climb up the switchback road to deposit you at the entrance of the gate to queue patiently with, in all probability, many of the people you boarded the train with in Ollantaytambo. This does work of course. I did it myself two years ago, because it was the done thing. And walking isn't for everyone of course. But in hindsight, I know that I didn't have the optimum experience, because Machu Picchu was essentially 36 hours out of a near three-week itinerary through Peru, Bolivia and Chile. It was too rushed.
The perils of being a sheep in Peru
"Everyone obsesses about getting to the Sun Gate for that first glimpse of Machu Picchu at sunrise... this is the cloud forest, not the Arizona Desert."
Then there's the Inca Trail. Forget for a moment the romantic bucket-list-things-to-do-before-you-die notion of the four (three if you're rushing) day hike and consider how special it is. Hundreds of years ago Incas actually followed these paths through the Sacred Valley. If you wanted to get from A to B then you had better have a sturdy pair of feet – indeed the chasqui runners would cover some 400km a day across high altitude passes, just to deliver messages. And now we have the privilege to follow in their footsteps. Let's not look at this as a life experience to cross off a list, but savour it for what it really is.
Further reading: Pura's 10 minute guide to the Sacred Valley
Local porters follow in the footsteps of Inca messengers
Inevitably, there are a few issues which don't accord with our ways of thinking though. We happily recommend the Inca Trail to clients. We arrange passes, porters, guides, llamas and campsites (just not the busy ones). We will happily do the same for you. Therefore the issue of overcrowding at key points and campsites is not one we'll lay at everyone else's door but our own. You know there's a but coming don't you? This is it – at Pura we don't like to be sheep. We don't follow conventional wisdom for the sake of it, nor do we enjoy the cosy confines of scheduled departures or the safety of following a crowd.
So we don't want you to be a sheep either.
The best solutions are often simple ones. It just takes a bit of consideration to locate them. With regards to the Inca Trail, much of it is in the timing. Don't trudge off with everyone else, don't cram a once in a lifetime experience into three days and don't base your entire schedule around arriving at the Sun Gate in time to see "the first rays of the golden sun softly illuminating the ancient Lost Citadel of the Incas in warm morning light."
Come on, this is the Andean cloud forest, not the Arizona Desert.
The reality rarely matches the romantic, seductive notion. It is busy, with bleary-eyed weary hikers all competing for the same photos in a relatively small space. Perhaps more importantly, the sunrise itself is normally a non-event; the sun often doesn't show its face until the clouds have been burnt away by the warmth of midday.
Doubting conventional wisdom is never a futile exercise.
The afternoon light is better, the crowds less oppressive and a calmer atmosphere reigns. By now most of the early rises are soaking their limbs in the villages' hot springs, or on the train to Cusco. Staying at Machu Picchu for two nights instead of one allows you to have an initial wander around the site on arrival, then return the next day refreshed and relaxed in the company of our guide. It's a logical approach seemingly lost on many. Nearly everybody builds their entire Peru holiday around seeing Machu Picchu, I suspect you will to if you've reached this far. So let's not rush it.
If you have your heart set on the Inca Trail, let's make it happen without the burden of crowds or schedules, pointless early rises and unpleasant campsites.
Finding a quiet spot at Machu Picchu
An alternative Inca Trail to Machu Picchu
"We don't just challenge popular thought to sound clever... we do it to give you exactly the sort of trips we want to take."
There is one other way of getting to Machu Picchu, the Pura way.
Do something different, go off grid, away from the crowds and off the conventional tourist trail. Swap the campsites for the comfort of your own bed and find those 'hidden' Inca sites which lack for visitors only through their remoteness. Take the winning ingredients of the Classic Inca Trail and follow them to their purest form. That was the notion behind our alternative Inca Trail.
We hope it gives you food for thought.
Challenging popular thought took us away from the over-visited and over-comercialised cloud forest and beaches of Costa Rica. It has taken us up Chile's Carrertera Austral more times than we can remember and it led us to create our own exclusive walking routes in Spain. It was only natural that we apply such an approach in Peru, not because it sounds clever, but because it creates the sorts of experiences that we enjoy, the holidays we want to take. That's what we share with you.
Because we are not shepherds. And you're not a sheep.
Our Peru holidays Get in touch Subscribe to The Pothole
The Pothole is Pura Aventura's popular monthly email. We share what we love, what interests us and what we find challenging. And we don't Photoshop out the bits everyone else does. We like to think our considered opinions provide food for thought, and will sometimes put a smile on your face. They've even been known to make people cry. You can click here to subscribe and, naturally, unsubscribe at any time.
The Pothole is Pura Aventura's popular monthly email. We share what we love, what interests us and what we find challenging. And we don't Photoshop out the bits everyone else does. We like to think our considered opinions provide food for thought, and will sometimes put a smile on your face. They've even been known to make people cry. You can click here to subscribe and, naturally, unsubscribe at any time.