Our favourite self-drive holidays in Chile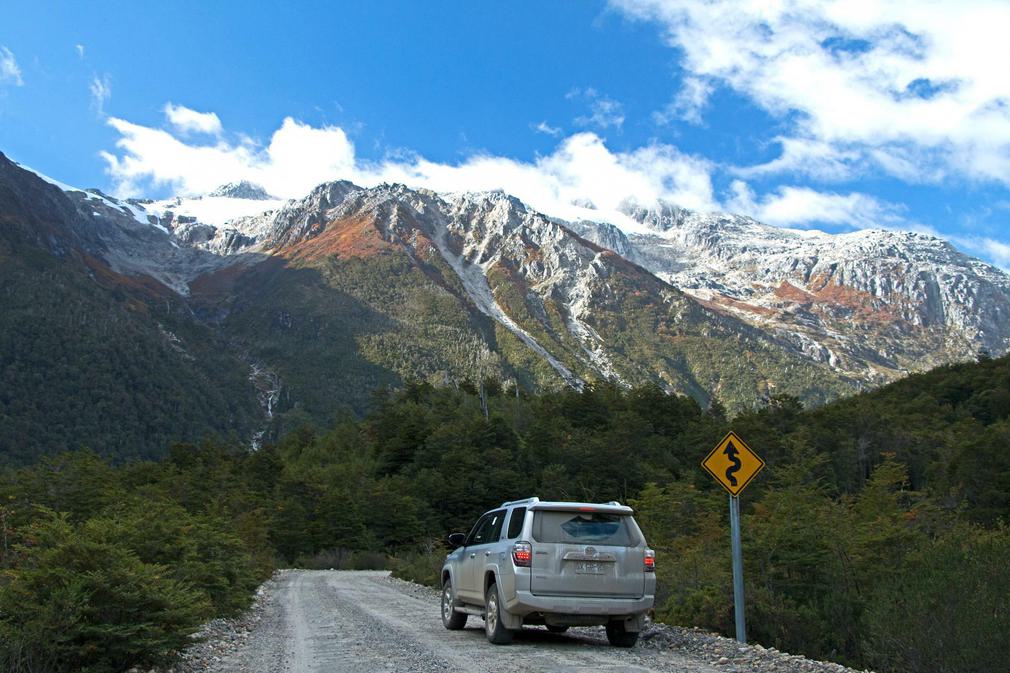 The open road and the landscapes of Chile are a winning combination. Getting behind the wheel of a 4x4 is a ticket to liberation and a licence to explore. You don't need a settle of wheels everywhere though. Pura co-founder Thomas Power shares his perspectives on life on the road in Chile.
Driving in and around Santiago de Chile
Downtown Santiago is very busy with traffic. To curb pollution they ban certain ranges of number plates on alternating days. Which is to say that it's neither pleasant nor responsible for you to be driving around the city. There's a perfectly good metro system and taxis are cheap.
If you do rent a car in Santiago in order to then leave and explore the country, we recommend that you pick it up from the airport. The airport sits out to the west of the city on the ring road, giving you very quick and simple access to Valparaiso to the west, La Serena to the north and everything wonderful to the south.
If you are driving to Valparaiso, it's a breeze to get there because they built parliament out in nearby Vina del Mar a couple decades ago. As part of that project the elite needed a nice big empty motorway along which to commute. You get to share it now. Unfortunately, once you get to Valparaiso, you're likely to get horribly lost so make sure you have a sat nav. Alternatively, it's always a possibility to find a taxi on the outskirts of town, one of you get in and ask to go to your destination while the other one follows. It's best to explain to the taxi driver what you are doing otherwise they might think they are being followed. In a bad way.
La Serena and the Elqui Valley are just about sensible to drive to from Santiago but anything further north than that and you are far better off flying or taking a long distance bus and then renting a car locally.
Colourful houses and street art in Valparaiso
Why you don't need a car in the Atacama Desert
Having a vehicle to explore the Atacama Desert is not a great idea in all honesty since there aren't that many roads. You would be able to see some of the main sights like the Tatio Geysers and Valley of the Moon but for much of the rest of the area's attractions you need to drive through wilderness and there are no signposts. If you are in San Pedro then you can join day trips out and about but having a car is not an advantage. There is also the risk that the car will not be correctly aspirated which could leave you stranded by the side of a lonely high altitude road. Not to be recommended.
Combine the headlines and our favourite hidden corners in the Atacama Desert
Up in Arica, in the far, far north of the country you could get a car to go up and explore the Lauca National Park as there are circuits within the park. However, the problem of aspiration is far more acute here than further south in the Atacama. Arica is at sea level and Lauca National Park starts at a dizzying 3,000m above sea level. The chances of your engine doing something funny are fairly high so again, get a bus or transfer up to Putre and take day trips into the park from there.
Hiring a car in the Atacama Desert is not something we'd recommend
Exploring the centre from behind the wheel
Heading south from Santiago is really the sweetest spot for self-drive exploration. The 1,000km or so between Santiago and Puerto Montt are served by Ruta 5, the Pan American Highway which takes you south through a shallow valley just behind the coastal mountains. Which is to say that you don't see much – despite the Pacific being just a few km to the west and the Andes just there to the east.
However, take pretty much any road left or right and you'll discover wonderful landscapes. The first 200km or so take you to the Colchagua Valley, the coast along this stretch is very un-touristy and well worth an explore.
Talca is a great place to stop for a few days. The Lircay National Park is an almost empty part of the Chilean Andes with some great trails. The Maule Valley has some delicious wines and you can catch the train from Talca to Constitución as described above.
From Los Angeles south you are in the Chilean Lake District, most notably around the town of Pucón and subsequently Puerto Varas. In both cases, having a car will help you to explore much more easily and cost effectively. Roads are very good, as is signage. Go play.
Central Chile Self-Drive Itinerary
If you do drive south then Puerto Montt is likely to be your last port of call. Here road signs are rubbish and traffic quite busy so it's a mildly frustrating corner of the country's roads. If you have driven from Santiago, you won't want to drive back again – get a bus or a plane and pay the one-way fee. In Chile one-way fees are usually very steep because they quite simply get a member of staff to drive it back to base.
Once past Puerto Montt, you are into Patagonia. The Island of Chiloé Grande is fine for self-drive though to be honest, it's most interesting corners are really quite well hidden so having a local guide makes a huge difference.
The beautiful drive along Lago Panguipulli to Huilo Huilo
The best place to drive in Chile - the Carretera Austral
Back across on the mainland sees the start of the Carretera Austral. 900km of largely unpaved road. Not something to be attempted without a reasonably sized 4x4 else your back will complain for the rest of your life. There is a lot to be said for driving Carretera Austral – it has to be one of the world's most beautiful road trips but it should be taken slowly and enjoyed as a journey in itself.
In this part of the country it is particularly easy to weave in and out of Argentina so please remember that you need to have very specific paperwork in order to do this. Your car rental company, or tour operator, may be able to arrange this for you but it is NOT something you can do yourself at the border.
Read more: Pura's 10 minute guide to the Carretera Austral
Driving gives you wonderful freedom to explore Patagonia's Carretera Austral
A car for Torres del Paine?
The very south of Chile has a much better road system than the Carretera Austral, from Punta Arenas to Puerto Natales and across into Argentina. From Puerto Natales to Torres del Paine National Park the roads are unpaved but decently maintained. The issue with having a vehicle here is really - why? The lodges in the park almost all operate on the basis of packages inclusive of transport and guided excursions. They can offer bed & breakfast packages if they have space but they tend to inflate their meal costs in order to justify their package prices. In short, you end up paying not much less for b&b and dinner than you would for taking the whole package.
If you are hiking then a vehicle is a pain because you are most unlikely to be doing just day hikes, given that the hotels are all the way back in Puerto Natales (about two hours away). Instead you are likely to want to do longer circuits and excursions.
So while driving in and around Torres del Paine is perfectly reasonable, it probably doesn't make practical sense for most visitors.
Combine an extended stay in Torres del Paine with a week driving the Carretera Austral
These provide a better way to get around Torres del Paine
In conclusion
In summary then: if you want to explore the Chilean Lake District or Central Valley, get a car and go for it. If you want to drive the Carretera Austral, get a 4x4 and go for it. For the Altiplano, Atacama, Santiago & southern Patagonia – don't bother.
Our Chile holidays Get in touch Subscribe to The Pothole
The Pothole is Pura Aventura's popular monthly email. We share what we love, what interests us and what we find challenging. And we don't Photoshop out the bits everyone else does. We like to think our considered opinions provide food for thought, and will sometimes put a smile on your face. They've even been known to make people cry. You can click here to subscribe and, naturally, unsubscribe at any time.
The Pothole is Pura Aventura's popular monthly email. We share what we love, what interests us and what we find challenging. And we don't Photoshop out the bits everyone else does. We like to think our considered opinions provide food for thought, and will sometimes put a smile on your face. They've even been known to make people cry. You can click here to subscribe and, naturally, unsubscribe at any time.