Guide to Arequipa: Practical Information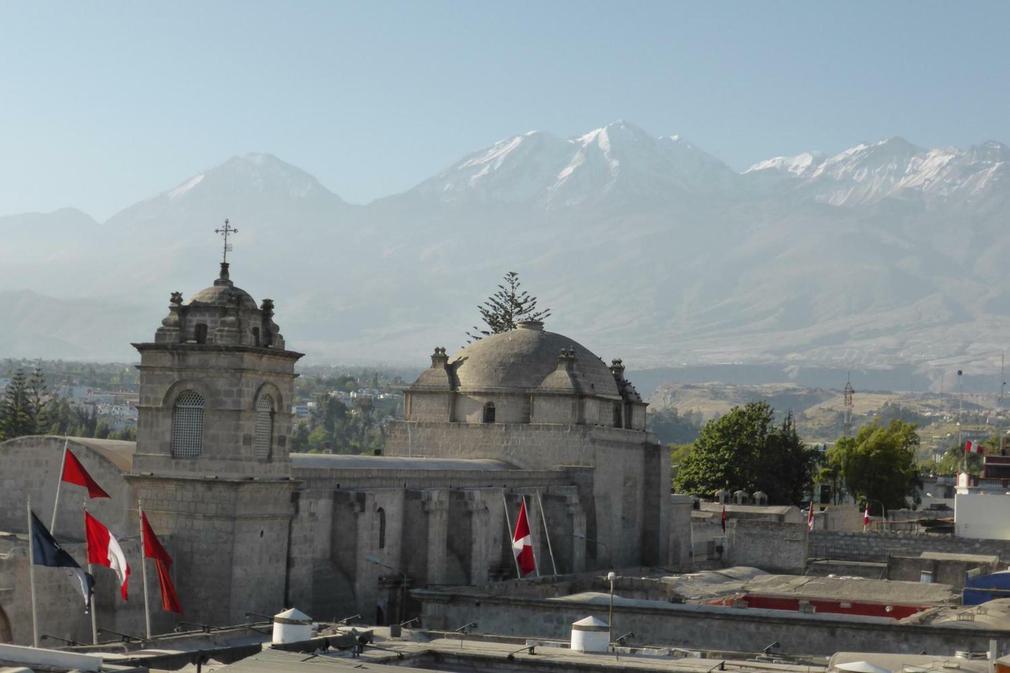 Restaurants in Arequipa
Arequipa is a superb place to try out some 'nuevo Andino' cooking.
This mix of traditional Andean and modern European cuisine is making Peru a world-class culinary force.
You should also look for picanterías which are an Arequipan speciality: restaurants which cook over wood-fired stoves.
A great place to wander and pick out a good looking restaurant is on Calle/Plaza San Francisco and Calle Santa Catalina.
These streets run parallel to one another. If you stand in the Plaza de Armas facing the cathedral, Santa Catalina runs along the left hand side of the cathedral, San Francisco along the right hand side. ZigZag on Plaza San Francisco, tel: (54) 206 020 is a good and popular spot for meat, crepes, wine, anything really. It is very good though hard to get into so worth booking a table ahead of time if you are going for dinner. La Trattoria del Monasterio , Santa Catalina 309, Arequipa. Tel: (54) 204 062. Italian restaurant set into the outer wall of the Santa Catalina monastery. Charming and intimate place for decent Italian food. Tradicion Arequipena , Avenida Dolores 111, Jose Luis Bustamente con Rivero Arequipa. It is a bit of a way out so take a taxi. Call ahead: (54) 426 467 to book. A great place particularly for a long, leisurely lunch as you can sit outside. They have a range of proper traditional dishes which change by day. Have a look at www.tradicion-arequipena.com ahead of time to get a sense of what is what. La Cheminee , Calle Jerusalen 402, Cercado, Arequipa, Tel: (54) 226 761. Traditional French cuisine, very strong winelist. Lovely for dinner but reservations are strongly advised. Ask your hotel to help you make a reservation if you are worried. Again, a short cab ride from the centre. Govinda , Santa Catalina 120, Arequipa. Tel: (54) 229 523. Decent vegetarian restaurant serving traditional dishes as well as pizzas and pasta. Some non-vegetarian options available.
Arequipa shopping
Arequipa is a fantastic place to go shopping.
It is the centre of the Alpaca industry in Peru, much of which is very nicely designed.
Alpaca wool, particularly baby Alpaca, is unbelievably soft and warm. There is a small chain of shops called Sol Alpaca which is good.
Silver and jewellery are also worth seeking out. In addition high quality handcrafts are available in Arequipa and are much more apparent than in the more touristy centre of Cusco.
Chocolates by La Iberica are famously good.
What to wear
In Arequipa people generally dress well so you will feel less conspicuous if you are wearing the sort of smart(ish) causal clothing you would at home.
The city is at around 2,300m which means that evenings are pleasantly cool so you will need a sweater, other than that you really do not need anything particular to visit Arequipa.
If you are going to visit the Colca Canyon then you will want to take more outdoors gear - proper walking shoes and warm, waterproof clothes as you will have had in and around Cusco and Machu Picchu.
The Pothole is Pura Aventura's popular monthly email. We share what we love, what interests us and what we find challenging. And we don't Photoshop out the bits everyone else does. We like to think our considered opinions provide food for thought, and will sometimes put a smile on your face. They've even been known to make people cry. You can click here to subscribe and, naturally, unsubscribe at any time.