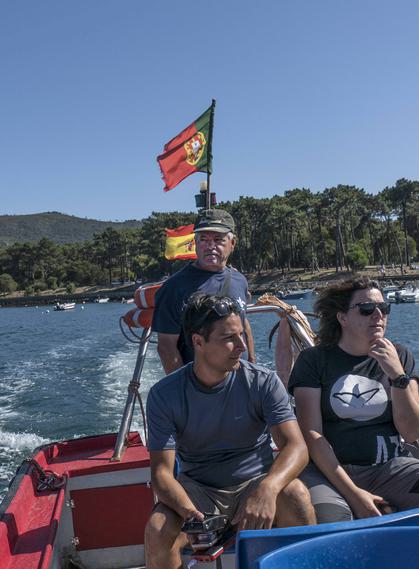 Our Favourite Spanish Cheeses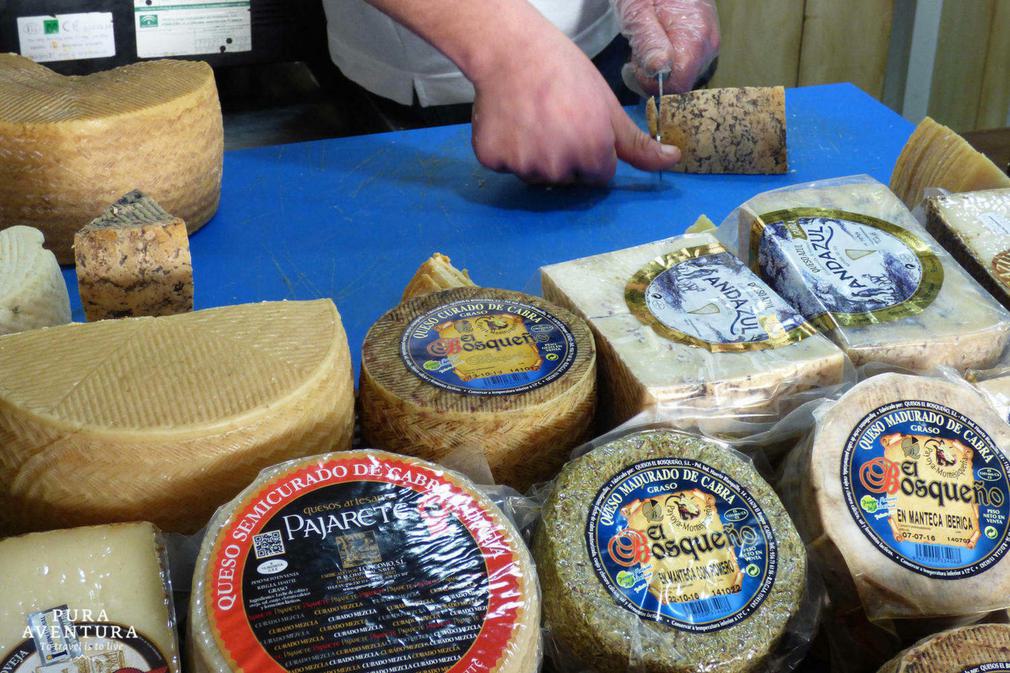 Despite producing some of the best cheeses in the world, Spain's reputation in the field still lags behind the heavily marketed French and Italian offerings. With 27 cheeses designated as 'Denominación de Origen Protegida' (DOP) or 'Indicaciones Geográficas Protegidas' (IGP), quality cheese production is taken very seriously in Spain.
Because of the variations in climate and geography, as well as culture, each region of Spain produces its own varieties of cheese: the dry interior areas generally produce sheep's cheese, while the rich green pastures of the north make fantastic cow's cheese. Goat's cheese is ubiquitous and probably the source of some of the best of Spain's cheeses.
With over 100 different types - from fresh to cured and fermented to blue-veined - Spanish cheeses form part of the historical legacy left behind by the many peoples and cultures that have inhabited its territories.
Archaeologists say that a Manchego cheese was already produced in the Iberian Peninsula around 200BC, before the arrival of the Romans. However, it was during the time of Julius Caesar that cheese-making became widespread throughout Europe. During the Middle Ages, cheese-making was taken on by monks who used the Camino de Santiago pilgrimage's popularity to spread the love of cheese.
More recently, during Franco's dictatorship, production of artisan cheese was outlawed as part of his efforts to modernise Spain's image. Luckily, the local cheese production went underground, until its death when it came back out of its caves, stronger than ever. However, it has not been until the early years of the 21st century that some of the great Spanish cheeses have started to export globally.
A basic product in the Spanish culture and diet, cheese is eat any time a day, whether it is by itself, or with bread, as a tapa, or even as a dessert. Cheeses in Spain can be divided into four main classes: fresco (fresh), tierno (soft), semi-curado (semi-cured), and curado (mature/cured). Most of the prized cheeses are in the curado and semi-curado category.
This is all hugely subjective but here are our 10 favourite Spanish cheeses:
Cabrales, Asturias
Made in the lush Picos de Europa mountains of Asturias, in the north of Spain, this blue cheese makes pungent Roquefort look like Edam. Traditionally made with a mixture of cow, sheep and goat milk before being aged in small caves dotted around the high pastures of the villages around Sotres and Tielve. Because the cheese isn't compacted before it goes into the caves, when it emerges the natural penicillins of the caves completely riddle the cheese with blue-green veins. Unless you are incredibly cheese-brave, Cabrales is best eaten fairly soon after it comes off the hillside when it is at its soft and crumbly best. Learn more about Cabrales here.
Gamoneu/Gamonedo, Asturias
If you are a real aficionado of cheese, you might like to try Gamoneu. It is produced in the villages neighbouring Cabrales in very much the same way as their cheese but is compacted then smoked before being aged. The result is a much less blue cheese but one with a phenomenal smoky, nutty richness. It really is one of the finest cheeses in the world - pair it with an Amontillado sherry for the ultimate after dinner treat.
Because more cheeses come from Asturias than anywhere else, they get a few special mentions such as La Peral, a soft blue cow and sheep cheese; Beyos, a fantastic crumbly goats cheese; and the very acquired taste of Afuega'l Pitu which translates as 'it makes you cough'. And it does.
Mahon, Balearic Islands
Named after the capital of the Balearic Island of Menorca, this cow's milk cheese exists in three different types: Tierno, Semi Curado, and Curado. Like cheddar, this bright white cheese grows darker, sharper, and crumbles with age, developing powerful flavours of tobacco, leather, and spices.
Manchego, La Mancha
Manchego was originally made as a form of currency to barter at sheep markets in the high, dry plains of Spain. Being durable food for the shepherds, it worked rather well. Now it's Spain's best-known food. The cheese is made exclusively from ewe's milk and has a lovely, nutty flavour when it is done well. We would always tend towards a semi-curado to avoid it being overly dry. However, we would completely avoid any of the mass produced factory soft stuff that seems to exist in most supermarkets. It's a complete affront to a good Manchego.
Zamorano, Zamora
Now this was a cheese we used to smuggle in from Spain. We won prizes for it at the World cheese award in fact. It's very similar in structure and production to Manchego but it's made near Zamora which is slightly greener than La Mancha. This gives the cheese a subtly fuller, grassier, creamier flavour. But the massive advantage of Zamorano is that nobody makes rubbish factory cheese gunk to label it Zamorano. Which means that if you see it, you can be fairly sure that it will taste like the best Manchego you've ever tasted.
Roncal, Navarra
Known as the first cheese to be awarded the D.O.P. designation in Spain (1981), this sheep's milk cheese from the Spanish Pyrenees has its own unique character, with nutty and piquant flavours. Firm but moist and smooth in texture, it is easily identifiable because of its rustic-looking shape.
Tetilla, Galicia
This unusual Spanish gourmet cheese that is made from pasteurised cow's milk has hints of lemon and herbs. Creamy, soft and smooth it is enjoyed as the melted topping on a slice of rustic bread covered with the typical ham of the region, 'Lacón'.
Idiazabal, Pyrenees
Made all over the Basque country, this rustic cheese made from the raw milk of two native breeds of sheep was traditionally smoked in the rafters of the shepherds' huts. Its taste is full of balance: rich, slightly salty and with hints of smokiness. A plain version is also available.
Torta de Casar, Extremadura
Creamy and runny is what makes this ewe's-milk cheese so famous and delectable. In fact, Spaniards use it as a cheese dip by cutting off the top of the soft rind so they can scoop out the inside with pieces of bread enjoying its strong, mature, rich and intense taste. In truth it's quite a cholesterol bomb but can be a fun, sociable cheese based event.
Murcia al vino, Murcia
Also known as Drunken Goat Cheese, what makes this goat milk cheese so innovative is the fact that it is soaked in full-bodied, intense local red wine (Yecla or Jumilla), giving its characteristic reddish-purple colour and floral aromas. Supple, this creamy mild cheese is underlined by a hint of yoghurt.
Garrotxa, Catalonia
This is one we almost lost but thankfully it's coming back into fashion. Mild and tangy with lovely nuances of flowers, herbs and grass it reflects the Mediterranean coast terroir of Catalonia. Both raw and pasteurised milk versions can be found, either way it's a beauty of a goat's cheese.
Celebrating the arrival of summer is one of the biggest annual fiestas in Spain. Hogueras de San Juan, or bonfires of Saint John, is a solstice tradition based around fire.
Legend has it that the bonfires that burn on this night can cure diseases of the skin and cleanse the body and soul. One can even change a bad year into a good one simply by jumping over the bonfire several times.
The 'San Juanes' blend a number of practices, rituals, and customs from pre-Christian cultures and repackage it all with a Christian flavour, in a way the Spanish do so well!
Although celebrations take place on the night of Saint John, each city has its own specific take on the event. From North to South and even on the islands, Spain celebrates this festival primarily on the beaches and coastal areas. On the night itself, wherever you are, you should find bonfires lit on the shore and people jumping back and forth over the embers to cleanse their year. If you get the chance, you should join in, it's a very inclusive and fun event with everyone taking part.
Here are some of the best places to enjoy the Bonfires of San Juan.
Alicante, Valencia (20th to 29th June)
Some of the highlights here include a spectacular International Folklore Parade, firework displays every evening, a huge spectacle of fancy ninots (effigies), and the famous cremà (burning) which happens at midnight on 24 June following a spectacular fireworks. During the next days, a firework competition takes place on El Postiguet beach, and the historic town centre is turned into a brilliant medieval market!
A Coruña, Galicia (23rd June)
Over the course of the day, successive parades including the famed 'giants and big-heads' but also music bands, bagpipes and traditional dances fill the streets of A Coruña. Dinnertime is marked with the smell of sardiñadas (roasting sardines) throughout the city. As night falls, hundreds of bonfires are lit and at midnight an immense bonfire erected on the beach illuminate the city.
Tarragona, Catalonia (23rd June)
Also known as the Nit del Foc (Night of Fire) this is one of the most anticipated nights of the year in Catalonia. The main highlights include the arrival of the flame carried by runners from Catalonia's highest peak (Canigó Mountain), then after the main bonfire is reduced to embers, the Ball de Diables enter the Casc Antic, the old city, to start their impressive midnight procession.
Tenerife, Canary Islands (23rd June)
Various concerts begin in the late afternoon around the Castillo San Felipe and Playa Jardin before a huge fireworks show with enormous flaming balls brought down from high up in the mountains. Just as in other parts of the country people make wishes for the future at the same time as they burn bad memories. Another astonishing tradition here involves local goat keepers bringing their flock of goats to the sea as dawn breaks, fulfilling the ancient tradition of purifying the animals.
Gran Canaria, Canary Islands (23rd June)
The celebration of San Juan is particularly important in Las Palmas as it falls on the same day as the anniversary of its foundation (24 June 1478), and so the festivities here are particularly spectacular with the entire city venturing down to the beaches to partake in bonfires, fireworks, open air concerts and swimming after midnight.
Ciutadella, Balearic Islands (20th to 24th June)
Ciutadella has developed its own rituals unique to Menorca, the Festes de Sant Joan de Ciutadella, which combines elements of the traditional fiesta with celebrations for its own patron saint, Sant Joan. Some of its unique features include the Diumenge des Be (Sunday of the Lamb), and a mad horse show where riders actually ride through the interiors of already packed houses.
Our Spain holidays Get in touch Subscribe to The Pothole
The Pothole is Pura Aventura's popular monthly email. We share what we love, what interests us and what we find challenging. And we don't Photoshop out the bits everyone else does. We like to think our considered opinions provide food for thought, and will sometimes put a smile on your face. They've even been known to make people cry. You can click here to subscribe and, naturally, unsubscribe at any time.
The Pothole is Pura Aventura's popular monthly email. We share what we love, what interests us and what we find challenging. And we don't Photoshop out the bits everyone else does. We like to think our considered opinions provide food for thought, and will sometimes put a smile on your face. They've even been known to make people cry. You can click here to subscribe and, naturally, unsubscribe at any time.