Memories of my first time along the Carretera Austral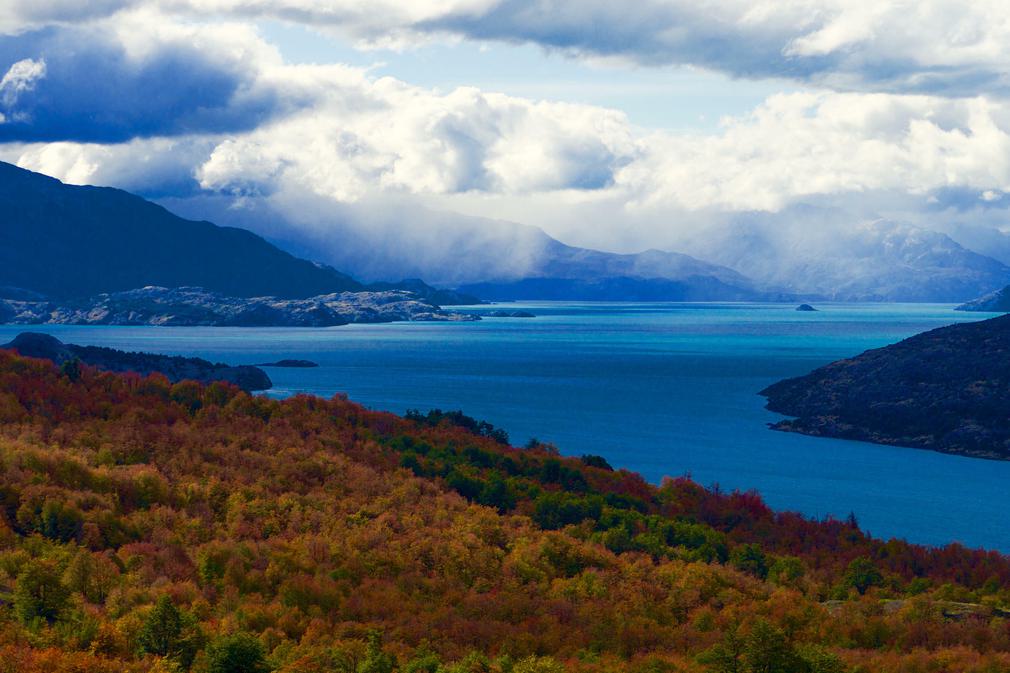 I remember seeing Lago General Carrera for the first time in 1995. I had found myself in Torres del Paine, southern Chile, at the end of a five week stay with enough money either to fly back to Santiago or to hitchhike and use the money for food. With nothing in my diary for a month, I chose the latter.
Travelling north from Torres del Paine is rather complicated by the fact that Chile doesn't really have a landmass for the first few hundred kilometres. It's all archipelago, Pacific ocean and ice. My journey therefore involved travelling out of Chile, looping out to the Atlantic coast of Argentina and back into Chile at the point at which the southerly highway, Carretera Austral, ends, or starts if you are going north.
The Carretera Austral runs the length of northern Patagonia, the very narrow and sparcely populated stretch of Chile which runs south from Puerto Montt until the land peters out. Despite the grand name, it is basically a very long dirt road opened in 1992 to connect the few villages and towns which exist down here.
The road appears to be a spectacular folly as it follows an impossibly complex and beautiful route past mountains, primary forest, glaciers, rivers, lakes and open plains. In fact, the road has a not so subtle geopolitical purpose. It formed part of the attempt by Chile to keep Argentine paws off what, for them, would be a piece of fabulously valuable foothold on the Pacific.
The Carretera Austral passing Lago General Carrera, Chile
In this part of Chile, the distance from the Argentine border to the waters of the Pacific are so close as to be positivley tempting. The Carretera Austral therefore helped to at least link the sparse population together - a sort of Maginot Line, just much thinner, and thus far, more effective.
Back to the lake in the photos. Right down near the very end of the Carretera Austral, you come to Lago General Carrera. At least that's what it's called in Chile - the lake spans the border with Argentina, on their side it's called Lago Argentino. It was here that I came back into Chile.
I remember it well because the border crossing involved a long detour over a bridge. Being on foot, I decided to take the direct route by wading over the river. It turned out to be quite a deep river. And fast flowing. And cold. Suffice to say, it's the only time I have arrived in a country dressed only in my underpants.
General Carrera is the second largest lake in South America. It has to be one of the most beautiful. Quite apart from the turquoise waters backed by stunning snow-capped mountains, what makes the lake so striking is that there is just nobody there. It took me two days to walk and hitchike my way along the southern shore as far as Mallin Colorado.
Beautiful views at Mallín Colorado, Chile
Mallin Colorado is a family run 'accommodation complex' on the western tip of the lake. It's not a complex, there are only four cabins. They grow their own vegetables and have horses stabled nearby. It's like a very beautiful home scattered along the slopes of this most stunning lake.
I remember seeing it and thinking it looked exquisite. Since my budget at the time ran to roadside camping and meals of bread and butter (I had to forego the butter after a couple of weeks) it was some years before I was able to actually stay there to discover just how lovely it is.
During that long journey back to Santiago, I have many vivid memories of wonderful people. I also have countless images in my mind of the landscape. Mallín Colorado was the only accommodation which stayed with me.
The Pothole is Pura Aventura's popular monthly email. We share what we love, what interests us and what we find challenging. And we don't Photoshop out the bits everyone else does. We like to think our considered opinions provide food for thought, and will sometimes put a smile on your face. They've even been known to make people cry. You can click here to subscribe and, naturally, unsubscribe at any time.