All you need to know about Rioja wine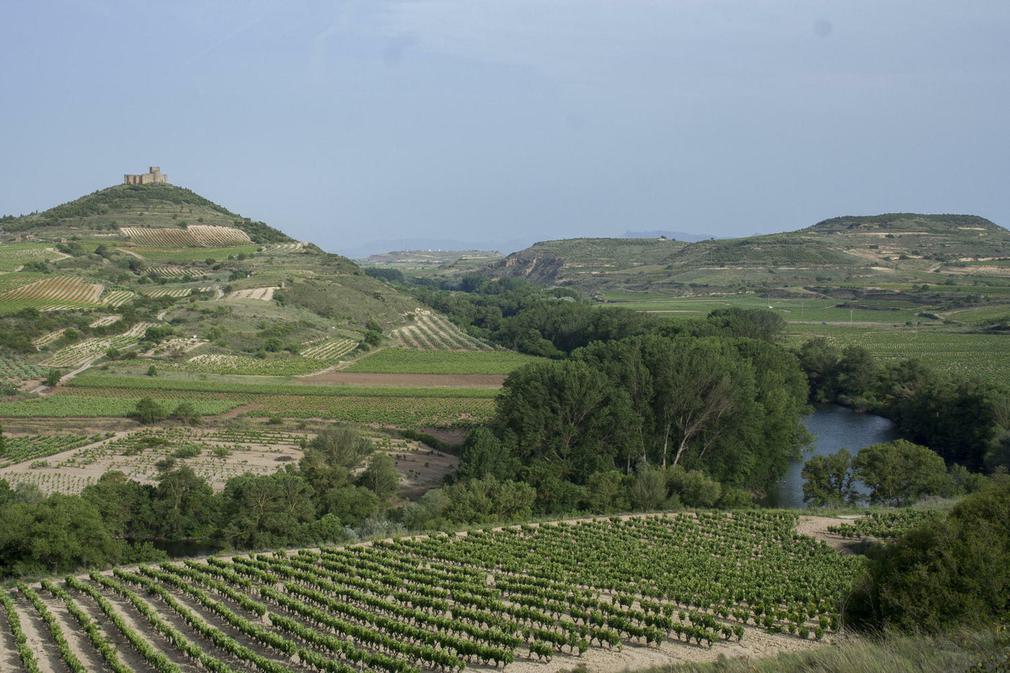 A comprehensive source of information about la Rioja's famous wine, red in particular. Ever wondered what to look out for, how to choose a bottle? Ever wanted to be able to wow someone with your knowledge of barrels? You are in the right place with Pura Aventura's guide to Rioja wine.
Overview
La Rioja is the smallest region of Spain and yet contains a stunning variety of scenery and landscape.
The region is split into three physical 'zones': the Cantabrian range to the north, the Demanda/San Lorenzo mountains to the south with the broad, flat Ebro River valley running between the two.
It is in the Ebro valley that all of the vineyards are located, the mountains to the north and south provide the shelter which makes the region perfect for vines. The Cantabrian range of mountains runs east west along the northern edge of La Rioja protecting it from the coastal weather systems which affect the northern parts of Spain. Remember, Bilbao is only about 100km away from la Rioja. The mountains of the Sierra de la Demanda to the south are dramatic, rising to over 2,600m on the summit of San Lorenzo. The foothills are dominated by lush agricultural land, forests and valleys. The Sierra de la Demanda protects the vineyards from the extreme temperatures of the central Spanish plains.
There are around 300,000 people in La Rioja, of whom half life in the main city of Logrono. The rest are fairly evenly spread through the region.
One of the things which gives the area a distinctive personality is that we do not see the sort of rampant urban drain that is normal in other parts of Spain. The small villages of la Rioja are still well populated and offer sustainable livelihoods to their inhabitants.
Of particular note is the huge amount of capital which has been invested in winemaking in la Rioja, particularly over the past decade.
Rioja's wines
Here we look at the specific influences on your glass of Rioja, hopefully enabling you to choose a wine a little better, whether you are on holiday in la Rioja or just buying a bottle or two to drink at home.
What influences my wine?
Wine is produced across the globe. Differences in climate, soil, grape variety, cultivation, production techniques and storage mean that no two wines are ever the same. The same is true within a wine producing area, even one as small as La Rioja.
Describe a classic Rioja
For most people Rioja equals red wine. In fact around 10% of production is white wine and rosé. Having said that, the white wines produced in la Rioja are, generally speaking, not overly interesting.
The rosé gets better reviews but the truth of the matter is that 90% of Rioja's wines are red, and that's what they do best.
A traditional red wine from la Rioja is unmistakable, characterised by the dominant indigenous Tempranillo grape and prolonged periods spent in oak barrels.
So a classic red wine from la Rioja is a full bodied wine. Deep ruby red colour. Smooth to the point of being almost creamy. It will have a big round, lingering oaky taste along with warm plum, tobacco, vanilla and leather flavours. If you are looking for this most traditional style of Rioja then the best place to start will be to try a reserva or gran reserva wine from Muga, Marqués de Murrieta or CVNE.
Rioja's regions
To give you a sense of scale la Rioja's 60,000 hectares of vines represent only just over 4% of the vines in Spain. From the easternmost vines to the westernmost is 100km, at their widest point the vines spread 40km north to south.
Even within this relatively tiny region there are three distinct Denominacion de Origen (D.O.) regions within la Rioja: Rioja Alta, Rioja Baja and Rioja Alavesa. Of course this is a generalisation but for a fine, traditional Rioja red wine, look for Rioja Alta. This is the largest region, with 234 wineries covering 26,000 hectares.
For a more modern, boutique wine, look to the smallest region, Rioja Alavesa. It has the highest number of wineries at 284 covering an area of 12,000ha. Rioja Baja is generally known for quantity not quality, despite with 62 wineries covering 23,000ha. Rioja Alta is to the north and west of the region so is dominated by the cooler Atlantic climate, ideal for Tempranillo grapes in particular. Home to the finest, most classic wineries.
The soil is a mixture of chalky-clay and ferrous-clay plus some alluvial soils on either side of the Ebro River. The former two are more conducive to distinctive mineral flavours in the grapes. Expect big bodied wines, with relatively high alcohol content and a tendency towards acidity. Really wines that need time in the barrel to mature. Rioja Alavesa is made up of a couple of small areas stuck onto the northern edge of Rioja Alta, up on the Cantabrian hills. It is actually part of the the Basque region. The vineyards tend to be small. The soil is chalky-clay. The climate is mixed Altantic/Mediterranean giving medium body and alcohol content.
This is a region where a new generation of winemakers is creating more complex, subtle and unusual wines. For a glorious example, try and find a bottle of Ostatu (the 2004 reserva is delicious). Rioja Baja is to the east of the region and is dominated by a Mediterranean climate. This gives stronger wines, rosés and reds. This part of la Rioja basically consists of large vineyards planted in the alluvial soils of the valley floor so less in the way of personality of grape.
How do I know which bit of Rioja my wine's from?
You would think it would be clear from the label, but it usually isn't, this is the one piece of information which rarely makes it onto the label. This is particularly true of wines from Rioja Baja, those from Rioja Alta and Alavesa are more prone to shout about the fact.
However, if you are keen to know and you have time on your hands...
Rioja Alavesa you can sometimes tell from the traditional Basque names of the bodegas (e.g. Atardi, Baigorri, Benetakoa, Azpillaga, Eskuernak, Ugarti, Ostatu) as they are clearly not Spanish or recognisably Latin based.
Having said this, there is nothing to stop non-Basque winemakers from producing wines in Rioja Alavesa so this is by no means foolproof. The best way is to go to www.Riojawine.com and click on 'Bodegas and their Wines' you can then use the drop down boxes to see all wineries in each region.
So if you know who produces your wine, you'll be able to find which of the three zones it is from. If you dig deeper you will be able to see whether it is from the central/southern parts of the valley (alluvial soil) or the northern foothills (chalky-clay or ferrous-clay).
Rioja's climate
Two types of climate meet in Rioja: Atlantic and Mediterranean. This translates to steady temperatures year round, good levels of rainfall with long dry summers to allow for full maturing of the grapes on the vine.
Add to this the protection from the Atlantic winds provided by the Cantabrian range and the shelter from the extreme temperatures of the central Spanish plains provided by the Sierra de la Demanda in the south.
Rioja's classifications
In 1926 the Consejo Regulador was created to monitor the production of wines in la Rioja. They administer the rules and regulations which accord to the D.O. label. The following criteria apply to red wines from la Rioja.
Crianza - wines at least two years old of which at least 12 months must be spent in the barrel. Reserva - wines at least three years old of which at least 12 months must be spent in barrel. Gran Reserva - red wines at least five years old with a minimum of 24 months in barrel.
For white and rosé wines you have the same classifications though in all cases only six months is specified in oak barrels.
Bear in mind that there is no upper limit to the age and barrelling of a wine so a crianza could be left in the barrel for significantly longer than 12 months, it is ultimately down to the winemaker. You can find this information on the back of any bottle of Rioja.
Rioja's grapes
Each year around 450 million kilograms of grapes are harvested to make just under 2 million litres of wine.
There are basically seven types of grapes used in the production of Rioja wine. Four red (Tempranillo, Garnacha, Mazuelo and Graciano) and three white (Viura, Malavasia and Garnacha Blanca). Of the red grapes, tempranillo is dominant with around 30,000 hectares of vines the 39,000ha total for reds. Garnacha (aka Granache) then has 7,000ha, Mazuelo (aka Carignon) 1,300ha and Graciano just 400ha. The balance is made up with small amounts of other varietals.
When looking at the label of a bottle of Rioja you will generally see a dominance of Tempranillo which gives Rioja's reds their colour, body and flavour. However, it is also quite heavy on the tannin so you will usually find some Garnacha, which is low on tannins, balancing it out.
Mazuelo is used in much smaller quantities as it can be acidic though it does add colour and some interesting flavour. Graciano is a low yield, late harvest grape which adds structure (i.e. lets the wine age well) as well as delicate flavours.
You can find 100% Tempranillo wines but you want to make sure it has a little age to it. You can very occasionally find 100% Graciano wines. Mazuelo and Garnacha are really only present in blends.
In white Rioja wine, the Viura grape is dominant with 3,700ha of the total 3,900ha dedicated to white wine grapes. Malavasia has just 45ha and Garnacha Blanca 21ha.
What's in a barrel?
Leaving a wine to mature in oak barrels allows a gentle process of oxidisation which softens the otherwise harsh tannins. Additionally, time in a barrel allows a degree of evaporation which concentrates flavours. There are also chemical interactions which produce specific flavours (notably vanilla). All barrels used in Rioja are oak, either American or French oak. These are actually different species though in any case they are largely grown in north America and France respectively.
French oak is around twice the price of American and therefore is less commonly used. Prices depend on demand but a 225 litre American oak barrel sells for around us$300, a French oak barrel for around us$600.
The use of one type of wood versus another does actually impact the wine. American oak is faster growing and therefore more porous than French which means that it transfers more aroma to the wine. Equally, the way the wood is prepared affects the porosity of the barrels.
French oak is allowed to air-dry for at least two years whereas American oak is traditionally kiln dried. This means that French oak tends to be more mellow. French oak is traditionally split which means that the staves (planks) run with the grain, again allowing less transfer of flavour to the wine. American oak is traditionally sawn which ruptures the cells, again leading to greater transfer of flavour from the wood to the wine.
Finally, the amount of 'toasting' affects the transfer. During construction barrels are placed over a fire to char the inside. The degree of toasting affects the transfer of flavours. A winemaker will choose from light toast (LT), medium (MT) and heavy (HT) you can usually see the letters stamped on the base of the barrel.
New barrels impart more flavour than old. By the time a barrel is around five years old, it will have little impact on the flavour of the wine. A good question is therefore what percentage of new barrels are used each year in a winery.
Small barrels impart more flavour than large. The most common is the Bordeaux barrique which holds 225 litres. So before your bottle of Rioja ever gets filled, the winemaker has chosen which type of oak, from which source forest, how it is prepared, the age and size of the barrel and the degree of toasting, all in function of the mix of grapes they will be using for the wine they want to mature in the barrel. It's complex stuff.
What is a tannin?
Tannin is a group of astringent, bitter plant compounds found in wine, particularly red wine. They cause the dry, puckering sensation in the mouth - that's the proteins shrinking.
There are tannins in grape skins, pips, stalks and even in the oak barrels - each one different. Crushed pips and stalks of grapes produce the most bitter tannins so are carefully avoided by winemakers seeking to produce a quality end product.
The higher the level of flavour compounds, such as tannin, the more likely a wine is to mature well over time. Different grapes have different amounts of tannin - for instance Cabernet Sauvignon and Syrah are higher tannin grape varietals than Merlot or Cabernet Franc. It is presumably much harder to produce a vintage merlot than a vintage Cabernet Sauvignon.
If a wine is destined to be matured over a long period then a winemaker can safely stick with higher tannin varietals as the tannins soften over time. For a young drinking red a high tannin varietal runs the risk of being bitter.
If you are looking to try some of these wines, please find our range of holidays to La Rioja, or feel free to call us at 01273 676 712.
Our Rioja holidays Get in touch Subscribe to The Pothole
The Pothole is Pura Aventura's popular monthly email. We share what we love, what interests us and what we find challenging. And we don't Photoshop out the bits everyone else does. We like to think our considered opinions provide food for thought, and will sometimes put a smile on your face. They've even been known to make people cry. You can click here to subscribe and, naturally, unsubscribe at any time.
The Pothole is Pura Aventura's popular monthly email. We share what we love, what interests us and what we find challenging. And we don't Photoshop out the bits everyone else does. We like to think our considered opinions provide food for thought, and will sometimes put a smile on your face. They've even been known to make people cry. You can click here to subscribe and, naturally, unsubscribe at any time.