Dining at Venta de Moncalvillo Restaurant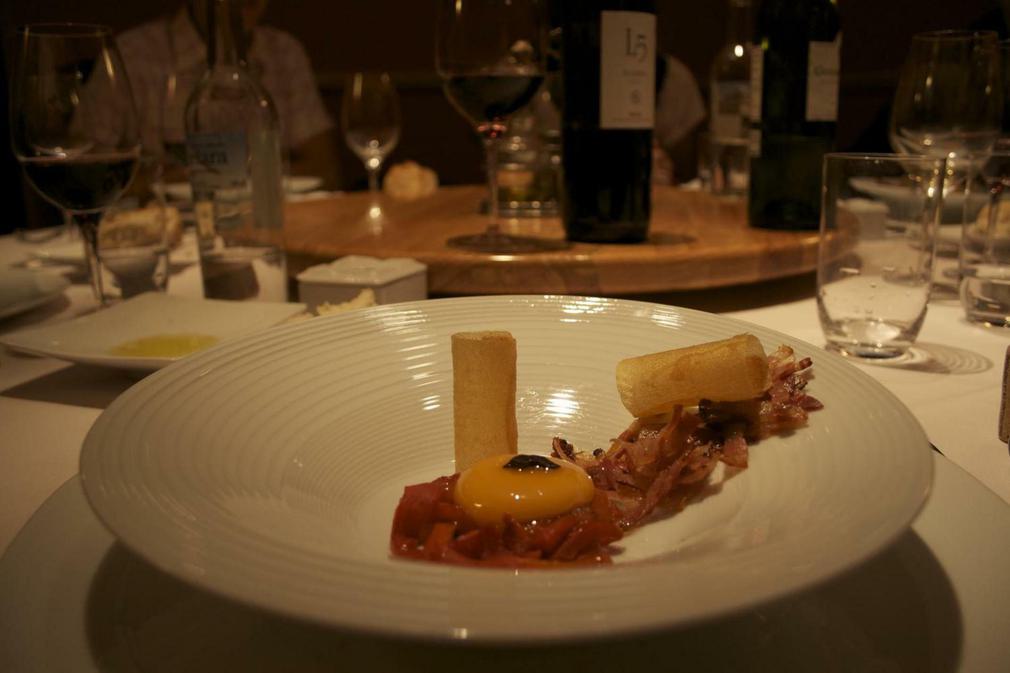 It's high time we had some food on this blog and there's only one place I would consider starting.
This photo is one of the seven courses served as part of the Maridage menu at the Venta de Moncalvillo Restaurant in Spain's Rioja region.
The idea is that they serve you a different wine with each course to create the perfect meeting of food and wine. Since you ask, they also make sure things like the olive oil are just right too. It really is an exquisite dining experience.
I personally have been lucky enough to eat there twice, the second time with foodie friends who also rate it as one of the best meals of their lives and comfortably the best value.
What I love about the restaurant is that it is in a really small village to the south of the region, just in the foothills around Daroca, south of Logrono. But for the sign outside, it looks like a house.
Inside are various dining rooms spread around the ground floor being supervised by Carlos Echapresto. Carlos is recognised as one of the finest somelliers in la Rioja (he also happens to be third best cigar somellier in the world) and is the maitre d' at the Venta.
Carlos introduces each dish, the provenance of the ingredients and the characteristics of the wine which accompanies it. The wines are usually from small producers, not well known or necessarily fancy but boy do they work when put with the right food.
It's Ignacio, the younger Echapresto brother, who creates the magic in the kitchen. He basically took his mother's traditional Riojan recipes and started to elaborate them into more sophisticated, playful and interesting dishes. Ignacio is fantatical about his ingredients, he'll go searching for mushrooms up on the hillside himself. He grows his own vegetables and herbs in the front garden. Menus change with the seasons.
In this photo we were being served Ignacio's take on a traditional Riojan poor man's breakfast of fried egg, roasted red peppers, potatoes and bacon. This is probably the most recognisable of the dishes we ate on this particular evening. For example, another course was slow roasted smoked fish gills which were, by the way, amazing.
However, I chose this photo because my friend Dave, possibly my most foodie foodie friend, still talks about this particular dish a year on. To be fair, he talks about the whole meal. In fact, because of this meal his subsequent meal at the chef's table at Gordon Ramsay's in Claridges Hotel was a disappointment.
I'm still not convinced Carlos and Ignacio know just how good their maridage meals are but hey, it means that, while by no means cheap, it is still remarkable value.
[gdlr_divider type="solid" size="50%" color="#303030"]
So, if you find yourself in La Rioja, search out the Venta de Moncalvillo and ask for the maridage menu. Alternatively, come on one of our walking holidays to Rioja and we'll take you and teach you the Spanish word for fish gill.
The Pothole is Pura Aventura's popular monthly email. We share what we love, what interests us and what we find challenging. And we don't Photoshop out the bits everyone else does. We like to think our considered opinions provide food for thought, and will sometimes put a smile on your face. They've even been known to make people cry. You can click here to subscribe and, naturally, unsubscribe at any time.