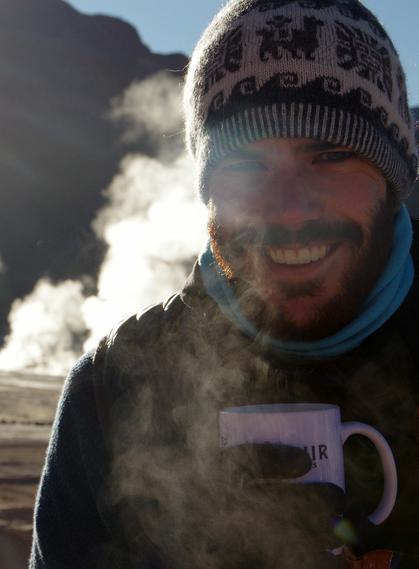 Eyeballing ibex at Torcal
As 2018 transitioned into 2019, I had the great pleasure of spending 10 days wandering around Andalucia with my wife. And the ocassional pig, sheep, cow and dog. I quickly came to the conclusion that a cloudless sky and new horizons are the perfect antidote to the depths of the British winter.
More than that, I was able to put some serious milage on the clocks of my new walking boots and leave footprints on trails which have, in return, made an indelible mark on me. Watching agile ibex hopping from one huge boulder to the next stands out as a highlight I'd like to share.
Eyeballing ibex at Torcal
Ibex leaping across the karst limestone rocks of El Torcal
If you ever find yourself driving from Malaga to the Sierra Subbeticas (it's a wonderfully scenic drive) and have a couple of hours to spare then you can do worse than stopping off at El Torcal. Whilst the King's Walk (El Caminito del Rey) is the more obvious walking route in these parts, this one provides an equivalent serving of stupendous views that will have you reaching for the nearest hyperbolic adjective. It is more accessible, safer and easier. And it's circular. So a win in every sense.
El Torcal is a hilltop natural reserve dominated by otherworldly karstic limestone rocks. As hard as it is to conceive it from this lofty perch, the area was once under water. 200 million years ago. The compacting of shells and skeletons has been eroded and smoothed into weird and wonderful shapes by wind and rain over the ensuing centuries.
If you can, go on a weekday when you'll find a lot less traffic in the early stages of the walk. Otherwise you'll soon leave the families of Spaniards behind and find your own solitude if you take one of the longer 2.5km or 4.5km trails. En route, you stand a very good chance of stumbling across a family of a very different kind; the Spanish ibex. Watching them scamper across the precipitous rocks and hopping from one to the other is sure to bring a smile to your face and a barrage of photos to your memory card.
Great boulders rise up and up, suddenly enclosing you in a prehistoric maze as you round one corner. You feel small. Vulnerable by comparison. Then they fall away, diminishing into smooth and manageable chunks, like blocks of ice floating in the lagoon below the great glacier wall from whence they fell. In the distance rise sharp, wind-sculpted spires reminiscent of the stone towers of Angkor Wat.
The Pothole is Pura Aventura's popular monthly email. We share what we love, what interests us and what we find challenging. And we don't Photoshop out the bits everyone else does. We like to think our considered opinions provide food for thought, and will sometimes put a smile on your face. They've even been known to make people cry. You can click here to subscribe and, naturally, unsubscribe at any time.