Best photo tips in the Galapagos Islands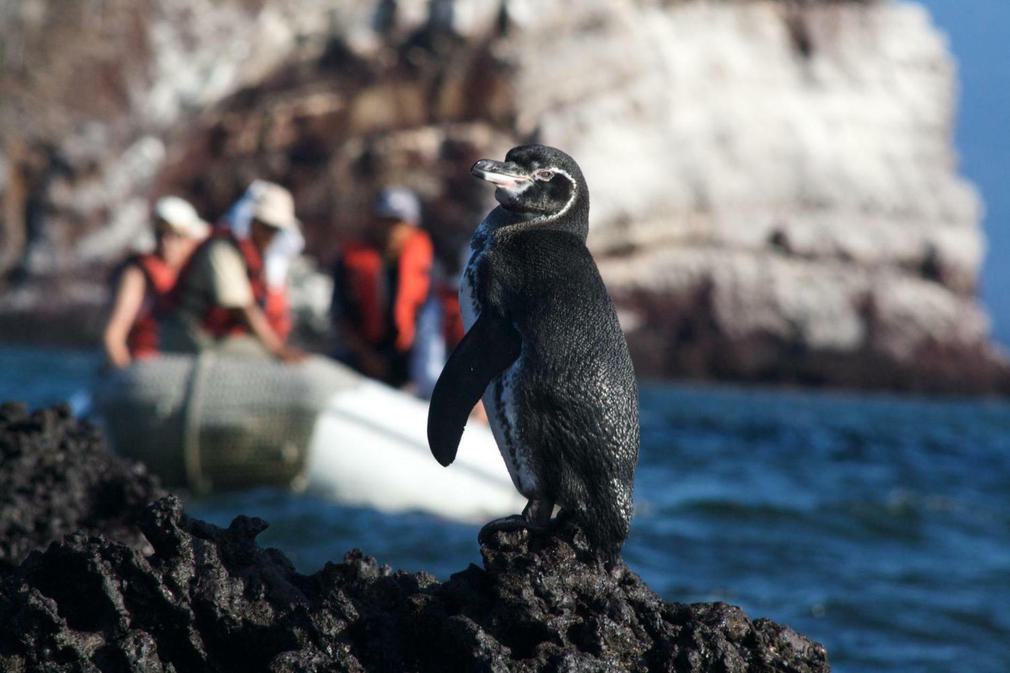 Practical advice and tips on taking the best photos whilst on holiday in the Galapagos Islands. Photographic advice provided by the Galapagos Conseration Trust.
Galapagos Islands photography advice from the Galapagos Conservation Trust with whom Pura Aventura work closely.
Whilst the following advice is quite specific to the Galapagos Islands, we also have a page dedicated to improving your holiday photos.
Photographic equipment
Galapagos is one of the very best places in the world to photograph not only wildlife but also plants, landscapes and lava patterns.
For many people this could well be a once in a lifetime visit, so its worth making the effort to obtain as good a photographic record as possible.
The choice of cameras available today is vast. For really successful results a top of the range Single Lens Reflex (SLR) camera, either digital or film, with interchangeable lenses would be ideal.
Most will also offer an auto focus facility, which is a great asset, saving valuable seconds and helping to secure pictures that may have been missed with manual focus equipment.
If you are interested in underwater photography, it is possible to get underwater housings for some models or if you are really keen there are some dedicated underwater SLR cameras available.
Compact cameras have either a fixed or a zoom lens, are quick and easy to use and ideal for those visitors wanting just a photographic record with digital or film.
It is also possible to get underwater compacts and this is a cheap way of getting into underwater photography. As most of these underwater compacts are not pressurised, they are only operational to depths of just over one metre but that's fine for snorkeling.
As most digital cameras are powered by rechargeable batteries, don't forget to pack chargers, leads and plug adaptors. A spare rechargeable battery and memory card are essential.
In fact, we suggest that you take several smaller capacity memory cards rather than one huge one just in case it fails or indeed in case your camera gets lost.
Camera accessories
A cable release is an excellent way of reducing camera shake and your camera should accept either an electronic or mechanical type. Don't forget to take lots of spare camera batteries but please don't dump the old ones in Galapagos, take them home where they can be disposed of without damage to the environment.
Lenses
If you have chosen the SLR option you will need to think about what interchangeable lenses to take with you. Most of the wildlife in Galapagos is very tame, so you don't have to consider very long focal length lenses.
A medium zoom, something between 70 and 300mm and a short zoom 28 to 135mm will cover most photo opportunities. For the more adventurous it would be worth looking at lenses that are wider than 28mm, and some very dramatic pictures can be taken with a 12mm lens. A macro lens would be very useful for insects, plants and pattern photography.
Lens accessories
Tele-converters increase the lenses magnification by a factor of either 1.4x or 2x and some zoom lenses are designed specifically to work with them. Extension tubes and close-up filter attachments are another way of increasing magnification.
A UV or skylight filter on each lens offers extra protection from accidental damage to the front lens element. A polarising filter is well worth taking, as it will help control reflections and increases colour saturation.
Digital storage
Almost all digital cameras use some form of removable storage memory card, XD, Smart Media or Compact Flash. Storage capacity is measured in Megabits (mb) or Gigabits (GB). The higher the 'mb' or 'GB' the more images that can be stored between downloads. It's a good idea to use a digital storage device for downloading your memory cards onto each night; these are palm size, hard drives, that vary in capacity from 20 to 100+ gigabits, some have small colour screens for viewing.
Travelling with a laptop is another alternative where images can be viewed, stored, or even burnt onto CD or DVD. Small battery power CD and DVD writers are also available and offer probably the most secure form of backup.
RAW or Jpeg
Most digital cameras offer the option to shoot in Raw or jpeg; this is the format that records your image, the digital equivalent of film.
Jpeg is a file format that stores digital photographs in a very space efficient way; to do this it uses compression to reduce file sizes at the expense of fine image detail. The level of compression (and thus the loss of quality) can be varied.
Raw files contain all the data collected by the sensor, not a sub-sample as is the case with JPEG files. Raw gives the most flexibility for post correction of exposure and colour and is the preferred shooting format of most professional photographers.
Other accessories
An electronic flashgun is well worth its place in your camera bag, as a 'fill in' to soften harsh shadows during the daytime and to light any close-up macro photography.
Remember that some animals get stressed when repeatedly flashed, so be considerate in its use.
There are a large number of camera bags available and purchasing one is a matter of personal choice. However, it is worth considering one that doubles as a rucksack, which is a much more comfortable way of carrying equipment over rough ground.
Some camera bags of this type also have a built in waterproof cape, which is useful extra protection for wet landings.
In selecting a suitable bag, resist the temptation to purchase one that is too big - you will only feel obliged to fill it! Airlines are generally reducing hand luggage allowances so make sure that your bag size comes within recommended limits. A photographic waistcoat is a handy garment for keeping photographic accessories readily to hand.
The commonest cause of picture failure is lack of definition as a result of camera shake.
The most effective way of overcoming this is by using a good tripod; there are many light, yet sturdy models on the market, which will fit comfortably into the average suitcase. In the salty and sandy environment of Galapagos, any tripod is going to need extra care and maintenance. Keeping moving parts well oiled and wiping down the tripod each night will help to keep corrosion at bay.
Monopods are also a good means of steadying the camera, but they do require a little practice. Rifle stocks and pistol grips are another form of support and allow freedom of movement when attempting to photograph moving subjects. Notes : The identification of Galapagos species often depends upon which island the subject was photographed.
If you have set the date and time on your digital camera this information should be embedded in the background information stored on each image.
Then, by keeping detailed notes of what you saw and which island you were on each day, you will then be able to sort out and identify species much more easily.
Before you leave
It is always unwise to go on a holiday with new untested equipment.
With digital cameras, take some pictures on each of your memory cards and check that they download correctly onto your computer.
If you are taking a digital multimedia storage device, check that your memory cards copy successfully and that you can then transfer the files onto your home computer.
Carry out a full test on any newly purchased lenses.
Do not forget to check that your equipment is insured and that the policy covers travel in South America. Keep a check list of camera and lens numbers. This will be useful if you do have to make an insurance claim and as a record of what equipment you have taken with you.
Should equipment be stolen, report it to the police and obtain a statement confirming that you have reported the theft, as some insurance companies will be reluctant to settle any claim without such confirmation.
Apart from checking existing equipment before your departure, it's a good idea to check and clean all equipment at the end of each day.
The salt atmosphere present in the Galapagos will damage cameras and lenses if not carefully cleaned.
Code of conduct
It should always be remembered that the welfare of the subject is more important than the photograph:
* Do not go too close * Do not leave the trail * Do not use flash if it might disturb the subject * Do not make lots of noise * Do not discard any form of litter * Do not smoke on the islands
Take only pictures, leave only footprints!
Our Ecuador holidays Get in touch Subscribe to The Pothole
The Pothole is Pura Aventura's popular monthly email. We share what we love, what interests us and what we find challenging. And we don't Photoshop out the bits everyone else does. We like to think our considered opinions provide food for thought, and will sometimes put a smile on your face. They've even been known to make people cry. You can click here to subscribe and, naturally, unsubscribe at any time.
The Pothole is Pura Aventura's popular monthly email. We share what we love, what interests us and what we find challenging. And we don't Photoshop out the bits everyone else does. We like to think our considered opinions provide food for thought, and will sometimes put a smile on your face. They've even been known to make people cry. You can click here to subscribe and, naturally, unsubscribe at any time.