Guide to Atacama: Off the Beaten Track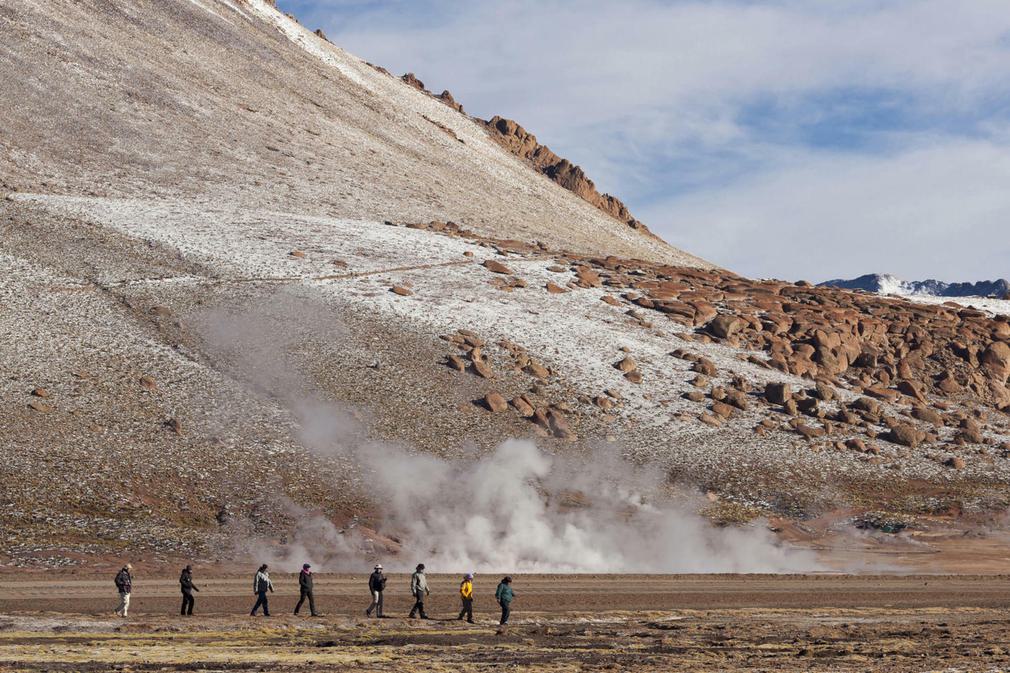 In San Pedro, we offer private tours to unusual and unexplored areas.
We have put a great deal of thought into the excursions we offer so that you can get the most out of your time in the Atacama.
Off the Beaten Track
The Atacama is a popular destination with a well-worn checklist of excursions. Whilst these are beautiful, we like to offer a different sort of holiday to Chile and to stay off the beaten track where we can.
At Pura, we think that it's better to be outside in the fresh air with a few people than travelling in a crowd. We try to ensure as much time as possible out of the vehicles actually enjoying the scenery.
Sunset in the desert
The usual way is to drive out of town to the rim of the Valley of the Moon, then walk just to the edge from where you watch the sun setting over the desert. On a busy day, there can be over a hundred people sitting in a long line.
Our way is to drive out of town to the rim of a valley; walk down across a sand dune; over a short stretch of salt flat and into a narrow gorge in the salt mountains.
As you follow the gorge, the air cools and the rocks crackle, with bats and owls flying overhead. Emerge into a natural amphitheatre hidden away in the middle of the hills, from where you watch the sunset.
The salt flats and lagoons
The usual way is to drive a dirt road to the large lagoons in the heart of the salt flats; have time to wander, take in the scenery and watch the large colony of flamingoes before returning by vehicle.
Our way is to ride bikes straight from your hotel to a series of small lagoons towards the northern edge of the salt flats, close to San Pedro where you have time to wander, swim and watch a smaller colony of flamingoes.
Special places
We also take you to places with nothing comparable on the usual tours. Walk down through the mountains from high oases to low villages following ancient Inca pathways.
Most spectacular of all is the walk up to the heady heights of Toco volcano.
Tatio Geysers
The one 'checklist' place we do take you to are the Tatio Geysers. Whilst spectacular, visitor numbers are such that in the high season it can feel like Picadilly Circus.
The Pothole is Pura Aventura's popular monthly email. We share what we love, what interests us and what we find challenging. And we don't Photoshop out the bits everyone else does. We like to think our considered opinions provide food for thought, and will sometimes put a smile on your face. They've even been known to make people cry. You can click here to subscribe and, naturally, unsubscribe at any time.