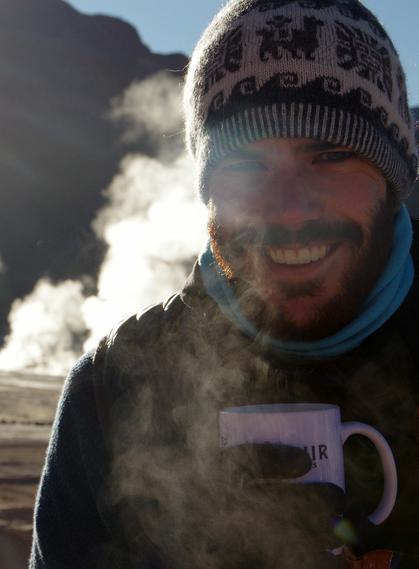 News & views
Why buying B Corp helps us use our wallets as a force for good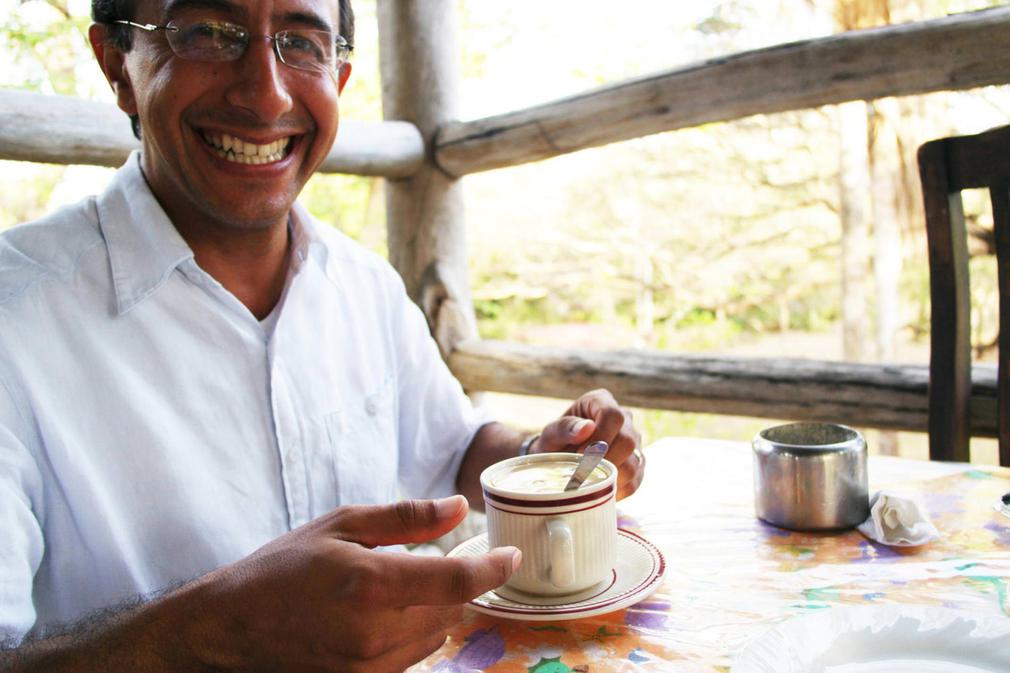 Just as I'm about to reach for the shiny green Colombian with its exotic toucan that will inject a bit of colour into my shadowy kitchen cupboards, I spot a smartly-dressed Brazilian whispering to me from the top shelf with the seductive promise of chocolate and caramel notes. There are only three of them left up there. Surely that's a good sign?
Welcome to the perilous world of a supermarket coffee aisle.
In a café, buying coffee is a doddle. For all the skinny-this and iced-that, there are basically about six common ways to mix hot water, ground coffee and milk, off of which we can elaborate depending on our mood and fancy. I still can't claim to understand the exact difference between a cappuccino, latte and flat white, but then all I ever need to do is say "black Americano, please", smile politely and wait for it to emerge from a world of silvery steam and hurrying hands.
But stick me in our local supermarket and suddenly I've got to become some sort of ninja barista. Even when narrowing my options down to ground, not beans, capsules or instant and Colombian, not Costa Rican, Guatemalan or Ethiopean, I still have to confidently gauge the different tastes of coffee grown on one side of the highlands versus the other. I have to decide whether it's more important that my coffee is hand-roasted or sun-dried. Will I be more likely to drink it on a lazy Sunday morning or after dinner? Do I want strength 3 or 4? This Fairtrade one or that Fairtrade one? Do I want to spend £3.49 or can I stretch to £3.99, and what do I get for my extra 50p? And why aren't any of them recyclable?

I'll tell you what would really help me out here - a nice freshly-brewed cuppa to boost my ailing brain power and give me the strength to commit the correct shiny packet to my increasingly impatient basket. Best just close my eyes, grab something and hope I didn't reach for either the double-strength Rocket Fuel or the no-strength-at-all decaf.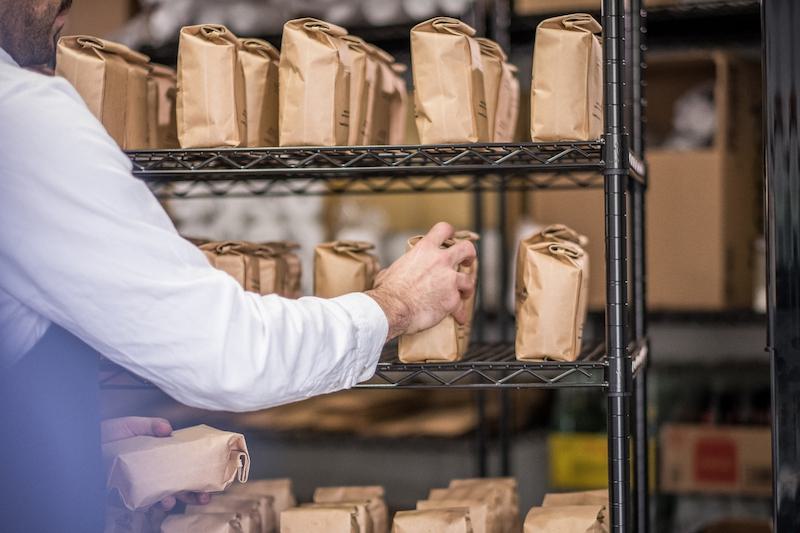 Another way to shop
And yet this charade is all basically predicated on what, to me at least, has always seemed an entirely nonsensical idea that we are all blessed with an innate capability to masterfully 'Taste the Difference' and knowingly validate or lament the purchase we finally emerged from this minefield with.

Yet what if there was another way, a different framework by which we could invite all sorts of goodies into our lives and homes and feel not just confident in our decision, but get a little boost of quiet satisfaction too?
Even for more considered purchases where there are clearer distinctions between the options, what if there was a globally-recognised certification that cut through all the promises and independently validated the good that the people behind the product are doing in the world, rather than just assessing the product itself? What if our purchase could reward certifiably good business in its own small way, and through the collective power of our decisions, encourage other businesses to commit to that same path?
Knowing that my purchase has made just a tiny pinprick of a positive impact on the world would surely make my coffee taste far better that any clever marketing magic ever could.
Time to talk B Corp...
You probably already buy B Corp. If you've walked through the woods in a Patagonia pullover, curled up on the sofa with two scoops of Ben & Jerry's or poured boiling hot water over a Teapig bag during lockdown, you've bought B Corp.
Innocent, Brewdog, The Body Shop, Abel & Cole, Divine Chocolate and Cafédirect are all B Corps. Pura Aventura is a proud member of the B Corp club too - the UK's first certified B Corp specialist tour operator, in case it ever comes up in a pub quiz. Many are household names, others are young startups, many more are small businesses at the heart of very local communities. As of today, there are nearly 4,000 B Corps, with combined revenues of around $80bn, scattered across 76 countries from Argentina to Zambia.
What is B Corp and 15 things to know about this global movement
What links us all?
The ideals of B Corp: Certified B Corporations are businesses that meet the highest standards of verified social and environmental performance, public transparency, and legal accountability to balance profit and purpose. B Corps are accelerating a global culture shift to redefine success in business and build a more inclusive and sustainable economy.
Or put more simply...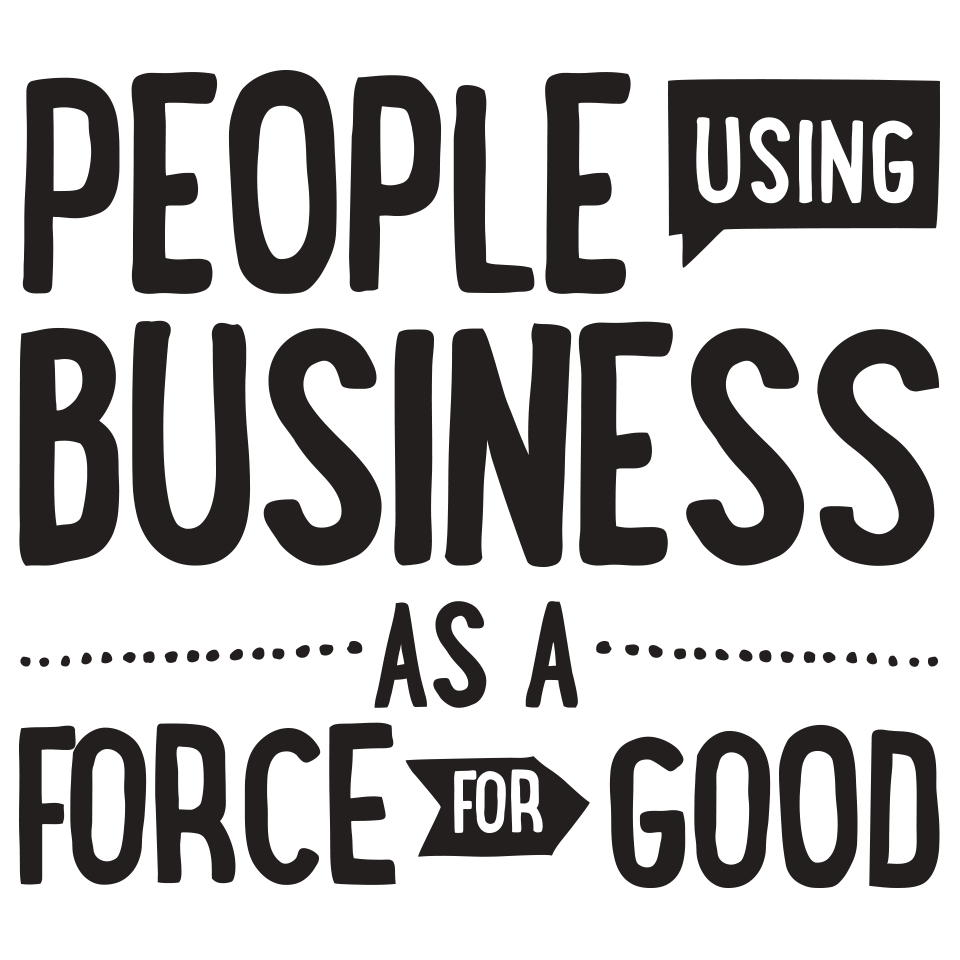 Best for the world


"B Corporations want to build a new sector of the economy in which the race to the top isn't to be the best in the world but to be the best for the world."
- The B Corp Handbook: How to Use Business as a Force for Good
B Corp is the only certification to measure a company's entire social and environmental performance. It provides a way of making abstract and complex ideas like 'sustainability', 'inclusion' and 'diversity' concrete, measurable and actionable. In business lexicon, it should put them on the same elevated plateau as terms like profit and dividends.
That a company is measuring and reporting on these sorts of metrics tells you that they genuinely do care about such issues. That they are able to successfully recertify as B Corp every three years tells you that they are acting upon their good intentions and making a positive impact in the world.

For consumers, the B Corp badge gives us an easy and indepedent way to conciously choose to support such companies.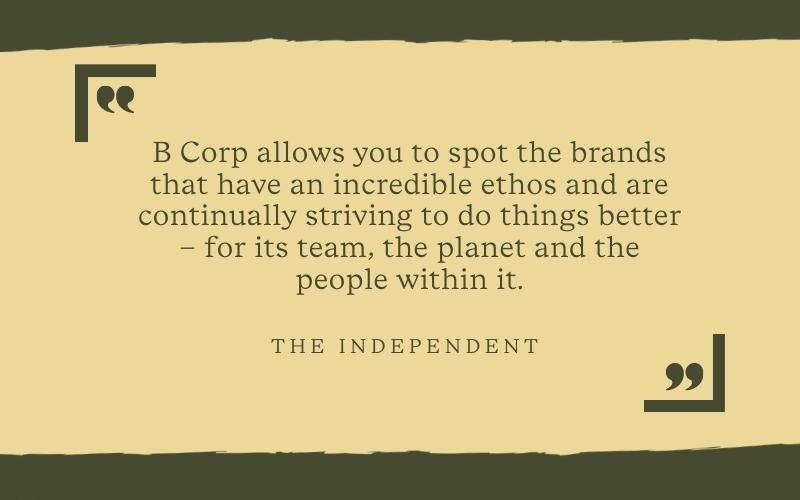 There are thousands of brilliant businesses who are already doing B Corp-y things, but who are not yet B Corp. For one thing, the process takes time and energy and it's not easy to get in. Over 100,000 have taken the B Impact Assessment, yet fewer than 4,000 businesses have successfully certified. Equally, becoming certified doesn't make you better overnight - it's about recognising the considerable good you already do and committing to a journey to do even more. To learn, share and get better, together.
The more B Corps there are in the world, the more companies there are having to not just talk a good talk, but tie up their laces and walk a good walk. The more they do that, the little bit more sustainable, inclusive, diverse and equitable our planet becomes, one purchase at a time.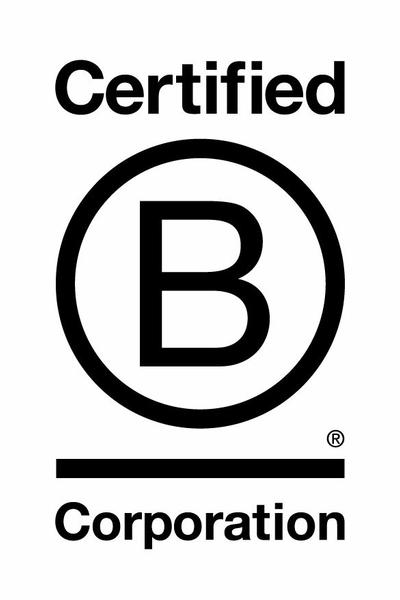 That's the power of our humble wallets. Voting for good business by buying from good businesses is just one way we can use them as a force for good. It may or may not help you get your shopping done a bit quicker, but it'll certainly make you feel good about it in the process and helps push the B Corp movement a little further along its journey.
Alone, my coffee grounds do little other than wake me up in the morning. But add them to the hiking boots you buy next week and the holiday you choose next month and we're on to a good thing.

Looking for the little B can make a huge difference.