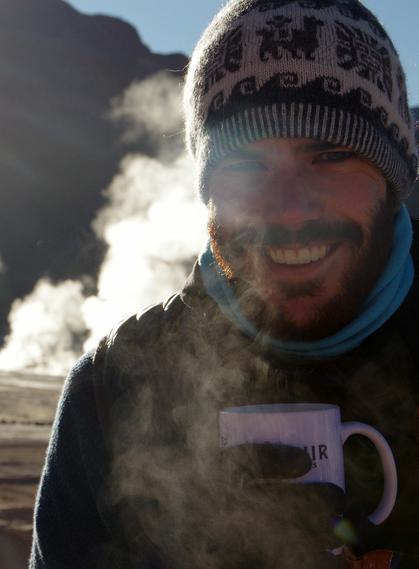 Where we love walking in Chile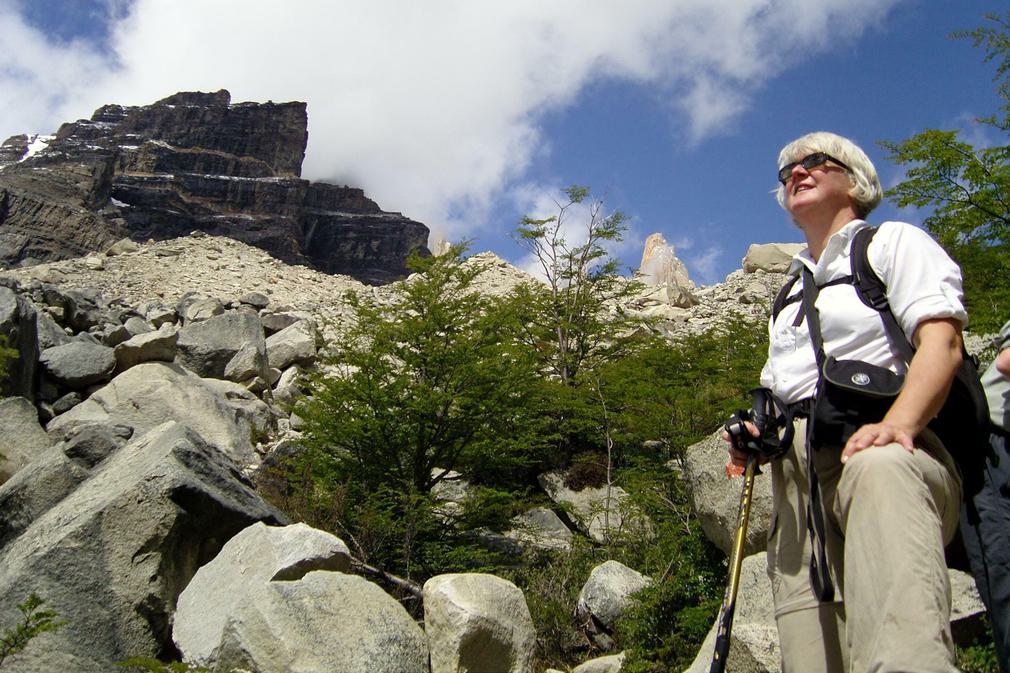 Biased though we may be, there are few countries which better reward putting one foot in front of the other than Chile. Valleys, mountains, volcanoes, lakes, glaciers and deserts are best explored slowly, revealing their beauty one step at a time. There's something extraordinarily special in lacing up your walking boots, slipping on your daypack and heading out into the morning sun, with nothing but the glorious outdoors ahead.
For the sheer diversity of scenery, for the scale and drama of the landscapes and for the ability to get way off the beaten track and away from the crowds, Chile is hard to beat.
Why Chile is so special to Pura
If you'll forgive a moment of self-indulgence, we'd like to share our story with you quickly, because it is inextricably linked to the walking trails of Chile. It's the very reason we share the places we do, the places where you might end up exploring yourself.
An Englishman, a Basque and an Asturian met at the bottom of the world - it's not the start of a bad joke, but rather the start of Pura Aventura. A chance meeting in Torres del Paine in 1994 sowed the seeds for what we are today. They struck up an instant friendship and walked just about every trail in the park. Then they resolved to share it with a wider audience. Having extended their focus to the rest of Chile and across Spain, Pura sprang to life in 1999. Walking was at the heart of it and remains so today.
So you can rest assured there's no guesswork in what follows, no rushed conclusions. We've been there, done that and worn out our walking boots. We have strong opinions, so if we don't like something, we'll soon say. The below is therefore a snapshot of what has moved us in the past 20-odd years of wandering around the national parks and quiet corners of a country we hold so dear, for obvious reasons. We've picked out our favourite walks, with suggested sample itineraries for you to consider and links to deeper dives into each of the four regions.
We hope it inspires and informs.
Carretera Austral - Chile's Southern Highway
There's an obvious place to start when considering the best places to walk in Chile. But we're not going to do that, there's somewhere we think you'll love even more.
Following the meeting of minds in Torres del Paine, being the adventurous soul that he is, the Englishman - Thomas Power - hitch-hiked 3,000km back to Santiago. They were different times. That journey opened his eyes to the genuinely untouched raw beauty of the little-known Aysén region and the unceasingly warm hospitality of ordinary Chileans.
Mercifully, the Carretera Austral remains sufficiently off the tourist trail that we can still be moved by it in the same way Thomas was over 20 years ago. We take immense pleasure in sharing it with our travellers, the majority of whom love to walk and who might have originally expected to be visiting Torres del Paine.
Driving along the Carretera brings you into daily contact with a wonderful diversity of landscapes which reward exploration on foot. The precious Valdivian cool rainforests and the lunar ridges of Jeinimeni showcase sides to Patagonia most never knew existed. They provide wonderful contrast to the chiseled Andes peaks, the sprawling glaciers, the grassy steppe and the turquoise lagoons you do expect and will find here in unspoiled abundance. Condors, gauchos and asado barbecues are equally familiar icons you'll encounter.
Pura travellers admiring the lunar ridges of the Jeinimeni Nature Reserve in Patagonia
The lack of crowds and commercial intrusion, as well as the warm hospitality of our friends will enrich your interactions with these. You'll enjoy an intimacy which is so precious and which can be hard to find in Torres del Paine. Following walking trails will lead to unexpected wildlife sightings and breathtaking views with the power to stop you dead in your tracks. Want to have a picnic in front of a glacier with not another soul around? That's easily arranged.
Convinced? Take a look at our 10 minute guide to the Carretera Austral for a more in-depth look at what we can do there. Not sure? Keep on reading for a uniquely Pura perspective on Torres del Paine.
Walking in Torres del Paine
Whilst Thomas Power was hitch-hiking his way back up Chile, Diego Martin returned to Asturias to start developing our walking routes in Spain. The third member of the trio, Xabi Etxarri, stayed in Chile. He became a Torres del Paine guide and put his immense knowledge to good use by writing the manual to the park, still used to train new guides today. He's still there too, splitting his time between Patagonia and Spain.
Since 1994 Torres del Paine has gained considerable prestige, to put it mildly. Some 250,000 visit each year, most arriving during the height of the Chilean summer in December and January. So if you have your heart set on Torres del Paine, it's wise to pick your moment. As much as we love the park, it's part of our fabric after all, we care too much about your precious holiday time. So we approach it with a degree of caution. It's important to know what you want from your trip, so this might mean a conversation about the Carretera Austral, along with a more considered insight into how we can do the park justice.
Broadly speaking, we can approach your time in Torres del Paine in a couple of different ways - though in truth the possibilities are endless, it all comes down to what you tell us. For the dedicated walker, you might be excited by the challenge of tackling the famed multi-day 'W' hike. You'll stay in a combination of the Eco Camp and a couple of the park's refugios and follow one of South America's greatest walking trails through the full diversity of Patagonian landscapes. It's a big undertaking, but your eyes will be forever grateful for the efforts put in by your legs. It's also worth noting that you are generally walking between mountains, rather than up and over them. So the undulations are not as stark as you might expect, making it a little less impactful on your body.
Equally though, there are a number of really nice day walks both in and around the park. We can mix some of the bigger sights, such as sunrise at the Torres, with some of the lesser-trodden trails for a more intimate and tailored experience. A good starting point might be take cast a glance over our 5 favourite Torres del Paine day walks.
Great views from Las Cornisas just outside Torres del Paine park
Torres del Paine is special. The landscapes are movingly beautiful at times. So it deserves more than a quick dash around its best view points. To really appreciate it in all its glory, we recommend you dedicate a week to it. No one regrets it. That leaves another week to partner it with Chiloé and the rainforests of the northern stretch of the Carretera, the Atacama Desert (more on which to come) or even an Antarctica Cruise.
Want to know more? Have a read of our 10 minute guide to Torres del Paine.
Inca Paths & Volcanoes in the Atacama Desert
The Pura story has since developed all the way from the bottom of Patagonia up to the far north. Along our travels we met Camilo Silva, an Atacama guide who his colleagues have taken to calling abuelo (grandfather) as a mark of respect. Mr Atacama is now also Mr Pura Chile, because he is heading up our operations here. Fortunately he still has time to get out and about in his beloved home and regularly leads walks which showcase the diversity of the region.
The Atacama Desert might not strike you as the most obvious place to go walking in Chile. But therein lies its appeal. Whilst most drive around the Moon Valley between panoramic vantage points, we simply walk away from the crowds to find a quiet spot to watch the sun go down and admire the views in peace. Whilst everyone is fighting for the same photo at the Tatio Geysers, we have a quick look, go for a stretch of the legs in the under-appreciated countryside and then come back when the tour buses have departed.
And whilst everyone else is boarding their flight to Santiago, we'd like to think you'll stay for an extra couple of nights. This will give you the chance to walk along some wonderful old Inca paths through the scrubland, passing giant cacti, ancient terracing and herds of llamas. It's a side to the Atacama which is easily missed. Ditto the Toco Volcano - if you're up for a challenge then walking from an old sulphur mine up to the summit reveals wonderful views into Bolivia and Argentina.
Intrigued? Read our 10 minute guide to the Atacama for a proper look at how we approach travel here.
Reaching the top of Toco Volcano in the Atacama Desert - the view is a fitting reward
Walking in Chile's Lake District
We haven't missed the bit in the middle either. We've spent a lot of time trying to find some of the less crowded parts of the popular Lake District region, a task Camilo in particular has enjoyed dedicating himself to. The Lake District is broadly split into two; Pucón and the north and Puerto Varas and the south. Both offer some really beautiful walks in national parks to blend in with some of the other activities on offer, as well as time spent relaxing or following your nose when you're there.
In the north you'll find plenty of great trails in the Huerquehue National Park and its temperate rainforests and striking blue lakes. If you're up for a challenge then the iconic Villarica Volcano can be summitted on a seven hour morning hike. Besides that there's horse-riding, mountain biking, white water rafting and some interesting cultural elements.
The Alerce Andino National Park is a ninety minute drive away from Puerto Varas in the south. Here you'll get the chance to admire trees which can live for up to 3,000 years in a splendid example of old growth rainforest. The Vicente Perez Rosales National Park is pretty spectacular too, with well-marked walking trails to suit most energy levels.
We think the walking opportunities here really knit together nicely with the spectacular beech forests, waterfalls and monkey puzzle tree reserves around Huilo Huilo, the sleepy coastal towns of the Maule region and the winelands of the Central Valley. It's a lovely self-drive trip through stunning scenery, with a lot of culture mixed in.
Our 10 minute guide to the Chilean Lake District will give you a good overview of what to expect from the region.
The beautiful landscapes of the Vicente Perez Rosales national park
Hopefully you've now got a better picture as to your options for walking in Chile. It's not one size fits all though and nothing we do is off the peg. Whether you travel to Chile with us or not, we'd urge you to carefully consider your options and ensure that what you are getting really is right for you. This is particularly true in Torres del Paine, but also in the Atacama, where it is tempting to try to squeeze everything into two or three nights.
We'd obviously love to hear from you though, so do feel free to get in touch, even if it's just to ask a question. In the meantime, you'll also find some sample itineraries to get you started below.
Our Chile holidays Get in touch Subscribe to The Pothole
The Pothole is Pura Aventura's popular monthly email. We share what we love, what interests us and what we find challenging. And we don't Photoshop out the bits everyone else does. We like to think our considered opinions provide food for thought, and will sometimes put a smile on your face. They've even been known to make people cry. You can click here to subscribe and, naturally, unsubscribe at any time.
The Pothole is Pura Aventura's popular monthly email. We share what we love, what interests us and what we find challenging. And we don't Photoshop out the bits everyone else does. We like to think our considered opinions provide food for thought, and will sometimes put a smile on your face. They've even been known to make people cry. You can click here to subscribe and, naturally, unsubscribe at any time.