Walking in the Picos de Europa in autumn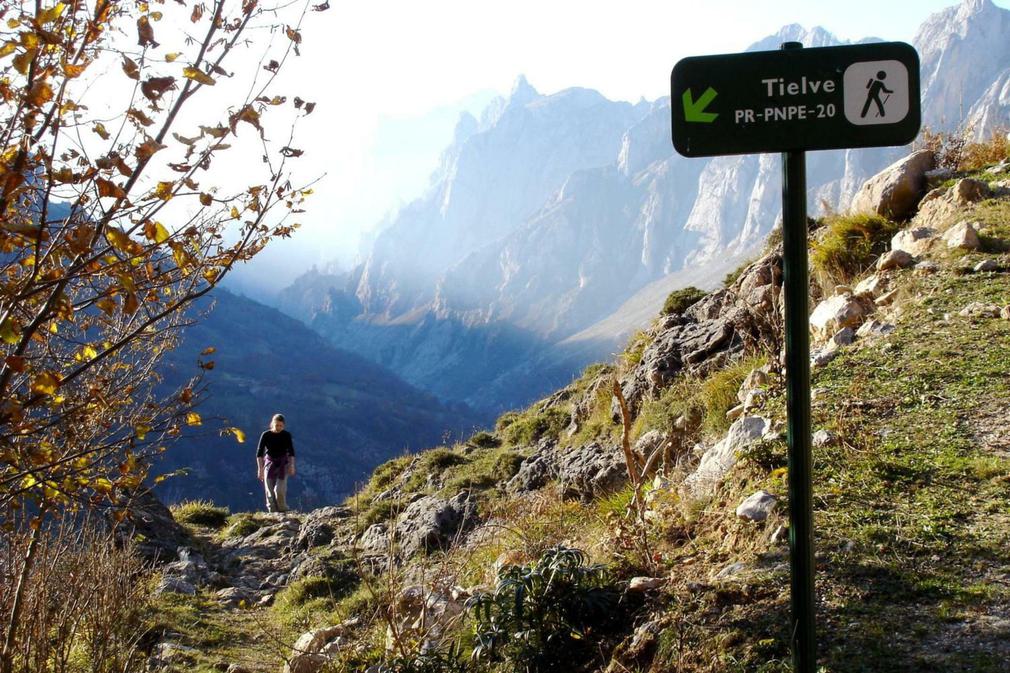 I love this photo. For me it sums up so much of what makes the Picos de Europa my favourite landscape in Europe.
This was taken on my first trip to the Picos with my soon to be wife, Linda. She is just approaching the high point of our walk between the villages of Tielve and Arenas de Cabrales. Over the course of our four day visit we took advantage of some fine late November weather to walk the beautiful coastline and to hike through snow in the rocky highlands above Fuente De. However, it is this, the Caoru walk, which stays with me.
It is basically an 'up and over' walk crossing one of the three Picos massifs but one which gives you a sense of almost every facet of the Picos: history, people and the sheer variety of its landscape.
Our walk started with a visit to an old lady who makes the famous Cabrales cheese. After a chat and a wee taste, we set off uphill towards the small red-roofed shelters of the high summer pastures. I hope this picture captures at least some of the beauty of the views.
As we neared the top, the hard earth trail gave way to a clearly paved path. "We're on the Roman road now" explained Diego who was hosting us that weekend, as if near perfectly preserved Roman roads are quite normal on top of mountains.
This impressive revelation was soon forgotten as the landscape stole the show, again. As we came out to the crest of the walk, we could see the highest peaks of the Picos de Europa to the south and the beaches and rugged coves of the nearby coastline to the north.
There we were, in the late, late autumn sunlight looking out over snowy peaks and sandy beaches. As amazing as this walk is and these mountains are, we didn't pass another soul that day. I'm going to repeat that. It was a Saturday. Look at that view. We didn't see a soul.
Read about our walking holidays in the Picos
The Pothole is Pura Aventura's popular monthly email. We share what we love, what interests us and what we find challenging. And we don't Photoshop out the bits everyone else does. We like to think our considered opinions provide food for thought, and will sometimes put a smile on your face. They've even been known to make people cry. You can click here to subscribe and, naturally, unsubscribe at any time.