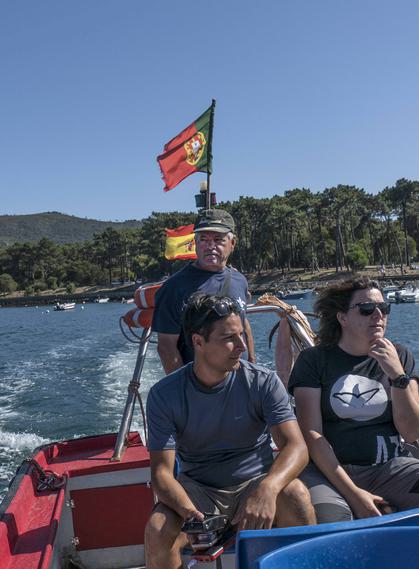 Tales from the road
New horizons: the variety of Portugal's Minho region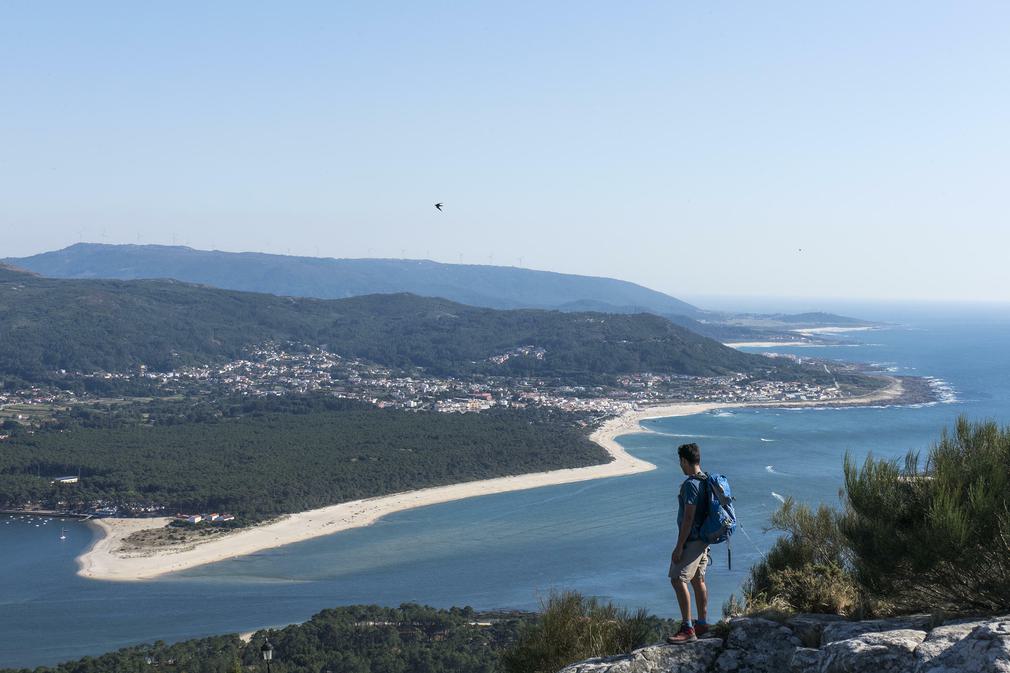 Having visited Portugal a handful of times, I'd never actually made it further north than Guimaraes. To me, this was already the proper north and I couldn't expect anything else really special in this small corner of this small country. Although, when I was offered the chance to join Pura co-founder Diego Martín to develop a new walking route in this area, I couldn't refuse. I knew that if Diego was suggesting this place, it was going to be very special.
Returning to Porto
A couple of weeks later, here I was boarding my flight to Porto. My first mission being to verify our trip notes, hotel and restaurant suggestions. My route was already set: all I had to do was to head straight to the iconic Luis I Bridge from the Sao Bento station, then walk along the medieval Ribeira district before reaching the Torres dos Clérigos via the popular Rua das Flores, from where I'll be able to access Parque das Virtudes where I should be able to enjoy a perfect sunset over the Douro. Sounds simple, right? Well, last time I visited Porto was back in 2014, so to be honest I had forgotten how sinuous and steep this gorgeous city was. Having said that, ending my day at Rui Paula DOP as I reflected on my day and notes, was just perfect.
The next day, the plan for me was to take the train north to Viana do Castelo where Isabel, our guide in northern Portugal was going to wait for me and take me off the beaten track to Sistelo, located at the doors of Portugal's only National Park.
As she drove me towards Peneda-Gerês National Park, we made a stop at the gorgeous Quinta do Ameal, one of the oldest Vinho Verde wineries in the region, surrounded by eight hectares of pine and oak forest. Lolanda took us through the winery and gave us an insight into how they produce their wine, after which we were invited to a tasting session in a renovated XIX century house.
Delving into Sistelo
After this gentle introduction to the area, it was time to drive to remote Sistelo, where Diego was waiting for us. This very small village sits at the doors of the National Park. It almost seems to be stuck in the 1950's: cobbled streets, small church that rings every hour, almost no phone signal... It's rural community that still work the old way and most women still traditionally wear black. Before sunset, we joined Diego at our old typical granite house, which used to have the living area upstairs and the lower floor for animals. Coming here was a journey into the past.
The next morning, we were delighted to have Catarina deliver a complete hand-made breakfast directly to our door. Once full, we were ready for our first walk around this incredible place. The first section of the walk took us along the iconic socalcos - an amazing terraced landscape which gave Sistelo its nickname of 'Little Portuguese Tibet' - to reach the village of Paço do Monte.
As we walked, we were incredibly surprised to see how the calzadas empedradas (cobbled paths) have been eroded by hundreds of years of passage by animal wagons. This gave us an idea of how important the paths were for the locals throughout their history. Along the way, we also found espigueiros - a typical granary from the northwest of the Iberian Peninsula. Having said that, the most memorable moment was stopping to enjoy the views of the terraced landscape, while a short toad eagles flew over our heads with a snake in his claws. Terrific!
After crossing the Vez river, via a very old stone bridge, we started our walk uphill to Padrao then continued till the summit to visit the traditional cortelhos, which are stone built huts for animals that looks like iron age settlements. Some of them have been thoughtfully renovated. Finally, we finished our walk downhill past cute Cachena cows and sheep grazing next to us. This walk can be reversed so it's nice to have the choice between seeing the amazing socalcos either in the morning light or in the afternoon. In either case, what surprised me the most was that except the few locals we came across, we only met with two Portuguese tourists. Very few people know about the walk around Sistelo, so it's a real secret gem that we hope will stay hidden from mass tourism.
Isabel told us that tourism has indeed had quite a big impact on the local pace of life here during the past few years and that the community is doing their best to maintain their heritage. A local museum (free of charge) has recently opened to communicate the history and culture of the place, abd also to educate visitors on how to behave with the locals, mostly the women that traditionally wear black.
A journey to Arcos de Valdevez
The next morning, we left our adorable house behind as we continued on foot to Arcos de Valdevez, via the Ecovia do Vez - a cycling/walking path of about 32 kms that goes along the river Vez from Sistelo to Jolda São Paio. This path is almost exclusively used by Portuguese citizens, although as we left early in the morning, we didn't come across a single soul.
The ecovia features plenty of wooden walkways along the river that often goes up and down. The first kms almost made me feel as if I were on a canopy tour (no monkeys around though). Being already 25ºC, Diego and I thought it would be nice to have a dip in the river. So after a few kilometres we decided to stop and refresh ourselves. What I loved the most during this walk, was that, as the valley started to open, we slowly felt like we were moving from remote mountains to 'civilization'.
Then after 21kms we finally arrived in Arcos, a typical Portuguese town that still retains much of the typical charm of the Alto Minho province. After checking-in to our hotel we went into town to choose our restaurant for the evening. Funny to remember what the boss lady replied when we asked what time do they open: "come back at 7pm" she said, then after looking around in the kitchen "well no, better at 7:30pm". This quite gives you an idea of how uncomplicated the pace of life is here. Once back at 7:35pm, the place already started to fill. We then ordered an espetada, which is a huge brochette of different meats (also available in squid and shrimp version), accompanied with fries, rice and vegetables, because it sounded nice. But when we finished our delightful dinner and left the place, we realized it might have been the specialty of the house since almost every table ordered the same.
Visiting Ponte de Lima
The following morning, we joined the ecovia again and headed to Ponte de Lima. As we switched from the Vez river to the Lima river, the walk was gentle and pretty. Along the way, we also spotted a few abandoned watermills, as well as some lovely birdlife. As we approached our final destination of the day, we entered onto a more 'civilised' path that took us into the historical town. Ponte de Lima is a charming walled town, a bit larger than Arcos, which has a lovely historical centre with a Romanesque church, and a castle. Ponte de Lima also claims to be the 'oldest village of Portugal' as it has been built in the 12th century – before Portugal was even a nation.
Walking the Caminho Português
After a full breakfast at our hotel, we crossed the ancient bridge to the ancient chapel, which is used as the main meeting point for pilgrims arriving or leaving Ponte de Lima. I really enjoyed the pilgrim atmosphere around: people meeting and greeting others in the main square before they continue on their way to Santiago de Compostela. With almost 68,000 pilgrims in 2018, the Portuguese Way is the second most popular route after the French one (over 186,000 in 2018). Being able to feel part of the Caminho community was perhaps the main highlight of the day. Although this stretch also gives a genuine insight into the Portuguese countryside.
The importance of this route goes back to the 12th century. Centuries of cultural and economic exchanges between Galicia and Portugal created human ties that gave form to a route with a rich history that endures today.
The first section of the walk was fairly flat, walking on iconic cobbled paths through small villages, following the famous yellow arrows along small vineyards to paved road, small dirt trails… until we reached a real 'pothole' on the road: a confusing motorway bridge, whose pillars actually made me think of a weird concrete jungle. This made Diego angry for a while, and almost made him scrap the entire walk. But about half an hour later we were into a forest again, and the open views we got as soon as we left the trees were really stunning and in total contrast with the infamous bridge. I convinced him to carry on.
Before starting our way up to Alto da Portela Grande Labruja - which by the way is the largest climb along the entire Caminho Portugues (315 meters over 4 kilometres) - we refilled our bottles at an ancient fountain. The way up was a bit hard, so we took it gently and made stops at every Cross monument we came across. Then, when we got up there, we were rewarded with an amazing view over the Lima valley. After descending towards our hotel, we realised we were walking onto the old cobbled Via Romana, passing gorgeous houses, ruins and the medieval Ponte Romana bridge. We even saw what was, according to the local legend, the first ever yellow cross marked down! Beware, the veracity of this story might be up for debate!
Along the Minho river
The next day was quite tricky, since we realized the walk from our hotel up towards the Minho river was very much similar to the day before. So Isabel proposed something very different. She drove us to the town of Caminha and across the border into Galicia. She insisted and said we'll love the views… of Portugal. And she was right, the perspective from there was gorgeous! But that wasn't all, after enjoying a nice walk along golden sandy beach, Isabel took us along a rugged granite coast section to the town of A Guarda. With the big open ocean on our left and the dramatic Monte Santa Trega on the other side, I really got a sense of reaching the end of the world.
As we approached A Guarda, I was fascinated by this curious masterpiece that looks like a cubism painting with lots of colours of different shapes from the distance. To be fair, if you focus only on the houses one by one, you might not find anything exciting, but if you look at the whole picture, it's a proper chef d'oeuvre.
After checking out restaurant options, we drove up to the impressive Santa Trega hill, and its pre-roman settlement, which has home to up to 3,000 people and was only discovered back in 1913. After a visit to the Iron Age settlement and its museum and taking time to enjoy the dramatic views of both Spain and Portugal, we started our way down towards Portugal again.
During the next couple of days we walked along the Minho river and visited the towns of Valença, Vilanova de Cerveira (aka the 'City of Art'), and Caminha. Between us, we had lots of questions about how we could best connect the first half of the trip with the second. But all started to take shape later when we met with José, a local fisherman who also runs a small boat tour company. After discussing with capitao José about our plans to develop a trip in the Minho region, he invited us to board his motorboat and gave us a tour around the river. Looks like we found the right man for the job!
On our way back to Caminha, we decided to spend some time in the town and Isabel suggested that we had dinner at Amandio's place. We weren't disappointed. This amazingly quirky restaurant is full of character, with piles of books and bottles of wine displayed everywhere, a vague menu and nice Fado music in the background. Most of all though, it has very nice food, served by Amandio himself!
Exploring the coast towards Viana
Finally, on our last day we followed the coastal ecovia towards the fishing city of Viana do Castelo, walking on wooden platforms over sand dunes to abandoned forts, before reaching the gorgeous section around Afife. It's Isabel's favourite stretch in Portugal. After passing Forte do Paço, we entered the gorgeous Estación Biologica - a little reserve full of vegetation and rock formations with great views towards the coast. As we approached the Montedor lighthouse, we made a little detour uphill to the old windmills of Montedor, which are surprisingly still in use to this day. We then continued downhill to reach the coast again and took some time to observe the ancient rock carvings and traditional salt pans, before starting a long section along the ocean to reach Viana.
As we approached our final destination, the path got more and more urban. Well, Viana being a city of 85,000 inhabitants, this didn't surprise me. What did surprise me though, was how authentic the city was. Viana do Castelo is a proud and genuine Portuguese city that, happily, hasn't been transformed into a tourist façade yet. It has a very large historical quarter with amazing houses and palaces dating back to the early Middle Age, a fishing neighbourhood with narrower streets and lower houses, a group of modern buildings by the port, and to top it all, a Sacré-Coeur type church built all in granite which dominates the hill. Being Isabel's hometown, we're treated with a first-class tour of the city, which ended in an incredible fish restaurant inside the port. Our trip couldn't have ended better…
View our Minho walking tour Share your travel plans
The Pothole is Pura Aventura's popular monthly email. We share what we love, what interests us and what we find challenging. And we don't Photoshop out the bits everyone else does. We like to think our considered opinions provide food for thought, and will sometimes put a smile on your face. They've even been known to make people cry. You can click here to subscribe and, naturally, unsubscribe at any time.