Meeting the locals at Reserva Ibitipoca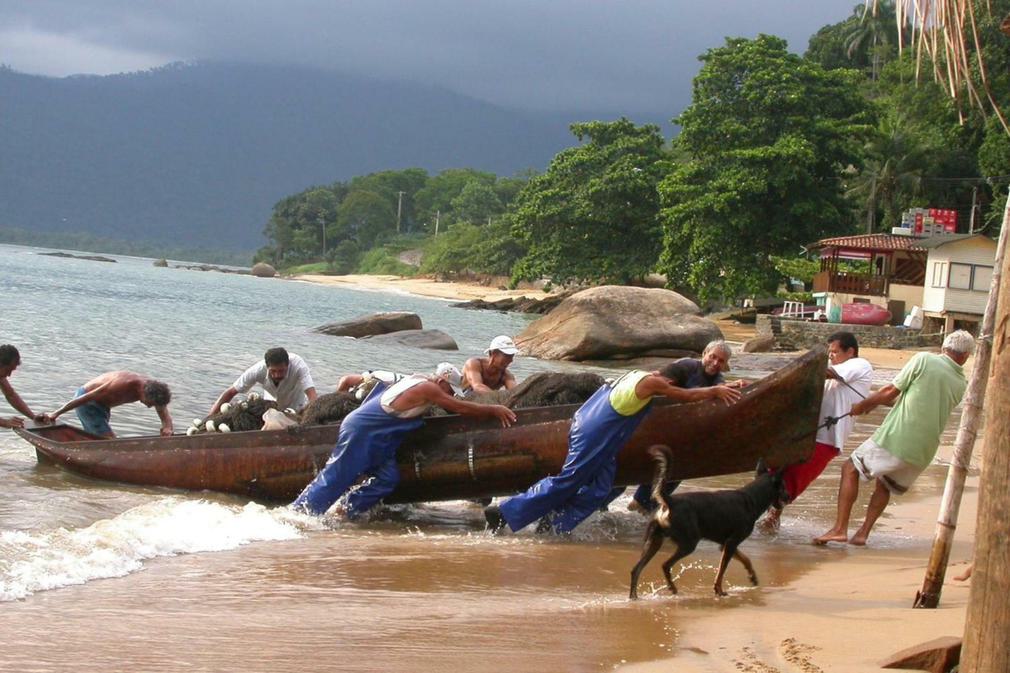 Brazil is buzzing with excitement at the moment. The World Cup in 2014, Olympics in 2016 and a thriving economy is a lot to be happy about. You can really feel it when you are there.
Billions of dollars are being spent on infrastructure in preparation for 2014. Brazil certainly has the money at the moment thanks to their booming economy but it should be remembered that the party atmosphere does not extend to all of Brazil.
There is still huge inequality in the country. Incredibly, in Rio and Sao Paulo a third of the population still live in favelas, or slums.
On my recent visit I spent time with some of the people who have most benefitted from the uplift in Brazil's economic fortunes. Interestingly, they were dedicating their energies to making sure that development was getting to those who are often forgotten.
Take the Reserva Ibitipoca, about 3.5 hours inland from Rio. A wealthy philanthropist bought the 3,000 hectare reserve many years ago to preserve the land through re-forestation and the re-introduction of wild animals.
The main farmhouse on the reserve has recently opened its doors to tourists and their main goal is not profit but employment and education for the local people. If they do make any profit it is re-invested straight back into the reserve to benefit the community.
Sounds like a recipe for a worthy but uncomfortable few days?
Nothing could be further from the truth. There is no hint of corner cutting - quite the opposite. Ibitipoca combines tastefully decorated rooms, remarkably comfy beds, great locally grown fresh food, excellent choice of activities (trekking, horse riding, mountain biking, spa and sauna) an amazing location and wonderful service.
There are staff everywhere and they have clearly been very well trained. In fact it is the training and engagement of the staff, which perhaps stands out more than anything else here.
One girl, Marly, from the local village started to work in the kitchen as a general assistant. It became quite clear early on that she had talent as a chef so she was sent to Sao Paulo where there are some excellent culinary schools. This was a huge opportunity and adventure for her. Marly is now head chef and creates all of the menus at the reserve and I can honestly say the food was simply delicious.
I also met a lady, Ana, who was a friend of the owner. She was explaining a social project, which she runs and is clearly very passionate about. She started the project in Rio to educate the children of the favelas and has now extended the project to the local villages around the reserve.
She explained how the children are not the challenge - they want to be educated and find it fun and exciting. It is the parents who often object as they rely on the children and would rather they be doing chores for them or working on the farms rather than be in school. So Ana has now started a program to educate the parents of these children as well.
While I was staying at the reserve it was Ana's 50th birthday and she was throwing a party for the whole village - open invite to everyone, which I thought, was lovely.
The villagers clearly thought it was great too as they woke her up on the morning of her birthday by singing and dancing accompanied with their own motley assortment of musical instruments. Being agricultural workers, morning actually meant 5.30am but nevertheless Ana was genuinely touched. Bleary eyed but touched.
Perhaps my fondest memory of this place will be of Vivi. She was in charge of the allotments and was also a waiter and was clearly very excited and motivated by her job.
On the last evening during dinner she came and whispered to our host that she had a surprise for us and if we could go into the living room after dinner. When we went in there she was sat with her guitar and one of the biggest smiles I have ever seen.
Vivi explained she had taught herself to play the guitar but she was now having lessons and that it had slowed her down somewhat as she had to pay more attention to the details so she apologized for that. She played a few songs for us and I will never forget her smile and her genuine excitement at having us as an audience.
A reminder that simple things really can create the richest and most rewarding experiences.
The Pothole is Pura Aventura's popular monthly email. We share what we love, what interests us and what we find challenging. And we don't Photoshop out the bits everyone else does. We like to think our considered opinions provide food for thought, and will sometimes put a smile on your face. They've even been known to make people cry. You can click here to subscribe and, naturally, unsubscribe at any time.