Having the most beautiful sunset at Totoco Lodge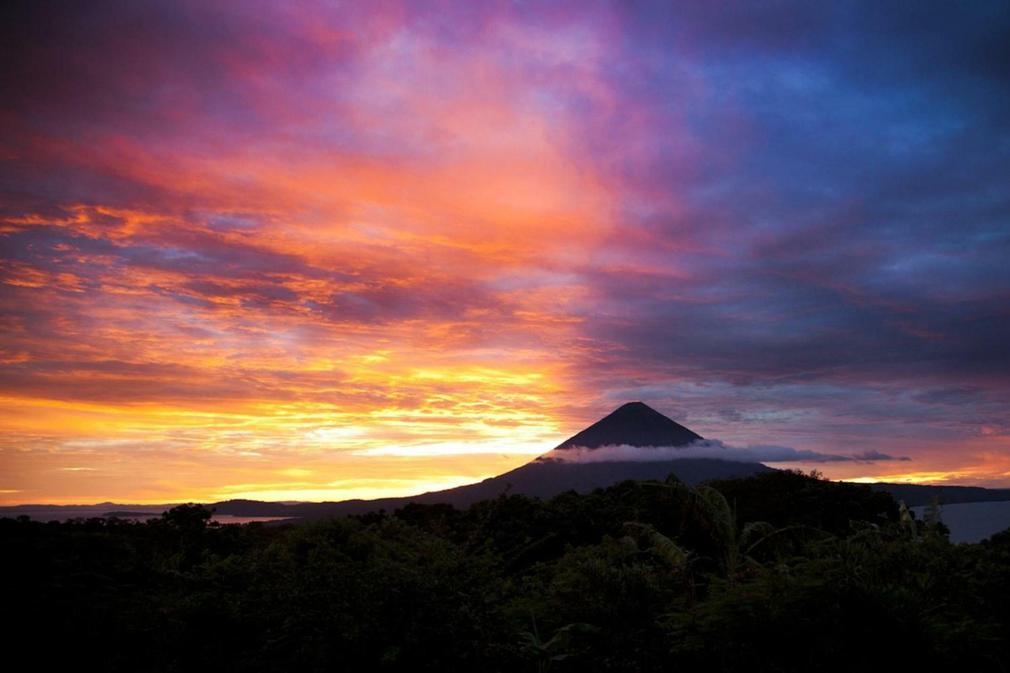 I'm quite a sucker for a good sunset, so Totoco Lodge on Ometepe Island was my idea of paradise. This was taken from the balcony of my cabin on my first (and only) night there and it still gives me tingles to remember it.
I was on a whistle stop tour of the island in May, towards the end of the country's dry season. I had spent most of the day dashing around, trying to see as much as possible during my short time there. This had mainly involved struggling to hold on to my lunch whilst navigating the more rustic roads on the eastern side, or 'getting a free massage' as my guide eloquently put it.
The day had been incredibly hot, so I arrived at the lodge in a rather dubious state of repair. Quite fortunately I was one of only three guests so I got a whole private cabin to myself. Actually at the time of visiting the lodge only had two cabins, nestled on the hillside next to the organic garden and overlooking the lake and mighty Concepcion volcano. They have since added two more, both private and with a similarly stunning setting.
The lodge itself is the brainchild of three friends and only opened in January this year. The focus is very much on sustainability and the owners involve the community as much as possible. This includes a dedicated development centre, a hub for local community projects. Accommodation is rustic but thoughtfully crafted, right down to the handmade furniture and composting toilet.
The setting itself is the real star, however. I had just enough time to dump my bags and splash my face before heading out onto the balcony to capture this photo. Truth be told I got a bit carried away and ended up seriously editing my memory card that night. Not being a natural photographer I couldn't believe my luck at capturing so many great shots, with next to no skill required on my part.
I did manage to put the camera down in the end however and just soak up the majesty of it. Watching those colours play across the gathering clouds, with only the lazy chirrup of the local cicadas as company, is a moment that will stay with me for a long time. At the risk of sounding like a Hallmark card, just seeing the image again back here in rainy Blighty warms my heart a little.
Read more about our Nicaragua holidays.
The Pothole is Pura Aventura's popular monthly email. We share what we love, what interests us and what we find challenging. And we don't Photoshop out the bits everyone else does. We like to think our considered opinions provide food for thought, and will sometimes put a smile on your face. They've even been known to make people cry. You can click here to subscribe and, naturally, unsubscribe at any time.