Feedback from our holiday to Nicaragua and Costa Rica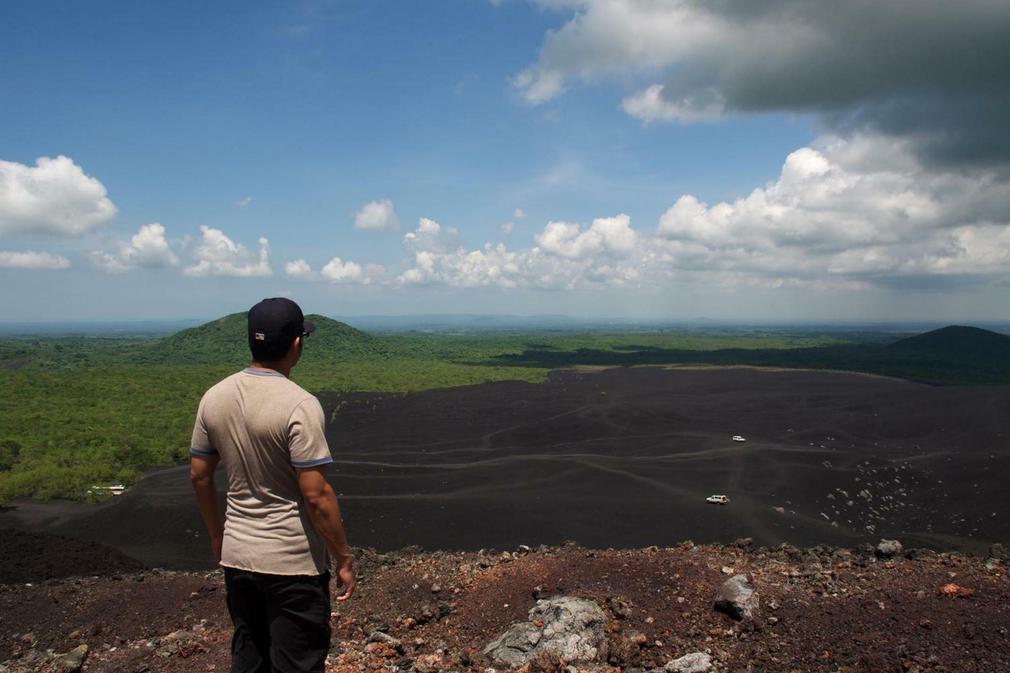 It's always great to have feedback from our holidays, particularly when there is detail to be had. In the case of Simon's recent holiday to Central America he combines detailed feedback with an eloquence and humour which makes it particularly enjoyable to read. This is unedited and should probably be read in the spirit of wry irony with which it has been written:
I am sorry that it has taken so long to send you your (and Sarah's) appraisal: Here goes--
1 Arrival and first night in Xandari- hotel wonderful and massage and gardens the best possible way to trash the next morning. And the upmarket gallo pinto was a soft introduction to the real thing.I only ever eat grits in the best hotels.
Journey to Leon very exciting with a comotose Sandanista, a wrecked motorcycle and a large cow with a broken leg blocking the main road in front of our bus. Added excitement of touring a small unlit town in search of a policeman to dispatch to the scene ( once found he sped off on a motorbike with no lights) and then a late tired and hungry arrival at hotel with no room at the inn. One night in a windowless room with 4 beds less than satisfactory levels of cleanliness and noisy air conditioning was enough of a gap year experience to last me a lifetime. Suggest you offer all clients with teenage children a one night excursion to the Pousada del Doctor so that they can tell their cash hungry offspring that they do know what it is like. Jan did a very good job of sorting everything out and it was much like Alan Sherman's Camp Granada when the sun shone the next morning.

We loved Leon and were relieved to hear that we would not be examined on the endless stream of significant dates in the recent dictatorial and revolutionary past of the Nicas. Enjoyable trip to the coast with a boat whose skipper clearly thought that the wild life would find the roar of his outboard as appealing as young men imagine girls find the sound of their blown motorbike exhausts sexually attractive. Highlight of Leon was seeing the old Sandanistas sitting in a circle in the courtyard of their rest home reliving their violent past--just wish they had been playing ball with a knitted hand grenade.
One good find--- Meson Real excellent seafood and other delicacies including Bulls testicles.
This sums up our visit to Leon penned in the Cafe in the corner of the square:
Sitting here in Dario's cafe
thinking about it there is no way
I can avoid for better or worse
writing this in Nico verse.
Our guide came at 9 to take us away
to learn about Leon in the course of a day
Somoza the first then another two
till the Sandanistas said "Somozas toodle do".
We saw old guerillas, they had little say
as they say in the sun dreaming of Che
and a youth lost in a battle to free
Leon from Somoza's tyranny.
Then off to the beach to each a bunch
of small lobsters grilled just for our lunch
then into the mangroves to see some birds
in truth not many but there were lots of words.
Back to el Convento tired as a dog
but knew we would both sleep like a log
after dinner outside under a tree
and a glass of rum or two or three.
On the day we were supposed to shin up a pile of volcanic rock and dust it was hot as hell the visibility wasn't brilliant, my foot was hurting so we did Duke of York but only went half way up. Still a very enjoyable expedition into the country side.
Action packed journey to Granada, old Leon interesting but not spectacular stopped to have a gourmet quesillo which was the most spectacular plastic bag of slime I have ever seen but we did our bit for Queen and Country accompanied by the most disgusting drink of corn out of coconut - I'm sure you know what it is and probably have one every morning.
Masaya market interesting, and helped deal with the problem of presents for the family, visit to pottery predictable but I did buy a few small pieces which I was assured had been made there. It must be a remarkably successful business since we saw them all over Costa Rica.

Excellent tour of Granada, it was the first time we'd been anywhere in Nicaragua where poverty was being kept at bay. The day on the island was fantastic, thoroughly recommend to anyone.

Did you know that the ferry to Ometepe had been a gift from the East Germans, when it wouldn't even serve their purposes anymore. Fortunately one engine was still working so we got there without problem. After the Dario (which we liked) Totoco was a complete change but we also liked it. I am happy that we live in the only part of East Anglia that is not currently subject to a hose pipe ban and I am not forced to adopt any water saving measures. I wrote a short treatise on compost bogs which I sent to my children - I am sure you'll find it interesting too!

Excellent kayaking trip and lunch on the beach instead of hiking up another volcano. Dinner enlivened by two professionally theatrical women d'un certain age from NYC who needed to consume alcohol with us after finding a tarantula in their bed.

Your people in Nicaragua were outstanding, despite the cock-up on the first night. They arrived on time, they were attentive, well informed, happy and never showing the slightest sign of resentment about the obvious differences between their lives and almost anyone elses. Lovely people.

Our border crossing was enlivened by our driver flirting so outrageously with the Nica emigration officer that she failed to put the exit stamp into Bettina's passport. A queue or two later and trudge in the heat of the noon day sun across the border we eventually were set free in Costa Rica - was a difference. Arrival at the Punta Islita and its civilised comforts came none too soon. We were happy to have a room which was not too far away from the restaurant etc as the slog up and down the hill might at times have been a bit too much although they seemed to operate a good golf car system. Lots of R&R con much gusto, beach and sea were great.

Interesting journey to Monteverde were we did most of the regulation night and day rainforest trips, which were good. The voucher system doesn't work as most of the vouchers for Monteverde were for a whole day and we were already booked for a morning tour and the hotel had a policy of not recommending or making bookings for the canopy tours because they had health and safety concerns. Like the hotel where food was good, room not so good as we were given the disabled room, which had huge amount of space in the bathroom and smaller bed so that it could accommodate wheelchair access. Suggest you look at the economics of the voucher system because it was virtually impossible to use them if you are only there for two nights.

Very enjoyable ride and boat trip to Arenal to the Lost Iguana which was the least satisfactory of the hotels. The whole place was a bit run down and depressing which I think was reflected in their low occupancy. The local tour people didn't understand or know about the vouchers but a couple of calls to your agents in San José sorted them out. It was clear to us and indeed we were told later that the activities in the area were fabricated to support tourism whilst the volcano was being lazy and the place slightly felt like this. We had Ecothermales to ourselves, which was great, Corida at La Fortuna in the evening was frontier town entertainment and the next day an excellent trip on a river on the Nica/Tico border - the Rio Frio in the Cana Negra. Here we probably had the best wild life guides and saw the most animals.

Nature Air certainly beats the hell out of any ride in a theme park but it got us there and back on days when it was very bumpy.

Lapas Rios - fantastic, the best food of the whole trip, nothing was too much trouble, well organised activities and a stunning lunch just for two of us by the waterfall in the forest on my birthday.

Delta performed well.

All your people in Costa Rica were excellent too. Michael Winner says that he doesn't book restaurants or hotels, he books tables and rooms. Since there a considerable difference in the quality and enjoyment of apparently equally prized rooms a little attention to try and earmark the best rooms would pay dividends. This is genuinely a suggestion not a complaint, but in the Lapas Rios, for example we came across several people who grumbled about the two day hike from rooms 12-15 to get to breakfast.

All in all a huge success - thank you so much to you, Sarah and rest of your team for making it so enjoyable. Sorry to have written at some length but I have tried to give you comments which hope will be useful on the good and the not so good.
Simon travelled in 2012 on our Costa Rica & Nicaragua holiday.
The Pothole is Pura Aventura's popular monthly email. We share what we love, what interests us and what we find challenging. And we don't Photoshop out the bits everyone else does. We like to think our considered opinions provide food for thought, and will sometimes put a smile on your face. They've even been known to make people cry. You can click here to subscribe and, naturally, unsubscribe at any time.