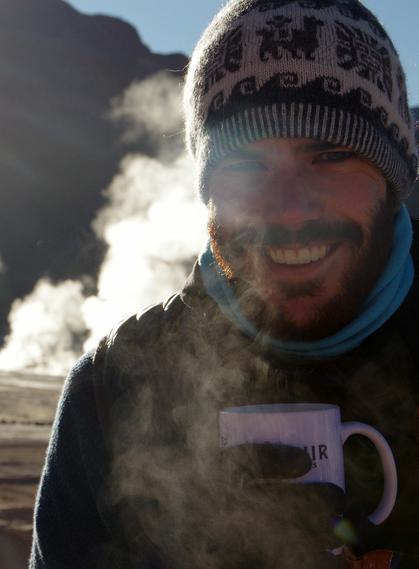 Tales from the road
Exploring the Valdivian forests of Parque Pumalín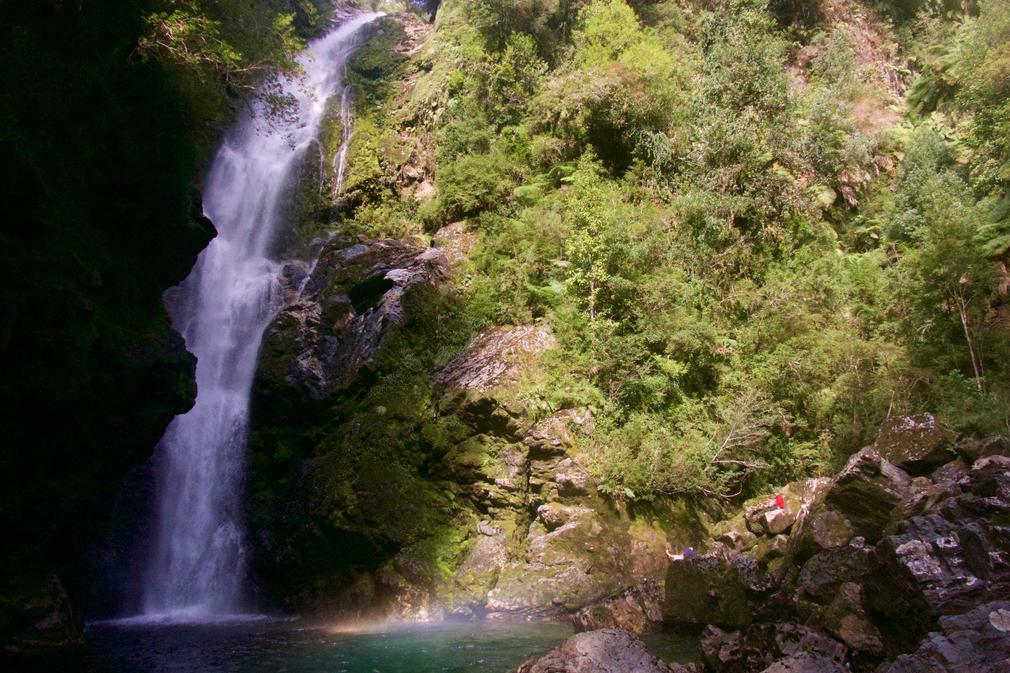 "This walk is amazing, it's like the walk of life."
That's not a bad endorsement for the primeval Valdivian forests of Parque Pumalín, coming as it does from a 10 year old growing up in the 21st century, with all the trappings and distractions of modern life. Then again, he had a pretty good influence, because his proud father happens to be none other than Pura co-founder Thomas Power. Like father like son. Patagonia enchants like nowhere else.
As the song says, hand me down my walking boots...
Ferries and fjords
If it wants to attract the wanderers and explorers of this word to come and admire its millenia-old alerce trees and survey its epic mountain scenery, then Parque Pumalín can't do ordinary. It has to be special. That's because, not only are there so many protected areas in Chilean Patagonia to discover, but also because it requires a pretty long drive, including two ferry crossings, to get here.
For some, and certainly for us, that relative remoteness is less an inconvenience and more a deep attraction. It means that those who make the effort to get here will share it with few others. It's also a rather nice journey in its own right, especially if the sun is shining.
From Puerto Montt you pick up your 4x4 and start your drive south along Chile's Carretera Austral - the Southern Highway. Particular highlights include the ferry crossing which traverses the Reloncavi Fjord and the views out to the 1,500m high Hornopirén Volcano. Our Carretera North & South itinerary follows this route all the way down to the icefields.
Why it was nearly so different
"As the Tompkins' started buying up more Chilean land, the dissenting voices grew louder. The conspiracy theories became outlandish."
On arrival at the park be sure to pay your respects to Doug Tompkins, whose name the park carries and without whom we wouldn't be here. Doug sadly passed away in a kayaking accident in 2015, leaving behind an extraordinary legacy which he and his wife Kristine created over the past 30 years and which the latter continues to build upon.
It was way back in 1991 that Doug Tompkins brought the Reñihué Estancia to protect the native trees from the threat of deforestation. It was an extraordinarily noble act, but not an isolated one. Over the ensuing years he and the Conservation Land Trust he headed up brought more land, reaching over 2,800 acres by 1998 – 98% of which came from absentee landowners. Simply to protect and share them. Visitor facilities followed and in 2005 Pumalín was designated natural reserve status, extending its protection. In January 2018 the area was handed over to the government, along with the Valle Chacabuco further south, in what was the largest ever private land donation to a federal agency.
Doug & Kristine Tompkinks, photo courtesy of Tompkins Conservation
This was new territory for Chile, both literally and figuratively. A rich foreigner buying up increasingly large tracts of land in Patagonia was always going to arouse suspicion. Doing so at the narrowest point of Chile gave rise to wild conspiracy theories that he was doing so on behalf of the Argentine government in the hope of cutting off the southern section of Aysén. As the Tompkins continued to buy up land further south, the voices of discontent grew louder.
Some said they were starting a Jewish cult, others a large-scale mining operation. Those couldn't be further from the truth, not least because neither Doug or Kirstina were Jewish and mining was one of the things they wanted to protect against. They stuck to their mantra; the land is to be protected, shared and donated to the government for future generations of visitors (and wildlife) to enjoy. Low and behold they stuck to their word.
Land of the ancient trees
So after a quick muchas gracias señor you can get about exploring this magnificent wilderness of precious Valdivian rainforest, sparkling rivers, tumbling waterfalls and snow-covered granite peaks. There are volcanos and glaciers, lakes and lagoons. In other words, Patagonia in all its glory.
If there's one reason to visit Parque Pumalín, then it's the opportunity to survey mighty alerce trees up close. What do we mean by mighty? Well for a start they grow up to 60 metres in high, with massive 5 metre diameters. Secondly, the oldest in the park is thought to be about 3,000 years old. Just think about that for a second – the world would have been a very different place when it first burst through the soil. They show their age too, each with its own little story to tell.
It really is the walk of life.
Walking in the Alerce forests of Pumalín
Criminally, these trees have suffered at the hand of destructive and thoughtless deforestation. Many are no longer with us, chopped down, chopped up and lost to time. Efforts are being made to restore their numbers, including areas of recovering alerce which suffered extensive fire damage. It won't happen in our lifetime of course, but centuries from now these programmes will be greatly appreciated. Native to these landscapes, they are found on both sides of the border in the Chilean and Argentine Andes.
Recovering alerce forest
Hiking in Pumalín
"Our favourite hike leads through recovering alerce forest to a high mountain lagoon beneath a natural amphitheatre."
The Sendero de los Alceres is clearly a great route to follow to have a closer look at these giants. It's an easy hour long ramble along a well-marked path, one of 12 hiking trails in Pumalín. A 30 minute path will lead you up to a panoramic lookout point of the still waters of Lago Negro. A longer 2.5 hour trail takes you up to the crater of the recently active Chaitén Volcano. For those with higher energy levels, you can follow a 24km hike to the base of the Michinmahuida stratovolcano, or take a 10km walk to the glacier of the same name. The diversity is wonderful.
A couple of our favourite walks are around 5-6km in total. One leads through exotic native rainforest to a glorious lookout point across the treetops and out to the Heuqui Peninsula before reaching a remote waterfall. The other is the Laguna Tronador trail, which climbs up through recuperating alerce forest to a hanging bridge over a waterfall in the Tronador River. The end destination is a high mountain glacial lagoon sat snugly in a natural amphitheatre of granite peaks.
The Cascadas hike in Pumalín Park
How and when to visit Pumalín
"Pumalín can be combined with a few days in Chiloé before you head south along the Carretera Austral and all the treasures which await."
Finding out how to visit Parque Pumalín is as easy as picking up the phone for a quick chat with us. We love talking to people about the Carretera Austral because it's so close to our hearts. So we can make this happen.
Further reading: Pura's 10 minute guide to the Carretera Austral
As we mentioned earlier, you can visit Pumalín on the drive down from Puerto Montt at the very top of Chilean Patagonia, via a couple of ferry crossings. South of Pumalín is Queulat National Park, where a mountain-top hanging glacier tumbles over the rock face in a natural ampitheatre. There are ample hiking trails and the chance to go kayaking on the serene fjord.
Looking out over Queulat's hanging glacier
Further reading: Why the Queulat National Park is so special to Pura
Pushing on further south you can do one of our favourite walks in the region in Cerro Castillo, taking the time to have a look at the ancient cave hand paintings whilst there. The future Patagonia National Park encompasses dry grassland steppe, temperate wet rainforests, bizarre desert landscapes and inviting crystal-clear rivers. It's Patagonia at its most diverse. As the latitudes increase you'll find yourself face-to-face with epic glaciers, probably in splendid isolation too, and walking on ancient fossil beds.
Further reading: Cerro Castillo - the best hike in Patagonia you've never heard of
October to April is the best time to travel along the Carretera. Though the weather is notoriously fickle and one of the few things out of our control, the days are longer and the nascent tourism infastructure comes out of its winter hibernation. And Patagonia is glorious from the spring blooms through to the amber-leafed forests of autumn of course.
Our Route of Parks holidays Get in touch Subscribe to The Pothole
The Pothole is Pura Aventura's popular monthly email. We share what we love, what interests us and what we find challenging. And we don't Photoshop out the bits everyone else does. We like to think our considered opinions provide food for thought, and will sometimes put a smile on your face. They've even been known to make people cry. You can click here to subscribe and, naturally, unsubscribe at any time.
The Pothole is Pura Aventura's popular monthly email. We share what we love, what interests us and what we find challenging. And we don't Photoshop out the bits everyone else does. We like to think our considered opinions provide food for thought, and will sometimes put a smile on your face. They've even been known to make people cry. You can click here to subscribe and, naturally, unsubscribe at any time.