Guide to Chile Lake District: Puerto Varas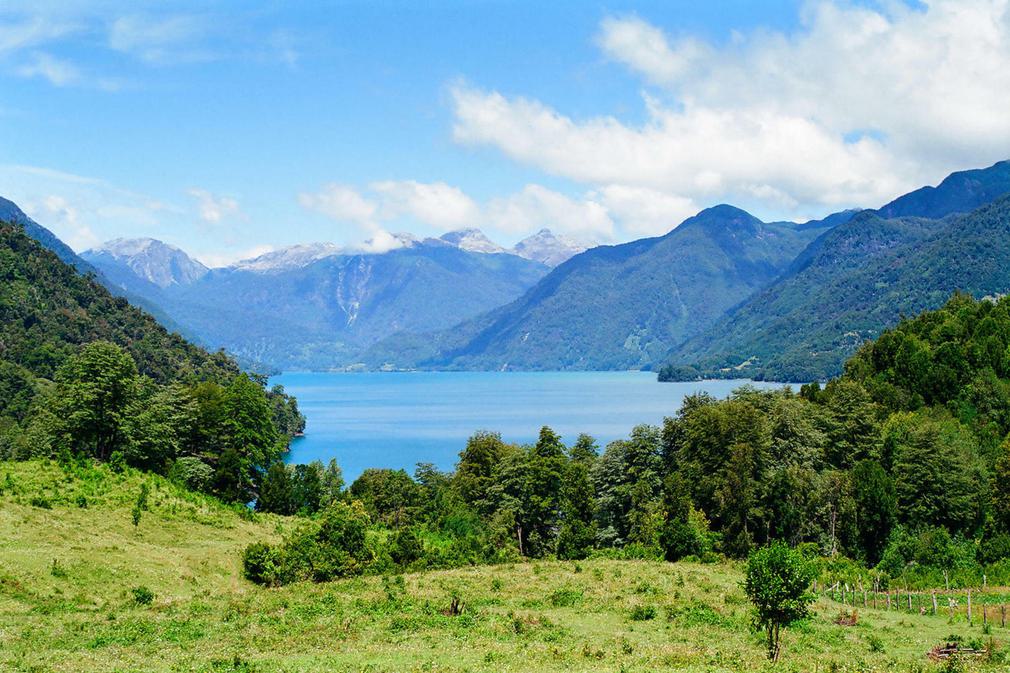 Puerto Varas is a small city on the southern shores of Lake Llanquihue about 20km north of Puerto Montt. It is officially a city but most people refer to it as a town, some refer to it as a village. The views from the city across the lake to the perfect cone-shaped Osorno volcano are stunning on a clear day.
Exploring Puerto Varas
The city was largely built by German immigrants who were invited to colonise southern Chile in the mid 19th century. The German architecture, culture, and traditions are still very noticeable in the area.
Puerto Varas is now a tourist venue mainly catering for outdoor and adventure activities. It is a great base for exploring the surrounding national parks.
The city itself is very easy to explore on foot. You can walk from one side of town to the other along the lakeshore in under 30 minutes.
If you want to see some of the wooden colonial homes built by German immigrants walk to the main downtown area and along Del Salvador (walking away from the lake) and then turn left up San Ignacio. Just past San Luis you will see Casa Yung (built 1930). There are lots more examples of these houses dotted around the city.
If you walk to the end of San Francisco (walking away from the lake) and then onto Estacion and then take a right onto Decher you will pass more of these houses. From Decher follow the road to the end and then follow it round onto Bellavista and then follow the road up the hill.
You will come to Parque Phillippi from where you will have an excellent view (on a clear day) down to the city of Purto Varas and across to the snow-capped volcano.
The church of Iglesia del Sagrado Corazon de Jesus is perhaps the most emblematic building in Puerto Varas. It was built in 1915 and modelled on similar churches from the Black Forest area of southern Germany. It is made entirely of oak.
Activities and national parks
Whatever you do in this area - take waterproof clothes. Also, fill up with petrol before you dive off the main roads. Puerto Varas and Puerto Montt are the places to do this - as soon as you drive east of the main road (Ruta 5) towards the mountains you will stop seeing garages.
Puerto Montt
Drive down to Puerto Montt and have a wander through the handicraft stalls at Angelmo, ending up in one of the little seafood joints for lunch. There is an excellent seafood market in Puerto Montt and people come from all over Chile to visit it.
Lago Todos los Santos and Petrohue
From Puerto Varas, drive east around Lago Llanquihue towards Ensenada and then Petrohue. Along the way, stop at the waterfalls of Salto de Petrohue. (entrance 1,200 pesos). The road has recently been built but a small section is still unpaved. Please do not attempt this without 4x4 and not after heavy rain.
Enjoy the views of Osorno volcano. Continue to the shore of Lago Todos los Santos, described by many as the most beautiful lake in the world. If you arrive here early enough you will be able to take a boat trip onto the lake and on to Puella on the eastern shore of the lake. If it's a sunny day this really is one of the most beautiful trips imaginable. It is somewhat touristy/busy but tune it out and enjoy the extraordinary views. Check times of boats with your hotel.
Osorno Volcano
Do not confuse the Osorno volcano with the city of Osorno. If you follow signs to Osorno you will end up in the rather dull city of Osorno. You must follow signs for
Volcan Osorno
There is no real point driving up here unless it is a clear day or you think you can drive above the clouds. You won't see a thing if it is cloudy.
After visiting the waterfalls drive back towards Ensenada and then take the small road towards Volcan Osorno and the ski centre. It is a 12km drive up to the ski centre on a good,but steep, winding road. The ski centre is at 1200 m. You can go up on the chairlift for some stunning views of the volcano, lakes and the valley below.
Walks in the national parks
***Important*** for visits to any of the national parks in Chile, you must sign in and out at the CONAF (Chilean Park Authority) office. Do not attempt to hike in these areas without first consulting the park guards. They will provide you with trail maps, information, advice and weather forecasts.
Parque Nacional Vicente Perez Rosales
The most accessible and best laid out of the national parks in the area. Plenty of short walks on well-marked trails. The park basically encompasses a huge chunk of land all around the Lago Todos los Santos, including Osorno Volcano. The park office is in Petrohue, on the lakeshore (66km from Puerto Varas).
Please note that the last shops & restaurants of any note at all are in the village of Ensenada. Petrohue has a small hotel and a sort of shop but it's not terribly reliable. Particularly nice walks from Petrohue are:
1) Rincon del Osorno - a 5km walk along the lakeshore from the park guard's station at Petrohue. 2) Los Alerzales - a 4km walk from the guard's station.
Also worth exploring are the waterfalls of Saltos de Petrohue - a series of short nature trails around the falls access before you get to Petrohue. Well signposted and immediately adjacent to the road.
Alerce Andino National Park
This is a very beautiful, little-known national park and home to the Andean Larch tree or 'Alerce Andino'.
This tree is the second oldest on earth (after the American bristlecone pine) and some of the examples you will see today are over 3,000 years old. They grow incredibly slowly (about 1mm per year) so don't expect vast trees but you can expect fascinating old growth rainforest.
Be careful getting to this one as it isn't well signposted from the main road. You take the road from Puerto Montt west, basically towards the Carretera Austral. You should follow signs for the village of CORRENTOSO which is at the edge of the park. This is around a 45km drive from Puerto Varas and will take 1 hour. This will bring you to the park guards' station where you will find information and advice.
For a very pleasant and relaxed day, you can try the following short walks. Take a picnic lunch with you. Even if it is raining you can find shelter underneath the trees.
1) Mirador Huillifotem - 1km 2) Laguna Saragazo walk - 2.5km
Eating out in Puerto Varas
There are some very nice restaurants in Puerto Varas offering Chilean as well as international cuisine. Imperial , Imperial 605. Tel: (65) 233105. This restaurant used to be called Merlin and was known as one of the best restaurants in Chile outside of Santiago. It has recently changed ownership but reviews are still good. Small menu specialising in Chilean food at reasonable prices. Mediterraneo , Calle Santa Rosa 068, tel: (65) 237268. In the centre of the town on the lakeshore. Mediterranean food with a Chilean twist (!). Small, lots of character and charm. Decent wine list available by the glass. Govinda , Santa Rosa 218. Tel: (65) 23308. Small restaurant serving good locally-sourced food with a Peruvian influence. Comes highly recommended by recent clients. Café Danes , Del Salvador 441. Tel (65) 232371. Simple café which is a bit of a local institution. Excellent inexpensive Chilean food.
The deserts, in particular, are very popular with the locals and you will find it difficult to get a seat at around 5pm (coffee and cake time). There is a take away counter at the front offering excellent homemade empanadas.
The Pothole is Pura Aventura's popular monthly email. We share what we love, what interests us and what we find challenging. And we don't Photoshop out the bits everyone else does. We like to think our considered opinions provide food for thought, and will sometimes put a smile on your face. They've even been known to make people cry. You can click here to subscribe and, naturally, unsubscribe at any time.