Guide to Chile Lake District: Pucon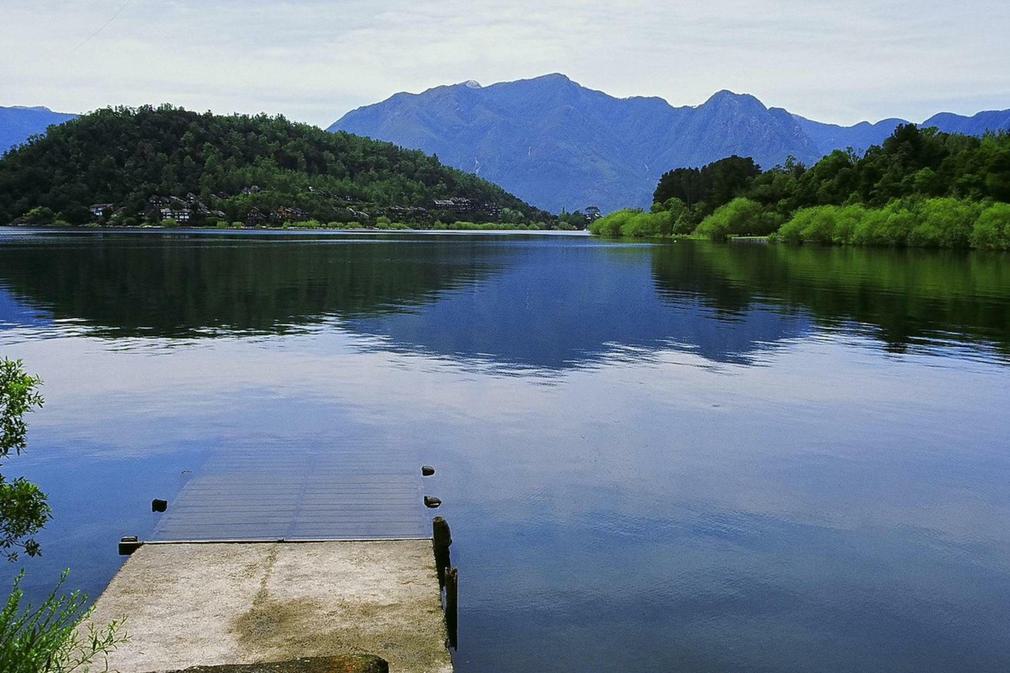 Pucon is at the northern end of the Chilean Lake District. Sitting against the foothills of the Andes between lakes and volcanoes, it is a beautiful place. The combination of rivers, forests, lakes, volcanoes, mountains and hot springs also makes it a fantastic place to spend an active few days or week.
Activities and Excursions
For organised activities in Pucón, we recommend Sol y Nieve on (dialing locally) 045 441070. Other clients have also mentioned that Politur are good and operate responsibly.
Operators will provide any necessary specialist equipment.
Visit their office on the main street or wander up and down the street to look at what the other small activity operators have to offer.
Villarica Volcano
This should not be attempted solo, pay to go as part of a guided group. Ascents are made only in good weather, you need to ask in the office whether an ascent is likely the following day.
The ascent starts very early in the morning and takes in the region of 7 hours (5 hours up, 2 hours down). For the volcano ascent, you must check to see how many people they have in a group - take careful note of the ratio of guides to clients. This is important as you are walking on an active volcano and you must be satisfied that you will be well looked after.
Please note that if the chairlift is not operational then this walk becomes extremely tough with a 1,600m height gain, possibly through snow all the way. Check before you sign up.
Rafting Trancura River
You can raft either the upper (Grade III/IV) or lower river (Grade III/II), depending on the time of year, both can be great fun. There are daily departures in the summer.
Contact Sol y Nieve on (dialing locally) 045 441070. Take sports sandals or old trainers, swimming gear and a t-shirt. Alternatively, visit their office on the main street of Pucon - you cannot miss the sign. The put in is near your cabins so arrange to meet them at the put in on the river rather than coming all the way to the town in order to return to the river.
Mountain biking
Ask for directions locally to ride out to the waterfalls at Ojos de Caburgua. A 25km return ride along an undulating dirt road along a broad valley lined with volcanoes and farmsteads. This really is a very pretty route which is simple to navigate.
Coming out of Pucon towards Caburgua, take a left by the aerodrome to cross over a narrow suspension bridge. Turn right and follow the dirt road as far as the Ojos de Caburgua. A small entrance fee is payable.
Return either along the main road or back the way you came. Bikes can be hired from Sol y Nieve in Pucon. Contact Sol y Nieve on (dialing locally) 045 441 070. Ursula at your cabins may also be able to arrange bikes for you so you should have a conversation with her first.
Horse riding
Rancho Ecuestre Huepil Malal. A wide range of beautiful and interesting day rides is available from Rodolfo and Carola. Great characters, beautifully kept horses and an intimate knowledge of the area. Contact Carola of Huepil Malal on (dialing locally) 09 643 3204. They cater to all levels of riders from expert to complete beginners - riding horses in Chile is an amazing experience which you should try!
Hiking
Parque Nacional Huerquehue. A small entrance fee is payable at the ranger station. Whilst there, pick up trail maps which set out the park's very well marked hikes.
The park lies beyond Pucon towards Caburgua, you will see the park marked off to the right just before you get to the lake. The last stretch of road is unpaved as it rises up the side of the mountain towards the park.
Hot Springs
The Termas de Huife are lovely. There are lots of hot springs in this area due to the intense volcanic activity. The ones at Huife are the best kept and more attractive, set alongside a river high up in a valley.
From Pucon head out of town towards Argentina. After about 10km you will cross a bridge over the river, after a couple of km you will see signs for Villa San Pedro, take this turning and follow signs for Termas de Huife.
This is a good dirt road which takes you up along a wooded valley. Huife is near the head of the valley. If you prefer undeveloped (and free) hot springs then you can carry on beyond Huife until the road runs out - park and walk to the edge of the river. Here there are small natural hot pools alongside the river.
Restaurants in Pucón
The food in Pucón is of a good standard. If you are staying at the Cabanas de Metrenehue you might like to cook for yourself -
either in your kitchen or out on the barbeque.
Expect to pay between £4 - £10 for starters or main courses and £4 - £10 for a bottle of wine in a good restaurant. La Maga , Fresia #125. Tel: 45 444 227. Uruguayan 'parilla' or grill (grilled over wood fire). Very good meat. Patagonia Plaza , Pedro de Valdivia #333. Tel: 45 444 715. Chilean food, probably the most varied menu here - fish, meat, game. La Tetera , General Urrutia #580. Tel: 45 441 462. Charming traditional cafeteria. Ecole , General Urrutia #592. Tel: 45 441 675. Vegetarian and wholefoods, really the only dedicated vegetarian option in town but the food is good. Viva Perú , O'Higgins #761. Tel: 45 444 285. Peruvian food, well worth a try. Buonatesta , Fresia #127. Tel: 45 444 445. Italian, very good pizza. El Rincon de la Pasta , Fresia 284. Tel: 45 449 005. You guessed it, Italian again. Best place if you fancy pasta though.
The Pothole is Pura Aventura's popular monthly email. We share what we love, what interests us and what we find challenging. And we don't Photoshop out the bits everyone else does. We like to think our considered opinions provide food for thought, and will sometimes put a smile on your face. They've even been known to make people cry. You can click here to subscribe and, naturally, unsubscribe at any time.