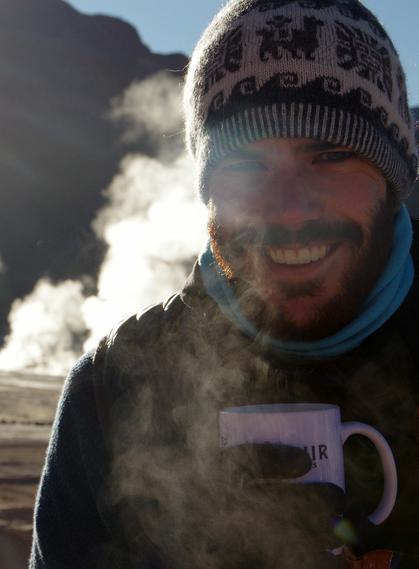 Tales from the road
Behind the scenes on our new Cordoba to Granada walk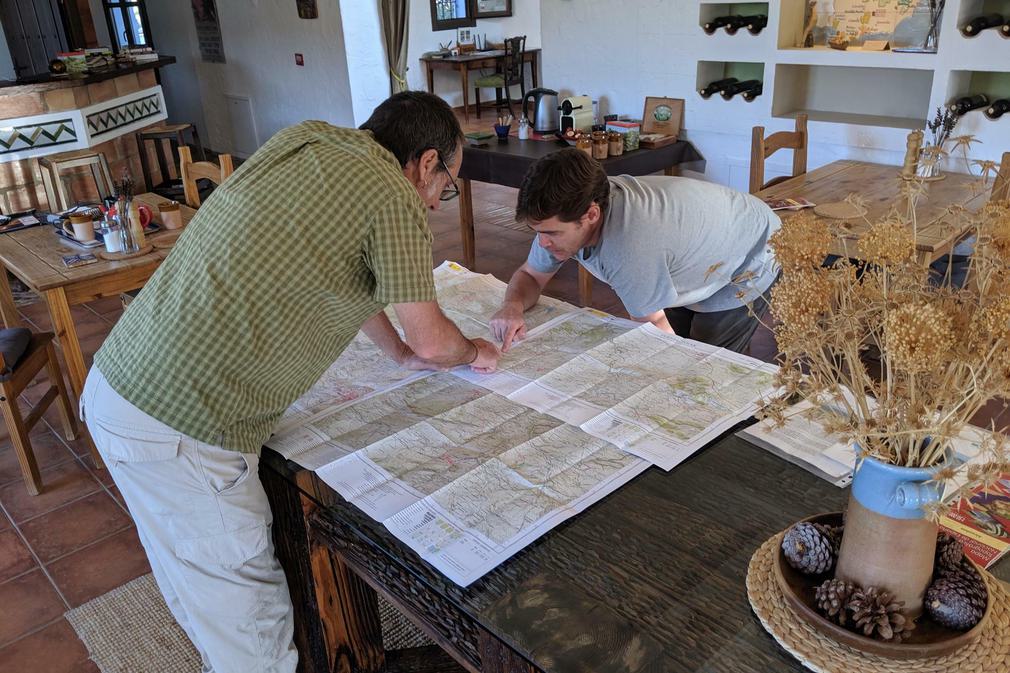 Dreaming in trails
"We're just going to walk and see what we find. Hopefully the path will be clear."
This wasn't going to be your average recce trip.
The concept for this trip started in the mind of Pura Aventura co-founder Diego Martín, a man who "dreams in trails" in his own words. Carlos, Raul and, above all, Tim from Casa Olea had all fed in with their own local knowledge and opinions. Now Xabi, (another Pura co-founder) and I (someone with a good pair of walking boots and a camera) had just walked it from start to finish. To see it all come together, to find ways to iron out the wrinkles and skip out the less inspiring parts was a genuinely proud moment. It was an experience that had nothing to do with what I'd done in a previous life, where it was all about pushing out boundaries from within the constraints of a local agency. We at Pura Aventura work differently. We blaze our own trails.
As this was my first experience of sketching out a new inn to inn walking holiday, and as this gets right to the very heart of what we do, I wanted to give you a peak behind the curtain; all the pain and pleasure of a recce trip, so that you just end up with the pleasure. What follows is, even by my standards, quite long. So you might want to put the kettle on. Hopefully it's a good read, but if you're intrigued by the trip but pushed for time, we'd love to give you an exclusive look at the itinerary before it goes out to the public. Click below to leave your details and we'll send it over as soon as it's ready.
From city to city, inn to inn
The idea of the trip is to link together two of our favourite Spanish cities; Córdoba, the city where the Muslim kingdom really took root in Spain and Granada, the one where it was finally extinguished some seven centuries later. Given that these are two immensely popular and endearing cities, the logic was sound. There are countless holidays on the market for which these cities provide the headline sizzle, but getting from one to another is almost always a case of hopping into a car or onto a train, the countryside whizzing by outside the window. There really is nothing like what we were about to do.
So this trip really comes into its own with the beautiful and subtly shifting scenery that you walk through, following tracks which owe their existence to the olive harvesters, shepherds and dairy farmers who have long since defined the landscape. The walking section starts in the limestone valleys and canyons of the little-known Sierras Subbéticas natural park before weaving through the olive groves of the world's most prestigious and productive olive oil region. As you get closer to Granada, the powerful mountains of the Sierra Nevada begin to dominate the view. What's more, we crossed paths with no more than a dozen or so other hikers the entire trip.
Along the way you also pop in to Alcalá la Real, the Moorish hilltop fortress that was finally taken by the Christians in a key turning point of the Reconquest. In contrast to the Alhambra (which you visit on your last full day), the site is liable to be near empty. It feels like a real privilege to have that much history to yourself. There's olive oil tasting, several memorable dinners and a belter of a flamenco show to finish on.
A romantic room for two
It's a 90 minute javelin throw through the Spanish countryside from Madrid to Córdoba by high speed Ave train. Outside the window a blur of plains and gentle hills whizzed by at 260kmph before live groves and holm oak woods took over as we sliced into Andalucía.
I immediately felt at home in the narrow whitewashed streets of Córdoba, somewhere I fell hard for five years ago on my first visit. It's a pretty city of flowers, of pretty plazas and of stolen glances through windows and doors of lush, exotic patios. Not all was as advertised. I started the week dashing between a flamenco show and restaurant through a sudden downpour in Córdoba and ended it doing exactly the same in Granada, bookending a week of (mostly) sunshine and blue skies.
The sea of arches inside Cordoba's great mosque
Little time to explore this time. I had a nose around three hotels, two of which ooze charm and character, the other could belong to any city in the world. All of them use too much plastic. Meeting our guide Davíd was enjoyable, both for his company and for having my first taste of salmorejo - a thicker version of gazpacho. I went to a flamenco show, which I didn't love, but which made for a good start to a memorable Pothole article.
Of course, the standout moment from day one was our beautiful, romantic room. It's the sort of place I'd feel perfectly at ease in with my wife, but infinitely more awkward when my room mate is someone to whom I hold no romantic notions. The co-founder of the business no less. Someone I'd only actually met in person a couple of times. Worse still was the overwhelming aroma of the perfume they'd doused the room in moments before my arrival. I sent the below photo to a couple of colleagues, who had a nice giggle at my expense, replying with a barrage of kisses and love heart emojis. I suspected a stitch up at my expense, an initiation if you like.
Walking boots on
Out of the city and into the countryside. Maps, notes, camera ready. Picnics wrapped and handed to us by Carlos, owner of the hotel and someone who, like Tim and Raul who we'd meet in the coming days, inputted directly into the planning of the trip.
Time to start walking, along an old Via Pecuaria (livestock driving track) up and out of Zuheros. We followed the rocky path clear into the limestone heart of the Sierras Subbéticas natural park, a place that wants for visitors only because of its low profile in a region famed for its cities and beaches, flamenco dancers and dancing horses. As introduction walks go, it hits the spot; a glance into the canyon through which we'd walk tomorrow, griffon vultures swooping into and out of view up ahead and far-reaching views across the olive groves through which we'd be cutting a path later in the week. All around are traces of human life - threshing floors, crumbling farmhouses, stone wells - and a landscape scattered with karstic features of this precious geopark.
Looking down on the white village of Zuheros as you climb the drover's tracks
It becomes apparent early on that walking with Xabi is going to be both fun and illuminating. In between marking waypoints, taking photos and talking into dictaphones I find out a little more about him. He's a trained scientist who writes poetry in his spare time. And a former rugby player who crossed swords with ex-pros so famous that even I've heard of them. He's a staunch Osasuna fan, but has absolutely no interest in any football match not involving his favourite team. In his younger days he was a keen participant in independence movements, now he lives a quiet life with his rabbits and chickens in the Pyrenee, when he's not guiding on the Camino or down in Patagonia.
The last section of the walk carries you back in to Zuheros along the old Via Verde - the resurfaced path of the old olive train between Linares and Puente Genil. It's an immensely popular cycling route, but somewhat less inspiring on foot. We sought out something a little bumpier on the satellite maps, but there was nothing doing. Still, there are public toilets and a bar, which could come in equally handy as your walk ticks into its fourth hour and the fleeting company of bike riders to enjoy.
It's a comfortable walk back into the village, which gives us the chance to compare notes on the Catalan independence movement, rearing up again a few hundred miles from here and Brexit, which seems like it has been going on just as long, a 1,000 miles or so from here and blissfully out of sight for the next week or so.
Oh, and in case you're wondering, I didn't get much sleep tonight either.
Caves and cortijos
There's a fairly well-established walk through the Bailón Gorge, skirting around Cerro Bramadero and out across the open pastures onto the tarmacked road which winds down to Zuheros. It's a route I'd walked with my wife last January. I was so moved by it, I wrote a poem, something I proudly announced to a surprised Xabi. But spending half an hour following the curves of the road is not exactly our idea of a good time. Let's see what else we could find.
We veered into the canyon and crossed the river bed five times, as dry now as it was in January, passing orange-hued caves carved into the canyonside off to our right. I still struggled to make out the friar and his robes, which a funky-looking stalagmite guarding the entrance to one is said to resemble. Xabi's face lit up as we stepped into a beautifully atmospheric holm oak wood, silvery-blue lichen everywhere. We emerged again near a ruined cortijo farmhouse - one of many seen throughout the trip, gracefully decaying monuments of days gone by, before the allure of industrialized cities and the Costa del Sol drew shepherds away from the countryside. Sheep and goat bells tinkled into earshot, a sound still so exotic to me, but part of the everyday soundtrack for Xabi.
Sheep grazing in front of a ruined cortijo near Zuheros
As the path led us up to the highest point our thoughts turned to finding a new, more interesting and varied end to the walk. So we zoomed in and out of our satellite map, pointed to various whiteish markings and identified a path which slopes down towards a twisting stream, round the other side of the holm oak-covered mountain and joins our original path where one river canyon meets another cutting across its path. At least that's what we think it does. Only one way to find out, right? There were a couple of false starts, a path to nowhere and a bit of off-pisting, but we did it. The end result was a track that resembles the outline of a whale being taken for a walk and which was Christened by Xabi "the route of the two canyons".
That afternoon we hopped in our car for the short drive on to Casa Olea, one of my favourite places to stay in all of planet Pura. That's in no short part owing to the hospitality, good humour and delicious food provided by owners Tim and Claire, an ex-pat couple who have spent the past decade or so welcoming guests to this most peaceful corner of Andalucía. When we went upstairs to drop our luggage, I could have kissed Claire when she opened the door to my own room. The prospect of a good night sleep lay in wait. Xabi, as is his nature, didn't take it personally.
Tim, Claire and their dog ruby in the morning Andalucian sun
Blazing a new trail
Today was a big day. We needed to find a way of walking from Zuheros to Casa Olea, keeping off the roads, off the predictable dirt tracks and instead following public footpaths through privately-owned land. We had the villages of Zagrilla Alta and Esparragal for reference, several 1:25,000 and the company of Tim, owner of Casa Olea who has spent the past decade rambling around these parts in his spare time. There's no established route off of which we could freestyle, no walking notes to follow. This was a trail we'd have to blaze ourselves. Which, let's face it, is where the fun starts.
There's the slight problem of an energy-sapping uphill slog along the road out of Zuheros to start with. It didn't take long for us to agree to simply cut it out, letting the car take the strain. So you'll be hopping in your luggage transfer for the first few minutes, from where it is a fairly gentle descent over the next 22km.
The walk is a cracker, cutting its way through the north-east corner of the Sierras Subbéticas park and out into the rolling hills where olive groves take over and the stately ruins of Moorish watchtowers hint at the turbulent past of these frontierlands between Muslim and Christian kingdoms. We found a great picnic spot, with large, flat rocks which we improvise as tables and chairs and sweeping views out towards La Tiñosa - Córdoba's highest peak - and the walled town Priego de Córdoba perched on a plateau. Tim and I took our places in the sun, Xabi instead went off in search of shade, prefering to basically eat in a shrub.
A griffon vulture soars above the hills of the Sierras Subbeticas
It's not without its bumps in the road. There are a group of farmers who want to do away with the natural park protection that the Sierras Subbéticas enjoys. The ancient trails which pick their way between the peaks, ravines, depressions and caves of the landscape are a mere nuisance to landowners. We spoke to one farmer, a more sanguine and friendly type who probably isn't among their number. He gave us his mobile number and facilitated our passage. The gate at the end of his land is sometimes locked, but a pile of stones makes hopping over the fence easy. We cut back to see if there's an alternative route in off of the milk track which passes his land. A big fence blocks our way. But having a landowner who wants to work with you, rather than against you, is a real luxury for us.
It was a long old day, I even ran out of waypoints on Wikiloc as we got nearer Casa Olea. But a highly successful one - this most crucial leg of the journey has a path carved out.
The next day was more relaxed - a comfortable 11km amble through the olive groves to the Cerrajón mill and a stroll around the lovely streets of Priego de Córdoba, the centre of the olive oil industry.
The olive harvest is still done the old fashioned way
Angry dogs
It's on to the next village today. With rain a possibility overnight, we switched our walks to tackle the circular one today and leave plotting a route down into Almedinilla for tomorrow, where moist mud will be less of a problem. On both occasions we enjoyed the company of Raul, co-owner of the next inn on our travels. He's about as nice a man as you can wish to share a trail with, even if his clipped Córdoba accent makes his Spanish much harder to understand than Xabi's harsher Basque tones.
This walk stands out in the memory for two reasons; one for the lovely waterfall with no one else in sight and, secondly, for the diversion we had to make to get there. We climbed up through olive groves, alongside a stand of holm oaks and past a bronze age settlement on the opposite hill. Just past a series of smart Andalucían villas there's a turn off on to an isolated house at the start of a pathed footpath towards the falls. It didn't have a friendly aspect; Xabi immediately noted the illegal Franco-era Spanish flag flying atop the roof, whilst the pack of seven angry dogs scattered across the path needed no pointing out.
Two of the most menacing were tied up, maniacally bouncing from left to right and back again, testing the structural integrity of the chain. The others yapped loudly at our feet. I suggested to Xabi that this might not be the sort of thing we want to introduce our clients to and that maybe we should go back, cross the stone bridge and try and find a different path. He was already thinking the same thing. We ran the gauntlet again and one of the dogs sunk his teeth into the rubber soul of Raul's walking boot. You'll be pleased to know that we found an alternative way round, crossing a dried-up stream bed.
Panoramic view of the Salto del Caballo
Later, Raul explained that the owner of this house is the offspring of a seemingly far more gentler soul, a landowner who sold his property portfolio and took to roaming the countryside reciting poetry and playing his flute.
When we got back, Xabi realised that his beloved Osasuna's match against Granada had been moved forward to tonight. The stadium was just an hour or so from the little white village we were staying in, so it was tempting to hop in the car. Instead we settled on watching it in a local bar. An instantly forgettable match finished 1-0 to Granada, which didn't go down well with my Basque friend.
Uninspired by the football, I took to working my way through the local beer stock, which I was saddened to learn was almost exclusively owned by Dutch giant Heineken, and eating the free tapa provided with every order. On the way home I taught him a rather derogatory song aimed at Rafa Benitez during his brief and toxic reign as Chelsea manager. He enjoyed it so much I heard him gleefully singing "he's just a fat Spanish waiter" in the shower the next morning. Sorry Rafa.
Taking it slowly
Our penultimate day of walking took us from the tiny hamlet of El Castellar up and down through the Sierra del Albayate and into the village of Almedinilla. This is the Andalucían landscape I'd come to love; peaceful olive groves, aceituneros spreading their nets below centuries-old trees to gather up the harvest, shadowy hills and pointy peaks rising up in the distance with white villages perched below like an oasis in a desert. Wild mushrooms grow underneath holm oaks and farmhouses decay like dying oak trees. The pace had noticeably slackened from our first couple of days walking, no bad thing when you're walking through this sort of scenery.
Xabi explains how to identify edible wild mushrooms to Raul
Things were slow going in the kitchen at La Era as well. Raul and Davinia are devoted followers of the Slow Food and zero km movements, their approach to cooking all bound up in its virtuous philosophies. Just about everything is organic, locally sourced and fresh. And utterly delicious. Having spent the past decade of my life living with my strict vegetarian wife, I took it upon myself to fly the non-meat eaters flag throughout the trip, pretty much alternating between meat of some sort and meat-free dinners. My four most memorable meals were the latter. Vegetarians are in good hands throughout the trip, from the cities to the countryside.
Incense and ibex
Last day of walking today. Back to city streets tonight. We were delayed half an hour this morning because Xabi wrote a stupendously evocative poem over breakfast, just like that. I was still waiting for the coffee to work its magic. A signed and dated copy of the original is now tucked inside a poetry book on the shelves of La Era.
Our last walk was wholly distinct in character, with the peaks of the Sierra Nevada rearing into view on an easy 8km circular along the Ruta del Gollizno from the pretty white village of Moclín. The path wound its way through woods of Aleppo pines and along the path of the river, sheltered on both sides by the steep walls of a canyon.
Collecting up dried cornicabras - the 'incienso de campesinos'
As we walked, we collected up the dried up remnants of cornicabras - the gulls of the turpentine tree. They get their name from their distinctive form; goat (cabra) horn (cuerno). Three times I listened to Xabi explain their features and properties, first to me, then to Tim and Raul. Turns out, when these oddities dry up, they smell great when you burn them. "They're called the incienso de campesino" explained Raul, who lights them at dinner time in La Era. Their warm, bonfire-like smell has fragranced our Brighton office since I got back with a fistful of them.
Half-way along the path through the canyon, Xabi excitedly shouted "foto" and pointed up to the Spanish ibex that was scrambling up the rock face, some 10 metres or so above. I sprung into action, managing to fire off just one photo before the battery decided now was a good time to run out. By the time I'd changed it over he was scrambling out of sight. I got one more clear shot as he stood backed by a clear blue sky, but thankfully the first one was the winner. Wildlife sightings are so much better when they're unexpected. Later on a heron spread its wings and flew off a dozen or so metres in front. Xabi reckons kingfisher sightings are fairly frequent in springtime, whilst the canyon walls have all the hallmarks of vulture nesting sights.
A wild Spanish ibex clambers up the hillside of the Rio Velillos canyon
We detoured up to the 13th century castle on our return to Moclín and headed back to the car. There was a tinge of sadness and a huge sense of accomplishment when I saved our final Wikiloc track. On the drive to Granada Xabi struck up a curious relationship with the voice from Google Maps as she struggled to get to grips with the street names of urban Spain. The mood was positively jubilant. I even managed to convince Xabi to attend his first flamenco show later that night - an experience which merits its own article.
If you'd like to follow in our footsteps this spring, please leave your details below and we'll send you all the details before the public launch.
The Pothole is Pura Aventura's popular monthly email. We share what we love, what interests us and what we find challenging. And we don't Photoshop out the bits everyone else does. We like to think our considered opinions provide food for thought, and will sometimes put a smile on your face. They've even been known to make people cry. You can click here to subscribe and, naturally, unsubscribe at any time.