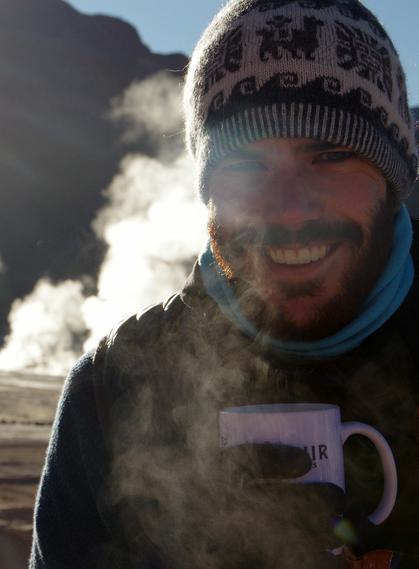 Tales from the road
7 moments to remember from our Andalucia recce
So excited are we about our new Córdoba to Granada Inn to Inn that we wanted to give our dear Pothole readers an exclusive behind the scenes peek. The concept started in the mind of Pura co-founder Diego Martín, a man who "dreams in trails" in his own words. Local partners Carlos, Raul and, above all, Tim from Casa Olea all fed in with their own knowledge and opinions. Now Xabi (another Pura co-founder) and I were about to walk it.
The full article is a 15-minute read, the sort you want to put the kettle on or pour a glass of wine for. So we've put together an edited highlights version below to give you the best bits and, hopefully, tempt you into wanting to find out more. We are very soon going to start taking bookings, so if you want to be among the first to receive the full itinerary, do let us know and we'll send it as soon as it's ready.
Request full itinerary Read the full article
1 - A romantic room for two
"Of course, the standout moment from day one was our beautiful, romantic room. It's the sort of place I'd feel perfectly at ease in with my wife, but infinitely more awkward when my room mate is someone towards whom I hold no romantic notions. The co-founder of the business no less. Someone I'd only actually met in person a couple of times. Worse still was the overwhelming aroma of the perfume they'd doused the room in moments before my arrival. I sent the below photo to a couple of colleagues, who had a nice giggle at my expense, replying with a barrage of kisses and love heart emojis. I suspected a stitch up at my expense, an initiation if you like."
2 - Blazing a trail
"Today was a big day. We needed to find a way of walking from Zuheros to Casa Olea, keeping off the roads, off the predictable dirt tracks and instead following public footpaths through privately-owned land. We had the villages of Zagrilla Alta and Esparragal for reference, several 1:25,000 and the company of Tim, owner of Casa Olea who has spent the past decade rambling around these parts in his spare time. There's no established route off of which we could freestyle, no walking notes to follow. This was a trail we'd have to blaze ourselves. Which, let's face it, is where the fun starts."
3 - Finding a more peaceful route
"Just past a series of smart Andalucían villas there's a turn off on to an isolated house at the start of a pathed footpath towards the falls. It didn't have a friendly aspect; Xabi immediately noted the illegal Franco-era Spanish flag flying atop the roof, whilst the pack of seven angry dogs scattered across the path needed no pointing out. Two of the most menacing were tied up, maniacally bouncing from left to right and back again, testing the structural integrity of the chain. The others yapped loudly at our feet. I suggested to Xabi that this might not be the sort of thing we want to introduce our clients to and that maybe we should go back, cross the stone bridge and try and find a different path. He was already thinking the same thing."
4 - The Andalucían ideal
"This is the Andalucían landscape I'd come to love; peaceful olive groves, aceituneros spreading their nets below centuries-old trees to gather up the harvest, shadowy hills and pointy peaks rising up in the distance with white villages perched below like an oasis in a desert. Wild mushrooms grow underneath holm oaks and farmhouses decay like dying oak trees. The pace had noticeably slackened from our first couple of days walking, no bad thing when you're walking through this sort of scenery."
5 - Slow food
"Raul and Davinia are devoted followers of the Slow Food and zero km movements, their approach to cooking all bound up in its virtuous philosophies. Just about everything is organic, locally sourced and fresh. And utterly delicious. Having spent the past decade of my life living with my vegetarian wife, I took it upon myself to fly the non-meat eaters flag throughout the trip, pretty much alternating between meat of some sort and meat-free dinners. My four most memorable meals were the latter."
6 - Eyeballing an ibex
"Half-way along the path through the canyon, Xabi excitedly shouted "foto" and pointed up to the Spanish ibex that was scrambling up the rock face, some 10 metres or so above. I sprung into action, managing to fire off just one photo before the battery decided now was a good time to run out. By the time I'd changed it over he was scrambling out of sight. I got one more clear shot as he stood backed by a clear blue sky, but thankfully the first one was the winner. Wildlife sightings are so much better when they're unexpected."
7 - The flamenco virgin
"On to Granada, where three shows awaited, somehow each more memorable for the next. Not always for good reason. First was La Alboreá, but in truth it could have been anywhere because of who was sitting next to me in the audience. Not a flamenco superstar of international renown, but Xabi, a Basque who but a few weeks ago used words to the effect of "hate", "supposed art" and "stitch up" when I deigned to suggest he might like to accompany me, at Diego's encouragement. And yet, here he was ready to give flamenco a chance."
Request full itinerary Read the full article
The Pothole is Pura Aventura's popular monthly email. We share what we love, what interests us and what we find challenging. And we don't Photoshop out the bits everyone else does. We like to think our considered opinions provide food for thought, and will sometimes put a smile on your face. They've even been known to make people cry. You can click here to subscribe and, naturally, unsubscribe at any time.