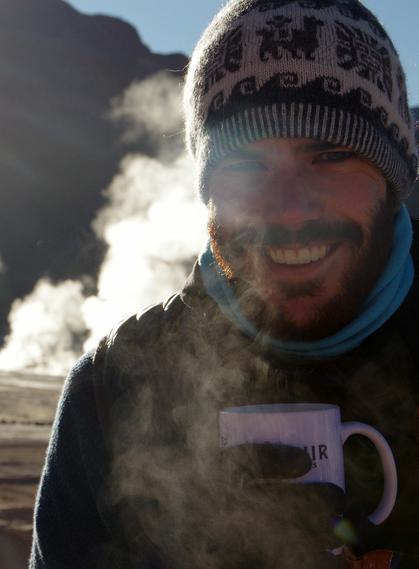 Stories to make you smile
Introducing Rocio - the Amazon's trailblazing female guide
We're rummaging through the thick carpet of leaves, looking under sodden fallen logs and inside huge curled up palm leaves. We're talking noisily about the rainforest, about the lodge, about life. Up ahead, Rocio has wandered out of sight, round a bend in the trail. When we catch her up, she is stood patiently, silently next to a tree...
This is a scene which repeats itself again and again during our rainforest trails, day and night. Her three decades of experience, beginning as a young girl out exploring with her father, have given her acute instincts, a sharply trained eye and a laser focus. And a huge appetite to share.
Her quiet manner is endearing and mysterious, lending her an air of authority. When she speaks, she does so quietly. She does so because she has something important to share. On this occasion it isn't a small fruit she's picked up off the forest floor, nor a little insect she's found, nor a tapir footprint. It's bigger - the Dragon's Blood tree.
She pierces its bark with her machete and, true to its name, out spills a blood-like substance, used by her Kichwa community to cure bites and skin irritations. I rub it into as many bites as I can find on my hands and arms.
I'm lucky enough to share my jungle walks with two more experts in their fields. Chandra and Sina are US graduates with encyclopedic knowledge of the Amazon. They are much more than mere translators for Rocio. But there's no doubt who the alpha dog here is, and not just among us foreigners; "you know, she puts the men of her community to shame with her use of the machete" remarks Chandra. I can see why, having seen her make light work of several fallen palms and chop up a coconut in a dazzling display of speed and dexterity. Her fingers were so close to the blade it made my eyes-water.
Rocio and Sina standing in the buttress roots of a huge ceiba tree
On our last night, we ventured out onto the water for an eventful night paddle. This is the Amazon, the only light to be had comes from the moon and the glow of our collective torches. Yet Rocio guides the canoe through the lake, creeks and rivers with extraordinary ease. She spots movement in the water up ahead of me, almost in the pitch black. It's a capybara, which upon resurfacing less than a metre from me in the front of the canoe, gets the fright of its life and ducks back underneath the water with a huge splash. I nearly fell in the water myself such was the start it gave me. Rocio kept the boat rock steady, just as she did when a deadly eight-foot electric eel came within inches of us.
"Nothing scares me - I've seen it all now and nothing has ever happened to me, day or night" she would later tell me. I don't doubt it - I can't imagine anything unnerving her.
Rocio preparing to guide us on an intrepid paddle after dark
Having exchanged only a few words with Rocio prior, I sat down with her to try and unlock this cabinet of mystery. She is a reserved and shy character, but one who is still feeling her way around us outsiders and who is only picking up the odd English word here and there at the moment. I wanted to try and break down some of the barriers and find out what really makes her tick.
I briefly explained what I wanted to ask her and then set the Dictaphone to record. My first question was a simple "how long have you been guiding in the Amazon?" Five minutes later, I was able to ask the second question. Mission accomplished I think.
For such a quiet and unassuming character on the surface, Rocio is remarkably passionate, determined and confident. She is, and wants to continue to be, an inspirational figure for others to follow. This resolution - she repeatedly used the word líder as an aspiration throughout our interview - took me by surprise. "I don't want to be the sort of person that has lots of knowledge but doesn't want to share it. I want to be a leader so that the other girls in our community can follow in my footsteps." At one point, she was almost fighting back tears.
It was a genuinely moving moment of pure unfiltered passion.
"I used to love going out into the forest with my father to discover the flora and the birds. Most of all I loved the monkeys. Then when I heard about the community lodge project a few years ago, I said to papi that I need to be here, al frente."
That last bit al frente is another to make frequent appearances throughout our chat. She wants to be on the front line - guiding, showcasing... leading. It's another testament to her strength of character, her self-belief and her absolute love of the jungle. It wasn't an easy path though.
"All I heard about at this point were men, men, men. I didn't have a Master's degree - I learned everything with my father in the jungle. So I attended practical workshops for six months and learned how to be a guide." With the support of her community and her parents, her dream came true. "I never did it for money, I did it to learn and to show our community that you can be female and be a guide. My dream was to be here, doing what I am doing. Now I want to be a leader."
Rocio Marlene - indigenous guide, leader - photo by Bejat McCracken ©
Rocio is not the only female making her mark in this 100% community-owned lodge. The manager is Maria, another female breaking the mould and leading its development. By the end of the year they aim to complete a two-tier observation tower, built around a mind-bogglingly large ceiba tree, that you will be able to camp in overnight. It will be self-funded - a testament to the community's ability to manage its finances and affairs.
When the time comes to say goodbye to Rocio, she smiles a shy smile, waves a polite wave and whispers a quiet goodbye. She's the same unassuming, shy, humble character I'd spent the last few days with. But for 15 minutes she came alive and revealed that it sits upon a foundation of steely determination, admirable self-belief and a relentless passion to share her Amazon, share her secrets and share her success with others.
May many others dream the dream to follow the trail she is blazing.
If you want to share her company in the most bio-diverse place on earth - let's talk.
The Pothole is Pura Aventura's popular monthly email. We share what we love, what interests us and what we find challenging. And we don't Photoshop out the bits everyone else does. We like to think our considered opinions provide food for thought, and will sometimes put a smile on your face. They've even been known to make people cry. You can click here to subscribe and, naturally, unsubscribe at any time.