Tales from the road
In the footsteps of heroes; hiking around El Chaltén in 11 photos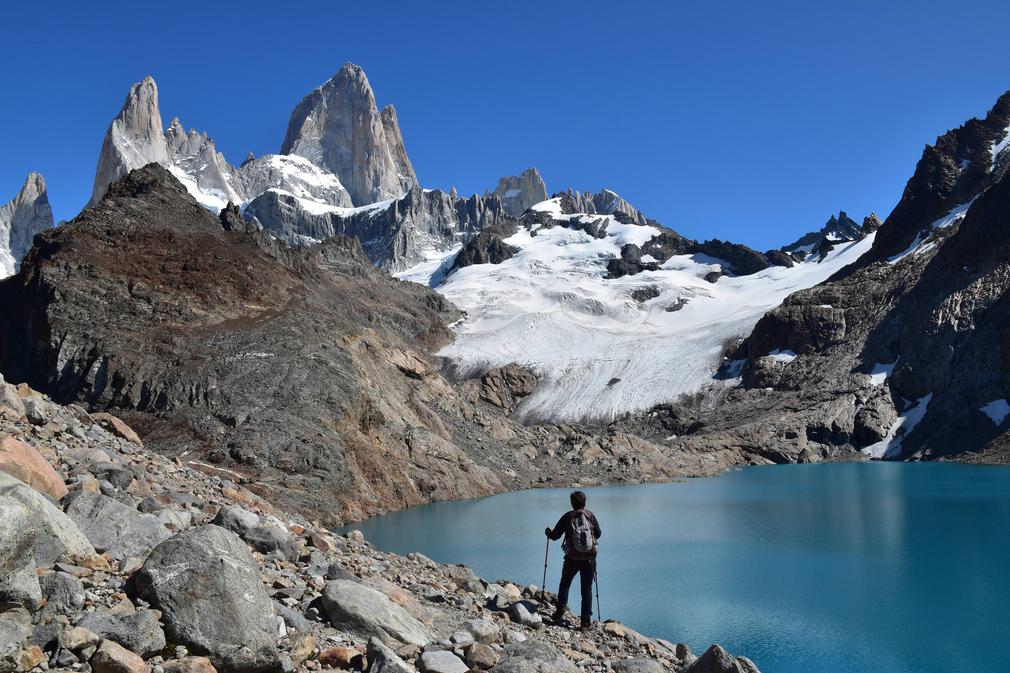 Cerro Torre has had a special place in my imagination since the 1970s, when student holidays were dedicated to my brief and unspectacular climbing career. All the climbing magazines were filled with tales of the spectacularly inaccessible and inhospitable mountains of Patagonia, and the last great unclimbed peak outside the Himalayas - Cerro Torre.
The technical difficulties of the sheer granite faces of the tower, combined with the ever present gales blowing straight off the Great Southern Icefield attracted the world's greatest climbers, and several died in their attempts. And then, controversially, Cesare Maestri decided it was so difficult, that free climbing was impossible and it was in order to place bolts up the face.
But realism and a career took over and I didn't think much about Cerro Torre, or Patagonia - too far away, more mythical than real. Until last year, and our first big adventure outside Europe. We'd thought of going walking in Patagonia but it turned out it wasn't that easy, unless you wanted to go multi-day trekking. And Thomas at Pura Aventura persuaded us that we should follow the Carretera Austral, visiting unique and unspoilt parts. And it can also be logistically a bit awkward to combine Chilean and Argentine Patagonia. And of course the weather…….
Well, the Carretera Austral blew our socks off, as promised, but we didn't do a lot of walking. We did see the maps and guidebooks, and glimpses of the great icefields. Fully aware it was busier, not very accessible, and likely to have awful weather, we signed up for another big Patagonian adventure. And we took lots of books to read for the days we would spend stuck in our hotels as the Patagonian storms raged outside.
1. Approaching Fitzroy
Cerro Torre is a peak in the Fitzroy range, huge spires of granite on the eastern side of the Southern Icefield, the last verticalities before the vast flatness of the Argentine pampas. And a very long drive from Punta Arenas including a border crossing and long tracts of unsurfaced remoteness. But the final hour was delightful - smooth, straight, empty roads, sometimes pointing right at our target. Fitzroy is the obvious tallest peak, Cerro Torre the more slender tower above the left hand side of the road. And you can't tell from the photo, but it's blowing a gale out there.
2. Fitzroy and Lago de Los Tres
Our two days in El Chaltén coincided with beautiful weather. The walk to Tres Lagos is popular, but for obvious reasons. It was no more crowded than a nice day in the English Lake District, and like there, with an early start and a bit of imagination, not too difficult to find peace and quiet. And absolutely stunning - crystal clear air, spectacular mountains, lakes and glaciers.
3. Laguna Sucia
More wonderful views. Purely by chance Marian is wearing a t-shirt from the Refugio Bonatti near Courmayeur. Bonatti was a great Italian climber and one of the first to attempt Cerro Torre. He loved Patagonia and the southern Icefield and had some remarkable adventures here.
4. First signs of autumn
Late February is of course the end of summer in Patagonia. This Lenga tree on the way back from Tres Lagos had just started to turn.
5. Moonset
El Chaltén is too close to the mountains to give really good views, you just catch glimpses of the summits above the rooftops and streetlamps. But after sunset the foreground doesn't matter anymore, there is just the jagged silhouette and the night sky. I nipped out from dinner to take this but was just too late - the crescent moon was almost gone.
6. Cerro Torre from Lago Torre
And there it is. Delighted to see the whole tower clear, and amazed that it was calm enough to catch a reflection in the lake (and for the water to freeze if you look closely). Almost disappointed not to see it in a raging Patagonian storm. The permanent snow mushroom on the top is clearly visible - no-one ever actually stands on the summit, they tunnel up through a 20 metre lump of snow stuck to the top, who knows how securely.
7. Cordon Adela and Glacier Grande
Walter Bonatti compensated for not being able to attempt Cerro Torre by first-ascending the range of peaks on the skyline here in a day. Behind them lies the vast Southern Icefield, the third biggest in the world after Antartica and Greenland.
8. Huemul!
These deer are protected and gradually recovering in number. But still rare enough that the National Park Rangers want to be informed of any sightings. So we were lucky to see two on the walk back from Lago Torre.
9. Patagonian weather
It stayed sunny on the route of the walk back to El Chaltén, but cloud drifted in from the Icefield and Cerro Torre disappeared for a while. And made an atmospheric return just before we dropped down into town.
10. El Chaltén
As the afternoon wears on El Chaltén fills up with (mostly happy) hikers returning from their walks. They are well catered for in numerous bars and it isn't hard to find good beer and a well-timed happy hour. Touristy isn't really the word to describe it - it isn't "authentic" in that the town almost entirely exists to service the hikers and there is no local culture, but almost all the visitors are here to walk. And the two most popular walks, the ones we did, cover good distances - 20+km round trips, with no other ways to get to these stunning viewpoints.
On a sunny afternoon it makes for a vibrant atmosphere - here we are sharing a table with two youngsters from France and Australia, spending the summer training to be mountain guides, and two teachers from Canada taking a year out to explore South America. Drink, food, and petrol are much cheaper in Argentine Patagonia compared with Chile, and the National Parks are all free. That was late February. A month later, what has happened to them all, and El Chaltén?
11. Farewell to Fitzroy
Beautiful sun on El Chaltén as we left to continue our adventures elsewhere. But clouds and a hint of rainbow over the mountains and the Icefield beyond.
The Pothole is Pura Aventura's popular monthly email. We share what we love, what interests us and what we find challenging. And we don't Photoshop out the bits everyone else does. We like to think our considered opinions provide food for thought, and will sometimes put a smile on your face. They've even been known to make people cry. You can click here to subscribe and, naturally, unsubscribe at any time.