Tales from the road
A-Z of Chilean Patagonia: Part one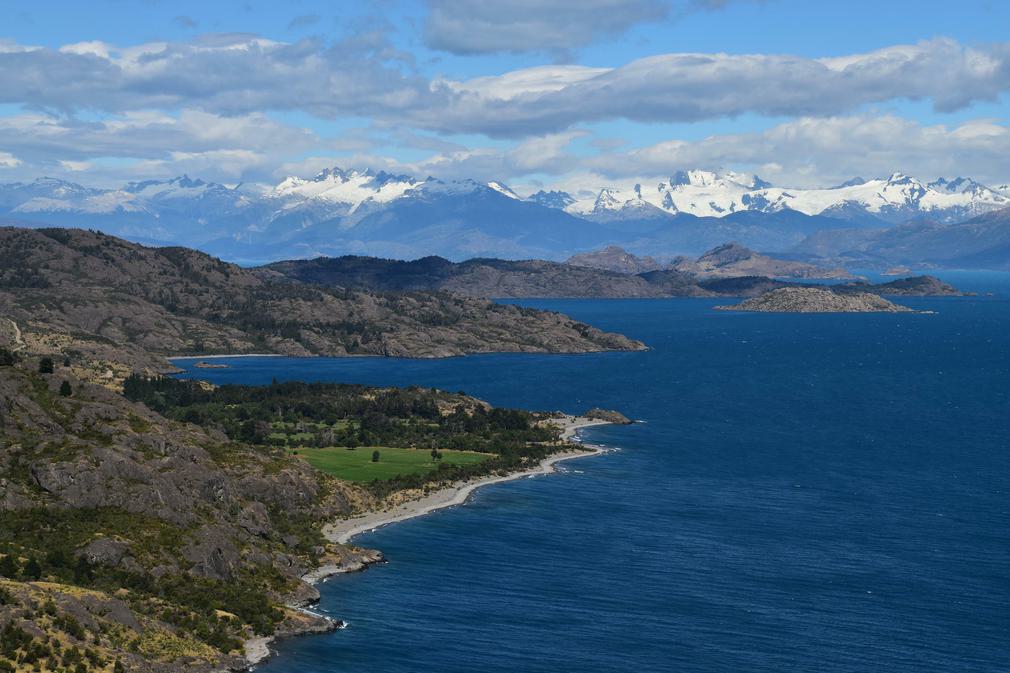 From high basalt mountains to cool primeval forests, from a road less travelled to paths well trodden, and from the people who bring character to the land, to the wild animals which bring life to the natural beauty, this is an ode to Chilean Patagonia in all its varied, sometimes bumpy glory, written with love by a team of people who take such pride in sharing this special corner of the world. We hope you enjoy reading.
If you want to have a map of the area open for reference, this is a detailed one from the team behind Chile's Route of Parks. The Lake District (Puerto Montt) is at the top, then the first line of red, marked with a 7, is the Carretera Austral (Southern Highway). Torres del Paine is down south, Tierra del Fuego and Cape Horn at the very bottom.
A is for Aysén, and all its varied beauty
In traditional style, let's start with A and a chunk of Chilean Patagonia we've spent over two decades kicking around in.
The Aysén region stretches from the temperate rainforests of Queulat in the north, 850 kilometres down to the great Patagonian icefields at its southern end. In contrast to the lush coastal forests of its westernmost reaches, the arid lunar-like mountains out east are more reminiscent of the Atacama Desert than verdant Patagonia. Chile's Southern Highway (Carretera Austral), of which we will talk a lot, ties together all this remarkable diversity until the road simply runs out at Villa O'Higgins.
Pumas, guanacos, rheas, Andean condors, foxes and the endangered huemul deer are all found in the wild, often rewilded, landscapes. Dispersed in small communities are the humans who call Patagonia home, with all the privileges and challenges that such roots bring. But when you consider that Aysén has half - yes, half - the population density of Mongolia, it gives you an idea of just how sparsely populated the region is.
View a self-drive trip through Aysén
B is for Baker River, water worth fighting for
The photo says it all; the Baker River is a beautiful turquoise vein which drains the waters of the border-straddling Lago General Carrera out into the northern Patagonian icefield on the Pacific coast. But it's actually its meeting with the thick grey waters of the Neff that we want to zoom in on here. Because La Confluencia, as this meeting of mighty rivers is known, is a reminder of why we do what we do. It's also a very neat example of what we meant in A when we spoke of privileges going hand-in-hand with challenges.
For years, Chile's industrial giants fought to dam the river, finding support from successive governments. On paper, the people of Aysén didn't stand a chance of stopping a project which would have run the falls dry. But a brilliantly run seven-year campaign, with strong backing from our friends at Tompkins Conservation, did just that. The Confluencia is safe.
But it's not that simple, the people of the region still need work and can't fill their stomachs with lovely views. That's where thoughtful tourism, and Pura Aventura, comes in. To us, the Baker River will always recall this wonderful photo capturing the magic moment when one of our lovely clients serendipitously leapt into its freezing cold waters for an invigorating dip. Few images better capture the spirit of Patagonia.
C is for Cape Horn, and life in distant latitudes
If you've been to Patagonia with us, or paid even the most cursory attention to our ramblings, C should surely be for Carretera Austral, right? It's the spine that ties together Chilean Patagonia's wild limbs in all their varied beauty. But with a bit of alphabet aerobics, we're able to weave that in elsewhere and instead carve out a niche to talk about something pretty special here.
Cape Horn.
For many who have the privilege of sailing through the channels and fjords of Tierra del Fuego and landing on the hallowed turf of Cape Horn, the voyage is the realisation of a lifelong dream. The island is bound up in tales of seafaring adventures from the days when Rounding the Horn was to dice with death and dance with the Grim Reaper, a treacherous journey of strong winds, violent seas and impenetrable ice all in the name of trade. As the latitudes rose, so too did their monikers gain intensity with the wind; the roaring forties, furious fifties and screaming sixties.
Today's voyages are somewhat more benign. To visit Cape Horn is to sail through the fjords in great comfort aboard the Australis expedition ships, where the screams are more likely the excited exclamations of howling guests than the angry assertions of howling gusts. But the journey retains a heady sense of 'end of the world' adventure, as Pura co-founder Thomas Power found out for himself last year.
Ask us about our Cape Horn cruises
D is for driving, and your stories from the road
We arrange many of our Patagonia holidays on a self-drive 4x4 basis. As well as helping you reach beyond the borders of civilisation and into some of the most remote and beautiful landscapes in Patagonia, we think this gives you the most freedom to set your own pace and enjoy the metaphorical bumps in the road. As Pura traveller John Main put it: "even for reluctant drivers, the Carretera Austral has an unavoidable romantic appeal."
We've had wonderful stories from our guests which truly capture the spirit of the road. These range from helpful Chileans who seem to magically appear whenever a tyre needs changing, to the hitchhikers who our more adventurous travellers stop to pick up. Caroline Mackie was one such traveller to do so and quickly reaped the benefits:
"We became confident enough to stop for hitchhikers and met a lovely couple of young students down from Santiago, hitching around Patagonia. They were such good company that they ended up walking one of the trek routes with us."
The most vivid story of all came from the Harrisons, who navigated the debris of a landslide with the help of a gaucho and a passing policeman. Having successfully done so, the gaucho then asked for a lift to town, and so the Harrisons cleared a seat in the back. Then the policeman wanted a ride too, so more space was made. Just when they though they were full, the policeman's pregnant wife appeared and together, they all went bumping off down the road to Coyhaique.
Perhaps it's these unscripted connections with the people of Patagonia that makes driving through this part of the world so special, be it on Chile's Southern Highway, in the Torres del Paine National Park, or over the border on Argentina's Ruta 40.
E is for Estancias, and life on the life on the farm
To understand Patagonia, you need to meet the people who call it home. And whilst we help you do just that at every turn of your journey, there's nothing quite like the setting of a rural estancia farm to bring all that cultural texture to the fore.
One place we love sharing with our guests is Sebastian's estancia, an energetic sheep's hop across the river from the Carretera Austral. The day you spend here is beautifully simple; it's all about a typical working day on the farm and it's up to you how much you want to get involved, or just sit back and take it all in. Whether it's the sheep being sheared or cows being corralled, there's nothing here that's done for show.
And whether you want to muck in and feel like you've earned it, or just want to enjoy the gracious hospitality, lunch is very much part of the experience; bread fresh out the oven, lamb fresh off the asado and a top notch Chilean red to toast the day. If you want to see it all through the eyes of a Pura traveller, Helen Jones' account is an enjoyable read.
F is for Fjords and ferries and Fú in the north
If you're driving along the Carretera Austral, there are two traditional starting points for your journey. Most Pura guests choose to fly into Balmaceda from Santiago, looping north into the forests and then south via the mountains and grasslands to the ice. But for the 'full' experience, you can also pick up your 4X4 from Puerto Montt in the Lake District and explore the remote wilds of the northern sector. This involves a full (though very scenic) day of driving and two ferry crossings, one of which traverses the Reloncavi Fjord, with views out to the 1,500m high Hornopirén Volcano.
Another reason to explore the northern end of the Carretera is to enjoy some of the biggest river waves in the world at Futaleufú. If you want to add in a bit of vein-pumping adrenaline to your Patagonia itinerary then look no further. The rapids will do it in spades.
G is for Gauchos, and the people of Patagonia
People in Patagonia reflect their surroundings in a way you rarely see in more tame environments. The origins of civilization as we know it today were the early cattle ranchers who settled here and you do still get a sense of the frontier lands down here, with isolated homesteads dwarfed by the vast landscapes in which they sit.
Because of this physical distance, people are used to incredibly solitary lives and therefore do not generally indulge in small-talk as readily as you might expect. Proper Gauchos only talk when there is something to say, although they seem to be able to make silence perfectly friendly. You will find an incredibly warm welcome in Patagonia. Sometimes it will just be delivered in a way with which you are unlikely to be accustomed.
Others have far more regular contact with us visitors, as in the case of our partners - Pato and Rosario in Queulat, Carolina and Stefan in Guadal and Noel and Maria Paz in Tortel. We are proud to count them all as old friends, who all share a genuine love for the place they are fortunate to call home and take such pride in sharing it with our guests. The feedback we get is universally glowing, both for them and for our guests!
H is for Hitchhiking, a window into rural life
A section of our book - The Pothole - that we are particularly proud of is entitled the Hitchhiker's Guide to Chile. In it we tie together the memories of three generations of travel; the 2018 story of the Harrisons and their gaucho and policeman friends from 'D is for Driving', the gracious hospitality and kindness experienced by Pura co-founder Thomas Power (above photo) as he hitchhiked up the Carretera Austral in the mid-nineties and the brilliant guide book pioneer Hilary Bradt MBE, helping us peer into life in the early days of the Pinochet dictatorship in 1973. This is a flavour of Hilary's story:
"Alberto, who picked us up hitchhiking and invited us to stay on his newly reclaimed farm, had been a landowner with a productive farm which had been confiscated (in the Allende years). He told us that when he got his farm back he found three tractors rusting in the fields. When each developed an engine fault the new owners didn't know how to fix it. What saddened him most, though, was the fate of his seven thoroughbred horses, slaughtered for meat."
If you want to read more, the book is available in ebook format, with all proceeds going to the National Emergencies Trust. You can donate and download it from JustGiving.
I is for Ice, and an audience with a glacier
The great Patagonian Ice Field once covered the whole of Southern Chile, stretching eastwards into Argentina. Had today's countries existed 18,000 years ago, the ice would have covered an area tantamount to Spain. Now only 4% remains and its dominion has been melted down, broken up and split in two - an empire diminished to less than the size of Slovenia.
There are too many glaciers to count in Chile. The most easily accessible is probably Torres del Paine's Glacier Grey. Perhaps the most well-known is the San Rafael Glacier in the Northern Icefield thanks to the expedition ships which chart a course through the channels. For our taste, they are more full of complimentary alcoholic spirit than the true adventurous spirit these parts so handsomely reward.
For that, we take our own approach. Working with our partners Noel and Maria Paz in Tortel, our guests can head out on their boat, built by the craftsman of Chiloé and kitted out and captained by Noel himself, to visit two little-known glaciers; one in the Northern Icefield and one in the Southern sector. Overnight you anchor up next to a glacier, fishing fresh ice out of the lagoon for your Pisco sours and enjoying food every bit as good as anything you could wish for on dry land, just with a view few others will ever get to enjoy.
Ask for more details on the glacier trip
J is for Jeinimeni, and its lunar-like ridges
Crossing the sparkling blue waters of the border-straddling Lago General Carrera (see L) reveals one of the most unexpected sights in all of Chilean Patagonia. In the double rain shadow of Jeinimeni, Patagonia's glaciers, snow-capped peaks and lakes are replaced by the lunar ridges, wind-eroded rock formations and desert scenery more readily associated with the Atacama in the north of the country. It's a real quirk of the Carretera and the sort of thing that we love sharing with you.
It's also a fairly easy 7.5km circular walk, with a wonderfully panoramic spot to pause for a picnic and some of the oldest cave paintings in the region.
K is for Kristine and Douglas, and our thanks
In 1993 Kristine Tompkins resigned her position as CEO of the Patagonia Inc, clothing company and traded in life in the boardroom for life in the wilds of Patagonia itself. Along with her late husband Douglas - co-founder of Esprit and The North Face - they dedicated their lives to protecting and restoring Chile and Argentina's wild beauty and biodiversity by creating national parks, returning wildlife and fostering economic vitality through conservation. They are rightly considered some of the most successful conservation philanthropists in history, leading Kristine to be named UN Patron of Protected Areas.
Since Douglas' sudden death in a kayaking accident in 2015, Kristine has taken on the responsibility of realising their shared vision. The culmination of this quarter-century of passion and patience, dedication and determination is Chile's Route of Parks - the world's most ambitious conservation project. It is a fitting legacy to Douglas' vision and Kristine's tireless hard work, and a project we were proud to host the official European launch of in September 2019, welcoming Kristine to London for a private audience.
We'll go deeper on the Route of Parks when we get to R. For now, we could simply not be any more grateful for their gift to a place that is indelibly linked with the Pura Aventura story, nor more proud to share it with our guests in a way which protects and benefits the national parks, wildlife and communities of deepest Patagonia for future generations.
L is for lakes, and sandcastles by the shore
"My son Cameron, 10, howled in and out of the freezing water; my daughter Elise, 6, built castles by the shore and drew driftwood patterns on the beach; my wife, Gillian, laid out a picnic of empanadas and fresh fruit on the sand. I remember, at one point, stepping back, and pausing, breathing, taking it all in. I remember realizing, somehow, that I would remember this for the rest of my life, as if I was living it in the moment. But also, seeing it from the far distant future too, when sandcastles and howling kids were long gone."
If that picture, artfully sketched out by our friend and talented travel writer Aaron Millar, doesn't capture the magic of finding a pocket of Patagonia to call your own, we're not sure anything we could add here will. Thank you, Aaron.
Share your Patagonia travel plans
M is for Magellan, and the legacy he leaves
Before we pause for breath and head on into part two, we end with the tale of a man whose legacy extends across the globe, but is perhaps most prevalent in Patagonia.
Ferdinand Magellan was the Portuguese sailor who captained the first complete circumnavigation of the globe, which set off from Andalucia in Spain in 1519. Or at least he did until he was killed in conflict on a Phillipine island en route. Before his death, Magellan had led his fleet around South America, rounding the treacherous seas of Cape Horn and charting a course across the vast expanse of the Pacific Ocean.
The achievement alone was enough to enshrine his name in history. But if there was any doubt, the profusion of things, places and animals named in his honour soon put pay to that. Telescopes, Moon craters, distant islands and even a Venezuelan baseball team now bear his name. Perhaps most famous of all, at least in the circles in which we move, are the Magellanic penguins and woodpeckers that we've encountered on our travels and the Strait of Magellan which connects mainland South America with Tierra del Fuego.
Incidentally, Magellan also did some naming too as he traversed the great oceans, giving us the Mar Pacifico - the peaceful sea - from which we get the Pacific Ocean.
Pop the kettle on or refill the wine glass and we'll pick up with the clouds of Patagonia on the otherside. We did say we had to get create with N...
Continue reading: A-Z of Chilean Patagonia: Part Two
We'll see you on the other side.
The Pothole is Pura Aventura's popular monthly email. We share what we love, what interests us and what we find challenging. And we don't Photoshop out the bits everyone else does. We like to think our considered opinions provide food for thought, and will sometimes put a smile on your face. They've even been known to make people cry. You can click here to subscribe and, naturally, unsubscribe at any time.