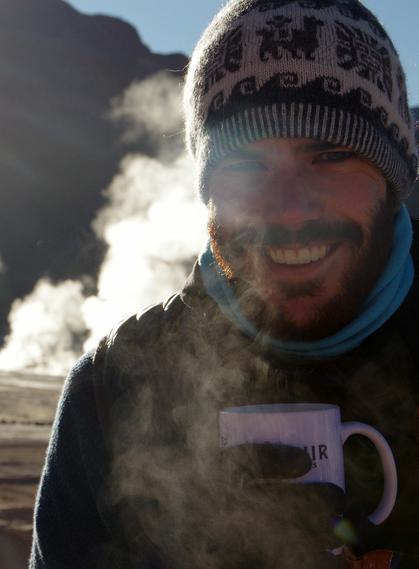 The story of #MyWalkingBoots
It probably hasn't escaped your attention that we like a good stretch of the legs at Pura. And you lot seem to as well. There are few better ways to truly appreciate both the scale of the landscapes in Spain and Latin America and all the little details which make them so precious, than doing so on foot. Vistas develop slowly, bit-by-bit. They remain etched on the memory for longer, becoming more vivid with every step. With fewer, if any, physical barriers, thoughts flow more freely and emotions come more easily. The sense of liberation can be powerful.
We felt this is something worth celebrating, in an oddly Pura way of course. So this is what we came up with - walking boots. The unsung heroes of our trips, thrust into the spotlight. Some of these belong to our team members, others to our travellers. Whether your entire trip was dedicated to walking, or just bits and pieces of it, we'd love you to join the fun and add your voice to the Pura Walk of Fame.
Barefoot on the beach, Copiapó
"My boots had carried me over the high Andes, across the Altiplano and down to the coast of northern Chile. They had done me proud, as usual, but there are some places you don't want anything on your feet at all. So this is me allaying my guilt by allowing them a gorgeous sea view while I wandered up and down the silky soft sand barefoot."
Dog walking, Andalucían-style
Out for a walk through the olive groves with Ruby
Pura's Chris decided to wave adios to 2018 and say a hearty hola to 2019 amid the endless olive groves on Central Andalucía. And having finished off his previous boots in Ecuador, where better to put some miles on the clock of their replacements? His base for three nights was the rustic farmhouse B&B of our friends Tim and Claire. Plus their dog Ruby. One afternoon, having surveyed the erstwhile hilltop Moorish fortress of Alcalá la Real, Chris and his wife Emma went for a stretch of the legs up to a ruined Moorish watchtower. Ruby went as well, though spent most of the walk out of sight, chasing unseen scents between olive trees.
"To properly acquaint yourself with the distinctive form and silvery leaves of an olive tree, you need to lace up your walking boots. The dog is optional, but Tim and Claire will be as grateful as Ruby will be if you were to share her company."
Read more: Walking Ruby through the olive groves of Andalucía
Puma pawprints in Argentina
Towards the end of 2018 Linda swapped the depths of winter in Britain for mid-summer in Argentina. Her travels took her from the wetlands of the north all the way down to Patagonia in the far south. Along the way she had some memorable wildlife encounters, but it was the suggestion of a reclusive creature that grabbed her attention at an estancia near El Calafate, pausing to capture the moment for prosperity, walking boot et al.
Follow in Linda's (and the puma's) footsteps: Southern Argentina Uncovered
Where few boots tread, Osa Peninsula
"If 'great' travel takes you out of your comfort zone, it had been a pretty epic day. I'd just risen from a full body immersion in a river to try and cool my body, having slogged through some miles of rugged rainforest on the southern shore of Costa Rica's Osa Peninsula. All I could think was that I wasn't really surprised few had ever trodden here. Hospitable it is not, but it certainly is beautiful!"
Follow in David's footsteps: Costa Rica's Pacific Uncovered
Suzy's Andalucia Explorer
Suzy's faithful walking boots led her around the hills of rural Andalucia
Suzy dusted off her walking boots for a self-drive adventure around the olive groves, medieval Moorish masterpieces, extinct volcanoes and relaxed fishing villages of Andalucia. When she wasn't marvelling at Cordoba's Mezquita or stopping for lunch with a view in a picturesque whitewashed village, Suzy was stretching her legs in the hills of Grazalema and the Sierra Subbetica and walking along the coast on the dramatic Cabo de Gato.
"'I just wanted to let you know what a great time we had in Spain. We wanted to thank you and your team for all the organisation and the very useful information pack you sent us. We enjoyed our stay in all the hotels you selected for us, specially Casa Olea."
Follow in Suzy's footsteps: Andalucia Explorer
A monotone moment, Picos de Europa
A moment to ponder the landscapes on the Picos inn to inn tour
A small group of Pura travellers celebrated the centenary of the Picos de Europa with an intimate inn to inn walking holiday, led by Pura co-founder Diego Martín. Autumnal forests, dramatic gorges, red roofed villages and mountain peaks provided the background to their week-long journey, along our exclusive walking route. There were some lovely cultural encounters on the way to give the group an insight into traditional rural life, along with a visit to the Bearded Vulture Conservation Centre.
"Sometimes the mountains want to play with you, they want to see you how much you want to enjoy their company... and they disguise with a tick cover of mist... but if the forecast shows a window in the clouds at midday and the guide is able to transmit his faith and passion to the group to follow him across the clouds, then a great prize might be awaiting at the summit..." - Diego Martín
See the gallery: Centenary of the Picos de Europa National Park
Follow in their footsteps: Picos de Europa Inn to Inn tour
Cooling off by the water, Catalonia
Greta and her boots take a moment to appreciate the Can Batlle Waterfall
Greta had high hopes for her first solo inn to inn holiday since becoming a valuable member of Pura's operations team. As well the chance to meet many of our partners who she is in regular contact with from our Brighton office, she was also excited by the prospect of glorious forests, waterfalls and the rocky coastline.
"One of the most memorable moments from my solo hiking adventure was reaching the stunning Mas Can Batlle waterfall towards the end of the walk and jumping into the ice cold water. Sun shining through the lush, somewhat tropical looking, forest, birds singing and not a person in sight." - Greta Leipute
Follow in Greta's footsteps: Catalonia Inn to Inn
Going out in style, Ecuador
Chris' walking boots get a moment of rest at Laguna de Cuicocha
Sadly the walking boots of Pura team member Chris' met their end in Ecuador - but certainly went out in style. Having had to watch from the sidelines in the Amazon, as rubber wellies took their place, they served him well on nature trails through the cloud forest, around the rim of a huge crater lake, through farm land to the famous Otavalo indigenous market, past a half dozen waterfalls in a giant river canyon and even to within touching distance of the snowline of the world's second highest active volcano.
"My boots had a great life and Ecuador was a spectacular way for them to go. They might have missed out on the Amazon adventure but they had their fair share of sights and tackled a real variety of terrain." - Chris Bladon
Read more: How to give your walking boots the time of their lives in Ecuador
Follow in Chris' footsteps: Ecuador Uncovered
Ready for Rioja
The walking boots are readied for our VIP Basque Rioja inn to inn
This autumn a small group of regular Pura travellers came together to enjoy the unique flavours, world class wine and glorious landscapes of the Basque Rioja region. Their boots found themselves walking through pristine vineyards, historic castles, medieval villages and colourful beech forests. Even a stretch of the Camino de Santiago.
It was a week-long trip packed with culture - the market of Gernika, and the Guggenheim in Bilbao being two highlights - and culinary experiences. One day the group were making their own pintxos, the next tasting cider, then Riojan wine.
Follow in their footsteps: Basque Rioja Inn to Inn
Get in touch Subscribe to The Pothole
The Pothole is Pura Aventura's popular monthly email. We share what we love, what interests us and what we find challenging. And we don't Photoshop out the bits everyone else does. We like to think our considered opinions provide food for thought, and will sometimes put a smile on your face. They've even been known to make people cry. You can click here to subscribe and, naturally, unsubscribe at any time.
The Pothole is Pura Aventura's popular monthly email. We share what we love, what interests us and what we find challenging. And we don't Photoshop out the bits everyone else does. We like to think our considered opinions provide food for thought, and will sometimes put a smile on your face. They've even been known to make people cry. You can click here to subscribe and, naturally, unsubscribe at any time.