Guide to Peru: Food and Drink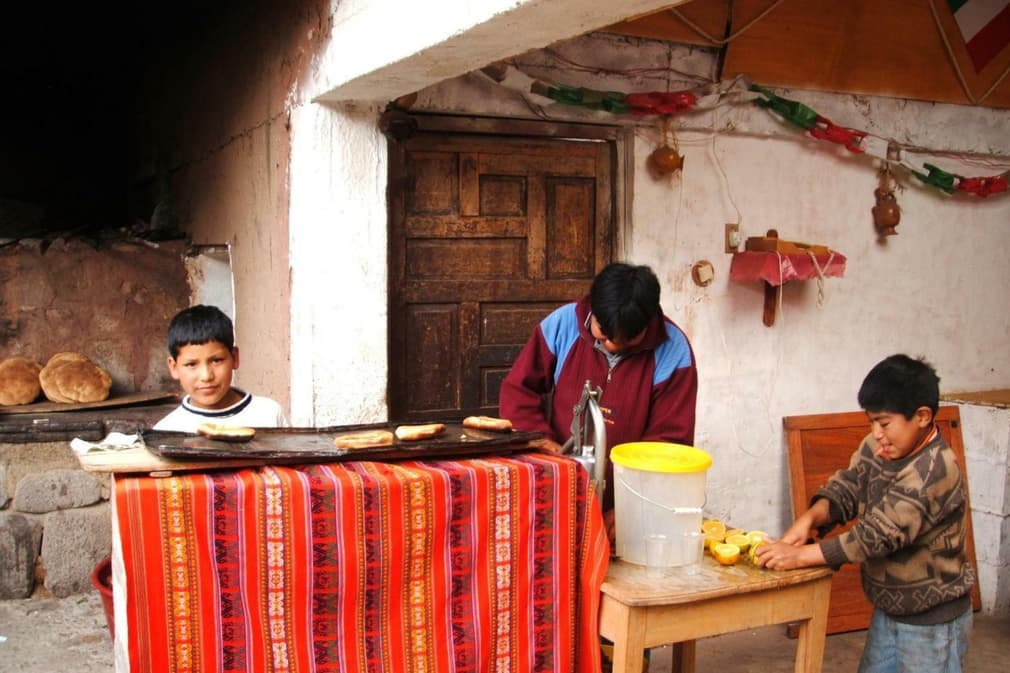 In Peru there are really two types of traditional cuisine: coastal and highland. Coastal food is much lighter and obviously dominated by fish and seafood. Traditional highland food is heartier, dominated by potatoes, corn and quinoa.
Traditional food
The best coastal dishes are seafood based, the most popular being 'ceviche', a dish consisting of white fish marinated in lemon juice, onion and hot peppers.
Versions with Langostinos (prawns), and camarones (shrimp), are also popular.
Highland cusine is dominated by meat, corn and potatoes (in any variety conceivable). Papa a la Huanacaina is a tasty potato based dish made with milk or cheese topped with a spicy sauce. Rocoto Relleno are hot peppers stuffed with rice, vegetables and meat always goes down well.
Snacks commonly to be seen served on streets are large corn on the cob with cheese choclo con queso , meat or cheese empanadas (carne or queso).
The white highland cheese is an acquired taste! Tamales are also a popular snack, boiled corn dumplings filled with meat and wrapped in a banana leaf.
Cusco is the best place to try the traditional food of the Incas, cuy which is roasted guinea pig.
A tastier option is lomo saltado a kind of stir-fried beef with onions, vinegar, ginger, chilli, tomatoes and fried potato, to be found on almost every menu, as can arroz con pollo , chicken and rice along with Chicharrones deep fried chunks of pork ribs and chicken or fish. Nuevo Andino cuisine consists of local ingredients such as alpaca steak, a delicacy, combined with high quality international dishes found in Cusco's top class restaurants.
Trout or trucha is a lighter alternative and highly recommended in the highlands.
Drinking
Drink water only from bottles. This is widely available.
Local beers and soft drinks are obtainable everywhere.
Pisco Sour is the national drink, a brandy based drink mixed with lime, sugar, egg white and cinnamon.
Cusquena and Arequipena are the most common brands of beer in Cusco while the Cristal and Pilsner brands dominate Lima.
Chicha is a local maize beer, usually homemade.
Chicha Morada is a sort drink made with purple maize.
The impossibly sweet and fluorescent yellow Inca Cola is the Peruvian version of Coca Cola!
Chilean wines are available in larger towns.
Coffee in liquid form is often brought to the table in a small jug accompanied by a mug of hot water to which you add the coffee essence and milk (leche).
Food safety
Going against popular belief, food, rather than water, is usually the culprit of intestinal problems. Eating well cooked, piping hot food, is possibly the best way to avoid problems.
Avoid uncooked and under cooked foods. Salads in particular should be avoided until you've developed some local intestinal flora to be able to handle it.
Fruits that must be peeled before being eaten, such as bananas, pineapples, and oranges, are usually a safe bet.
Northern Peru
Tumbes, Piura, Lambayeque and La Libertad Regions
Northern food must be eaten with gusto. The renown of its dishes grows daily thanks to its fresh lime-juice marinaded fish and shell fish served with a hot pepper sauce, onions, yams, corn on the cob, or boiled corn. Chinguirito dried and salted guitarfish is a typical seafood dish, as steamed fish, shrimp, and other shellfish and crab, served with mild creamed yellow peppers.
Fried manioc sticks, parmesan cheese scallops, and banana chips are patient appetizers, or a 'jalea' of fried manioc sticks, fish and shellfish. Causa cold pie, combines layers of mashed potato, and fried onions, garlic, and spices with grilled fish. And to drink, a beer or corn beer called 'chicha' is served in gourds.
Meats are cooked variously. Particularly well-liked are kid stew served with squash cooked in corn beer, and beans or green corn tamales; 'chabelo' stew prepared with shredded grilled beef and grilled banana plantains, and duck and rice, cooked
in malt beer.'Priests' soup, a turkey broth, and 'shámbar' a soup combining pulses and pork and beef broth are good for dieters, while desserts include quince jellies, and 'king-kong'
, a cake made with egg yolks, and creamed pineapple and milk custard.
In addition to classic restaurants, these delicacies can be enjoyed at local 'chicherías'
literally corn beer bars where food is prepared over a wood fire in earthen pots, or in 'huariques' the neighborhood restaurants of Tumbes and Piura.
The Amazon
Loreto, Ucayali, San Martín and Madre de Dios Regions.
Food in the Amazon is full of exotic delicacies. Chonta or palm tree heart salad is a delicious entrée. Meats and plantains are ever present in the main dishes, like grilled banana plantains (tacacho) with deep-fried beef (cecina) served with chopped onions and dried meat, or stuffed bananas, a banana dough stuffed with beef and peanuts.
Fowl, fish and wild meat are indispensable ingredients in preparing 'juanes' (rice dough stuffed with chicken and wrapped in banana leaves for cooking), grilled 'picuro' (delicious wild meat), 'apishado' or pork cooked in a peanut and corn sauce, and 'patarashca' fish wrapped in banana leaves and cooked over a fire.
Soups include 'inchicapi' chicken soup with peanuts, coriander and manioc and 'carachama' fish soup cooked also with banana plantain and coriander.
Aguajina is a refreshing drink made from the 'aguaje' a jungle fruit, while 'masato' is a fermented manioc and sugar beer. 'Chuchuhuasi' is a fermented beer made from the chuchuhuasi root, 'uvachado' is prepared with grapes and 'chapo' is a cooked banana, water and milk beverage.
Lima
Lima is known as the gastronomic capital of South America for a culinary legacy that inherited superb pre-Hispanic and colonial cooking traditions and was nurtured by the best Western and Oriental cooking.
Fish and the fruits of the sea are the basic ingredients in 'tiradito', a soft marinaded fish served in a yellow pepper or 'rocoto' chili cream, 'parihuela' fish and shellfish soup. Shellfish and rice are served Peruvian style while Chorrillana fish is served with fried yellow peppers and tomatoes. Scallops Lima-style are baked with grated Parmesan cheese and barnacles are marinaded in a lime sauce and served with onion, tomatoes, red peppers and finely chopped parsley. Mixed 'jalea' combines deep-fried shellfish, octopus and fish, among other delicacies.
African-Peruvian food includes grilled beef kebabs, 'cau-cau' tripe and potato stew in coriander, yellow peppers and herbs, and 'tacu-tacu', a hot-fried beans and rice dough stuffed with beef or shellfish.
Creole food, the mix of Spanish and local cuisines includes highly-recommended 'causa', a cold chicken or shellfish potato pie with tomatoes and avocado; 'tamal', a hot dry corn mash filled with hot peppers and chicken or pork and wrapped in banana tree leaves for slow cooking; a chicken and cheese stew known as 'ají de gallina'; potato dough stuffed with spiced ground beef, grilled chicken, charcoal-cooked chicken with fries and a spicy sauce; 'escabeche' or soused fried fish or chicken in a spice and herbs sauce; 'carapulcra' dry potato and pork; and renowned 'sancochado', a beef, chicken, pork, potato, corn, cabbage and vegetables chowder, served with various sauces.
Peruvian versions of Chinese dishes include 'chaufa' Cantonese rice, and beef-sauté with onions and tomatoes in a red peppers, tomatoes and soy sauce, which are local favorites. An endless list of desserts is topped by 'suspiros' meringues in a sweet milk custard, and purple corn custard or 'mazamorra morada'. Other favorites include rice milk pudding made with pisco grape brandy, Doña Pepa nougat that brings together the flavors of sweet baked wheat flour sticks, lard, eggs and anis seed layered with fruit and sugar syrup and finally fried doughnuts or 'picarones' made from yam flour bathed in molasses syrup.
Favorite beverages are 'chicha morada', a non-fermented drink made from Peruvian purple corn, beer and typically-Peruvian Inca Kola soft drink.
Arequipa Region
The culinary traditions of Arequipa, the White City, can be best enjoyed in the so-called picanterías (traditional restaurants with firewood cookers). A good meal starts with hot red peppers stuffed with minced meat, spices, cheese, eggs and milk (rocoto relleno); then the so-called 'soltero' made of broad beans, corn, olives and chopped hot red peppers; and ocopa or sliced potatoes with peanut, onion and cracker cream and, finally, chicharrones or 'deep-fried' pork.Favorite soups are the white broth of lamb loins, potatoes, corn, chickpeas, freeze dried potatoes 'chuño' and spices, and 'puchero,' a stew of boiled beef, pork and chicken with vegetables and spices. Main dishes are 'adobo', a pork loin stew made with hot peppers, onions and corn beer called chicha, served with bread; also 'picantes,' spicy dishes made of pork or beef, lamb or duck; 'locro' a stew of beef, pork, beans and vegetables; 'chupe,' a shrimp chowder where shrimps are fried in hot red pepper and cooked with broad beans, milk, rice, corn and potatoes; and 'Malaya', parboiled and fried flank steak.
Favorite desserts are fritters made of flour, eggs and milk and bathed in molasses syrup; 'queso helado' cinnamon, coconut and spices ice cream, plus chocolates and toffees.
Good local beers, regional sodas and corn beer called chicha de jora are popular. Digestives are 'té piteado' (tea and anise liqueur) or Nájar anise liqueur.
Andean cuisine
Heated in a firewood oven, earthenware of the highlands gathers odors and flavors linked to earth. Meats, tubers, grains and herbs are used in a great variety of simple but tasty dishes.
Starters include corn with Andean cheese, chochos (tarwi) salad, ""mote con chicharrón"" or large white boiled corn and ""deep-fried"" pork, ""cancha"" (roasted corn), ""humitas"" (Ground corn and enveloped in its own leaves for cooking), ""papa a la huancaína"" (boiled potato pieces under yellow pepper and cheese cream) and ""inchik uchu"" (boiled manioc with peanut, yellow pepper and coriander sauce).
Main courses: ""pachamanca"" (beef, lamb, pork and guinea pig cooked on hot stones with broad beans, potatoes and humitas, in a hole covered with leaves and soil), ""patasca"" (maize soup), ""cuy chactado"" (guinea pig fried under the pressure of a stone), ""cecinas"" (dried meat), ""puka picante"" (pork and boiled potatoes seasoned with hot pepper and beets), ""cuchicanca"" (roast pork), ""olluco con carne"" (""ollucos"" and llama meat in a stew), pesque (quinoa stew), huatia (potatoes and ""ocas"" cooked in an earthen oven called ""curpa"", served with cheese), ""huarjata"" (pig head stew), ""sajta"" (chicken and peanut stew), ""chuñu lawa"" (""chuñu"" and meat cream).
Soups: chochoca (corn flour), green soup (potatoes, eggs, cheese and ""paico""), ""kapchi"" (broad beans and cheese), ""lawa"" (fresh corn soup plus broad beans, yellow pepper and ""huacatay""), ""chuño"" or ""moraya"" (varieties of frozen-dried potatoes), ""llunca cashqui"" (wheat soup), ""chairo"" (beef, lamb, wheat, potatoes, broad beans, squash and ""chuño"", among other ingredients).
Desserts: chapana (manioc flour sweet), ricotta and molasses syrup, ""cocadas"" (coconut and molasses sweet), ""tojosh api"" (fermented maize custard), manjarblanco (milk flummery) and jellies (made of mulberries and elderberries).
Herbs: coriander, parsley, ""huacatay"", ""paico"", ""muña"", mint.
Alcoholic beverages: artisan wines and ciders, ""chicha de maíz"" (white maize and ""jora"" beer) and quinoa.
Breads: a great variety (tanta wawas, santiagos, bread rolls, water bread, three-tipped bread, semitas are made of wheat, rye, maize, ""oca"", anise, potato, barley and sweet potato), small breads (maize and quinoa), cookies, bread rolls baked in a ring and sweet cakes.
Nuevo Andino
This trend, which appeared in the eighties, uses old Andean culinary traditions adapted to international cuisine preparation and presentation. Recipes are strict and food is very tasty and well presented, with little spices and fat, and lightly cooked.
Starters and soups: cheese and spinach rolls in a passion fruit sauce, fresh snail and quinoa salad, cheese and barley flake flan, manioc pie, celery and leech cream with barley flakes.
Main courses: grilled quinoa taboulé, pickled fish with carob syrup,'reventón ayacuchano' (with 'pachamanca' and 'sancochado' ingredients, but in earthen pots served with sauces), quinoa risotto, manioc and freeze-dried potato, lasagna with 'morón', broad bean stew, alpaca stew, stuffed trout, duck in a pear and elderberry sauce, crab in coconut and pineapple sauce, kid and corn purée (pepián), guinea pig in an oyster sauce, squid and veal.
Desserts: quinoa imperial (with milk and passion fruit jelly), 'quinoa' and 'guanábana' mousse, 'oca' tart (with 'oca' and 'chirimoya'), 'misky súmac' (made of 'kiwicha'), 'cañihua' custard, 'pacae' nougat.
Beverages: 'aguaymanto' shake, quinoa and mamey chicha, grape and cañihua chicha, maca sour, lúcuma sour, frozen tumbo and cumpa (cat's claw sweet condensed milk, pisco and egg).. Fish Cebiche
The freshness of the fish and the seafood is what creates the cebiche. Freshly caught fish and seafood mixed with purple onions, lemon juice, salt, and a touch of chili pepper. Sweet potato and corn accompany the dish. A real luxury that the Peruvian coast brings.
Cebiche (serves 4 people)
Ingredients: - 200 gr. of white fish, cubed into 3 cm. x 3 cm. pieces - ½ tsp. blended garlic - tsp. blended aji verde pepper (aji amarillo or escabeche aji pepper) - ½ tsp. aji limo pepper, finely chopped, (to taste) - 5 or 6 key limes, juiced (2½ oz.) - 1 handful of red onions, thinly sliced - Salt and white pepper
Garnish: - ½ ear of corn, stripped - 1 sweet potato, boiled
Preparation: First, place the fish in a bowl and season with the garlic, salt, white pepper, aji verde pepper and aji limo pepper. Mix thoroughly in order for the fish to be well seasoned. Next, add the juice of freshly squeezed and strained key limes. Mix for a minute. Before serving, add the onion. Lastly, serve the cebiche with the sweet potato and the kernels of corn.
TIP: The fish used must be freshly caught from that day, never frozen.
Traditional dishes
Juane
A delicious and aromatic rice dish produced by an immense variety of spices: pepper, annatto seed, cumin, cilantro, oregano, and bay leaf. Large bijao (Calathea allouia) leaves wrap this exotic mixture stuffed with chicken pieces, egg, and olive. Just boil it and soon you have the flavor of our deep Amazon. Chupe de Camarones
A concentrated broth made from shrimp head extract and accompanied by shrimp tails, dried red chili peppers that are then toasted, poached eggs, yellow potatoes, rice, fresh cheese, and milk. A traditional delicacy of Arequipa cuisine. A Lima Sigh
As in every art of love, a sigh will be got by he who knows how to prepare a Lima Sigh, sweet and tempting. A yoke of cooked sweetened and condensed milk is covered with a mixture of meringue, port wine, and a touch of cinnamon. Suspiro a la Limeña (serves 4 people)
Ingredientes: 1 can of sweetened, condensed milk 1 can of evaporated milk 3 egg yokes 3 egg whites ¼ cup of Port wine ¾ cup of sugar Cinnamon powder Vanilla
Preparations: Make manjarblanco (caramelized milk paste) with the two types of milk constantly stirring them until it reaches the desired consistency. Then, remove from the heat. Next, add the yokes and stir to avoiding curdling. Then, add the vanilla. Make syrup with the sugar and the Port wine. Make a meringue by beating the egg whites until they are stiff. Then, pour a very thin stream of the hot syrup into the egg whites. Beat until it is cool. Serve the manjarblanco with a covering of meringue in a dessert bowl. Sprinkle with cinnamon powder. Pisco Sour
An adventure in every sense of the word. The sweet, the cold and the volatile are mixed in this cocktail made out from pisco and Peruvian lemon. A sensitive palate, a sensible drinker and any excuse are enough to drink a Pisco Sour as it is only made in Perú.
Pisco Sour (serves 4 people)
Ingredients:
4 measures of pure Quebranta pisco 1 measure of gum syrup 1 measure of key lime juice 1/8 of a measure of an egg white 4 ice cubes 3 drops of Angostura Bitters
Preparation:
Place all the ingredients, except for the Angostura Bitters, in the order listed above in a cocktail shaker. Shake for 15 seconds. Strain and serve in a chilled, 8 oz. cocktail glass. Decorate the top with 3 drops of Angostura Bitters.
The Pothole is Pura Aventura's popular monthly email. We share what we love, what interests us and what we find challenging. And we don't Photoshop out the bits everyone else does. We like to think our considered opinions provide food for thought, and will sometimes put a smile on your face. They've even been known to make people cry. You can click here to subscribe and, naturally, unsubscribe at any time.