Ceviche, the national dish of Peru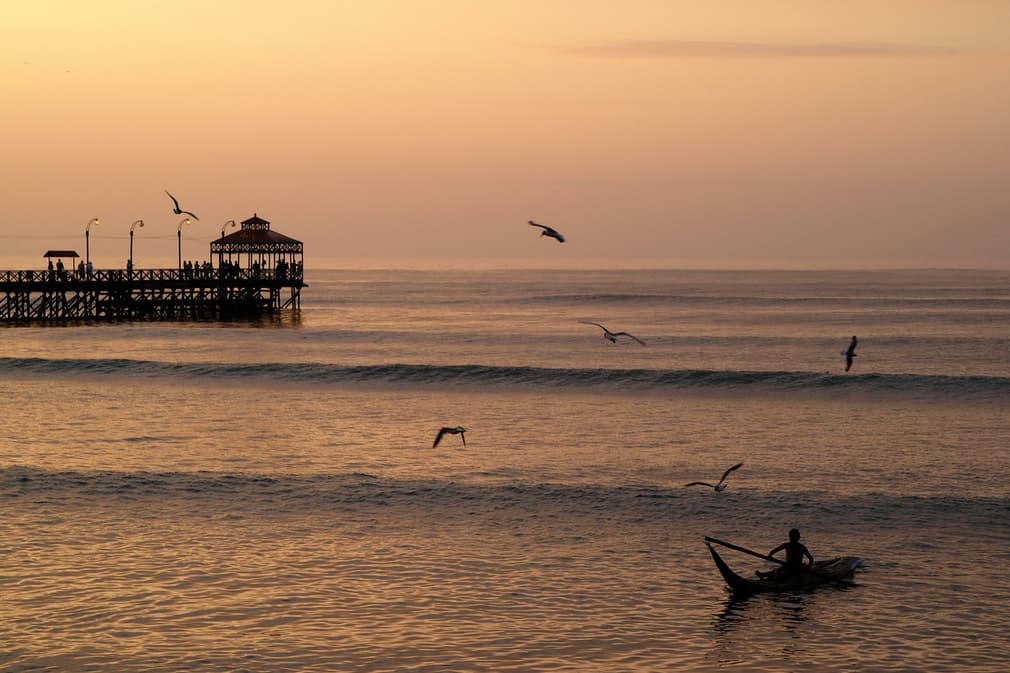 Every country has it's national dish. In Peru it is undoubtedly ceviche. It is a dish of fish marinated in lime juice, the acid from which actually ,'cooks' the fish. It is mixed with finely sliced red onions and chilli, served on a plate with lettuce, corn on the cob and sweet potato. Try it with an ice-cold Inca Cola for the truly Peruvian immersion experience!
When I first arrived in Peru, from Ecuador, I arrived in the northern town of Chiclayo. The first thing that struck me was the amount of people out, wandering the streets until late in the evening. This didn't happen much in Quito or Cuenca, where the streets were often deserted after dark.
For the first week I spent my evenings wandering and enjoying what I thought was the national dish of Peru: spit-roasted chicken, served with chips and salad. I blame it on the sheer volume of 'Pollerias', (restaurants dedicated to serving chicken). I hope that I have now been forgiven by the people of northern Peru for thinking such a thing!
The first time that I tried ceviche in Peru, was in the city of Trujillo. For me, it was love at first bite! Myself and my travelling companion were recommended a 'Cevicheria', by the owner of the hostel where we were staying. We took him up on his recommendation.
Ceviche must be prepared using very fresh fish and Peruvians are very keen on cleanliness, especially when it comes to serving food. The freshness of the fish means it takes on the flavour of the lemon and the heat of the chili. Upon closer inspection, it was apparent that the fish was cooked all of the way through! The acid in the limes had cured the fish. Each mouthful of the mix contained a variety of flavours and the ice-cold Inca Cola was a perfect compliment to it.
I was left in no doubt that ceviche is Peru's national dish on a separate visit to Trujillo, when I was staying in the coastal town of Huanchaco. After a shopping trip in the morning, returning to our hotel, the streets of this small town were deserted. This was quite strange for an early afternoon. On the corners of some of the streets, were plain-clothed police, carrying guns.
It transpired that the president of Peru had just decided to pop-in to his favourite cevicheria for lunch. Apparently, he had flown up from Lima in his helicopter especally. After lunch, he was whisked away, presumably back to Lima to continue with his working day.
I have travelled extensively throughout Peru. When I meet people and speak of my times in this fascinating country, I will always mention ceviche when asked about the cuisine. Peru's cuisine is quite unique in all of South America and ceviche is the signature dish. It sometimes raises a look of bemusement with first timers, but it is perfectly safe to eat and highly recommended for anybody who is a fan of seafood.
The Pothole is Pura Aventura's popular monthly email. We share what we love, what interests us and what we find challenging. And we don't Photoshop out the bits everyone else does. We like to think our considered opinions provide food for thought, and will sometimes put a smile on your face. They've even been known to make people cry. You can click here to subscribe and, naturally, unsubscribe at any time.