Stories to make you smile
Pura Aventura supermarket (mostly) wine tasting 2019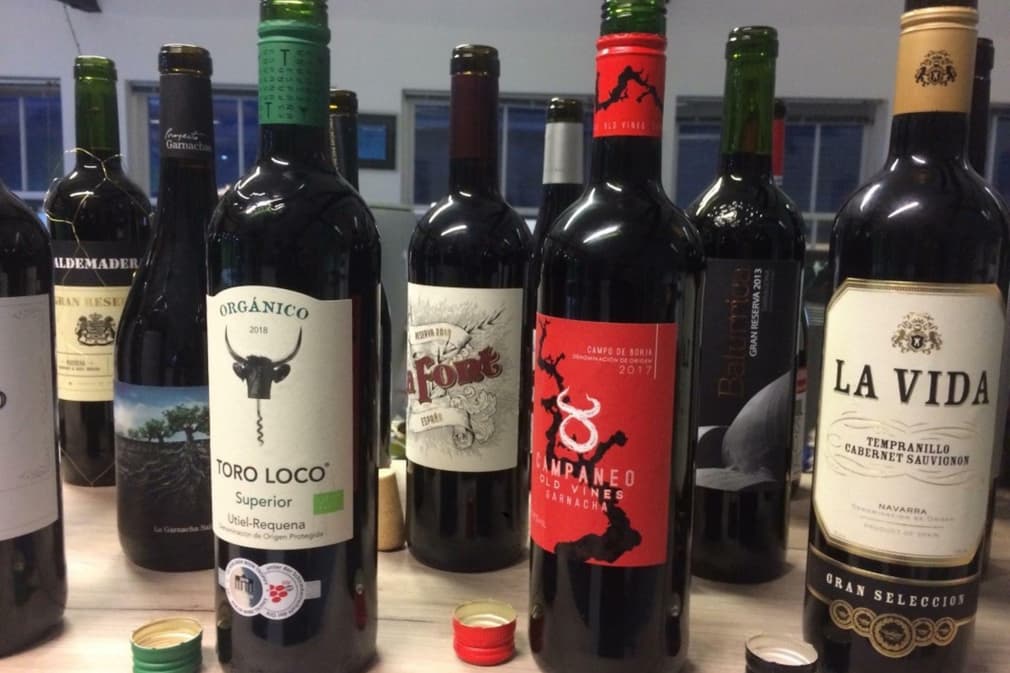 As Jack Frost gets up to his icy tricks and twinkly lights battle to be seen through the wind and rain, you know it's that time of year again: the Pura Aventura blind wine tasting.
Even with our expanding team in the office, we had to limit our selection to Spanish red wines, for £13 or less available in supermarkets. Admittedly, we stretched our definition of supermarkets to include a couple of local wine merchants and Majestic, the wine wholesaler, but we needed a benchmark, and we like to support small scale and local.
This year we decided to be open minded and non-judgemental about the wines, all 24 of them. These wines are all winners, they all have a place on our festive table - it's just a case of deciding what part of the holiday season fayre to pair them with.
Caveat Emptor: With the possible exception of Michaela (whose family back in Austria apparently have a wine connection), there is zero claim to expertise in our wine tasting. We did not sip the wines, rather we spat them out. At least that was the idea. Mind you, Diego didn't get that memo and was out for the count from approximately wine number five. We cleaned our glasses with water between times, we had only dry crackers to eat* so we did our best.
The reviews reflect an unscientific balance of opinion from the room. I noticed that the preference was very much for traditional style wines so those that 'performed' worst were sometimes the more different, modern style wines using unusual grape varietals (e.g. Mil Historias).
Meanwhile, Laurent managed, almost without fail, to utterly disagree with everyone else about which wines were nicest. He's French so it's possible that, if you are French, you will want to invert the whole scoring of our tasting. Or it's possible that Laurent's just wrong.
However, tipsy Spaniard, long-suffering Austrian and contrary Frenchman notwithstanding, we unite as one proud Pura voice as we share this year's results.
*admission: from wine 4.5 onwards Diego was off in the corner preparing a massive cheeseboard of artisan cheeses from the Picos de Europa, including a delicious but particularly potent blue, which might explain our opinion of wine number 8.
Castillo Del Sabio 2015 | Tierre de Castilla | £6.00 | Morrisons With hints of tangerines and cinnamon, this is a Christmas wreath of a wine best served on the sofa, with slightly warm mince pies and Strictly Come Dancing. 7/10 (pronounced 'Seveeeen' in a Len Goodman way).
Honoro Vera 2018 | Jumilla | £9.75 | Butlers This one is abundantly fruity. Cherrys mainly. Cherry cheesecake really which admittedly isn't a feature many of us are normally looking for in our wines. We think this will pair beautifully with communion wine at midnight mass though obviously not to be imbibed at the same time, this one's for the after-party. At approximately 3am when you are safely tucked up in bed and at no risk of having to partake. 2/10
El Brindis 2016 | Montsant | £9.99 | Majestic Rich and warm, one to keep you company through December and into January. Very berry, a touch odd on the nose but ultimately a winner. 8/10
La Vida 2016* | Navarra | £6.75 | Morrisons This one smells of a donkey relieving itself in a manger-full of straw. Ideal for drinking, with a mouthful of straw, whilst mucking out the stables. 1/10
*not available online. Which is probably for the best.
Viño Albali Gran Seleccion 2017 | Valdepeñas | £5.25 | Tesco A lumpy gravy of a wine. Which, in the spirit of being positive, is fantastic. If you like your lumpy gravy to taste of nasty wine.3/10
Cune 2016 | Rioja | £8.75 | Morrisons Pleasant on the nose. Light body. So light that there's actually nothing there. This is a wine to be sipped in the company of neighbours you don't particularly like who have invited you over for pre-Christmas drinks at some preposterously inconvenient time but because they lent you their strimmer for an hour earlier in the summer you feel duty bound to attend. Ideally served with a generously sized Iceland party platter consisting of festive delights such as prawn tempura, duck spring rolls and mini pizzas – as ever, aiming for that slightly soggy, not-quite-reheated-enough effect. 4/10
Carta Roja 2013 | Jumilla | £5.75 | Sainsbury's The festive season can be a digestive challenge, seemingly endless rounds of large, heavy meals. A salad comes as a delightful interlude. Which is great because salad needs dressing and this wine is perfect for vinaigrette. Or you can pair with pickled onions. 3/10
Heredad del Rey 2017 | Yecla | £6.74 | Waitrose Gravy wine, a slow cooker of a wine to enrich your Bolognese. Not to actually drink on its own but to appreciate as part of a meal, buried away inside a lasagne if you will. 4/10
Valdemadera 2013 | Carinena | £8.00 | M&S Tannic beast of a wine which needs bold food with it. A salami slice of a wine, sausage rolls. The ultimate accompaniment to that most fickle of food mistresses: the 'pig in a blanket'. 7/10
Anda 2018 | Andalucia | £7.99 | Waitrose A wine for the party season in the run up to Christmas, albeit not a very salubrious party. It's getting late, the dips and nibbles have started to blend unpleasantly in the bowls. Things get worse and someone drops cashew nuts into the blue cheese dip. Fear not, we've got the wine for you. 1/10, unless you like nutty blue cheese in your red wine glass.
Toro Loco 2018 | Utiel-Requena | £4.99 | Aldi It's middle of the road time…it's not particularly warm, not particularly cold. It's probably the 27th December. Chris Rea is still singing 'Driving Home for Christmas'. This wine will do but everyone's nodded off so there's nobody still awake to be bothered with food for this wine. 5/10
Sangre de Toro 2017 | Catalunya | £7.50 | Asda Smooth, warm and uncomplicated. To be served with toast and paté at 11pm on Christmas Day when you simply shouldn't be hungry. 7/10
Mil Historias 2017 | Manchuela | £12.49 | Quaff With a remarkable aroma of rotten fish, it's off to Scandinavia to find some pickled herring to eat with this. 2/10
Torres Naturero De-alcoholised 2018 | N/A | £8.99 | Waitrose In one's younger days, going 'home-home'* for Christmas was a 10-day sentence without parole, except for the great escape to the pub with your mates on Christmas Eve. And that's where this delightfully unpretentious wine comes into its own. To be enjoyed in those special moments after your famously irresponsible mate has called shots and, in effect, forced the seven of you to drink cheap tequila, accompanied by a lick of salt and suck on a lime segment. In those precious moments, you might be able to take a sip of this wine and feel happy. At all other times, it will be the least pleasant thing to have happened to you all year. 0/10
*Note for our overseas readership: for a period lasting from approximately 18-25yrs old there is a tendency for people in the UK to live independently in rented accommodation of some sort. This will be referred to as 'home'. For no apparent reason, during this period, the family home becomes known as 'home-home'. Once in a long term relationship the idea that there's a superior home to the shared house becomes unacceptable so home-home becomes a toxic phrase to be replaced with 'family home' or 'parents' house'.
Toro Loco Special Edition 2017 | Utiel-Requena | £9.99 | Aldi Another one for the younger reader this. Having returned from the pub and a dalliance with the above wine, finding yourself in the familiar surroundings but unfamiliar cupboard contents of the home-home kitchen, you come across an ancient Pot Noodle. For some reason it's been living at the back of the cup cupboard above the kettle. It's still food, and it deserves a wine friend – and this is it. 3/10
Arriba Termino de Hilanda 2017 | Jumilla | £9.99 | Quaff Tastes like you have stolen the vicar's communion wine. Best served with a dry wafer at midnight. 3/10
The Guv'nor | Blend | £6.99 | Majestic A very pretty wine, promising on the nose, a surprising coffee taste. It's got fruit but also coffee buried inside. Which makes it perfect for the end of any Christmas meal – no need to serve different wine with both the cherry trifle and the coffee, this one can handle both with aplomb. 6/10
La Font Reserva | Valencia | £5.99 | Majestic Even Diego liked this one. This one's coming out for the main event – beef or nut roast en croute will be well served with this. It's smooth, it's warming, it's red. And again, evidence that wines from Spain's east coast represent great value (Valencia & Alicante in particular often produce bargains) 10/10
Cepa Lebrel Reserva 2015 | Rioja | £5.79 | Lidl One for the main event, a winter warmer of a wine. If you have a fire pit outside, this one would go beautifully with it. A beef wellington of a wine. 9/10
Pulpito 2018 | Toro | £8.00 | Tesco Delightfully smooth, rounded berry flavours and easy on the eye to boot. Sadly though, there's nothing behind it, no explosion of flavour or lingering enjoyment, it just vanishes. Perfect to be drunk with Somerset Brie since both look good but are disappointingly, vaguely bland. 5/10
Campaneo Old Vines 2017 | Campo de Borja | £5.50 | Tesco One to be eaten with your figgy pudding. Quite literally, you could use this instead of brandy to ignite the thing. 3/10
Luis Cañas Pura Crianza | Rioja | Available on a Pura Rioja holiday Though a bit bland on the nose, this one shines through on the palate. One to be enjoyed on Christmas Eve, with neighbours you actually like and a light supper. 9/10 (reminder, this was a blind tasting so it was with some relief that this one scored well!)
Arc de Pedra 2016 | Priorat | £11.24 | Majestic Gorgeous smelling wine this one. For some reason it shouts 'leftovers' – a peppery aftertaste calls for cold cuts, the near untouched cheeseboard and James Bond. 8/10
Espartero 2010 | Rioja | £11.50 | Asda And suddenly, we find ourselves at the main event, the day itself. The slightly frosty aunt has left the table to read a 1,000 page historical novel, the children in another room, their little faces lit up from below by the blue light of their phone screens. All is well with the world. Time to get this wine out. Destined to be plonked onto the table between the discarded cracker jokes and crumpled paper hats alongside a fully loaded cheeseboard that nobody can possibly manage, and yet, magically bits of brie and Stilton start to vanish this way and that. And somehow, this rather lovely wine manages to empty itself too. 8/10
We'd love to hear your thoughts on any of the above and if you've got any of your favourite Spanish reds, so do feel free to drop us an email. Thanks for reading and a merry Christmas to you all.
The Pothole is Pura Aventura's popular monthly email. We share what we love, what interests us and what we find challenging. And we don't Photoshop out the bits everyone else does. We like to think our considered opinions provide food for thought, and will sometimes put a smile on your face. They've even been known to make people cry. You can click here to subscribe and, naturally, unsubscribe at any time.