News & views
October Uprisings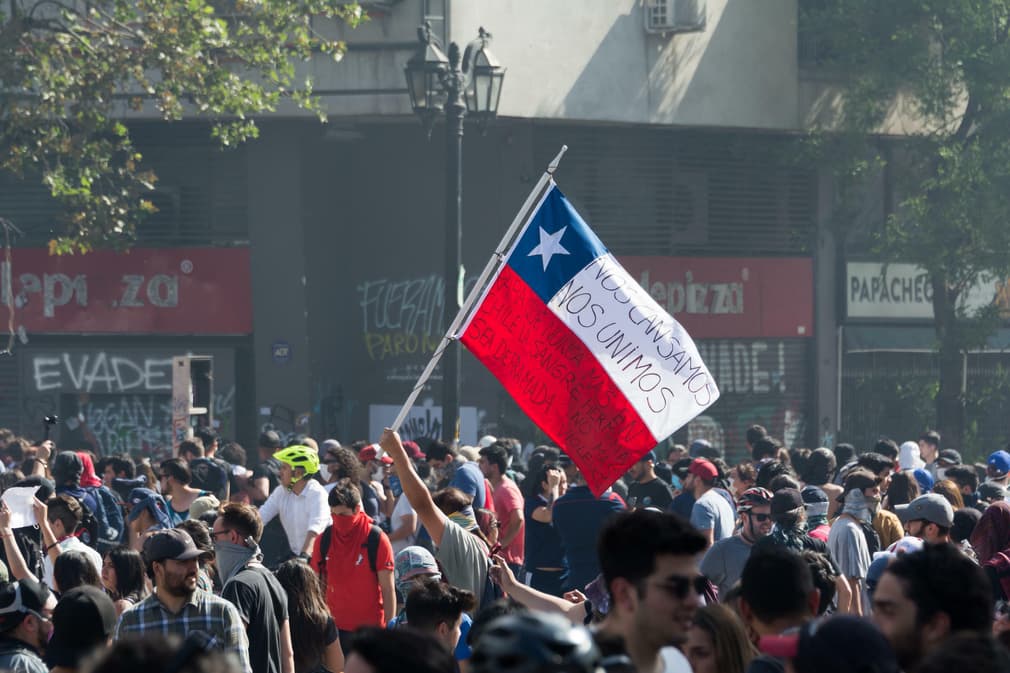 October 2019 will go down as being, operationally, our most challenging month ever. Removal of fuel subsidies in Ecuador caused an immediate eruption of civil unrest across the country. The imprisonment of the organisers of Catalonia's 2017 independence referendum caused enormous protests across the region, particularly in the city of Barcelona. And then in Chile, metro fare increases in the capital Santiago created civil unrest on a scale not seen in 40 years - the people demonstrating against stark income inequalities in the country. All of this within a period of around 10 days.
Let's take each of these in turn because each was different and potentially interesting. I'm going to pay scant regard to the incidents themselves, partly because that's not relevant to this piece and partly because I'm not qualified to provide incisive insights. Please don't take this as indifference, we have friends, partners and colleagues in all of these places and worry about their wellbeing.
Ecuador
The dramatic nature of the protests, with road blocks across the heart of the country, the UK Foreign & Commonwealth Office (FCO) very quickly advised against 'all but essential travel' to mainland Ecuador. At this point, as a company, our liability insurance and therefore protection for our guests, ceases to have effect. In addition, client travel insurance is invalidated. Those already in country are protected but on condition that we're getting them out as quickly as possible.
Anyone due to travel imminently has to be either sent somewhere else, sent at a different time or refunded by us.
We found ourselves in the position of having some travellers in the Galapagos Islands which, although Ecuadorian, were specifically excluded from the FCO advisory. So they didn't notice anything at all. We also had a couple due to leave in the last week of October on a trip around the mainland and then out to the islands so that's where our attention was.
When the scale of protests became apparent, the Ecuadorian president performed a spectacular volte face. Fuel subsidies were reintroduced and the protests ended. However, the FCO advice remained in place. So despite the country being peaceful once more, we had clients who could not travel. Given our expectation that the FCO advice would change at any minute, we (in close communication with our clients) hedged our bets as long as possible in order to deliver the trip they originally booked. As a plan B, we had a new trip set up for them in neighbouring Peru. With a departure date of Monday, we set a cut-off for midday on the previous Friday to switch to this plan B.
In the event, Friday came and went and the FCO travel advisory remained in place, despite the protests having ended more than a week previously. Plan B it was to be. Except….we happened to call our liability insurers to double check their position. They took the view that they would reinstate our insurance cover. Fantastic. Except…our clients' travel insurance wasn't valid so if they got ill or robbed in country, they would be uninsured and that's not an acceptable position to be in. In addition, their insurers were 100% bound by the FCO advice and would not provide cover.
So, frustratingly, at 3pm on Friday afternoon we are faced with pulling the plug on the full Ecuador trip despite knowing that the country was safe and welcoming - and in great need of the support of visitors - all because of an inflexible travel insurance company. That's when we (Sarah more precisely) had the brainwave that, since our liability insurers were more nuanced and flexible, they might be willing to cover our clients. And they were. At a price. A rather eye-watering one. So we paid it in order that our clients got to travel on the holiday they had originally wanted.
The outcome? I don't know, they are sailing around the Galapagos Islands as I write this. I do know that we got a message from the owner of our cloud forest lodge after a couple of days of their trip:
"They just left... we miss them already. Saying goodbye is sometimes the hardest part of the business... sometimes it is the best part of the business... just depends on the guests really."
So we feel good about this one.
Catalonia
The FCO never issued any advisory on Catalonia, despite there being blockades at the airport and mass demonstrations converging on central Barcelona. In fact, the demonstrations were everywhere. Someone even blocked the road out of Olot with a tractor. Those of you who know our Catalonia Inn to Inn walking holiday will appreciate just how random this is!
So the issue here wasn't one of liability insurances or FCO advice, rather it was about clients' ability to get where they needed to be. And this is where it got really complicated and my colleague Maria Jimenez deserves huge credit. We had people all over the region - some starting their trips, some mid-way through and some ending. There are actually too many to list but I'll pick out a couple to illustrate.
1) We had a group of 14 arriving in Girona on the Friday for a two night stay. Friday was the day of the biggest protests and our hotel is bang in the middle of the old city, next to Independence Square - the heart of protests. Although things were very much peaceful with families and people of all ages marching and making noise, trying to get a group of people into the midst of it all with suitcases is a recipe for disaster. Instead, we found a hotel out towards the coast for the night, had a walk in the area and then got them into Girona city early on Saturday to do all they were supposed to be doing.
2) A couple who had finished their walking holiday with us were driving themselves around the region but aiming to come back to Barcelona airport for their flights home to the US early in the morning. We contacted them to explain what was going on and insisted that they travel back the night before to stay at the airport, which they did. We also had a group of four who were still actually on one of our holidays and had to be persuaded to reposition to the airport ready for their flights in the morning. Because we knew the seriousness of the threat of road closure, we didn't take no for an answer. They caught their flights home.
3) A couple who were arriving in Barcelona and heading up by train to start their trip with us in Girona (the official start point of our Catalonia Inn to Inn). They were inbound on overnight flights so had no clue what was going on in Barcelona but we were monitoring the train lines to see that they were still open. They were, but not for long. Which meant that we had guests in Barcelona with no apparent way to get themselves up to Girona. We got a taxi for them. And paid for it.
The outcome? They are back from their trip and gave some lovely feedback, including this line:
"The trains weren't running when we arrived because of the protests that were going on, but a Pura Aventura staff member was right there with a phone call and alternative taxi ride before we even had a chance to question it, we felt like they were ready to handle any emergency."
Chile
Over the following weekend there were protests in Santiago which turned violent, including deaths of 11 protestors. As in Ecuador, the president enacted a rapid volte face over the fare rise. Unlike in Ecuador, the underlying issue of income inequality meant that the protests were not so quickly stopped. In fact, this is a situation which remains 'live'. Even the removal of the entire upper tier of government to appoint a more reformist team has not ended things. What has happened is that protests, though huge, have been very largely peaceful. Saying that, there is a hard core of protestors who have been coming out each evening to do battle with the police and army in downtown Santiago. Local opinion seems to be that they are now just vandals/anarchists and don't represent the moderate masses demanding reform.
Our approach in Chile has been to move people out of our centrally located hotel - the physical damage to the area means that it's just unsettling to be around. In the rest of the country we have not had to make any changes at all. We have been in constant contact with all clients (current and future) to keep them abreast of the situation.
With our own office in Chile, along with our network of partners and friends, we are very well placed to act quickly should the need arise. The safety of our clients is always our primary concern. As soon as we feel it necessary, we will act - regardless of FCO advice.
However, we remain supportive of Chile. The way we work means that our holidays are of direct benefit to our partners, when done right, there are few industries as effective as tourism at distributing income equitably. We will continue to support the wonderful country of Chile in this way, unless and until we have any concerns about safety. From our clients' point of view, most restaurants are closed in the evening in the capital so everyone's indoors by 7pm. It's not ideal but it's an inconvenience, no more. For now, these are some of the comments coming over 'from the road':
Clients heading south to Patagonia from the north
Hi Sarah, We are fine thanks. Waiting to go across for the fight to Punta Arenas.

We had a wonderful time in the Atacama. Cristobal looked after us brilliantly and tailored the program perfectly for us. Only strange thing was that nobody would hire any bikes because of the General Strike! (editor's note: this was a transport strike which brought taxis/buses/metro to a standstill - and rental bikes as it turns out).
Clients in Santiago, just returned from Carretera Austral
Just sitting down to dinner in the hotel restaurant. The southern part of the country was absolutely stunning and we have had a fantastic time. Thanks again.
Clients with 3 night stay in Santiago (with day trips out to vineyards and Valparaiso)
Hi Sarah

Both tours were good - saw lots of damage / graffiti on the streets. Apparently there were 1.2 million just in Santiago!

Only negative was having to eat in the hotel in the evenings as everything was closed - even the hotel dinner closed at 7.30!
And finally...
"There was civil unrest in a number of the major cities while we were there and Pura responded with updated information (e-mail and whatsapp) and changed our Santiago hotel in order to minimise any disruption to our holiday. Excellent service all round."
We hope and expect things to continue to calm in Chile, Santiago primarily, over the next weeks. We will keep watching, looking after our clients and doing what we can to help create well paid work for our partners across the country.
The point I would make here is that we like to talk about our work making fantastic holidays, we don't like to talk about financial protection and we certainly don't like to talk about responding to emergencies and dealing with the unexpected. But I suspect that, if I were trusting someone to take me to the far side of the world, I'd want to know that they can and will look after me if something goes wrong. Pura Aventura's interpretation of duty of care goes far beyond our legal obligations - October's events prove it so thank you dear operations team, our wonderfully flexible clients and our dedicated partners.
The Pothole is Pura Aventura's popular monthly email. We share what we love, what interests us and what we find challenging. And we don't Photoshop out the bits everyone else does. We like to think our considered opinions provide food for thought, and will sometimes put a smile on your face. They've even been known to make people cry. You can click here to subscribe and, naturally, unsubscribe at any time.